Clinical Information Systems adds up major share to total Healthcare Provider IT market.
Clinical Information Systems can be segmented by Geographies, Components, Deployments, Companies, MacroIndicators, Endusers,
Companies, operating in the Clinical Information Systems market, are Cerner Corporation, Carestream, Allscripts, Epic Systems, McKesson Corporation, eClinicalWorks, Philips Healthcare, Athenahealth, GE Healthcare, Siemens AG Healthcare, Emdeon, Practice Fusion, Inc, Agfa-Gevaert and etc.
What makes our report unique?
What are market estimates and forecasts; which of Clinical Information Systems markets are doing well and which are not?
What is the competitive landscape; How companies like Cerner Corporation, Carestream and Allscripts doing in Clinical Information Systems?

Key Questions Answered

What are the market estimates and forecasts based on which the markets are doing well, and which are not?
What is the competitive landscape; who are the main players in each segment; what are their strategic directives, operational strengths, key selling products, and product pipelines? Who is doing what?

Audience for this report
Clinical Information Systems companies
1 Introduction
1.1 Analyst Insights
1.2 Market Definitions
1.3 Market Segmentation & Aspects Covered
1.4 Research Methodology
2 Executive Summary
3 Market Overview
4 Clinical Information Systems by Submarkets
4.1 Hospital Information Systems
4.2 E-Prescribing (e-Rx)
4.3 Laboratory Information System
4.4 Pharmacy Information System
4.5 Other Clinical Information Systems
4.6 Quality Care
4.7 Medical Error Reduction
4.8 Physician Performance Evaluation
5 Clinical Information Systems by Applications
5.1 Clinical Guidelines
5.2 Clinical Reminders
5.3 Drug Allergy Alerts
5.4 Drug-Drug Interactions
5.5 Drug Dosing Support
5.6 Clinical Information Systems - Other Applications
6 Clinical Information Systems by Components
6.1 Hardware (Healthcare IT)
6.2 Software (Healthcare IT)
6.3 Services (Healthcare IT)
7 Clinical Information Systems by Deployments
7.1 On-premise
7.2 Web-based
7.3 Cloud-based
8 Clinical Information Systems by Endusers
8.1 Office based Physicians
8.2 Hospitals
8.3 Emergency Healthcare Service providers
8.4 Nurses
8.5 Other Endusers
9 Clinical Information Systems by Geographies
9.1 North America
9.2 Europe
9.3 Asia
9.4 Rest of World
10 Clinical Information Systems by Companies
10.1 Cerner Corporation
10.2 Carestream
10.3 Allscripts
10.4 Epic Systems
10.5 McKesson Corporation
10.6 eClinicalWorks
10.7 Philips Healthcare
10.8 Athenahealth
10.9 GE Healthcare
10.10 Siemens AG Healthcare
10.11 Emdeon
10.12 Practice Fusion, Inc
10.13 Agfa-Gevaert
10.14 Other Companies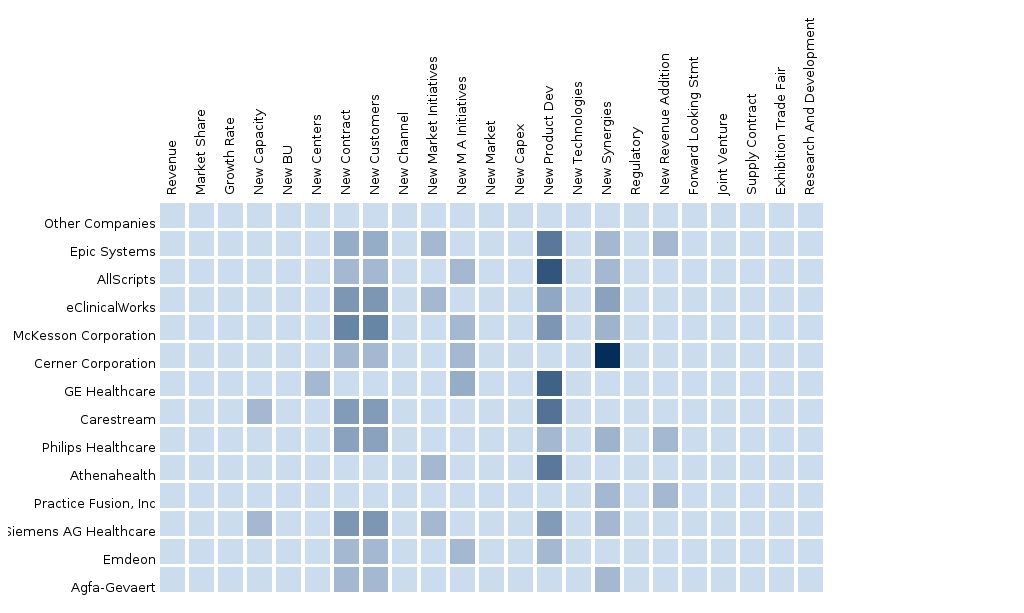 Please fill in the form below to receive a free copy of the Summary of this Report
Custom Market Research Services
We will customize the research for you, in case the report listed above does not meet with your exact requirements. Our custom research will comprehensively cover the business information you require to help you arrive at strategic and profitable business decisions.
Please visit
http://www.micromarketmonitor.com/custom-research-services.html
to specify your custom Research Requirement
PRODUCT TITLE
PUBLISHED
North American Clinical Cardiovascular Information And Imaging Solution


The North American Clinical CVIS market is anticipated to boom due to the inherent advantages it offers in the field of interventional cardiology. This report encompasses the market share, value chain analysis, and market metrics along with the market drivers and restraints. A DeepDive analysis of the top players of this domain have also been considered in the report.



Upcoming
European Clinical Cardiovascular Information And Imaging Solution market


Globally, Europe is the second largest Clinical Information Systems market, which is expected to reach a CAGR value of 6.35%, from 2012 to 2018. The European chromatography market is segmented into geography, sub-market, application, component, deployment, and end-user. A DeepDive analysis of the top players of this domain have also been considered in the report.



Upcoming
North American Cardiovascular Information And Imaging Solution (CVIS)


This North American cardiovascular information and imaging solution (CVIS) market study provides an in-depth market review, with specific focus on the competitive scenario, along with the current and future trends. This report highlights the growth rate, market drivers, and other significant insights. This market is expected to grow at a CAGR of 8.2% from 2013 to 2018.



Upcoming
Hospital Information Systems


The global hospital information systems (HIS) market was valued at $17.1 billion in 2013 and is expected to grow at a CAGR of 8.2% from 2014 to 2019. The HIS report analyzes the market on the basis of sub-segments as Electronic Health Record (EHR), Computerized Physician Order Entry System (CPOE), Picture Archiving and Communication System (PACS), Radiology Information System (RIS), Clinical Decision Support System (CDSS), and Cardiovascular Information and Imaging Solutions (CVIS).



Upcoming
Cardiovascular Information And Imaging Solution (CVIS)


The global Cardiovascular Information and Imaging Solution (CVIS) market is expected to grow at a CAGR of 7.8% from 2014 to 2019. CVIS is an effective tool which provided an improved cardiology and clinical performance in the cardiology department by providing a framework for the exchange, integration, sharing, and retrieval of cardiology electronic medical data with advanced security.



Upcoming
European Cardiovascular Information And Imaging Solution (CVIS)


The European cardiovascular information and imaging system (CVIS) market is a fast growing market. This report offers various insights into this market such as growth factors, trends, market share of key players, competitive scenario, market developments, and other details. The European cardiovascular information and imaging solution market is estimated to grow at a CAGR of 7.1% from 2014 to 2019. The increasing rate of the obese population is also responsible for the increasing cases of heart-related disorders in the region, thereby driving the demand for CVIS in the region.



Upcoming
Asian Cardiovascular Information And Imaging Solution (CVIS)


The Asian cardiovascular information and imaging system market has been projected as the fastest-growing market, globally. This report covers the growth factors of this market as well as the trends, forecasts, and developments. Equal emphasis has been laid on company profiles and competitive landscape, along with the SWOT analysis and strategies adopted by market players.



Upcoming
Asia Clinical Information Systems Market


The Asian clinical CVIS market report includes the market share, value chain analysis, and market metrics that include drivers, restraints, and upcoming opportunities. The market is segmented into geography, sub-market, application, component, deployment, and end-user. A DeepDive analysis of the top players of this domain have also been considered in this report.



Upcoming
Asian Computerized Physician Order Entry


Computerized Physician Order Entry (CPOE) is the process of electronic entry of medical prescription and instruction during treatment.



Feb 2015
Global Computerized Physician Order Entry


The global computerized physician order entry (CPOE) market is estimated to register a CAGR of 6.5% between 2014 and 2019. The report provides an in-depth analysis of the market's landscape and market trends information on the global CVIS market, in terms of components (hardware, software, and services), deployment mode (on-premise, web-hosted, and cloud-based), provider entity capacity (hospitals, pharmacy, and laboratory), and by geography (North America, Europe, Asia, and Other Geographies).



Apr 2015
European Computerized Physician Order Entry


Europe is the second-largest region in the global market for the computerized physician order entry systems. This market is expected grow at a CAGR of 6.0%, from 2013 to 2018. It is projected to reach a value of $292.37 million by 2018. The computerized physician order entry systems market is driven by high incidences of wrong medication, which demands the adoption of CPOE in Europe.



Mar 2015
North American Computerized Physician Order Entry


CPOE is an electric entry process for medical practitioners to give instructions for the treatment of their patients. It reduces errors related to handwriting and reduces order completion time. The order entry is transmitted over a network to various departments within the hospital, including pharmacy, laboratory, and radiology.



May 2015
European Pharmacy Information System Market


The European Pharmacy Information Systems (PIS) market, mainly driven by the growing popularity of e-prescriptions, was valued at $695.13 million in 2013, and is expected to reach $1,004.39 million by 2018, at a CAGR of 7.6%. The report on the concerned market analyzes it under two segments, namely inpatient pharmacy information systems and outpatient pharmacy information systems. The companies covered in the report include McKesson Corporation, ScriptPro LLC, Parata Systems, LLC, and Swisslog Holding AG.



May 2015
Pharmacy Information System


Pharmacy information systems enable reduction in errors which occur during dispensing medication. These systems are also used for administering timely dosage of medicines and help in deciding the drug dosage limit with respect to the age, weight, and gender of the patient. They also help monitor drug interactions, drug allergies, and complications related to medications.



Apr 2015
Asian Pharmacy Information System Market


The Asian pharmacy information systems (PIS) market, mainly driven by the growing popularity of e-prescriptions, was valued at $350.37 million in 2013, which is expected to reach $506.15 million by 2018, to grow at a CAGR of 7.6% from 2013 to 2018. The market report analyzes the concerned market under two segments-inpatient pharmacy information systems and outpatient pharmacy information systems. The companies covered in the report include McKesson Corporation, ScriptPro LLC, Parata Systems, LLC, and Swisslog Holding AG.



May 2015
North American Pharmacy Information System Market


The North American pharmacy information systems (PIS) market is mainly driven by the growing popularity of e-prescriptions. This market was valued at $1,294.70 million in 2013, which is projected to reach $1,892.02 million by 2018, at a CAGR of 7.9%. The PIS market report analyzes it under two major segments, namely inpatient pharmacy information systems and outpatient pharmacy information systems. The companies covered in the report include McKesson Corporation, ScriptPro LLC, Parata Systems, LLC, and Swisslog Holding AG.



May 2015
North American Hospital Information Systems


The North American hospital information systems (HIS) market was valued at $10.1 billion in 2013 and is expected to grow at a CAGR of 8.4% from 2014 to 2019. The report on this market analyzes the market on the basis of sub-segments into Electronic Health Record (EHR), Computerized Physician Order Entry System (CPOE), Picture Archiving and Communication System (PACS), Radiology Information System (RIS), Clinical Decision Support System (CDSS), and Cardiovascular Information and Imaging Solutions (CVIS).



Upcoming
European Hospital Information Systems


The European hospital information systems (HIS) market was valued at $3.9 billion in 2013 that is expected to grow at a CAGR of 7.7% from 2014 to 2019. The HIS market report analyzes the market on the basis of sub-segments into Electronic Health Record (EHR), Computerized Physician Order Entry System (CPOE), Picture Archiving and Communication System (PACS), Radiology Information System (RIS), Clinical Decision Support System (CDSS), and Cardiovascular Information and Imaging Solutions (CVIS).



Upcoming
Asian Hospital Information Systems


The Asian hospital information systems (HIS) market was valued at $2.4 billion in 2013 and is expected to grow at a CAGR of 8.6% from 2014 to 2019. The HIS market report analyzes the market on the basis of sub-segments into Electronic Health Record (EHR), Computerized Physician Order Entry System (CPOE), Picture Archiving and Communication System (PACS), Radiology Information System (RIS), Clinical Decision Support System (CDSS), and Cardiovascular Information and Imaging Solutions (CVIS).



Upcoming
Asia Imaging Informatics Market


Imaging Information Systems in Asia is estimated at $427.1 million in 2013 and expected to reach a value of $581.3 million in 2018 at a CAGR of 6.4% from 2013-2018.Imaging Informatics-Asia can be segmented by Components, Deployments, Endusers, Applications, Companies and MacroIndicators. Deep dive analysis of the top players of this market have been considered in this report.



Upcoming
Global Clinical Information Systems