European Computerized Physician Order Entry Market
Description
Table of Contents
Customer Intelligence
Computerized physician order entry (CPOE) is an efficient system that reduces the errors related to handwriting, and provides order entry at the point-of-care. CPOE is a process of electronically entering medical prescription and instruction during a treatment. The order entry is transmitted over a network to various departments within the hospital, including the pharmacy, laboratory, and radiology.
CPOE system is used extensively by the emergency healthcare service providers, hospitals, nurses, and office based physicians. The pharmaceutical industry is growing at a very fast pace in France, Germany, and Italy, which in-turn is driving the market for computerized physician order entry systems in Europe.
The CPOE market is segmented on the basis of types, component, deployment, application, end-users and geography. Geographically the market is segmented into France, Germany, Italy, Spain, U.K., and Rest of Europe.
Europe is the second-largest region in the global market for computerized physician order entry. This market is expected grow at a CAGR of 6.0%, from 2013 to 2018. It is projected to reach a value of $292.37 million by 2018. This market is driven by high incidences of wrong medication, which demands the adoption of computerized physician order entry systems in Europe. Furthermore, the high cost of the treatment drugs related injuries and the investments made by the European government are another reason for high adoption of the CPOE systems. However, the cost and time involved in the installation of computerized physician order entry systems is major factor restraining the growth of this market.
The key players in the European computerized physician order entry market are Allscripts (U.S.), Athenahealth (U.S.), Cerner Corporation (U.S.), Carestream Health Inc. (U.S.), eClinicalWorks LLC (U.S.), Epic Systems (U.S.), GE Healthcare (U.K.), McKesson Corporation (U.S.), Philips Healthcare (Netherlands), Practice Fusion (U.S.), and Siemens Healthcare AG (Germany).
1 Introduction
1.1 Introduce the Market
1.2 Objective of the study
1.3 Market Definition and Scope of the study
1.3.1 Market Definition
1.3.2 Areas covered
1.3.3 Markets Covered
1.4 Stakeholders
1.5 Research Methodology
1.5.1 Secondary sources
1.5.2 Primary Sources
1.5.3 Market estimation methodology (Top-down, bottom-up, data triangulation.)
1.5.4 Macro indicators for the study
1.6 Assumptions
1.7 List of Acronyms
2 Market Overview
3 Computerized Physician Order Entry, By Applications
3.1 Computerized Physician Order Entry, Split By Geography
3.2 CPOE, Clinical Guidelines
3.2.1 Clinical Guidelines, By Geographies
3.2.1.1 United Kingdom-Clinical Guidelines
3.2.1.2 France-Clinical Guidelines
3.2.1.3 Germany-Clinical Guidelines
3.2.1.4 Italy-Clinical Guidelines
3.2.1.5 Spain-Clinical Guidelines
3.2.1.6 Europe - Other Geographies-Clinical Guidelines
3.2.2 Clinical Guidelines, By Products
3.2.2.1 Standalone Clinical Guidelines
3.2.2.2 Integrated Clinical Guidelines
3.3 CPOE, Clinical Reminders
3.3.1 Clinical Reminders, By Geographies
3.3.1.1 United Kingdom-Clinical Reminders
3.3.1.2 France-Clinical Reminders
3.3.1.3 Germany-Clinical Reminders
3.3.1.4 Italy-Clinical Reminders
3.3.1.5 Spain-Clinical Reminders
3.3.1.6 Europe - Other Geographies-Clinical Reminders
3.3.2 Clinical Reminders, By Products
3.3.2.1 Standalone Clinical Reminders
3.3.2.2 Integrated Clinical Reminders
3.4 CPOE, Drug Allergy Alerts
3.4.1 Drug Allergy Alerts, By Geographies
3.4.1.1 United Kingdom-Drug Allergy Alerts
3.4.1.2 France-Drug Allergy Alerts
3.4.1.3 Germany-Drug Allergy Alerts
3.4.1.4 Italy-Drug Allergy Alerts
3.4.1.5 Spain-Drug Allergy Alerts
3.4.1.6 Europe - Other Geographies-Drug Allergy Alerts
3.4.2 Drug Allergy Alerts, By Products
3.4.2.1 Standalone Drug Allergy Alerts
3.4.2.2 Integrated Drug Allergy Alerts
3.5 CPOE, Drug-Drug Interactions
3.5.1 Drug-Drug Interactions, By Geographies
3.5.1.1 United Kingdom-Drug-Drug Interactions
3.5.1.2 France-Drug-Drug Interactions
3.5.1.3 Germany-Drug-Drug Interactions
3.5.1.4 Italy-Drug-Drug Interactions
3.5.1.5 Spain-Drug-Drug Interactions
3.5.1.6 Europe - Other Geographies-Drug-Drug Interactions
3.5.2 Drug-Drug Interactions, By Products
3.5.2.1 Standalone Drug-Drug Interactions
3.5.2.2 Integrated Drug-Drug Interactions
3.6 CPOE, Drug Dosing Support
3.6.1 Drug Dosing Support, By Geographies
3.6.1.1 United Kingdom-Drug Dosing Support
3.6.1.2 France-Drug Dosing Support
3.6.1.3 Germany-Drug Dosing Support
3.6.1.4 Italy-Drug Dosing Support
3.6.1.5 Spain-Drug Dosing Support
3.6.1.6 Europe - Other Geographies-Drug Dosing Support
3.6.2 Drug Dosing Support, By Products
3.6.2.1 Standalone Drug Dosing Support
3.6.2.2 Integrated Drug Dosing Support
4 Computerized Physician Order Entry, Europe, By Components
4.1 Computerized Physician Order Entry, Split By Geography
4.2 CPOE, Hardware (Healthcare IT)
4.2.1 Hardware (Healthcare IT), By Geographies
4.2.1.1 United Kingdom-Hardware (Healthcare IT)
4.2.1.2 France-Hardware (Healthcare IT)
4.2.1.3 Germany-Hardware (Healthcare IT)
4.2.1.4 Italy-Hardware (Healthcare IT)
4.2.1.5 Spain-Hardware (Healthcare IT)
4.2.1.6 Europe - Other Geographies-Hardware (Healthcare IT)
4.2.2 Hardware (Healthcare IT), By Products
4.2.2.1 Standalone Hardware (Healthcare IT)
4.2.2.2 Integrated Hardware (Healthcare IT)
4.3 CPOE, Software (Healthcare IT)
4.3.1 Software (Healthcare IT), By Geographies
4.3.1.1 United Kingdom-Software (Healthcare IT)
4.3.1.2 France-Software (Healthcare IT)
4.3.1.3 Germany-Software (Healthcare IT)
4.3.1.4 Italy-Software (Healthcare IT)
4.3.1.5 Spain-Software (Healthcare IT)
4.3.1.6 Europe - Other Geographies-Software (Healthcare IT)
4.3.2 Software (Healthcare IT), By Products
4.3.2.1 Standalone Software (Healthcare IT)
4.3.2.2 Integrated Software (Healthcare IT)
4.4 CPOE, Services (Healthcare IT)
4.4.1 Services (Healthcare IT), By Geographies
4.4.1.1 United Kingdom-Services (Healthcare IT)
4.4.1.2 France-Services (Healthcare IT)
4.4.1.3 Germany-Services (Healthcare IT)
4.4.1.4 Italy-Services (Healthcare IT)
4.4.1.5 Spain-Services (Healthcare IT)
4.4.1.6 Europe - Other Geographies-Services (Healthcare IT)
4.4.2 Services (Healthcare IT), By Products
4.4.2.1 Standalone Services (Healthcare IT)
4.4.2.2 Integrated Services (Healthcare IT)
5 Computerized Physician Order Entry, Europe, By Deployments
5.1 Computerized Physician Order Entry, Split By Geography
5.2 CPOE, On-premise
5.2.1 On-premise, By Geographies
5.2.1.1 United Kingdom-On-premise
5.2.1.2 France-On-premise
5.2.1.3 Germany-On-premise
5.2.1.4 Italy-On-premise
5.2.1.5 Spain-On-premise
5.2.1.6 Europe - Other Geographies-On-premise
5.2.2 On-premise, By Products
5.2.2.1 Standalone On-premise
5.2.2.2 Integrated On-premise
5.3 CPOE, Web-based
5.3.1 Web-based, By Geographies
5.3.1.1 United Kingdom-Web-based
5.3.1.2 France-Web-based
5.3.1.3 Germany-Web-based
5.3.1.4 Italy-Web-based
5.3.1.5 Spain-Web-based
5.3.1.6 Europe - Other Geographies-Web-based
5.3.2 Web-based, By Products
5.3.2.1 Standalone Web-based
5.3.2.2 Integrated Web-based
5.4 CPOE, Cloud-based
5.4.1 Cloud-based, By Geographies
5.4.1.1 United Kingdom-Cloud-based
5.4.1.2 France-Cloud-based
5.4.1.3 Germany-Cloud-based
5.4.1.4 Italy-Cloud-based
5.4.1.5 Spain-Cloud-based
5.4.1.6 Europe - Other Geographies-Cloud-based
5.4.2 Cloud-based, By Products
5.4.2.1 Standalone Cloud-based
5.4.2.2 Integrated Cloud-based
6 Computerized Physician Order Entry, Europe, By Endusers
6.1 Computerized Physician Order Entry, Split By Geography
6.2 CPOE, Office based Physicians
6.2.1 Office based Physicians, By Geographies
6.2.1.1 United Kingdom-Office based Physicians
6.2.1.2 France-Office based Physicians
6.2.1.3 Germany-Office based Physicians
6.2.1.4 Italy-Office based Physicians
6.2.1.5 Spain-Office based Physicians
6.2.1.6 Europe - Other Geographies-Office based Physicians
6.2.1.7 Netherlands-Office based Physicians
6.2.2 Office based Physicians, By Products
6.2.2.1 Standalone Office based Physicians
6.2.2.2 Integrated Office based Physicians
6.3 CPOE, Hospitals
6.3.1 Hospitals, By Geographies
6.3.1.1 United Kingdom-Hospitals
6.3.1.2 France-Hospitals
6.3.1.3 Germany-Hospitals
6.3.1.4 Italy-Hospitals
6.3.1.5 Spain-Hospitals
6.3.1.6 Europe - Other Geographies-Hospitals
6.3.1.7 Netherlands-Hospitals
6.3.2 Hospitals, By Endusers
6.3.2.1 <100 beds
6.3.2.2 >500 beds
6.3.2.3 100-199 beds
6.3.2.4 200-299 beds
6.3.2.5 300-399 beds
6.3.2.6 400-499 beds
6.3.3 Hospitals, By Products
6.3.3.1 Standalone Hospitals
6.3.3.2 Integrated Hospitals
6.4 CPOE, Emergency Healthcare Service providers
6.4.1 Emergency Healthcare Service providers, By Geographies
6.4.1.1 United Kingdom-Emergency Healthcare Service providers
6.4.1.2 France-Emergency Healthcare Service providers
6.4.1.3 Germany-Emergency Healthcare Service providers
6.4.1.4 Italy-Emergency Healthcare Service providers
6.4.1.5 Spain-Emergency Healthcare Service providers
6.4.1.6 Europe - Other Geographies-Emergency Healthcare Service providers
6.4.1.7 Netherlands-Emergency Healthcare Service providers
6.4.2 Emergency Healthcare Service providers, By Products
6.4.2.1 Standalone Emergency Healthcare Service providers
6.4.2.2 Integrated Emergency Healthcare Service providers
6.5 CPOE, Nurses
6.5.1 Nurses, By Geographies
6.5.1.1 United Kingdom-Nurses
6.5.1.2 France-Nurses
6.5.1.3 Germany-Nurses
6.5.1.4 Italy-Nurses
6.5.1.5 Spain-Nurses
6.5.1.6 Europe - Other Geographies-Nurses
6.5.1.7 Netherlands-Nurses
6.5.2 Nurses, By Products
6.5.2.1 Standalone Nurses
6.5.2.2 Integrated Nurses
7 Computerized Physician Order Entry, Europe, By Products
7.1 Computerized Physician Order Entry, Split By Geography
7.2 Standalone CPOE, Europe
7.2.1 Standalone Europe, By Components
7.2.1.1 Standalone Hardware (Healthcare IT)
7.2.1.2 Standalone Software (Healthcare IT)
7.2.1.3 Standalone Services (Healthcare IT)
7.2.2 Standalone Europe, By Deployments
7.2.2.1 Standalone On-premise
7.2.2.2 Standalone Web-based
7.2.2.3 Standalone Cloud-based
7.2.3 Standalone Europe, By Endusers
7.2.3.1 Standalone Office based Physicians
7.2.3.2 Standalone Hospitals
7.2.3.3 Standalone Emergency Healthcare Service providers
7.2.3.4 Standalone Nurses
7.2.4 Standalone Europe, By Applications
7.2.4.1 Standalone Clinical Guidelines
7.2.4.2 Standalone Clinical Reminders
7.2.4.3 Standalone Drug Allergy Alerts
7.2.4.4 Standalone Drug-Drug Interactions
7.2.4.5 Standalone Drug Dosing Support
7.2.5 Standalone Europe, By Geographies
7.2.5.1 Standalone United Kingdom
7.2.5.2 Standalone France
7.2.5.3 Standalone Germany
7.2.5.4 Standalone Italy
7.2.5.5 Standalone Spain
7.2.5.6 Standalone Europe - Other Geographies
7.3 Integrated CPOE, Europe
7.3.1 Integrated Europe, By Components
7.3.1.1 Integrated Hardware (Healthcare IT)
7.3.1.2 Integrated Software (Healthcare IT)
7.3.1.3 Integrated Services (Healthcare IT)
7.3.2 Integrated Europe, By Deployments
7.3.2.1 Integrated On-premise
7.3.2.2 Integrated Web-based
7.3.2.3 Integrated Cloud-based
7.3.3 Integrated Europe, By Endusers
7.3.3.1 Integrated Office based Physicians
7.3.3.2 Integrated Hospitals
7.3.3.3 Integrated Emergency Healthcare Service providers
7.3.3.4 Integrated Nurses
7.3.4 Integrated Europe, By Applications
7.3.4.1 Integrated Clinical Guidelines
7.3.4.2 Integrated Clinical Reminders
7.3.4.3 Integrated Drug Allergy Alerts
7.3.4.4 Integrated Drug-Drug Interactions
7.3.4.5 Integrated Drug Dosing Support
7.3.5 Integrated Europe, By Geographies
7.3.5.1 Integrated United Kingdom
7.3.5.2 Integrated France
7.3.5.3 Integrated Germany
7.3.5.4 Integrated Italy
7.3.5.5 Integrated Spain
7.3.5.6 Integrated Europe - Other Geographies
8 Computerized Physician Order Entry, By Geographies
8.1 CPOE, United Kingdom
8.1.1 United Kingdom, By Components
8.1.1.1 United Kingdom-Hardware (Healthcare IT)
8.1.1.2 United Kingdom-Software (Healthcare IT)
8.1.1.3 United Kingdom-Services (Healthcare IT)
8.1.2 United Kingdom, By Deployments
8.1.2.1 United Kingdom-On-premise
8.1.2.2 United Kingdom-Web-based
8.1.2.3 United Kingdom-Cloud-based
8.1.3 United Kingdom, By Endusers
8.1.3.1 United Kingdom-Office based Physicians
8.1.3.2 United Kingdom-Hospitals
8.1.3.3 United Kingdom-Emergency Healthcare Service providers
8.1.3.4 United Kingdom-Nurses
8.1.4 United Kingdom, By Applications
8.1.4.1 United Kingdom-Clinical Guidelines
8.1.4.2 United Kingdom-Clinical Reminders
8.1.4.3 United Kingdom-Drug Allergy Alerts
8.1.4.4 United Kingdom-Drug-Drug Interactions
8.1.4.5 United Kingdom-Drug Dosing Support
8.1.5 United Kingdom, By Products
8.1.5.1 Standalone United Kingdom
8.1.5.2 Integrated United Kingdom
8.2 CPOE, France
8.2.1 France, By Components
8.2.1.1 France-Hardware (Healthcare IT)
8.2.1.2 France-Software (Healthcare IT)
8.2.1.3 France-Services (Healthcare IT)
8.2.2 France, By Deployments
8.2.2.1 France-On-premise
8.2.2.2 France-Web-based
8.2.2.3 France-Cloud-based
8.2.3 France, By Endusers
8.2.3.1 France-Office based Physicians
8.2.3.2 France-Hospitals
8.2.3.3 France-Emergency Healthcare Service providers
8.2.3.4 France-Nurses
8.2.4 France, By Applications
8.2.4.1 France-Clinical Guidelines
8.2.4.2 France-Clinical Reminders
8.2.4.3 France-Drug Allergy Alerts
8.2.4.4 France-Drug-Drug Interactions
8.2.4.5 France-Drug Dosing Support
8.2.5 France, By Products
8.2.5.1 Standalone France
8.2.5.2 Integrated France
8.3 CPOE, Germany
8.3.1 Germany, By Components
8.3.1.1 Germany-Hardware (Healthcare IT)
8.3.1.2 Germany-Software (Healthcare IT)
8.3.1.3 Germany-Services (Healthcare IT)
8.3.2 Germany, By Deployments
8.3.2.1 Germany-On-premise
8.3.2.2 Germany-Web-based
8.3.2.3 Germany-Cloud-based
8.3.3 Germany, By Endusers
8.3.3.1 Germany-Office based Physicians
8.3.3.2 Germany-Hospitals
8.3.3.3 Germany-Emergency Healthcare Service providers
8.3.3.4 Germany-Nurses
8.3.4 Germany, By Applications
8.3.4.1 Germany-Clinical Guidelines
8.3.4.2 Germany-Clinical Reminders
8.3.4.3 Germany-Drug Allergy Alerts
8.3.4.4 Germany-Drug-Drug Interactions
8.3.4.5 Germany-Drug Dosing Support
8.3.5 Germany, By Products
8.3.5.1 Standalone Germany
8.3.5.2 Integrated Germany
8.4 CPOE, Italy
8.4.1 Italy, By Components
8.4.1.1 Italy-Hardware (Healthcare IT)
8.4.1.2 Italy-Software (Healthcare IT)
8.4.1.3 Italy-Services (Healthcare IT)
8.4.2 Italy, By Deployments
8.4.2.1 Italy-On-premise
8.4.2.2 Italy-Web-based
8.4.2.3 Italy-Cloud-based
8.4.3 Italy, By Endusers
8.4.3.1 Italy-Office based Physicians
8.4.3.2 Italy-Hospitals
8.4.3.3 Italy-Emergency Healthcare Service providers
8.4.3.4 Italy-Nurses
8.4.4 Italy, By Applications
8.4.4.1 Italy-Clinical Guidelines
8.4.4.2 Italy-Clinical Reminders
8.4.4.3 Italy-Drug Allergy Alerts
8.4.4.4 Italy-Drug-Drug Interactions
8.4.4.5 Italy-Drug Dosing Support
8.4.5 Italy, By Products
8.4.5.1 Standalone Italy
8.4.5.2 Integrated Italy
8.5 CPOE, Spain
8.5.1 Spain, By Components
8.5.1.1 Spain-Hardware (Healthcare IT)
8.5.1.2 Spain-Software (Healthcare IT)
8.5.1.3 Spain-Services (Healthcare IT)
8.5.2 Spain, By Deployments
8.5.2.1 Spain-On-premise
8.5.2.2 Spain-Web-based
8.5.2.3 Spain-Cloud-based
8.5.3 Spain, By Endusers
8.5.3.1 Spain-Office based Physicians
8.5.3.2 Spain-Hospitals
8.5.3.3 Spain-Emergency Healthcare Service providers
8.5.3.4 Spain-Nurses
8.5.4 Spain, By Applications
8.5.4.1 Spain-Clinical Guidelines
8.5.4.2 Spain-Clinical Reminders
8.5.4.3 Spain-Drug Allergy Alerts
8.5.4.4 Spain-Drug-Drug Interactions
8.5.4.5 Spain-Drug Dosing Support
8.5.5 Spain, By Products
8.5.5.1 Standalone Spain
8.5.5.2 Integrated Spain
8.6 CPOE, Europe - Other Geographies
8.6.1 Europe - Other Geographies, By Components
8.6.1.1 Europe - Other Geographies-Hardware (Healthcare IT)
8.6.1.2 Europe - Other Geographies-Software (Healthcare IT)
8.6.1.3 Europe - Other Geographies-Services (Healthcare IT)
8.6.2 Europe - Other Geographies, By Deployments
8.6.2.1 Europe - Other Geographies-On-premise
8.6.2.2 Europe - Other Geographies-Web-based
8.6.2.3 Europe - Other Geographies-Cloud-based
8.6.3 Europe - Other Geographies, By Endusers
8.6.3.1 Europe - Other Geographies-Office based Physicians
8.6.3.2 Europe - Other Geographies-Hospitals
8.6.3.3 Europe - Other Geographies-Emergency Healthcare Service providers
8.6.3.4 Europe - Other Geographies-Nurses
8.6.4 Europe - Other Geographies, By Applications
8.6.4.1 Europe - Other Geographies-Clinical Guidelines
8.6.4.2 Europe - Other Geographies-Clinical Reminders
8.6.4.3 Europe - Other Geographies-Drug Allergy Alerts
8.6.4.4 Europe - Other Geographies-Drug-Drug Interactions
8.6.4.5 Europe - Other Geographies-Drug Dosing Support
8.6.5 Europe - Other Geographies, By Products
8.6.5.1 Standalone Europe - Other Geographies
8.6.5.2 Integrated Europe - Other Geographies
8.7 CPOE, Netherlands
8.7.1 Netherlands, By Endusers
8.7.1.1 Netherlands-Office based Physicians
8.7.1.2 Netherlands-Hospitals
8.7.1.3 Netherlands-Emergency Healthcare Service providers
8.7.1.4 Netherlands-Nurses
9 Computerized Physician Order Entry, By Companies
9.1 Computerized Physician Order Entry, Split By Geography
9.2 Epic Systems
9.3 Cerner Corporation
9.4 AllScripts
9.5 Siemens AG Healthcare
9.6 GE Healthcare
9.7 Zynx Health, Inc
9.8 McKesson Corporation
9.9 Meditech
9.10 CliniComp, Intl
9.11 Athenahealth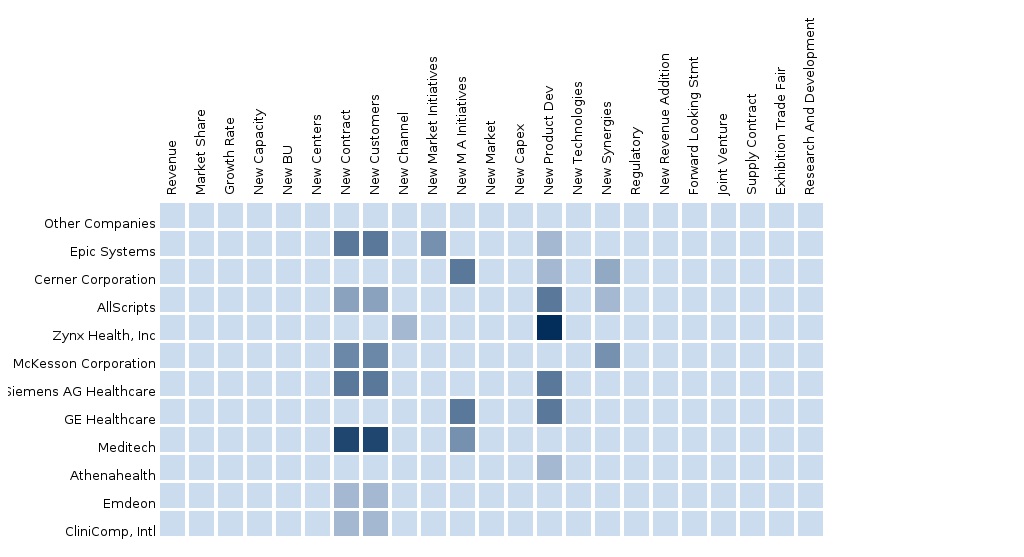 PRODUCT TITLE
PUBLISHED
PRICE
Asian Hospital Information Systems


The Asian hospital information systems (HIS) market was valued at $2.4 billion in 2013 and is expected to grow at a CAGR of 8.6% from 2014 to 2019. The HIS market report analyzes the market on the basis of sub-segments into Electronic Health Record (EHR), Computerized Physician Order Entry System (CPOE), Picture Archiving and Communication System (PACS), Radiology Information System (RIS), Clinical Decision Support System (CDSS), and Cardiovascular Information and Imaging Solutions (CVIS).



17 Jan 2015
$ 3500
North American Hospital Information Systems


The North American hospital information systems (HIS) market was valued at $10.1 billion in 2013 and is expected to grow at a CAGR of 8.4% from 2014 to 2019. The report on this market analyzes the market on the basis of sub-segments into Electronic Health Record (EHR), Computerized Physician Order Entry System (CPOE), Picture Archiving and Communication System (PACS), Radiology Information System (RIS), Clinical Decision Support System (CDSS), and Cardiovascular Information and Imaging Solutions (CVIS).



17 Jan 2015
$ 3500
European Hospital Information Systems


The European hospital information systems (HIS) market was valued at $3.9 billion in 2013 that is expected to grow at a CAGR of 7.7% from 2014 to 2019. The HIS market report analyzes the market on the basis of sub-segments into Electronic Health Record (EHR), Computerized Physician Order Entry System (CPOE), Picture Archiving and Communication System (PACS), Radiology Information System (RIS), Clinical Decision Support System (CDSS), and Cardiovascular Information and Imaging Solutions (CVIS).



17 Jan 2015
$ 3500
Hospital Information Systems