Asian Cardiovascular Information And Imaging Solution (CVIS) Market
Description
Table of Contents
Customer Intelligence
Cardiovascular Information and Imaging Solution (CVIS) is an effective tool that provides a framework to exchange, integrate, share, and retrieve cardiology electronic medical data with advanced security. The cardiology department of healthcare providers generates enormous amount of data which needs to be managed effectively. The Asian Cardiovascular Information and Imaging Solution Market is estimated to grow at a CAGR of 8.4% from 2014 to 2019. The report analyzes the Asian hospital information system market by application, end-user, component, delivery mode, and geography.
The report provides an in-depth analysis of market landscape and market trends information on the Asian Cardiovascular Information and Imaging Solution market, based on application. The market is segmented into catheterization lab CVIS solutions, echocardiography lab CVIS solutions, electrocardiography (ECG) data management CVIS solutions, vascular lab CVIS solutions, and other CVIS solutions (hemodynamic monitoring, electrophysiology, nuclear cardiology, and cardiac CT/MRI). Based on the components, CVIS market is segmented into hardware, software, and services. Based on delivery modes, it is segmented into on premise, web-hosted, and cloud-based. While based on geographic presence, it is segmented into Japan, China, India and rest of Asia. Japan commands the largest share of the cardiovascular information and imaging solution market, followed by China.
In addition to this, the report also provides comprehensive information on the key trends affecting the market, the market landscape, by end-user segments: office based physicians, hospitals, emergency healthcare service providers, and nurses.
The government support for the development of healthcare IT solutions and growing medical tourism in the Asian countries are among the major factors that are likely to drive the growth of this market. However, many Asian countries lack the standard healthcare protocols which are important for the successful implementation of CVIS solutions, thus restraining the growth of the CVIS market in this region.
The CVIS market in the Asian countries is likely to flourish, owing to the initiatives taken by various governments in this region. Healthcare organizations in APAC are actively moving towards digitization, in order to ensure patient safety and care, and streamline the entire workflow system in large healthcare enterprises. Countries that are actively adopting healthcare IT solutions include Japan, Taiwan, South Korea, India, China, and Australia. Japan is a key market in the Asian region. The Japanese government has taken various initiatives for the growth of the healthcare IT market in the country (subsequently developing the CVIS market).
In-depth market share analysis, by revenue, of the top companies is also included in the report. These numbers are arrived at, based on key facts, annual financial information from SEC filings, annual reports and interviews with industry experts, key opinion leaders such as CEOs, directors, and marketing executives. Detailed market share analysis of the major players in the Asian cardiovascular information and imaging solution market is covered in this report.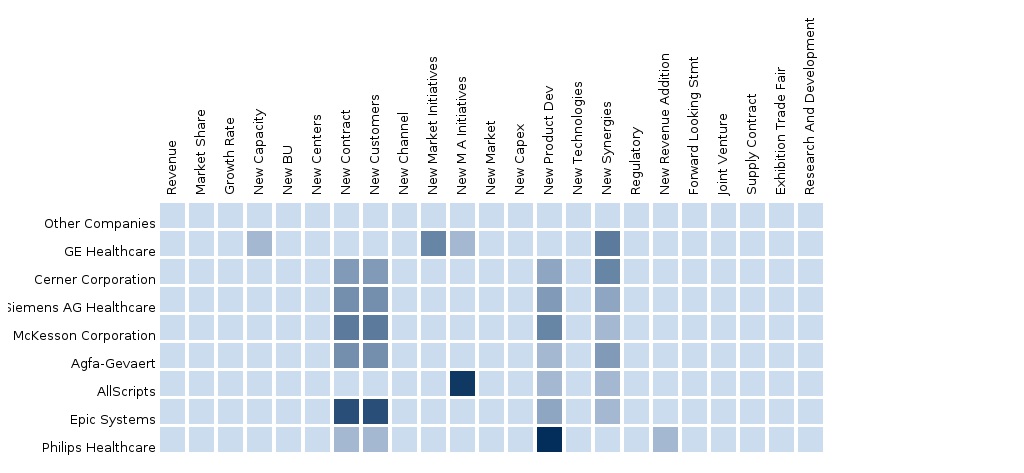 PRODUCT TITLE
PUBLISHED
PRICE
North American Hospital Information Systems


The North American hospital information systems (HIS) market was valued at $10.1 billion in 2013 and is expected to grow at a CAGR of 8.4% from 2014 to 2019. The report on this market analyzes the market on the basis of sub-segments into Electronic Health Record (EHR), Computerized Physician Order Entry System (CPOE), Picture Archiving and Communication System (PACS), Radiology Information System (RIS), Clinical Decision Support System (CDSS), and Cardiovascular Information and Imaging Solutions (CVIS).



17 Feb 2015
$ 3500
European Hospital Information Systems


The European hospital information systems (HIS) market was valued at $3.9 billion in 2013 that is expected to grow at a CAGR of 7.7% from 2014 to 2019. The HIS market report analyzes the market on the basis of sub-segments into Electronic Health Record (EHR), Computerized Physician Order Entry System (CPOE), Picture Archiving and Communication System (PACS), Radiology Information System (RIS), Clinical Decision Support System (CDSS), and Cardiovascular Information and Imaging Solutions (CVIS).



17 Feb 2015
$ 3500
Asian Hospital Information Systems


The Asian hospital information systems (HIS) market was valued at $2.4 billion in 2013 and is expected to grow at a CAGR of 8.6% from 2014 to 2019. The HIS market report analyzes the market on the basis of sub-segments into Electronic Health Record (EHR), Computerized Physician Order Entry System (CPOE), Picture Archiving and Communication System (PACS), Radiology Information System (RIS), Clinical Decision Support System (CDSS), and Cardiovascular Information and Imaging Solutions (CVIS).



17 Feb 2015
$ 3500
Asian Cardiovascular Information And Imaging Solution (CVIS)