EMR/EHR is one of the key components of the hospital information systems market. The market for this component can be segmented by geographies, components, deployments, companies, macroindicators, end-users, applications, and products.
Geographies of this market are spread over North America, Europe, and Asia. Different components for the market are hardware (Healthcare IT), software (Healthcare IT), and services (Healthcare IT). Companies dealing with EMR/EHR include, but are not limited to Allscripts, eClinicalWorks, GE Healthcare, Siemens AG Healthcare, and Quest Diagnostics.
1 Introduction
1.1 Analyst Insights
1.2 Market Definitions
1.3 Market Segmentation & Aspects Covered
1.4 Research Methodology
2 Executive Summary
3 Market Overview
4 EMR/EHR by Applications
4.1 Clinical Guidelines
4.2 Clinical Reminders
4.3 Drug Allergy Alerts
4.4 Drug-Drug Interactions
4.5 Drug Dosing Support
5 EMR/EHR by Components
5.1 Hardware (Healthcare IT)
5.2 Software (Healthcare IT)
5.3 Services (Healthcare IT)
6 EMR/EHR by Deployments
6.1 On-premise
6.2 Web-based
6.3 Cloud-based
7 EMR/EHR by Endusers
7.1 Office based Physicians
7.2 Hospitals
7.3 Emergency Healthcare Service providers
7.4 Nurses
8 EMR/EHR by Products
8.1 Integrated
8.2 Standalone
9 EMR/EHR by Geographies
9.1 North America
9.2 Europe
9.3 Asia
9.4 Rest of World
10 EMR/EHR by Companies
10.1 Cerner Corporation
10.2 Allscripts
10.3 Epic Systems
10.4 McKesson Corporation
10.5 eClinicalWorks
10.6 GE Healthcare
10.7 Athenahealth
10.8 Siemens AG Healthcare
10.9 Practice Fusion, Inc
10.10 Emdeon
10.11 NextGen Healthcare Information Systems, LLC
10.12 Quest Diagnostics
10.13 Greenway Medical Technologies, Inc.
10.14 Other Companies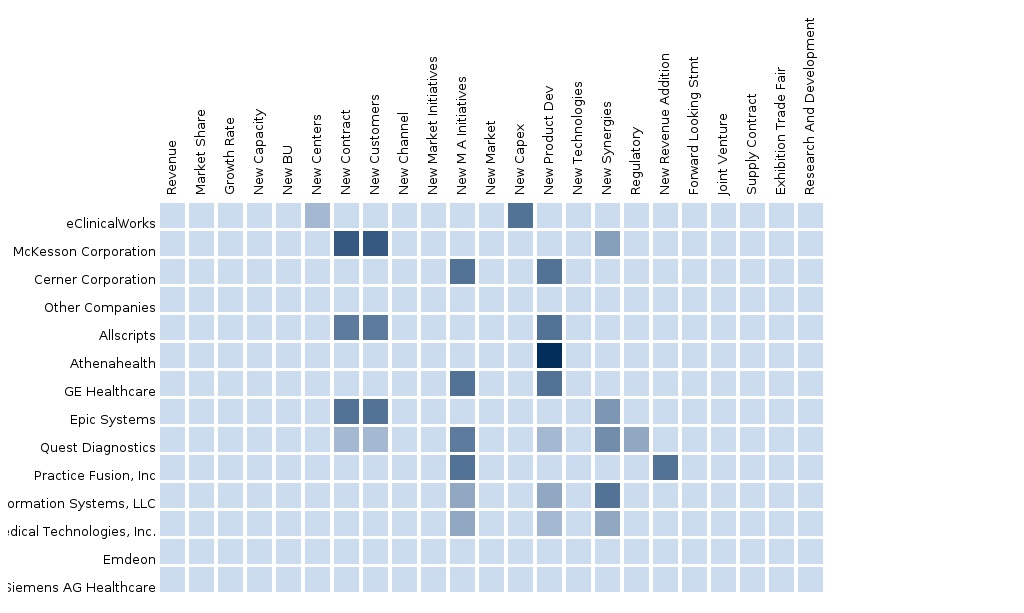 Please fill in the form below to receive a free copy of the Summary of this Report
Custom Market Research Services
We will customize the research for you, in case the report listed above does not meet with your exact requirements. Our custom research will comprehensively cover the business information you require to help you arrive at strategic and profitable business decisions.
Please visit
http://www.micromarketmonitor.com/custom-research-services.html
to specify your custom Research Requirement
PRODUCT TITLE
PUBLISHED
North American Electronic Medical Record (EMR)


The North American electronic medical record (EMR) market report mainly lays emphasis on the market share, value chain analysis, and market drivers, restraints, and upcoming opportunities. It also elaborates on significant market trends and offers a competitive analysis of the top industry players in the market.



Upcoming
European Electronic Medical Record (EMR)


The European electronic medical record market is considered to be the second largest market that accounted for $2769.9 million in 2013 and is expected to grow at a CAGR of 8.4% from 2014 to 2019. This report elaborates on the market share, value chain analysis, and market drivers, restraints, and upcoming opportunities. A DeepDive analysis of the top players of this market has been considered in this report.



Upcoming
Asian Electronic Medical Record (EMR)


The Asian electronic medical record market is the third largest market, preceded by North America and Europe, which is projected to grow at a CAGR of 7.88% from 2012 to 2018. This report defines and segments the electronic medical record (EMR) market in Asia. It also presents a comprehensive view of the top companies that deal with EMR devices, along with the market share, value chain analysis, and market metrics.



Upcoming
3 of 3 items
3 reports | Show
Hospital Information Systems