North American Cardiovascular Information And Imaging Solution (CVIS) Market
The North American Cardiovascular Information and Imaging Solution (CVIS) market is expected to grow at a CAGR of 8.2% from 2013 to 2018. The CVIS is an effective tool for providing a framework for the exchange, integration, sharing, and retrieval of cardiology electronic medical data with advanced security. The adoption of CVIS by healthcare providers has been on the rise in the North American region, in order to mobilize healthcare information across or within organizations. It eventually helps enhance the quality of care delivered.
Factors such as the need to curb the mortality due to cardiovascular diseases; the necessity to streamline workflow in cardiac care departments; the need to reduce healthcare costs; and the need to overcome the issue with "data silos" have increased the demand for CVIS in the North American region. However, the reluctance of healthcare providers to implement CVIS solutions, as a result of the high cost of CVIS, is the among the main factors that may restrain the growth of the North American CVIS market in the coming years.
The report provides an in-depth analysis of market landscape and market trends information on the North America CVIS market, in terms of application area (including catheterization lab CVIS solution, echocardiography lab CVIS solution, electrocardiography (ECG) data management CVIS solutions, and vascular lab CVIS solution); provider entity capacity (including small hospitals, medium hospitals, and large hospitals); components (hardware, software, and services); deployment mode (on-premise, Web-hosted, and Cloud-based), and also in terms of the major countries in the region, which are contributing significantly to the regional CVIS market. The U.S. and Canada are the major countries operating in the North American CVIS market.
The market figures have been arrived at based on key facts, annual financial information from SEC filings, company annual reports, and interviews with industry experts and key opinion leaders, such as CEOs, directors, and marketing executives. The major companies in this market include Allscripts Healthcare Solutions, Inc. (U.S.), Cerner Corporation (U.S.), Epic Systems (U.S.), McKesson Corporation (U.S.), and GE Healthcare (U.K.), among others.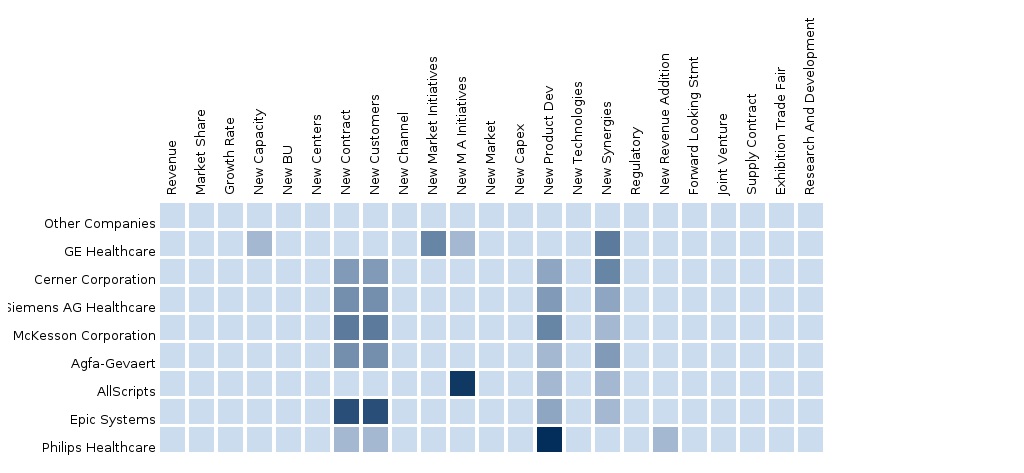 Please fill in the form below to receive a free copy of the Summary of this Report
Custom Market Research Services
We will customize the research for you, in case the report listed above does not meet with your exact requirements. Our custom research will comprehensively cover the business information you require to help you arrive at strategic and profitable business decisions.
Please visit
http://www.micromarketmonitor.com/custom-research-services.html
to specify your custom Research Requirement
PRODUCT TITLE
PUBLISHED
North American Hospital Information Systems


The North American hospital information systems (HIS) market was valued at $10.1 billion in 2013 and is expected to grow at a CAGR of 8.4% from 2014 to 2019. The report on this market analyzes the market on the basis of sub-segments into Electronic Health Record (EHR), Computerized Physician Order Entry System (CPOE), Picture Archiving and Communication System (PACS), Radiology Information System (RIS), Clinical Decision Support System (CDSS), and Cardiovascular Information and Imaging Solutions (CVIS).



Upcoming
European Hospital Information Systems


The European hospital information systems (HIS) market was valued at $3.9 billion in 2013 that is expected to grow at a CAGR of 7.7% from 2014 to 2019. The HIS market report analyzes the market on the basis of sub-segments into Electronic Health Record (EHR), Computerized Physician Order Entry System (CPOE), Picture Archiving and Communication System (PACS), Radiology Information System (RIS), Clinical Decision Support System (CDSS), and Cardiovascular Information and Imaging Solutions (CVIS).



Upcoming
Asian Hospital Information Systems


The Asian hospital information systems (HIS) market was valued at $2.4 billion in 2013 and is expected to grow at a CAGR of 8.6% from 2014 to 2019. The HIS market report analyzes the market on the basis of sub-segments into Electronic Health Record (EHR), Computerized Physician Order Entry System (CPOE), Picture Archiving and Communication System (PACS), Radiology Information System (RIS), Clinical Decision Support System (CDSS), and Cardiovascular Information and Imaging Solutions (CVIS).



Upcoming
North American Cardiovascular Information And Imaging Solution (CVIS)