Global Cardiovascular Information And Imaging Solution (CVIS) Market Research Report
Description
Table of Contents
Customer Intelligence
The global Cardiovascular Information and Imaging Solution (CVIS) market is expected to grow at a CAGR of 7.8% from 2014 to 2019. CVIS is an effective tool which provided an improved cardiology and clinical performance in the cardiology department by providing a framework for the exchange, integration, sharing, and retrieval of cardiology electronic medical data with advanced security. The adoption of CVIS by healthcare providers over cardiology PACS solution has been on the rise in the global CVIS market. This is done in order to mobilize healthcare information across or within organizations. It eventually helps enhance the quality of care delivered.
Factors, such as the requirement to streamline workflow in cardiac care departments; the need to curtail the healthcare costs; and the need to overcome the issue with data silos have increased the demand for global CVIS. However, the integration and implementation challenges of CVIS with EMR and PACS may hinder the growth of the global CVIS market in the coming years.
The market figures have been arrived at based on key facts, annual financial information from SEC filings, company annual reports, and interviews with industry experts and key opinion leaders, such as CEOs, directors, and marketing executives. The major companies operating in this market include Philip Healthcare (Netherlands), Siemens Healthcare (Germany), Mckesson Corporation (U.S.), Afga Healthcare (Belgium) among others.
1 Introduction
1.1 Analyst Insights
1.2 Market Definitions
1.3 Market Segmentation & Aspects Covered
1.4 Research Methodology
2 Executive Summary
3 Market Overview
4 Cardiovascular Information And Imaging Solution (CVIS) by Applications
4.1 Clinical Guidelines
4.2 Clinical Reminders
4.3 Drug-Drug Interactions
4.4 Drug Allergy Alerts
4.5 Drug Dosing Support
5 Cardiovascular Information And Imaging Solution (CVIS) by Components
5.1 Hardware (Healthcare IT)
5.2 Software (Healthcare IT)
5.3 Services (Healthcare IT)
6 Cardiovascular Information And Imaging Solution (CVIS) by Deployments
6.1 On-premise
6.2 Web-based
6.3 Cloud-based
7 Cardiovascular Information And Imaging Solution (CVIS) by Endusers
7.1 Office based Physicians
7.2 Hospitals
7.3 Emergency Healthcare Service providers
7.4 Nurses
8 Cardiovascular Information And Imaging Solution (CVIS) by Functions
8.1 Technical CVIS
8.2 Clinical CVIS
8.3 Business CVIS
9 Cardiovascular Information And Imaging Solution (CVIS) by Geographies
9.1 North America
9.2 Europe
9.3 Asia
9.4 Rest of World
10 Cardiovascular Information And Imaging Solution (CVIS) by Companies
10.1 Cerner Corporation
10.2 Allscripts
10.3 Epic Systems
10.4 McKesson Corporation
10.5 GE Healthcare
10.6 Agfa-Gevaert
10.7 Siemens AG Healthcare
10.8 Philips Healthcare
10.9 Other Companies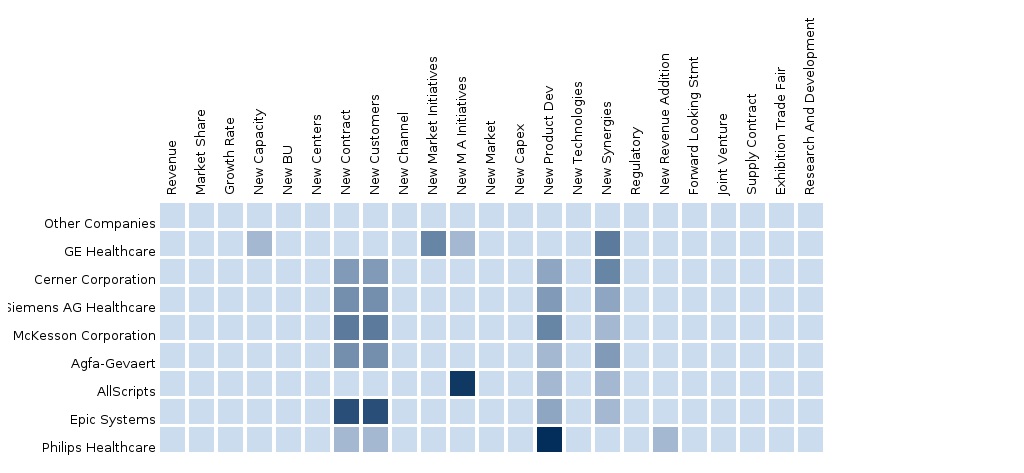 PRODUCT TITLE
PUBLISHED
PRICE
North American Cardiovascular Information And Imaging Solution (CVIS)


This North American cardiovascular information and imaging solution (CVIS) market study provides an in-depth market review, with specific focus on the competitive scenario, along with the current and future trends. This report highlights the growth rate, market drivers, and other significant insights. This market is expected to grow at a CAGR of 8.2% from 2013 to 2018.



17 Feb 2015
$ 3500
European Cardiovascular Information And Imaging Solution (CVIS)


The European cardiovascular information and imaging system (CVIS) market is a fast growing market. This report offers various insights into this market such as growth factors, trends, market share of key players, competitive scenario, market developments, and other details. The European cardiovascular information and imaging solution market is estimated to grow at a CAGR of 7.1% from 2014 to 2019. The increasing rate of the obese population is also responsible for the increasing cases of heart-related disorders in the region, thereby driving the demand for CVIS in the region.



17 Feb 2015
$ 3500
Asian Cardiovascular Information And Imaging Solution (CVIS)


The Asian cardiovascular information and imaging system market has been projected as the fastest-growing market, globally. This report covers the growth factors of this market as well as the trends, forecasts, and developments. Equal emphasis has been laid on company profiles and competitive landscape, along with the SWOT analysis and strategies adopted by market players.



17 Feb 2015
$ 3500
North American Business CVIS Market


The Business CVIS market in North America was estimated to be $4.7 million in 2013 that is expected to reach $6.9 million by 2018, at a CAGR of 8.1% from 2013 to 2018. The market can be segmented on the basis of components, deployments, companies, macro indicators, end-users, and applications. A DeepDive analysis of the top players of this domain has been carried out in the report.



17 Feb 2015
$ 3500
European Business CVIS


The European Business CVIS market can be segmented on the basis of components, deployments, companies, macro indicators, end-users, and applications. Components of this market include Hardware (Healthcare IT), Software (Healthcare IT) and Services (Healthcare IT).



17 Feb 2015
$ 3500
Asian Business CVIS


The Asian Business CVIS market can be segmented on the basis of components, deployments, companies, macro indicators, end-users, and applications. The components of this market include Hardware (Healthcare IT), Software (Healthcare IT) and Services (Healthcare IT).



17 Feb 2015
$ 3500
North America Technical CVIS


The technical CVIS market in North America has commanded the largest market share, which is anticipated to grow at a rate of 7.10% from 2012 to 2018. This report mainly discusses the market share, value chain analysis, and market metrics such as drivers, restraints, and upcoming challenges of the North American technical CVIS market. A DeepDive analysis of the top players of this domain has also been considered in the report.



17 Feb 2015
$ 3500
Europe Technical CVIS


The Europe technical CVIS market report mainly discusses on market share, value chain analysis, and market metrics such as drivers, restraints, and upcoming opportunities. Europe is considered as the second largest market in the clinical information systems, and it is projected to grow at a CAGR of 6.95% from 2012 to 2018. A DeepDive analysis of the top players of this domain has also been considered in this report.



17 Feb 2015
$ 3500
Asia Technical CVIS


The Asian technical CVIS market is considered as the third largest market, preceded by North America and Europe. The study mainly offers highly analytical insights of this market, with a competitive analysis of key market players, market development, and market metrics such as drivers, restraints, and other upcoming challenges.



17 Feb 2015
$ 3500
Clinical Cardiovascular Information And Imaging Solution


Clinical CVIS and Technical CVIS and Business CVIS adds up to total...



17 Feb 2015
$ 4500
European Clinical cardiovascular Information system


Clinical CVIS-Europe can be segmented by Components, Deployments, Companies, MacroIndicators, Endusers and Applications. Components of Clinical CVIS-Europe are Hardware (Healthcare IT), Software (Healthcare IT) and Services (Healthcare IT). Deployments of Clinical...



17 Feb 2015
$ 3500
Asian Clinical Cardiovascular Information System


Clinical CVIS-Asia can be segmented by Components, Deployments, Companies, MacroIndicators, Endusers and Applications. Components of Clinical CVIS-Asia are Hardware (Healthcare IT), Software (Healthcare IT) and Services (Healthcare IT). Deployments of Clinical CVIS-Asia...



17 Feb 2015
$ 3500
12 of 12 items
12 reports | Show
Cardiovascular Information And Imaging Solution (CVIS)