North American Hospital Information Systems Market Research Report
The North America Hospital Information System Market is estimated to grow at a CAGR of 8.6% from 2014 to 2019. Hospital information system is considered to be a segment of health informatics software that mainly focuses on fulfilling the administrative tasks involved in hospitals, satellite clinics, laboratory, nursing, pharmacy, and other departments. Based on geography, North America Hospital Information System market is divided into major countries, such as U.S. and Canada.
Significant factors influencing the market growth of hospital information system market in this region comprises increasing adoption of integrated EMR solutions, adequate financial support from government, and growing demand of advanced administrative software solutions among leading healthcare providers. U.S. holds the highest market of the total North American hospital information systems market, which is simultaneously followed by Canada.
Government expenditure in the healthcare sector is expected to increase with the demand of cost-effective healthcare services and the rising incidence of chronic diseases among the North American population. On an average, the U.S. government has spent around 17.9% of its gross domestic product (GDP) on healthcare services in the year 2011, which is further expected to increase by 20% till 2021. In 2011, the U.S. government announced a $27 billion healthcare IT package to be used for EHR and patient records. This offers a significant opportunity to market players operating in the HCIT market.
Report Customization Options
Along with market data, you can also customize MMM offerings that are in keeping with your company's specific needs. Customize your report on the North American HIS market to get an insight into all-inclusive industry standards and a deep-dive analysis of the following considerations:
Product Analysis
Usage pattern (in-depth trend analysis) of endoscopes (segment wise)
Product matrix which gives a detailed comparison of the product portfolio of each company mapped at country and sub-segment level
End-user adoption rate analysis of endoscopes (segment wise and country wise)
Comprehensive coverage of product approvals, pipeline products, and product recalls
Procedure Volume Data
Number of software installed
End users
Surgeon/Physician Perception analysis
Fast turnaround analysis of surgeons' response to market events and trends
Pattern analysis of device usage by physicians
Surgeons' opinion about products from different companies
Brand/ Product Perception Matrix
Comprehensive study of customers perception and behavior through our inbuilt social connection tool checking the virality and tonality of blogs
Analysis of overall brand usage and familiarity and brand advocacy distribution (detractor/neutral/familiar)
Pricing Trends
Cost analysis of Electronic Health Record (EHR), Computerized Physician Order Entry System (CPOE), Picture Archiving and Communication System (PACS), Radiology Information System (RIS), Clinical Decision Support System (CDSS), and Cardiovascular Information and Imaging Solutions (CVIS) in major countries
Competitive Intelligence
Company share analysis of HIS market in North American countries
Crucial developments and strategies of companies inculcating HIS in their portfolio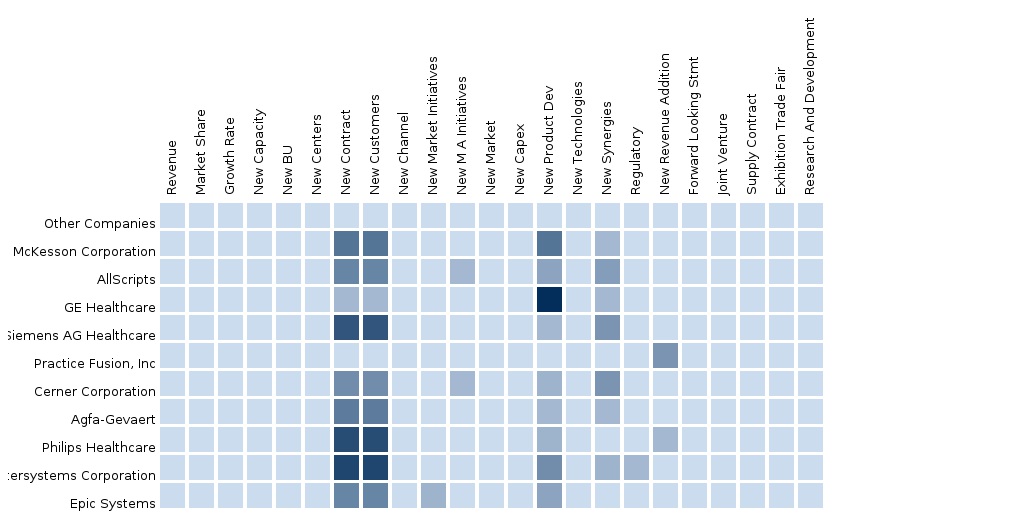 Please fill in the form below to receive a free copy of the Summary of this Report
Custom Market Research Services
We will customize the research for you, in case the report listed above does not meet with your exact requirements. Our custom research will comprehensively cover the business information you require to help you arrive at strategic and profitable business decisions.
Please visit
http://www.micromarketmonitor.com/custom-research-services.html
to specify your custom Research Requirement
PRODUCT TITLE
PUBLISHED
North American Clinical Cardiovascular Information And Imaging Solution


The North American Clinical CVIS market is anticipated to boom due to the inherent advantages it offers in the field of interventional cardiology. This report encompasses the market share, value chain analysis, and market metrics along with the market drivers and restraints. A DeepDive analysis of the top players of this domain have also been considered in the report.



Upcoming
European Clinical Cardiovascular Information And Imaging Solution market


Globally, Europe is the second largest Clinical Information Systems market, which is expected to reach a CAGR value of 6.35%, from 2012 to 2018. The European chromatography market is segmented into geography, sub-market, application, component, deployment, and end-user. A DeepDive analysis of the top players of this domain have also been considered in the report.



Upcoming
Asia Clinical Information Systems Market


The Asian clinical CVIS market report includes the market share, value chain analysis, and market metrics that include drivers, restraints, and upcoming opportunities. The market is segmented into geography, sub-market, application, component, deployment, and end-user. A DeepDive analysis of the top players of this domain have also been considered in this report.



Upcoming
North American Hospital Information Systems