European Cardiovascular Information And Imaging Solution (CVIS) Market
Description
Table of Contents
Customer Intelligence
Cardiovascular operations involve multiple systems, disparate volumes of data, and outdated technology, which is why surgeons and patients have quite a lot of associated difficulties. Many healthcare providers are trying to modernize the cardiovascular departments with a Cardiovascular Imaging and Information System (CVIS), which would allow the organizations to enhance the cardiovascular services. The business CVIS market is a part of Cardiovascular Imaging and Information Solutions.
The European business CVIS market is one of the emerging markets in the pharmaceuticals industry. The market is expected to witness a CAGR of 5.92% from 2013 to 2018. The market growth is triggered by increased growth in medical tourism and government investments.
The European business CVIS market is segmented on the basis of products, components, end-users, applications, and others. In terms of products, the market includes integrated business CVIS and standalone business CVIS. The components include hardware, software, and services. The end-users are emergency healthcare service providers, hospitals, nurses, office-based physicians, and others. The market segmented on the basis of application includes clinical guidelines, clinical reminders, drug allergy alerts, drug dosing support, drug-drug applications, and others.
The market is further segmented on the basis of geography, which includes countries such as the U.K., Germany, France, and others. In the European business CVIS market, Germany accounted for the maximum share of about 25.1% in 2013. The German market is mainly driven by the increasing use of digital imaging technology in the region.
In addition, this market report also covers companies that operate in this region. Some of the key players of the market covered in the report are Mckesson Corporation, Allscripts, Philips Healthcare, Siemens AG, Epic Systems, Cerner Corporation, and others.
Emerging opportunities in this market have been identified in the report on the basis of secondary research that involves press releases, industry white papers, and several others.
It also provides a product portfolio, recent developments, growth strategies & trends, financials, and the market share. It helps the user of this report determine the competition and devise a business strategy. Also, the drivers, restraints, and opportunities of the market have been covered in the report.
1 Introduction
1.1 Introduce the Market
1.2 Objective of the study
1.3 Market Definition and Scope of the study
1.3.1 Market Definition
1.3.2 Areas covered
1.3.3 Markets Covered
1.4 Stakeholders
1.5 Research Methodology
1.5.1 Secondary sources
1.5.2 Primary Sources
1.5.3 Market estimation methodology (Top-down, bottom-up, data triangulation.)
1.5.4 Macro indicators for the study
1.6 Assumptions
1.7 List of Acronyms
2 Market Overview
3 Cardiovascular Information And Imaging Solution (CVIS)-Europe, By Applications
3.1 Split By Geography
3.2 Cardiovascular Information And Imaging Solution (CVIS)-Europe-Clinical Guidelines
3.2.1 Cardiovascular Information And Imaging Solution (CVIS)-Europe-Clinical Guidelines, By Geographies
3.2.1.1 Cardiovascular Information And Imaging Solution (CVIS)-United Kingdom-Clinical Guidelines
3.2.1.2 Cardiovascular Information And Imaging Solution (CVIS)-France-Clinical Guidelines
3.2.1.3 Cardiovascular Information And Imaging Solution (CVIS)-Germany-Clinical Guidelines
3.2.1.4 Cardiovascular Information And Imaging Solution (CVIS)-Italy-Clinical Guidelines
3.2.1.5 Cardiovascular Information And Imaging Solution (CVIS)-Europe - Europe - Other Geographies-Clinical Guidelines
3.2.1.6 Cardiovascular Information And Imaging Solution (CVIS)-Spain-Clinical Guidelines
3.2.2 Cardiovascular Information And Imaging Solution (CVIS)-Europe-Clinical Guidelines, By Functions
3.2.2.1 Business CVIS-Europe-Clinical Guidelines
3.2.2.2 Technical CVIS-Europe-Clinical Guidelines
3.2.2.3 Clinical CVIS-Europe-Clinical Guidelines
3.3 Cardiovascular Information And Imaging Solution (CVIS)-Europe-Clinical Reminders
3.3.1 Cardiovascular Information And Imaging Solution (CVIS)-Europe-Clinical Reminders, By Geographies
3.3.1.1 Cardiovascular Information And Imaging Solution (CVIS)-United Kingdom-Clinical Reminders
3.3.1.2 Cardiovascular Information And Imaging Solution (CVIS)-France-Clinical Reminders
3.3.1.3 Cardiovascular Information And Imaging Solution (CVIS)-Germany-Clinical Reminders
3.3.1.4 Cardiovascular Information And Imaging Solution (CVIS)-Italy-Clinical Reminders
3.3.1.5 Cardiovascular Information And Imaging Solution (CVIS)-Europe - Europe - Other Geographies-Clinical Reminders
3.3.1.6 Cardiovascular Information And Imaging Solution (CVIS)-Spain-Clinical Reminders
3.3.2 Cardiovascular Information And Imaging Solution (CVIS)-Europe-Clinical Reminders, By Functions
3.3.2.1 Business CVIS-Europe-Clinical Reminders
3.3.2.2 Technical CVIS-Europe-Clinical Reminders
3.3.2.3 Clinical CVIS-Europe-Clinical Reminders
3.4 Cardiovascular Information And Imaging Solution (CVIS)-Europe-Drug-Drug Interactions
3.4.1 Cardiovascular Information And Imaging Solution (CVIS)-Europe-Drug-Drug Interactions, By Geographies
3.4.1.1 Cardiovascular Information And Imaging Solution (CVIS)-United Kingdom-Drug-Drug Interactions
3.4.1.2 Cardiovascular Information And Imaging Solution (CVIS)-France-Drug-Drug Interactions
3.4.1.3 Cardiovascular Information And Imaging Solution (CVIS)-Germany-Drug-Drug Interactions
3.4.1.4 Cardiovascular Information And Imaging Solution (CVIS)-Italy-Drug-Drug Interactions
3.4.1.5 Cardiovascular Information And Imaging Solution (CVIS)-Europe - Europe - Other Geographies-Drug-Drug Interactions
3.4.1.6 Cardiovascular Information And Imaging Solution (CVIS)-Spain-Drug-Drug Interactions
3.4.2 Cardiovascular Information And Imaging Solution (CVIS)-Europe-Drug-Drug Interactions, By Functions
3.4.2.1 Business CVIS-Europe-Drug-Drug Interactions
3.4.2.2 Technical CVIS-Europe-Drug-Drug Interactions
3.4.2.3 Clinical CVIS-Europe-Drug-Drug Interactions
3.5 Cardiovascular Information And Imaging Solution (CVIS)-Europe-Drug Allergy Alerts
3.5.1 Cardiovascular Information And Imaging Solution (CVIS)-Europe-Drug Allergy Alerts, By Geographies
3.5.1.1 Cardiovascular Information And Imaging Solution (CVIS)-United Kingdom-Drug Allergy Alerts
3.5.1.2 Cardiovascular Information And Imaging Solution (CVIS)-France-Drug Allergy Alerts
3.5.1.3 Cardiovascular Information And Imaging Solution (CVIS)-Germany-Drug Allergy Alerts
3.5.1.4 Cardiovascular Information And Imaging Solution (CVIS)-Italy-Drug Allergy Alerts
3.5.1.5 Cardiovascular Information And Imaging Solution (CVIS)-Europe - Europe - Other Geographies-Drug Allergy Alerts
3.5.1.6 Cardiovascular Information And Imaging Solution (CVIS)-Spain-Drug Allergy Alerts
3.5.2 Cardiovascular Information And Imaging Solution (CVIS)-Europe-Drug Allergy Alerts, By Functions
3.5.2.1 Business CVIS-Europe-Drug Allergy Alerts
3.5.2.2 Technical CVIS-Europe-Drug Allergy Alerts
3.5.2.3 Clinical CVIS-Europe-Drug Allergy Alerts
3.6 Cardiovascular Information And Imaging Solution (CVIS)-Europe-Drug Dosing Support
3.6.1 Cardiovascular Information And Imaging Solution (CVIS)-Europe-Drug Dosing Support, By Geographies
3.6.1.1 Cardiovascular Information And Imaging Solution (CVIS)-United Kingdom-Drug Dosing Support
3.6.1.2 Cardiovascular Information And Imaging Solution (CVIS)-France-Drug Dosing Support
3.6.1.3 Cardiovascular Information And Imaging Solution (CVIS)-Germany-Drug Dosing Support
3.6.1.4 Cardiovascular Information And Imaging Solution (CVIS)-Italy-Drug Dosing Support
3.6.1.5 Cardiovascular Information And Imaging Solution (CVIS)-Europe - Europe - Other Geographies-Drug Dosing Support
3.6.1.6 Cardiovascular Information And Imaging Solution (CVIS)-Spain-Drug Dosing Support
3.6.2 Cardiovascular Information And Imaging Solution (CVIS)-Europe-Drug Dosing Support, By Functions
3.6.2.1 Business CVIS-Europe-Drug Dosing Support
3.6.2.2 Technical CVIS-Europe-Drug Dosing Support
3.6.2.3 Clinical CVIS-Europe-Drug Dosing Support
4 Cardiovascular Information And Imaging Solution (CVIS)-Europe, By Components
4.1 Split By Geography
4.2 Cardiovascular Information And Imaging Solution (CVIS)-Europe-Hardware (Healthcare IT)
4.2.1 Cardiovascular Information And Imaging Solution (CVIS)-Europe-Hardware (Healthcare IT), By Geographies
4.2.1.1 Cardiovascular Information And Imaging Solution (CVIS)-United Kingdom-Hardware (Healthcare IT)
4.2.1.2 Cardiovascular Information And Imaging Solution (CVIS)-France-Hardware (Healthcare IT)
4.2.1.3 Cardiovascular Information And Imaging Solution (CVIS)-Germany-Hardware (Healthcare IT)
4.2.1.4 Cardiovascular Information And Imaging Solution (CVIS)-Italy-Hardware (Healthcare IT)
4.2.1.5 Cardiovascular Information And Imaging Solution (CVIS)-Spain-Hardware (Healthcare IT)
4.2.1.6 Cardiovascular Information And Imaging Solution (CVIS)-Europe - Europe - Other Geographies-Hardware (Healthcare IT)
4.2.2 Cardiovascular Information And Imaging Solution (CVIS)-Europe-Hardware (Healthcare IT), By Functions
4.2.2.1 Business CVIS-Europe-Hardware (Healthcare IT)
4.2.2.2 Technical CVIS-Europe-Hardware (Healthcare IT)
4.2.2.3 Clinical CVIS-Europe-Hardware (Healthcare IT)
4.3 Cardiovascular Information And Imaging Solution (CVIS)-Europe-Software (Healthcare IT)
4.3.1 Cardiovascular Information And Imaging Solution (CVIS)-Europe-Software (Healthcare IT), By Geographies
4.3.1.1 Cardiovascular Information And Imaging Solution (CVIS)-United Kingdom-Software (Healthcare IT)
4.3.1.2 Cardiovascular Information And Imaging Solution (CVIS)-France-Software (Healthcare IT)
4.3.1.3 Cardiovascular Information And Imaging Solution (CVIS)-Germany-Software (Healthcare IT)
4.3.1.4 Cardiovascular Information And Imaging Solution (CVIS)-Italy-Software (Healthcare IT)
4.3.1.5 Cardiovascular Information And Imaging Solution (CVIS)-Spain-Software (Healthcare IT)
4.3.1.6 Cardiovascular Information And Imaging Solution (CVIS)-Europe - Europe - Other Geographies-Software (Healthcare IT)
4.3.2 Cardiovascular Information And Imaging Solution (CVIS)-Europe-Software (Healthcare IT), By Functions
4.3.2.1 Business CVIS-Europe-Software (Healthcare IT)
4.3.2.2 Technical CVIS-Europe-Software (Healthcare IT)
4.3.2.3 Clinical CVIS-Europe-Software (Healthcare IT)
4.4 Cardiovascular Information And Imaging Solution (CVIS)-Europe-Services (Healthcare IT)
4.4.1 Cardiovascular Information And Imaging Solution (CVIS)-Europe-Services (Healthcare IT), By Geographies
4.4.1.1 Cardiovascular Information And Imaging Solution (CVIS)-United Kingdom-Services (Healthcare IT)
4.4.1.2 Cardiovascular Information And Imaging Solution (CVIS)-France-Services (Healthcare IT)
4.4.1.3 Cardiovascular Information And Imaging Solution (CVIS)-Germany-Services (Healthcare IT)
4.4.1.4 Cardiovascular Information And Imaging Solution (CVIS)-Italy-Services (Healthcare IT)
4.4.1.5 Cardiovascular Information And Imaging Solution (CVIS)-Spain-Services (Healthcare IT)
4.4.1.6 Cardiovascular Information And Imaging Solution (CVIS)-Europe - Europe - Other Geographies-Services (Healthcare IT)
4.4.2 Cardiovascular Information And Imaging Solution (CVIS)-Europe-Services (Healthcare IT), By Functions
4.4.2.1 Business CVIS-Europe-Services (Healthcare IT)
4.4.2.2 Technical CVIS-Europe-Services (Healthcare IT)
4.4.2.3 Clinical CVIS-Europe-Services (Healthcare IT)
5 Cardiovascular Information And Imaging Solution (CVIS)-Europe, By Deployments
5.1 Split By Geography
5.2 Cardiovascular Information And Imaging Solution (CVIS)-Europe-On-premise
5.2.1 Cardiovascular Information And Imaging Solution (CVIS)-Europe-On-premise, By Geographies
5.2.1.1 Cardiovascular Information And Imaging Solution (CVIS)-United Kingdom-On-premise
5.2.1.2 Cardiovascular Information And Imaging Solution (CVIS)-France-On-premise
5.2.1.3 Cardiovascular Information And Imaging Solution (CVIS)-Germany-On-premise
5.2.1.4 Cardiovascular Information And Imaging Solution (CVIS)-Italy-On-premise
5.2.1.5 Cardiovascular Information And Imaging Solution (CVIS)-Spain-On-premise
5.2.1.6 Cardiovascular Information And Imaging Solution (CVIS)-Europe - Europe - Other Geographies-On-premise
5.2.2 Cardiovascular Information And Imaging Solution (CVIS)-Europe-On-premise, By Functions
5.2.2.1 Business CVIS-Europe-On-premise
5.2.2.2 Technical CVIS-Europe-On-premise
5.2.2.3 Clinical CVIS-Europe-On-premise
5.3 Cardiovascular Information And Imaging Solution (CVIS)-Europe-Web-based
5.3.1 Cardiovascular Information And Imaging Solution (CVIS)-Europe-Web-based, By Geographies
5.3.1.1 Cardiovascular Information And Imaging Solution (CVIS)-United Kingdom-Web-based
5.3.1.2 Cardiovascular Information And Imaging Solution (CVIS)-France-Web-based
5.3.1.3 Cardiovascular Information And Imaging Solution (CVIS)-Germany-Web-based
5.3.1.4 Cardiovascular Information And Imaging Solution (CVIS)-Italy-Web-based
5.3.1.5 Cardiovascular Information And Imaging Solution (CVIS)-Spain-Web-based
5.3.1.6 Cardiovascular Information And Imaging Solution (CVIS)-Europe - Europe - Other Geographies-Web-based
5.3.2 Cardiovascular Information And Imaging Solution (CVIS)-Europe-Web-based, By Functions
5.3.2.1 Business CVIS-Europe-Web-based
5.3.2.2 Technical CVIS-Europe-Web-based
5.3.2.3 Clinical CVIS-Europe-Web-based
5.4 Cardiovascular Information And Imaging Solution (CVIS)-Europe-Cloud-based
5.4.1 Cardiovascular Information And Imaging Solution (CVIS)-Europe-Cloud-based, By Geographies
5.4.1.1 Cardiovascular Information And Imaging Solution (CVIS)-United Kingdom-Cloud-based
5.4.1.2 Cardiovascular Information And Imaging Solution (CVIS)-France-Cloud-based
5.4.1.3 Cardiovascular Information And Imaging Solution (CVIS)-Germany-Cloud-based
5.4.1.4 Cardiovascular Information And Imaging Solution (CVIS)-Italy-Cloud-based
5.4.1.5 Cardiovascular Information And Imaging Solution (CVIS)-Spain-Cloud-based
5.4.1.6 Cardiovascular Information And Imaging Solution (CVIS)-Europe - Europe - Other Geographies-Cloud-based
5.4.2 Cardiovascular Information And Imaging Solution (CVIS)-Europe-Cloud-based, By Functions
5.4.2.1 Business CVIS-Europe-Cloud-based
5.4.2.2 Technical CVIS-Europe-Cloud-based
5.4.2.3 Clinical CVIS-Europe-Cloud-based
6 Cardiovascular Information And Imaging Solution (CVIS)-Europe, By Endusers
6.1 Split By Geography
6.2 Cardiovascular Information And Imaging Solution (CVIS)-Europe-Office based Physicians
6.2.1 Cardiovascular Information And Imaging Solution (CVIS)-Europe-Office based Physicians, By Geographies
6.2.1.1 Cardiovascular Information And Imaging Solution (CVIS)-United Kingdom-Office based Physicians
6.2.1.2 Cardiovascular Information And Imaging Solution (CVIS)-France-Office based Physicians
6.2.1.3 Cardiovascular Information And Imaging Solution (CVIS)-Germany-Office based Physicians
6.2.1.4 Cardiovascular Information And Imaging Solution (CVIS)-Italy-Office based Physicians
6.2.1.5 Cardiovascular Information And Imaging Solution (CVIS)-Spain-Office based Physicians
6.2.1.6 Cardiovascular Information And Imaging Solution (CVIS)-Europe - Europe - Other Geographies-Office based Physicians
6.2.2 Cardiovascular Information And Imaging Solution (CVIS)-Europe-Office based Physicians, By Functions
6.2.2.1 Business CVIS-Europe-Office based Physicians
6.2.2.2 Technical CVIS-Europe-Office based Physicians
6.2.2.3 Clinical CVIS-Europe-Office based Physicians
6.3 Cardiovascular Information And Imaging Solution (CVIS)-Europe-Hospitals
6.3.1 Cardiovascular Information And Imaging Solution (CVIS)-Europe-Hospitals, By Geographies
6.3.1.1 Cardiovascular Information And Imaging Solution (CVIS)-United Kingdom-Hospitals
6.3.1.2 Cardiovascular Information And Imaging Solution (CVIS)-France-Hospitals
6.3.1.3 Cardiovascular Information And Imaging Solution (CVIS)-Germany-Hospitals
6.3.1.4 Cardiovascular Information And Imaging Solution (CVIS)-Italy-Hospitals
6.3.1.5 Cardiovascular Information And Imaging Solution (CVIS)-Spain-Hospitals
6.3.1.6 Cardiovascular Information And Imaging Solution (CVIS)-Europe - Europe - Other Geographies-Hospitals
6.3.2 Cardiovascular Information And Imaging Solution (CVIS)-Europe-Hospitals, By Endusers
6.3.2.1 Cardiovascular Information And Imaging Solution (CVIS)-Europe-<100 beds
6.3.2.2 Cardiovascular Information And Imaging Solution (CVIS)-Europe->500 beds
6.3.2.3 Cardiovascular Information And Imaging Solution (CVIS)-Europe-100-199 beds
6.3.2.4 Cardiovascular Information And Imaging Solution (CVIS)-Europe-200-299 beds
6.3.2.5 Cardiovascular Information And Imaging Solution (CVIS)-Europe-300-399 beds
6.3.2.6 Cardiovascular Information And Imaging Solution (CVIS)-Europe-400-499 beds
6.3.3 Cardiovascular Information And Imaging Solution (CVIS)-Europe-Hospitals, By Functions
6.3.3.1 Business CVIS-Europe-Hospitals
6.3.3.2 Technical CVIS-Europe-Hospitals
6.3.3.3 Clinical CVIS-Europe-Hospitals
6.4 Cardiovascular Information And Imaging Solution (CVIS)-Europe-Emergency Healthcare Service providers
6.4.1 Cardiovascular Information And Imaging Solution (CVIS)-Europe-Emergency Healthcare Service providers, By Geographies
6.4.1.1 Cardiovascular Information And Imaging Solution (CVIS)-United Kingdom-Emergency Healthcare Service providers
6.4.1.2 Cardiovascular Information And Imaging Solution (CVIS)-France-Emergency Healthcare Service providers
6.4.1.3 Cardiovascular Information And Imaging Solution (CVIS)-Germany-Emergency Healthcare Service providers
6.4.1.4 Cardiovascular Information And Imaging Solution (CVIS)-Italy-Emergency Healthcare Service providers
6.4.1.5 Cardiovascular Information And Imaging Solution (CVIS)-Spain-Emergency Healthcare Service providers
6.4.1.6 Cardiovascular Information And Imaging Solution (CVIS)-Europe - Europe - Other Geographies-Emergency Healthcare Service providers
6.4.2 Cardiovascular Information And Imaging Solution (CVIS)-Europe-Emergency Healthcare Service providers, By Functions
6.4.2.1 Business CVIS-Europe-Emergency Healthcare Service providers
6.4.2.2 Technical CVIS-Europe-Emergency Healthcare Service providers
6.4.2.3 Clinical CVIS-Europe-Emergency Healthcare Service providers
6.5 Cardiovascular Information And Imaging Solution (CVIS)-Europe-Nurses
6.5.1 Cardiovascular Information And Imaging Solution (CVIS)-Europe-Nurses, By Geographies
6.5.1.1 Cardiovascular Information And Imaging Solution (CVIS)-United Kingdom-Nurses
6.5.1.2 Cardiovascular Information And Imaging Solution (CVIS)-France-Nurses
6.5.1.3 Cardiovascular Information And Imaging Solution (CVIS)-Germany-Nurses
6.5.1.4 Cardiovascular Information And Imaging Solution (CVIS)-Italy-Nurses
6.5.1.5 Cardiovascular Information And Imaging Solution (CVIS)-Spain-Nurses
6.5.1.6 Cardiovascular Information And Imaging Solution (CVIS)-Europe - Europe - Other Geographies-Nurses
6.5.2 Cardiovascular Information And Imaging Solution (CVIS)-Europe-Nurses, By Functions
6.5.2.1 Business CVIS-Europe-Nurses
6.5.2.2 Technical CVIS-Europe-Nurses
6.5.2.3 Clinical CVIS-Europe-Nurses
7 Cardiovascular Information And Imaging Solution (CVIS)-Europe, By Functions
7.1 Split By Geography
7.2 Business CVIS-Europe
7.2.1 Business CVIS-Europe, By Companies
7.2.1.1 Business CVIS-Europe-GE Healthcare
7.2.1.2 Business CVIS-Europe-Philips Healthcare
7.2.1.3 Business CVIS-Europe-McKesson Corporation
7.2.1.4 Business CVIS-Europe-Siemens AG Healthcare
7.2.1.5 Business CVIS-Europe-Cerner Corporation
7.2.1.6 Business CVIS-Europe-Epic Systems
7.2.1.7 Business CVIS-Europe-Allscripts
7.2.1.8 Business CVIS-Europe-Agfa-Gevaert
7.2.2 Business CVIS-Europe, By Components
7.2.2.1 Business CVIS-Europe-Hardware (Healthcare IT)
7.2.2.2 Business CVIS-Europe-Software (Healthcare IT)
7.2.2.3 Business CVIS-Europe-Services (Healthcare IT)
7.2.3 Business CVIS-Europe, By Deployments
7.2.3.1 Business CVIS-Europe-On-premise
7.2.3.2 Business CVIS-Europe-Web-based
7.2.3.3 Business CVIS-Europe-Cloud-based
7.2.4 Business CVIS-Europe, By Endusers
7.2.4.1 Business CVIS-Europe-Office based Physicians
7.2.4.2 Business CVIS-Europe-Hospitals
7.2.4.3 Business CVIS-Europe-Emergency Healthcare Service providers
7.2.4.4 Business CVIS-Europe-Nurses
7.2.5 Business CVIS-Europe, By Applications
7.2.5.1 Business CVIS-Europe-Clinical Guidelines
7.2.5.2 Business CVIS-Europe-Clinical Reminders
7.2.5.3 Business CVIS-Europe-Drug-Drug Interactions
7.2.5.4 Business CVIS-Europe-Drug Allergy Alerts
7.2.5.5 Business CVIS-Europe-Drug Dosing Support
7.2.6 Business CVIS-Europe, By MacroIndicators
7.2.6.1 Business CVIS-Healthcare Expenditure-Europe
7.2.7 Business CVIS-Europe, By Geographies
7.2.7.1 Business CVIS-United Kingdom
7.2.7.2 Business CVIS-France
7.2.7.3 Business CVIS-Germany
7.2.7.4 Business CVIS-Italy
7.2.7.5 Business CVIS-Spain
7.2.7.6 Business CVIS-Europe - Europe - Other Geographies
7.2.8 Business CVIS-Europe, By Products
7.2.8.1 Integrated Business CVIS-Europe
7.2.8.2 Standalone Business CVIS-Europe
7.3 Technical CVIS-Europe
7.3.1 Technical CVIS-Europe, By Companies
7.3.1.1 Technical CVIS-Europe-GE Healthcare
7.3.1.2 Technical CVIS-Europe-Philips Healthcare
7.3.1.3 Technical CVIS-Europe-McKesson Corporation
7.3.1.4 Technical CVIS-Europe-Siemens AG Healthcare
7.3.1.5 Technical CVIS-Europe-Cerner Corporation
7.3.1.6 Technical CVIS-Europe-Epic Systems
7.3.1.7 Technical CVIS-Europe-Allscripts
7.3.1.8 Technical CVIS-Europe-Agfa-Gevaert
7.3.2 Technical CVIS-Europe, By Components
7.3.2.1 Technical CVIS-Europe-Hardware (Healthcare IT)
7.3.2.2 Technical CVIS-Europe-Software (Healthcare IT)
7.3.2.3 Technical CVIS-Europe-Services (Healthcare IT)
7.3.3 Technical CVIS-Europe, By Deployments
7.3.3.1 Technical CVIS-Europe-On-premise
7.3.3.2 Technical CVIS-Europe-Web-based
7.3.3.3 Technical CVIS-Europe-Cloud-based
7.3.4 Technical CVIS-Europe, By Endusers
7.3.4.1 Technical CVIS-Europe-Office based Physicians
7.3.4.2 Technical CVIS-Europe-Hospitals
7.3.4.3 Technical CVIS-Europe-Emergency Healthcare Service providers
7.3.4.4 Technical CVIS-Europe-Nurses
7.3.5 Technical CVIS-Europe, By Applications
7.3.5.1 Technical CVIS-Europe-Clinical Guidelines
7.3.5.2 Technical CVIS-Europe-Clinical Reminders
7.3.5.3 Technical CVIS-Europe-Drug-Drug Interactions
7.3.5.4 Technical CVIS-Europe-Drug Allergy Alerts
7.3.5.5 Technical CVIS-Europe-Drug Dosing Support
7.3.6 Technical CVIS-Europe, By MacroIndicators
7.3.6.1 Technical CVIS-Healthcare Expenditure-Europe
7.3.7 Technical CVIS-Europe, By Geographies
7.3.7.1 Technical CVIS-United Kingdom
7.3.7.2 Technical CVIS-France
7.3.7.3 Technical CVIS-Germany
7.3.7.4 Technical CVIS-Italy
7.3.7.5 Technical CVIS-Spain
7.3.7.6 Technical CVIS-Europe - Europe - Other Geographies
7.3.8 Technical CVIS-Europe, By Products
7.3.8.1 Integrated Technical CVIS-Europe
7.3.8.2 Standalone Technical CVIS-Europe
7.4 Clinical CVIS-Europe
7.4.1 Clinical CVIS-Europe, By Companies
7.4.1.1 Clinical CVIS-Europe-GE Healthcare
7.4.1.2 Clinical CVIS-Europe-Philips Healthcare
7.4.1.3 Clinical CVIS-Europe-McKesson Corporation
7.4.1.4 Clinical CVIS-Europe-Siemens AG Healthcare
7.4.1.5 Clinical CVIS-Europe-Cerner Corporation
7.4.1.6 Clinical CVIS-Europe-Epic Systems
7.4.1.7 Clinical CVIS-Europe-Allscripts
7.4.1.8 Clinical CVIS-Europe-Agfa-Gevaert
7.4.2 Clinical CVIS-Europe, By Components
7.4.2.1 Clinical CVIS-Europe-Hardware (Healthcare IT)
7.4.2.2 Clinical CVIS-Europe-Software (Healthcare IT)
7.4.2.3 Clinical CVIS-Europe-Services (Healthcare IT)
7.4.3 Clinical CVIS-Europe, By Deployments
7.4.3.1 Clinical CVIS-Europe-On-premise
7.4.3.2 Clinical CVIS-Europe-Web-based
7.4.3.3 Clinical CVIS-Europe-Cloud-based
7.4.4 Clinical CVIS-Europe, By Endusers
7.4.4.1 Clinical CVIS-Europe-Office based Physicians
7.4.4.2 Clinical CVIS-Europe-Hospitals
7.4.4.3 Clinical CVIS-Europe-Emergency Healthcare Service providers
7.4.4.4 Clinical CVIS-Europe-Nurses
7.4.5 Clinical CVIS-Europe, By Applications
7.4.5.1 Clinical CVIS-Europe-Clinical Guidelines
7.4.5.2 Clinical CVIS-Europe-Clinical Reminders
7.4.5.3 Clinical CVIS-Europe-Drug-Drug Interactions
7.4.5.4 Clinical CVIS-Europe-Drug Allergy Alerts
7.4.5.5 Clinical CVIS-Europe-Drug Dosing Support
7.4.6 Clinical CVIS-Europe, By MacroIndicators
7.4.6.1 Clinical CVIS-Healthcare Expenditure-Europe
7.4.7 Clinical CVIS-Europe, By Geographies
7.4.7.1 Clinical CVIS-United Kingdom
7.4.7.2 Clinical CVIS-France
7.4.7.3 Clinical CVIS-Germany
7.4.7.4 Clinical CVIS-Italy
7.4.7.5 Clinical CVIS-Spain
7.4.7.6 Clinical CVIS-Europe - Europe - Other Geographies
7.4.8 Clinical CVIS-Europe, By Products
7.4.8.1 Integrated Clinical CVIS-Europe
7.4.8.2 Standalone Clinical CVIS-Europe
8 Cardiovascular Information And Imaging Solution (CVIS)-Europe, By Geographies
8.1 Cardiovascular Information And Imaging Solution (CVIS)-United Kingdom
8.1.1 Cardiovascular Information And Imaging Solution (CVIS)-United Kingdom, By Components
8.1.1.1 Cardiovascular Information And Imaging Solution (CVIS)-United Kingdom-Hardware (Healthcare IT)
8.1.1.2 Cardiovascular Information And Imaging Solution (CVIS)-United Kingdom-Software (Healthcare IT)
8.1.1.3 Cardiovascular Information And Imaging Solution (CVIS)-United Kingdom-Services (Healthcare IT)
8.1.2 Cardiovascular Information And Imaging Solution (CVIS)-United Kingdom, By Deployments
8.1.2.1 Cardiovascular Information And Imaging Solution (CVIS)-United Kingdom-On-premise
8.1.2.2 Cardiovascular Information And Imaging Solution (CVIS)-United Kingdom-Web-based
8.1.2.3 Cardiovascular Information And Imaging Solution (CVIS)-United Kingdom-Cloud-based
8.1.3 Cardiovascular Information And Imaging Solution (CVIS)-United Kingdom, By Endusers
8.1.3.1 Cardiovascular Information And Imaging Solution (CVIS)-United Kingdom-Office based Physicians
8.1.3.2 Cardiovascular Information And Imaging Solution (CVIS)-United Kingdom-Hospitals
8.1.3.3 Cardiovascular Information And Imaging Solution (CVIS)-United Kingdom-Emergency Healthcare Service providers
8.1.3.4 Cardiovascular Information And Imaging Solution (CVIS)-United Kingdom-Nurses
8.1.4 Cardiovascular Information And Imaging Solution (CVIS)-United Kingdom, By Applications
8.1.4.1 Cardiovascular Information And Imaging Solution (CVIS)-United Kingdom-Clinical Guidelines
8.1.4.2 Cardiovascular Information And Imaging Solution (CVIS)-United Kingdom-Clinical Reminders
8.1.4.3 Cardiovascular Information And Imaging Solution (CVIS)-United Kingdom-Drug-Drug Interactions
8.1.4.4 Cardiovascular Information And Imaging Solution (CVIS)-United Kingdom-Drug Allergy Alerts
8.1.4.5 Cardiovascular Information And Imaging Solution (CVIS)-United Kingdom-Drug Dosing Support
8.1.5 Cardiovascular Information And Imaging Solution (CVIS)-United Kingdom, By Functions
8.1.5.1 Business CVIS-United Kingdom
8.1.5.2 Technical CVIS-United Kingdom
8.1.5.3 Clinical CVIS-United Kingdom
8.2 Cardiovascular Information And Imaging Solution (CVIS)-France
8.2.1 Cardiovascular Information And Imaging Solution (CVIS)-France, By Components
8.2.1.1 Cardiovascular Information And Imaging Solution (CVIS)-France-Hardware (Healthcare IT)
8.2.1.2 Cardiovascular Information And Imaging Solution (CVIS)-France-Software (Healthcare IT)
8.2.1.3 Cardiovascular Information And Imaging Solution (CVIS)-France-Services (Healthcare IT)
8.2.2 Cardiovascular Information And Imaging Solution (CVIS)-France, By Deployments
8.2.2.1 Cardiovascular Information And Imaging Solution (CVIS)-France-On-premise
8.2.2.2 Cardiovascular Information And Imaging Solution (CVIS)-France-Web-based
8.2.2.3 Cardiovascular Information And Imaging Solution (CVIS)-France-Cloud-based
8.2.3 Cardiovascular Information And Imaging Solution (CVIS)-France, By Endusers
8.2.3.1 Cardiovascular Information And Imaging Solution (CVIS)-France-Office based Physicians
8.2.3.2 Cardiovascular Information And Imaging Solution (CVIS)-France-Hospitals
8.2.3.3 Cardiovascular Information And Imaging Solution (CVIS)-France-Emergency Healthcare Service providers
8.2.3.4 Cardiovascular Information And Imaging Solution (CVIS)-France-Nurses
8.2.4 Cardiovascular Information And Imaging Solution (CVIS)-France, By Applications
8.2.4.1 Cardiovascular Information And Imaging Solution (CVIS)-France-Clinical Guidelines
8.2.4.2 Cardiovascular Information And Imaging Solution (CVIS)-France-Clinical Reminders
8.2.4.3 Cardiovascular Information And Imaging Solution (CVIS)-France-Drug-Drug Interactions
8.2.4.4 Cardiovascular Information And Imaging Solution (CVIS)-France-Drug Allergy Alerts
8.2.4.5 Cardiovascular Information And Imaging Solution (CVIS)-France-Drug Dosing Support
8.2.5 Cardiovascular Information And Imaging Solution (CVIS)-France, By Functions
8.2.5.1 Business CVIS-France
8.2.5.2 Technical CVIS-France
8.2.5.3 Clinical CVIS-France
8.3 Cardiovascular Information And Imaging Solution (CVIS)-Germany
8.3.1 Cardiovascular Information And Imaging Solution (CVIS)-Germany, By Components
8.3.1.1 Cardiovascular Information And Imaging Solution (CVIS)-Germany-Hardware (Healthcare IT)
8.3.1.2 Cardiovascular Information And Imaging Solution (CVIS)-Germany-Software (Healthcare IT)
8.3.1.3 Cardiovascular Information And Imaging Solution (CVIS)-Germany-Services (Healthcare IT)
8.3.2 Cardiovascular Information And Imaging Solution (CVIS)-Germany, By Deployments
8.3.2.1 Cardiovascular Information And Imaging Solution (CVIS)-Germany-On-premise
8.3.2.2 Cardiovascular Information And Imaging Solution (CVIS)-Germany-Web-based
8.3.2.3 Cardiovascular Information And Imaging Solution (CVIS)-Germany-Cloud-based
8.3.3 Cardiovascular Information And Imaging Solution (CVIS)-Germany, By Endusers
8.3.3.1 Cardiovascular Information And Imaging Solution (CVIS)-Germany-Office based Physicians
8.3.3.2 Cardiovascular Information And Imaging Solution (CVIS)-Germany-Hospitals
8.3.3.3 Cardiovascular Information And Imaging Solution (CVIS)-Germany-Emergency Healthcare Service providers
8.3.3.4 Cardiovascular Information And Imaging Solution (CVIS)-Germany-Nurses
8.3.4 Cardiovascular Information And Imaging Solution (CVIS)-Germany, By Applications
8.3.4.1 Cardiovascular Information And Imaging Solution (CVIS)-Germany-Clinical Guidelines
8.3.4.2 Cardiovascular Information And Imaging Solution (CVIS)-Germany-Clinical Reminders
8.3.4.3 Cardiovascular Information And Imaging Solution (CVIS)-Germany-Drug-Drug Interactions
8.3.4.4 Cardiovascular Information And Imaging Solution (CVIS)-Germany-Drug Allergy Alerts
8.3.4.5 Cardiovascular Information And Imaging Solution (CVIS)-Germany-Drug Dosing Support
8.3.5 Cardiovascular Information And Imaging Solution (CVIS)-Germany, By Functions
8.3.5.1 Business CVIS-Germany
8.3.5.2 Technical CVIS-Germany
8.3.5.3 Clinical CVIS-Germany
8.4 Cardiovascular Information And Imaging Solution (CVIS)-Italy
8.4.1 Cardiovascular Information And Imaging Solution (CVIS)-Italy, By Components
8.4.1.1 Cardiovascular Information And Imaging Solution (CVIS)-Italy-Hardware (Healthcare IT)
8.4.1.2 Cardiovascular Information And Imaging Solution (CVIS)-Italy-Software (Healthcare IT)
8.4.1.3 Cardiovascular Information And Imaging Solution (CVIS)-Italy-Services (Healthcare IT)
8.4.2 Cardiovascular Information And Imaging Solution (CVIS)-Italy, By Deployments
8.4.2.1 Cardiovascular Information And Imaging Solution (CVIS)-Italy-On-premise
8.4.2.2 Cardiovascular Information And Imaging Solution (CVIS)-Italy-Web-based
8.4.2.3 Cardiovascular Information And Imaging Solution (CVIS)-Italy-Cloud-based
8.4.3 Cardiovascular Information And Imaging Solution (CVIS)-Italy, By Endusers
8.4.3.1 Cardiovascular Information And Imaging Solution (CVIS)-Italy-Office based Physicians
8.4.3.2 Cardiovascular Information And Imaging Solution (CVIS)-Italy-Hospitals
8.4.3.3 Cardiovascular Information And Imaging Solution (CVIS)-Italy-Emergency Healthcare Service providers
8.4.3.4 Cardiovascular Information And Imaging Solution (CVIS)-Italy-Nurses
8.4.4 Cardiovascular Information And Imaging Solution (CVIS)-Italy, By Applications
8.4.4.1 Cardiovascular Information And Imaging Solution (CVIS)-Italy-Clinical Guidelines
8.4.4.2 Cardiovascular Information And Imaging Solution (CVIS)-Italy-Clinical Reminders
8.4.4.3 Cardiovascular Information And Imaging Solution (CVIS)-Italy-Drug-Drug Interactions
8.4.4.4 Cardiovascular Information And Imaging Solution (CVIS)-Italy-Drug Allergy Alerts
8.4.4.5 Cardiovascular Information And Imaging Solution (CVIS)-Italy-Drug Dosing Support
8.4.5 Cardiovascular Information And Imaging Solution (CVIS)-Italy, By Functions
8.4.5.1 Business CVIS-Italy
8.4.5.2 Technical CVIS-Italy
8.4.5.3 Clinical CVIS-Italy
8.5 Cardiovascular Information And Imaging Solution (CVIS)-Spain
8.5.1 Cardiovascular Information And Imaging Solution (CVIS)-Spain, By Components
8.5.1.1 Cardiovascular Information And Imaging Solution (CVIS)-Spain-Hardware (Healthcare IT)
8.5.1.2 Cardiovascular Information And Imaging Solution (CVIS)-Spain-Software (Healthcare IT)
8.5.1.3 Cardiovascular Information And Imaging Solution (CVIS)-Spain-Services (Healthcare IT)
8.5.2 Cardiovascular Information And Imaging Solution (CVIS)-Spain, By Deployments
8.5.2.1 Cardiovascular Information And Imaging Solution (CVIS)-Spain-On-premise
8.5.2.2 Cardiovascular Information And Imaging Solution (CVIS)-Spain-Web-based
8.5.2.3 Cardiovascular Information And Imaging Solution (CVIS)-Spain-Cloud-based
8.5.3 Cardiovascular Information And Imaging Solution (CVIS)-Spain, By Endusers
8.5.3.1 Cardiovascular Information And Imaging Solution (CVIS)-Spain-Office based Physicians
8.5.3.2 Cardiovascular Information And Imaging Solution (CVIS)-Spain-Hospitals
8.5.3.3 Cardiovascular Information And Imaging Solution (CVIS)-Spain-Emergency Healthcare Service providers
8.5.3.4 Cardiovascular Information And Imaging Solution (CVIS)-Spain-Nurses
8.5.4 Cardiovascular Information And Imaging Solution (CVIS)-Spain, By Applications
8.5.4.1 Cardiovascular Information And Imaging Solution (CVIS)-Spain-Clinical Guidelines
8.5.4.2 Cardiovascular Information And Imaging Solution (CVIS)-Spain-Clinical Reminders
8.5.4.3 Cardiovascular Information And Imaging Solution (CVIS)-Spain-Drug-Drug Interactions
8.5.4.4 Cardiovascular Information And Imaging Solution (CVIS)-Spain-Drug Allergy Alerts
8.5.4.5 Cardiovascular Information And Imaging Solution (CVIS)-Spain-Drug Dosing Support
8.5.5 Cardiovascular Information And Imaging Solution (CVIS)-Spain, By Functions
8.5.5.1 Business CVIS-Spain
8.5.5.2 Technical CVIS-Spain
8.5.5.3 Clinical CVIS-Spain
8.6 Cardiovascular Information And Imaging Solution (CVIS)-Europe - Europe - Other Geographies
8.6.1 Cardiovascular Information And Imaging Solution (CVIS)-Europe - Europe - Other Geographies, By Components
8.6.1.1 Cardiovascular Information And Imaging Solution (CVIS)-Europe - Europe - Other Geographies-Hardware (Healthcare IT)
8.6.1.2 Cardiovascular Information And Imaging Solution (CVIS)-Europe - Europe - Other Geographies-Software (Healthcare IT)
8.6.1.3 Cardiovascular Information And Imaging Solution (CVIS)-Europe - Europe - Other Geographies-Services (Healthcare IT)
8.6.2 Cardiovascular Information And Imaging Solution (CVIS)-Europe - Europe - Other Geographies, By Deployments
8.6.2.1 Cardiovascular Information And Imaging Solution (CVIS)-Europe - Europe - Other Geographies-On-premise
8.6.2.2 Cardiovascular Information And Imaging Solution (CVIS)-Europe - Europe - Other Geographies-Web-based
8.6.2.3 Cardiovascular Information And Imaging Solution (CVIS)-Europe - Europe - Other Geographies-Cloud-based
8.6.3 Cardiovascular Information And Imaging Solution (CVIS)-Europe - Europe - Other Geographies, By Endusers
8.6.3.1 Cardiovascular Information And Imaging Solution (CVIS)-Europe - Europe - Other Geographies-Office based Physicians
8.6.3.2 Cardiovascular Information And Imaging Solution (CVIS)-Europe - Europe - Other Geographies-Hospitals
8.6.3.3 Cardiovascular Information And Imaging Solution (CVIS)-Europe - Europe - Other Geographies-Emergency Healthcare Service providers
8.6.3.4 Cardiovascular Information And Imaging Solution (CVIS)-Europe - Europe - Other Geographies-Nurses
8.6.4 Cardiovascular Information And Imaging Solution (CVIS)-Europe - Europe - Other Geographies, By Applications
8.6.4.1 Cardiovascular Information And Imaging Solution (CVIS)-Europe - Europe - Other Geographies-Clinical Guidelines
8.6.4.2 Cardiovascular Information And Imaging Solution (CVIS)-Europe - Europe - Other Geographies-Clinical Reminders
8.6.4.3 Cardiovascular Information And Imaging Solution (CVIS)-Europe - Europe - Other Geographies-Drug-Drug Interactions
8.6.4.4 Cardiovascular Information And Imaging Solution (CVIS)-Europe - Europe - Other Geographies-Drug Allergy Alerts
8.6.4.5 Cardiovascular Information And Imaging Solution (CVIS)-Europe - Europe - Other Geographies-Drug Dosing Support
8.6.5 Cardiovascular Information And Imaging Solution (CVIS)-Europe - Europe - Other Geographies, By Functions
8.6.5.1 Business CVIS-Europe - Europe - Other Geographies
8.6.5.2 Technical CVIS-Europe - Europe - Other Geographies
8.6.5.3 Clinical CVIS-Europe - Europe - Other Geographies
9 Cardiovascular Information And Imaging Solution (CVIS)-Europe, By Companies
9.1 Split By Geography
9.2 Cardiovascular Information And Imaging Solution (CVIS)-Europe-GE Healthcare
9.2.1 Cardiovascular Information And Imaging Solution (CVIS)-Europe-GE Healthcare, By Functions
9.2.1.1 Business CVIS-Europe-GE Healthcare
9.2.1.2 Technical CVIS-Europe-GE Healthcare
9.2.1.3 Clinical CVIS-Europe-GE Healthcare
9.3 Cardiovascular Information And Imaging Solution (CVIS)-Europe-Philips Healthcare
9.3.1 Cardiovascular Information And Imaging Solution (CVIS)-Europe-Philips Healthcare, By Functions
9.3.1.1 Business CVIS-Europe-Philips Healthcare
9.3.1.2 Technical CVIS-Europe-Philips Healthcare
9.3.1.3 Clinical CVIS-Europe-Philips Healthcare
9.4 Cardiovascular Information And Imaging Solution (CVIS)-Europe-McKesson Corporation
9.4.1 Cardiovascular Information And Imaging Solution (CVIS)-Europe-McKesson Corporation, By Functions
9.4.1.1 Business CVIS-Europe-McKesson Corporation
9.4.1.2 Technical CVIS-Europe-McKesson Corporation
9.4.1.3 Clinical CVIS-Europe-McKesson Corporation
9.5 Cardiovascular Information And Imaging Solution (CVIS)-Europe-Siemens AG Healthcare
9.5.1 Cardiovascular Information And Imaging Solution (CVIS)-Europe-Siemens AG Healthcare, By Functions
9.5.1.1 Business CVIS-Europe-Siemens AG Healthcare
9.5.1.2 Technical CVIS-Europe-Siemens AG Healthcare
9.5.1.3 Clinical CVIS-Europe-Siemens AG Healthcare
9.6 Cardiovascular Information And Imaging Solution (CVIS)-Europe-Cerner Corporation
9.6.1 Cardiovascular Information And Imaging Solution (CVIS)-Europe-Cerner Corporation, By Functions
9.6.1.1 Business CVIS-Europe-Cerner Corporation
9.6.1.2 Technical CVIS-Europe-Cerner Corporation
9.6.1.3 Clinical CVIS-Europe-Cerner Corporation
9.7 Cardiovascular Information And Imaging Solution (CVIS)-Europe-Epic Systems
9.7.1 Cardiovascular Information And Imaging Solution (CVIS)-Europe-Epic Systems, By Functions
9.7.1.1 Business CVIS-Europe-Epic Systems
9.7.1.2 Technical CVIS-Europe-Epic Systems
9.7.1.3 Clinical CVIS-Europe-Epic Systems
9.8 Cardiovascular Information And Imaging Solution (CVIS)-Europe-AllScripts
9.8.1 Cardiovascular Information And Imaging Solution (CVIS)-Europe-AllScripts, By Functions
9.8.1.1 Business CVIS-Europe-Allscripts
9.8.1.2 Technical CVIS-Europe-Allscripts
9.8.1.3 Clinical CVIS-Europe-Allscripts
9.9 Cardiovascular Information And Imaging Solution (CVIS)-Europe-Agfa-Gevaert
9.9.1 Cardiovascular Information And Imaging Solution (CVIS)-Europe-Agfa-Gevaert, By Functions
9.9.1.1 Business CVIS-Europe-Agfa-Gevaert
9.9.1.2 Technical CVIS-Europe-Agfa-Gevaert
9.9.1.3 Clinical CVIS-Europe-Agfa-Gevaert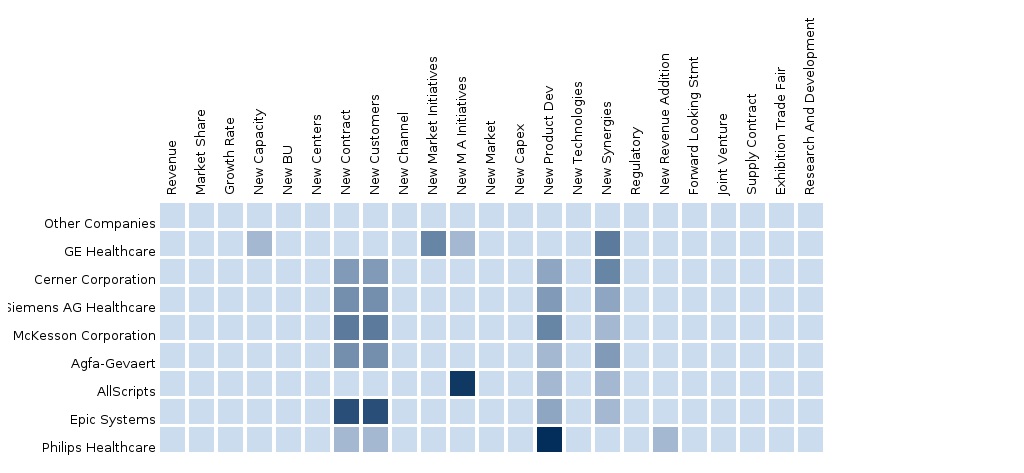 PRODUCT TITLE
PUBISHED
PRICE
Asian Hospital Information Systems


The Asian Hospital Information Systems (HIS) market was valued at $2.90 billion in 2013 and is expected to reach $4.14 billion by 2018, growing at a CAGR of 7.3% from 2013 to 2018. The report on this market analyzes the market by sub-segments: Electronic Health Record (EHR), Computerized Physician Order Entry System (CPOE), Picture Archiving and Communication System (PACS), Radiology Information System (RIS), Clinical Decision Support System (CDSS), and Cardiovascular Information and Imaging Solutions (CVIS).



18 Dec 2014
$ 3500
North American Hospital Information Systems


The North American Hospital Information Systems (HIS) Market was valued at $9.52 billion in 2013 and is expected to reach $14.65 billion by 2018, growing at a CAGR of 9.0% from 2013 to 2018. The report on this market analyzes the market by sub-segments: Electronic Health Record (EHR), Computerized Physician Order Entry System (CPOE), Picture Archiving and Communication System (PACS), Radiology Information System (RIS), Clinical Decision Support System (CDSS), and Cardiovascular Information and Imaging Solutions (CVIS).



18 Dec 2014
$ 3500
European Hospital Information Systems


The European Hospital Information Systems (HIS) market was valued at $3.76 billion in 2013 and is expected to reach $5.40 billion by 2018, growing at a CAGR of 7.5% from 2013 to 2018. The report on this market analyzes the market by sub-segments: Electronic Health Record (EHR), Computerized Physician Order Entry System (CPOE), Picture Archiving and Communication System (PACS), Radiology Information System (RIS), Clinical Decision Support System (CDSS), and Cardiovascular Information and Imaging Solutions (CVIS).



18 Dec 2014
$ 3500
European Cardiovascular Information And Imaging Solution (CVIS)