European Cardiovascular Information And Imaging Solution (CVIS) Market
The Cardiovascular Information and Imaging Solution (CVIS) is an effective tool for providing a framework for the exchange, integration, sharing, and retrieval of cardiology electronic medical data with advanced security. Cardiology departments generate enormous amount of data as images (digital data) and charts (analytical data), which need to be managed efficiently and effectively. The manual process of collecting, transcribing, reviewing, and archiving the patient record is extremely time-consuming, expensive, and highly prone to errors. Therefore, the adoption of CVIS by healthcare providers is facilitating the mobilization of healthcare information across the various users. It also helps enhance the quality of care.
The European cardiovascular information and imaging solution market is estimated to grow at a CAGR of 7.1% from 2014 to 2019. The advancements in the field of healthcare IT play a major role in the growth of the European market. In addition, the rising numbers of the aging population in the region impact the growth of the CVIS market in the region; this is the result of the increasing incidences of heart disorders among the aging population. The increasing rate of obese population is also responsible for the increasing cases of heart-related disorders in the region, thereby driving the demand for CVIS in the region.
The market offers numerous opportunities to existing as well as new players/companies; these prospects have been comprehensively covered in this market report. Furthermore, the report provides invaluable insights into the market dynamics such as drivers and restraints, competitive scenario of the market, and the strategic profiles of the key market players. Some of the major companies operating in the European market for CVIS include Siemens AG (Germany), GE Healthcare (U.K.), and Philips Healthcare (Netherlands), among others.
The report also provides details of the market segment valuations; these numbers have been arrived at on the basis of annual financial information from SEC filings, company annual reports, and interviews with industry experts and key opinion leaders such as CEOs, directors, and marketing executives.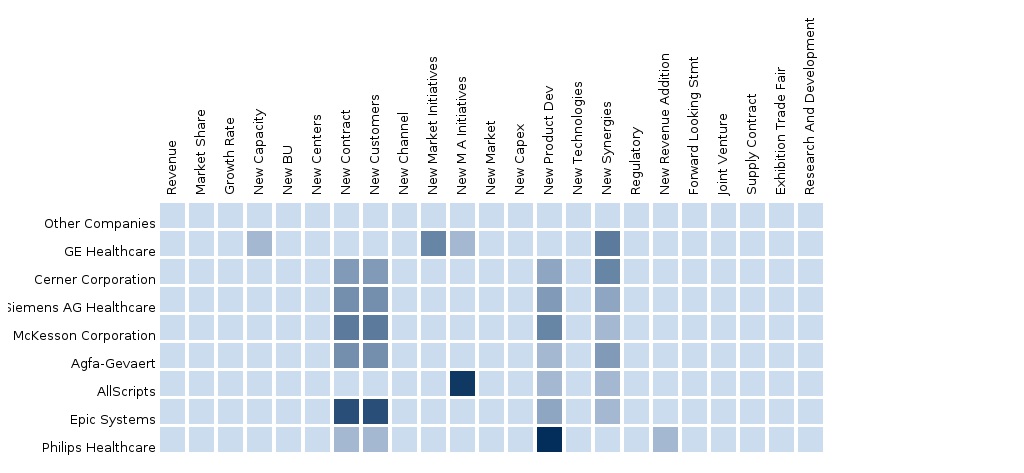 Please fill in the form below to receive a free copy of the Summary of this Report
Custom Market Research Services
We will customize the research for you, in case the report listed above does not meet with your exact requirements. Our custom research will comprehensively cover the business information you require to help you arrive at strategic and profitable business decisions.
Please visit
http://www.micromarketmonitor.com/custom-research-services.html
to specify your custom Research Requirement
PRODUCT TITLE
PUBLISHED
North American Hospital Information Systems


The North American hospital information systems (HIS) market was valued at $10.1 billion in 2013 and is expected to grow at a CAGR of 8.4% from 2014 to 2019. The report on this market analyzes the market on the basis of sub-segments into Electronic Health Record (EHR), Computerized Physician Order Entry System (CPOE), Picture Archiving and Communication System (PACS), Radiology Information System (RIS), Clinical Decision Support System (CDSS), and Cardiovascular Information and Imaging Solutions (CVIS).



Upcoming
European Hospital Information Systems


The European hospital information systems (HIS) market was valued at $3.9 billion in 2013 that is expected to grow at a CAGR of 7.7% from 2014 to 2019. The HIS market report analyzes the market on the basis of sub-segments into Electronic Health Record (EHR), Computerized Physician Order Entry System (CPOE), Picture Archiving and Communication System (PACS), Radiology Information System (RIS), Clinical Decision Support System (CDSS), and Cardiovascular Information and Imaging Solutions (CVIS).



Upcoming
Asian Hospital Information Systems


The Asian hospital information systems (HIS) market was valued at $2.4 billion in 2013 and is expected to grow at a CAGR of 8.6% from 2014 to 2019. The HIS market report analyzes the market on the basis of sub-segments into Electronic Health Record (EHR), Computerized Physician Order Entry System (CPOE), Picture Archiving and Communication System (PACS), Radiology Information System (RIS), Clinical Decision Support System (CDSS), and Cardiovascular Information and Imaging Solutions (CVIS).



Upcoming
European Cardiovascular Information And Imaging Solution (CVIS)