The report profiles the major players in the particular geography for the individual markets. Few of the companies considered in the reports are UTC Aerospace Systems, Rockwell Collins, Honeywell International,Inc, Safran, GE Aviation, Bombardier Inc, Goodrich Corp., and Ikusi.
The aircraft systems market comprises of airframe system, avionics components, cabin interiors, environmental system, fluid power, landing assembly, safety and security systems, communication system, flight management systems, imaging and visual systems, indicators and instruments, navigational aid, batteries and accessories, electrical power system, engine component system, engines, power transmission, and fuel systems. The types of aircraft systems are ARJ21, ATR72, C919, CRJ1000, CRJ700, CRJ900, E170, E175, E190, E195, Q400, and SSJ100.
The markets for these individual systems are analyzed and forecasted for geographies such as Europe, North America, South America, Middle East, Asia-Pacific and Africa.
1 Introduction
1.1 Analyst Insights
1.2 Market Definitions
1.3 Market Segmentation & Aspects Covered
1.4 Research Methodology
2 Executive Summary
3 Market Overview
4 Aircraft Systems by Submarkets
4.1 Airframe System
4.2 Avionics Components
4.3 Cabin Interiors
4.4 Fluid Power
4.5 Landing Assembly
4.6 Safety and Security Systems
4.7 Communication System
4.8 Flight Management Systems
4.9 Imaging and Visual Systems
4.10 Indicators and Instruments
4.11 Navigational Aid
4.12 Batteries and Accessories
4.13 Electrical Power System
4.14 Engines
4.15 Fuel System
4.16 Aircraft Cabin Interior
4.17 Aerospace & Military Auxiliary Power Unit (APU)
4.18 Aircraft Lights
5 Aircraft Systems by Types
5.1 ARJ21
5.2 ATR72
5.3 C919
5.4 CRJ1000
5.5 CRJ700
5.6 CRJ900
5.7 E170
5.8 E175
5.9 E190
5.10 E195
5.11 Q400
5.12 SSJ100
6 Aircraft Systems by Geographies
6.1 Europe
6.2 North America
6.3 South America
6.4 Middle East
6.5 Asia-Pacific
6.6 Africa
7 Aircraft Systems by Companies
7.1 UTC Aerospace Systems
7.2 Rockwell Collins
7.3 Honeywell International,Inc
7.4 Safran
7.5 OTHER (Companies)
7.6 GE Aviation
7.7 Bombardier Inc
7.8 Goodrich Corp.
7.9 Ikusi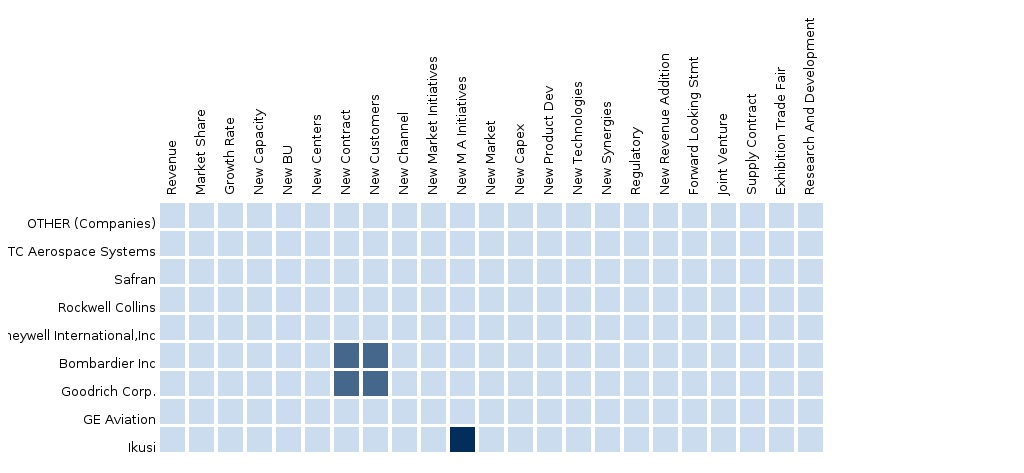 Please fill in the form below to receive a free copy of the Summary of this Report
Custom Market Research Services
We will customize the research for you, in case the report listed above does not meet with your exact requirements. Our custom research will comprehensively cover the business information you require to help you arrive at strategic and profitable business decisions.
Please visit
http://www.micromarketmonitor.com/custom-research-services.html
to specify your custom Research Requirement
PRODUCT TITLE
PUBLISHED
Cabin Interiors


A detailed analysis of the markets for the individual components is provided in the respective reports. The reports have segmented these markets on the basis of technology, application, products and geographies. Every segment of the market is further analyzed and sub-segmented to have an in-depth knowledge of the trends, drivers, challenges, restraints, and the market scenario. The reports also anticipate the market for the next five years and identify the opportunities in individual segments.



Upcoming
North America Commercial Aviation Aircraft Lighting


The market has been segmented on the basis of the aircraft type and product class. The aircraft type market segmentation includes the narrow body aircrafts, wide body aircrafts, very large aircrafts, and regional transportation aircrafts.The industry is witnessing new entrants from emerging economies in narrow body segment.



Upcoming
APAC Commercial Aviation Aircraft Lighting


The Aircraft lighting market report provides the leading players in the APAC aircraft lighting market systems. Apart from the general overview of the companies, it also provides the financial analysis, products, services, and their key developments.



Upcoming
Europe Commercial Aviation Aircraft Lighting


Commercial Aviation Aircraft Lighting-Europe market has been pegged at $0.3b in the year 2013 growing at 7.9% annually and is projected to reach $0.4b by the end of the year 2018.A brief competitive scenario and geographic trends in the Europe region is given in the report. It also provides an in-depth analysis of the market segmentation, usage pattern, and distribution channels within the market.



Upcoming
Latin America Commercial Aviation Aircraft Lighting


The South American commercial aviation aircraft lighting systems market provides an in-depth analysis of the market segmentation, usage pattern, and distribution channels within the market.The aircraft type market segmentation includes the narrow body aircrafts, wide body aircrafts, very large aircrafts, and regional transportation aircrafts.



Upcoming
North America Aircraft Cabin Interior


The North America aircraft cabin interior market will reach $7.71 billion in 2019, at a CAGR of 3.41%. It is segmented on the basis of cabin interior product and aircraft type. The products based on which this market is segmented are seat, window, light, IFEC, galley & monument, and lavatories.



Upcoming
Asia-Pacific Aircraft Cabin Interior


The aircraft cabin interior market in Asia-Pacific is expected to reach a CAGR of 8.24% and its market value is estimated to be $4.35 billion in 2019. It is segmented on the basis of product and aircraft type. The aircraft seat market for the wide body aircraft in Asia-Pacific is higher, compared to other aircraft types. Products of the market are seat, windows, light, IFEC, galley & monument, and lavatories.



Upcoming
Europe Aircraft Cabin Interior


The aircraft cabin interior market in Europe is projected to reach $3.45 billion by 2019, growing at 8.51% annually . It is segmented on the basis of cabin interior products and aircraft types. The key players that operate in this market are B/E Aerospace, Zodiac Aerospace, and Thales. Zodiac Aerospace is located at France and has acquired a major market share, compared to other companies.



Upcoming
South America Aircraft Cabin Interior


The aircraft cabin interior market in South America is expected to reach a CAGR of 11.25%. In terms of value, this market is estimated to be $0.50 billion in 2019. This market is segmented on he basis of cabin interior products and aircraft types. The key players that operate in this market are B/E Aerospace, Zodiac Aerospace, and Thales.



Upcoming
Aviation Test Equipment


The purpose of this report is to identify various applications, technologies involved, usage pattern and different products under the global test equipment market. Test dealers in the test equipment market are prominently confronted by growing demand for advanced avionics systems. The attempt to align legacy systems with upcoming technology in the line-replaceable units (LRU) space is driving the market globally.



Upcoming
Avionics Components


This report presents a complete market study of the Avionic components market over the next six years, (2014-2020). Avionics Components can be segmented by Companies, Geographies, Components and Submarkets.Apart from the general overview of the companies, it also provides financial analysis, products, services, and the key developments of the major players in the industry.



Upcoming
North America Aviation Test Equipment


North America Aviation Test Equipment market has been pegged at $1,550m in the year 2013 growing at 3.7% annually and is projected to reach $1,860m by the end of the year 2018. The North American aviation test equipment market is segmented on the basis of products and application.



Upcoming
Europe Aviation Test Equipment


The purpose of this report is to identify various applications, technologies involved, usage patterns and different products under the European aviation test equipment market. Aviation Test Equipment-Europe market has been pegged at $1,390m in the year 2013 growing at 3.6% annually and is projected to reach $1,660m by the end of the year 2018



Upcoming
Asia-Pacific Aviation Test Equipment


Asia-Pacific Aviation Test Equipment market has been pegged at $1,000m in the year 2013 growing at 3.7% annually and is projected to reach $1,200m by the end of the year 2018. The Asia-Pacific aviation test equipment market is segmented on the basis of products and application. The product market is segmented into electrical, hydraulic, pneumatic, and power test equipment.



Upcoming
South America Aviation Test Equipment


South America Aviation Test Equipment market has been pegged at $560m in the year 2013 growing at 3.4% annually and is projected to reach $660m by the end of the year 2018. The South American aviation test equipment market is segmented on the basis of product and application.



Upcoming
North America Commercial Aviation Aircraft Windows & Windshields


The aircraft windows & windshields market size is expected to be $653.3 million by 2018. The windows & windshields market is expected to reach a CAGR of 3.2% from 2013 to 2018. It is segmented into the aircraft types and window types. The top companies operating in the industry are GKN Aerospace, PPG Aerospace, Saint Gobain Sully, Lufthansa Systems.



Upcoming
Asia-Pacific Commercial Aviation Aircraft Windows & Windshields


The windows & windshields market is expected to reach a CAGR of 10.12% from 2013 to 2018. The APAC commercial aviation aircraft windows & windshields market is segmented on the basis of aircraft types, windows types,and geography.The top companies operating in the aircraft windows & windshields market in this region are GKN Aerospace, PPG Aerospace, Saint Gobain Sully and Lufthansa Systems.



Upcoming
Europe Commercial Aviation Aircraft Windows & Windshields


The aircraft windows & windshields market size in Europe is expected to be $219.2 million by 2018. The windows & windshields market is projected to reach a CAGR of 3.2% from 2013 to 2018. Commercial Aviation Aircraft Windows & Windshields in Europe can be segmented on the basis of Applications, Companies, Fittings.Companies operating in the aircraft windows & windshields market in this region are GKN Aerospace, PPG Aerospace, Saint Gobain Sully and Lufthansa Systems.



Upcoming
Middle East Commercial Aviation Aircraft Windows & Windshields


The aircraft windows & windshields market size is expected to be $20.6 million in 2018. The windows & windshields market is expected to reach a CAGR of 15.90% from 2013 to 2018.The Middle East commercial aviation aircraft windows & windshields market is segmented on the basis of aircraft types , windows types and geography. The top companies operating in this industry are GKN Aerospace, PPG Aerospace, Saint Gobain Sully and Lufthansa Systems.



Upcoming
Latin America Commercial Aviation Aircraft Windows & Windshields


The aircraft windows and windshields market size in Latin America is expected to be $260.50 million in 2018. The windows and windshields market is expected to reach a CAGR of 0.23% from 2013 to 2018. The Latin American market is segmented on the basis of aircraft type, window type,and geography. The top companies operating in the aircraft windows and windshields market in this region are GKN Aerospace, PPG Aerospace, Saint Gobain Sully and Lufthansa Systems.



Upcoming