The Aircraft Landing Gear system supports the entire weight of the aircraft during landing and ground operations. The Landing gear assembly consists of various components such as landing gear controls, tyres, actuation system and health monitoring system. The Landing Gears have to work on different surfaces from hard runways to snowy airfields. Landing gear not necessarily has wheels. Some aircraft are fitted with skids, skis, and pontoons. These allow the aircraft to land in extreme environments such as frozen lakes and water landings.
The Landing gear assembly has a booming market which is reflected by the increased demand for air travel and new models of airplanes being launched today. Impact analysis of the drivers, restraints and trend analysis are provided which helps to know the market. Market shares of companies operating in this market, by geography, have been provided to gain competitive intelligence.
The Landing Assembly market is segmented on the basis of components, aircraft types and geographies.
Components include Landing Gear Control, Tyres, Main Landing Gear, Nose Landing Gear, Brake Systems, Landing Assembly Health Monitoring System, Landing Assembly Actuation Systems and Landing Gear & Undercarriage. The aircraft types include narrow body aircraft, wide body aircraft, very large aircraft and regional jets. The geographies covered in the report are North America, South America, Europe, Asia-Pacific and Middle East.
1 INTRODUCTION
1.1 ANALYST INSIGHTS
1.2 MARKET DEFINITIONS
1.3 MARKET SEGMENTATION & ASPECTS COVERED
1.4 RESEARCH METHODOLOGY
1.4.1 KEY DATA FROM THE PRIMARY SOURCES
1.4.2 KEY DATA FROM THE SECONDARY SOURCES
2 EXECUTIVE SUMMARY
3 MARKET OVERVIEW
3.1 MARKET DEFINITION
3.2 TECHNOLOGICAL ADVANCEMENTS
3.3 LANDING GEAR ASSEMBLY
3.4 LANDING GEAR MRO
4 MARKET DYNAMICS
4.1 DRIVERS
4.1.1 INCREASE IN AIR TRAFFIC
4.1.2 NEW AIRCRAFT ORDERS
4.1.3 IMPACT ANALYSIS OF DRIVERS
4.2 RESTRAINTS
4.2.1 SAFETY STANDARDS
4.2.2 REGULATORY ISSUES
4.2.3 IMPACT ANALYSIS OF RESTRAINTS
4.3 CHALLENGES
4.3.1 OEM PARTS AVAILABILITY ISSUES
4.3.2 IMPROVE AIRCRAFT OPERATIONAL PERFORMANCE
5 LANDING ASSEMBLY: BY COMPONENTS
5.1 LANDING GEAR CONTROL
5.2 TYRES
5.3 MAIN LANDING GEAR
5.4 NOSE LANDING GEAR
5.5 BRAKE SYSTEMS
5.6 LANDING ASSEMBLY HEALTH MONITORING SYSTEM
5.7 LANDING ASSEMBLY ACTUATION SYSTEMS
5.8 LANDING GEAR & UNDERCARRIAGE
6 LANDING ASSEMBLY: BY AIRCRAFT TYPE
6.1 NARROW BODY AIRCRAFT
6.2 WIDE BODY AIRCRAFT
6.3 VERY LARGE AIRCRAFT
6.4 REGIONAL JETS
7 LANDING ASSEMBLY: BY GEOGRAPHIES
7.1 EUROPE
7.2 NORTH AMERICA
7.3 SOUTH AMERICA
7.4 MIDDLE EAST
7.5 ASIA-PACIFIC
8 COMPETITIVE LANDSCAPE
8.1 MERGERS & ACQUISITIONS
8.2 COLLABORATIONS/ PARTNERSHIPS/ AGREEMENTS/ JOINT VENTURES
8.3 CONCENTRATION OF LANDING GEAR ASSEMBLY COMPANIES
8.4 MARKET SHARE OF LANDING GEAR ASSEMBLY COMPANIES
9 COMPANY PROFILES
9.1 MESSIER-BUGATTI-DOWTY
9.2 LIEBHERR
9.3 GE AVIATION
9.4 MEGITT PLC
9.5 UTC AEROSPACE SYSTEMS
9.6 MOOG, INC.
9.7 LUFTHANSA TECHNIK
9.8 CIRCOR AEROSPACE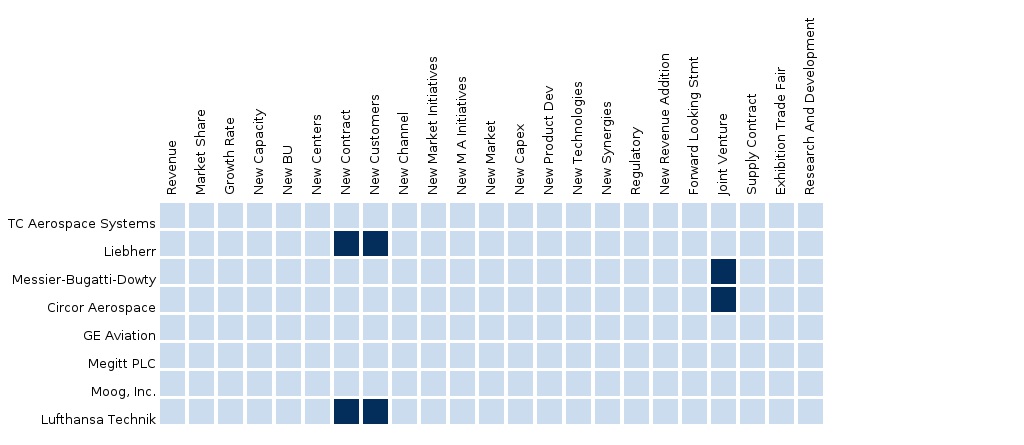 Please fill in the form below to receive a free copy of the Summary of this Report
Custom Market Research Services
We will customize the research for you, in case the report listed above does not meet with your exact requirements. Our custom research will comprehensively cover the business information you require to help you arrive at strategic and profitable business decisions.
Please visit
http://www.micromarketmonitor.com/custom-research-services.html
to specify your custom Research Requirement
PRODUCT TITLE
PUBLISHED
Europe Landing Gear & Undercarriage


Landing Gear & Undercarriage market in Europe was valued at $1,691.4 million in 2013, growing at a CAGR of 3.45% and is projected to reach $2,073.6 million by the end of 2018. The report provides insights on the Aircraft Landing Gear Systems market, key market players, drivers, restraints, challenges and future scope of the market.A deep dive analysis of the top players has been made in the report.



Upcoming
North America Landing Gear & Undercarriage


The report provides insights on the Aircraft Landing Gear Systems market, key market players, drivers, restraints, challenges and future scope of the market.Landing Gear Systems comprises of mechanical, hydraulic and electrical assemblies. The report also provides the leading players in the North America aircraft landing gear systems market.



Upcoming
Landing Gear Control


Landing Gear Control and Tyres, Main Landing Gear,



Upcoming
Tyres


Tyres and Landing Gear Control, Main Landing Gear,



Upcoming
Main Landing Gear


Main Landing Gear and Landing Gear Control, Tyres,



Upcoming
Nose Landing Gear


Nose Landing Gear and Landing Gear Control, Tyres,



Upcoming
Brake Systems


Brake Systems and Landing Gear Control, Tyres,



Upcoming
Landing Assembly Health Monitoring System


Landing Assembly Health Monitoring System and Landing Gear Control,



Upcoming
Landing Assembly Actuation Systems


Landing Assembly Actuation Systems and Landing Gear Control, Tyres,



Upcoming
9 of 9 items
9 reports | Show