Electrical Power System can be segmented by Geographies, Components and Companies. Geographies of Electrical Power System are Europe, North America, South America, Middle East and Asia-Pacific. Components of Electrical Power System are Generators, Motors, Power Distribution, Power Distribution Equipment, Electrical Motor, Cable Assemblies, Power Conversion Equipments, Commercial Aircraft Electrical & Environmental Systems and APU. Companies of Electrical Power System are Honeywell Aerospace, UTC Aerospace Systems, GE Aviation, Liebherr, Megitt PLC, OTHER (Companies) and Safran.
Top developments
Microturbo (Safran) and Bristow Group sign the first Support By the Hour (SBH®) Agreement for the AW189 e-APU60
1 Introduction
1.1 Analyst Insights
1.2 Market Definitions
1.3 Market Segmentation & Aspects Covered
1.4 Research Methodology
2 Executive Summary
3 Market Overview
4 Electrical Power System by Components
4.1 Generators
4.2 Motors
4.3 Power Distribution
4.4 Power Distribution Equipment
4.5 Electrical Motor
4.6 Cable Assemblies
4.7 Power Conversion Equipments
4.8 Commercial Aircraft Electrical & Environmental Systems
4.9 APU
5 Electrical Power System by Geographies
5.1 Europe
5.2 North America
5.3 South America
5.4 Middle East
5.5 Asia-Pacific
6 Electrical Power System by Companies
6.1 Honeywell Aerospace
6.2 UTC Aerospace Systems
6.3 GE Aviation
6.4 Liebherr
6.5 Megitt PLC
6.6 OTHER (Companies)
6.7 Safran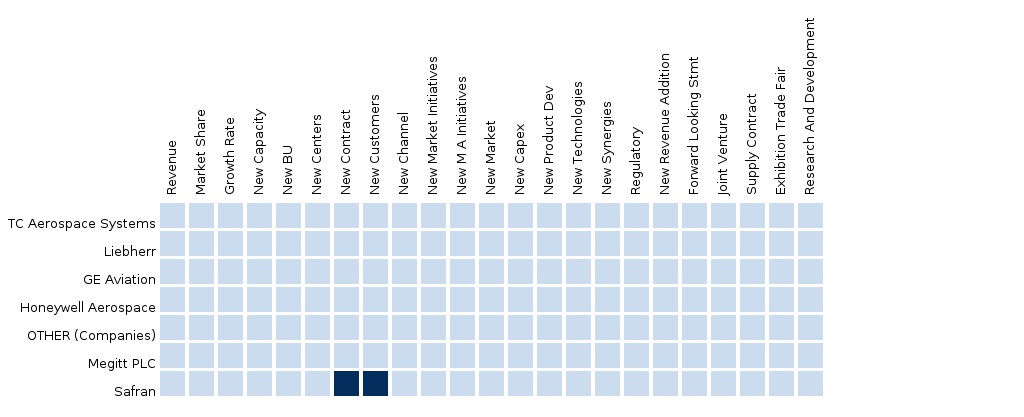 Please fill in the form below to receive a free copy of the Summary of this Report
Custom Market Research Services
We will customize the research for you, in case the report listed above does not meet with your exact requirements. Our custom research will comprehensively cover the business information you require to help you arrive at strategic and profitable business decisions.
Please visit
http://www.micromarketmonitor.com/custom-research-services.html
to specify your custom Research Requirement
PRODUCT TITLE
PUBLISHED
Europe Auxiliary Power Unit (APU)


This report presents a complete analysis of the Europe Auxiliary Power Unit (APU) market across the next five years. It analyses the factors driving the market, the challenges faced by the industry and the factors restraining the growth of the market. It also discusses the key industry trends, market trends influencing this market.



Upcoming
North America Auxiliary Power Unit (APU)


This report presents a complete analysis of the North America Auxiliary Power Unit (APU) market for the next five years. It analyses the challenges faced by the industry and the factors driving restraining the growth of the market. The report also provides a brief description about the competitive landscape of the APU market in North America.



Upcoming
APAC Commercial Aircraft Electrical & Environmental Systems


The report provides a complete market size of the APAC-Electrical and Environmental System market over the next five years and talks about the market share by different Aircraft Type. Commercial Aircraft Electrical & Environmental Systems-APAC can be segmented by Applications.



Upcoming
Europe Commercial Aircraft Electrical & Environmental Systems


Commercial Aircraft Electrical & Environmental Systems-Europe can be segmented by Applications and Companies. The Europe aircraft Electrical and Environmental industry is estimated to grow at a CAGR of 7.20% from 2013-2018. Applications of Commercial Aircraft Electrical & Environmental Systems-Europe are Very Large Aircraft, Wide Body Aircraft and Narrow Body...



Upcoming
North America Commercial Aircraft Electrical & Environmental Systems


The report provides a complete market size of the North American Electrical and Environmental System market over the next five years and talks about the market share by different Aircraft Type. This report presents a complete analysis of the North America Electrical and Environmental System market across the next five years.



Upcoming
Cable Assemblies


Cable Assemblies market has been pegged at $407.9m in the year 2013 growing at annually and is projected to reach $552.3m by the end of the year 2018. Cable Assemblies constitute 9.0% of Global Electrical Power System market and are poised to grow its market. The report provides a complete analysis of the leading players in the aircraft cable assembly market, the key segments that occupy a significant share, with clear insights and commentary on the developments and trends.



Upcoming
Power Conversion Equipments


Power Conversion Equipments and Generators, Motors,



Upcoming
APU


APU and Generators, Motors,



Upcoming
Generators


Generators and Aircraft Auxiliary Power Unit, Motors,



Upcoming
Motors


Motors and Aircraft Auxiliary Power Unit, Generators,



Upcoming
Power Distribution


Power Distribution and Aircraft Auxiliary Power Unit,



Upcoming
Environmental System Market


Environmental System Market and Aircraft Auxiliary Power Unit,



Upcoming
12 of 12 items
12 reports | Show