Aviation Test Equipment (ATE) are devices used by manufacturers of various components designed for aviation services and products. The Asia-Pacific market is one of the emerging markets for Aviation Test Equipment, and is currently estimated at $1.04 million. It is expected to grow at a CAGR of 3.66% to $1.29 million by 2020.
The purpose of this report is to identify various applications, technologies involved, usage patterns, and different products under the aviation test equipment market. It involves an in-depth analysis of market segmentation, which comprises technology, type, product, application and end user.
The Asia-Pacific aviation test equipment market is segmented on the basis of products and application. The product market is segmented into electrical, hydraulic, pneumatic, and power test equipment, while on the basis of application the market can be segmented into military and commercial.
The report also covers leading competitors in the Asia-Pacific ATE market. Apart from the general overview of the companies, the report also provides financial analysis, products, services, and key developments of the major players in the industry.
The key players in the industry and markets are identified through extensive secondary research. Companies operating in this market in are UTC Aerospace Systems, Rockwell Collins, Honeywell International, GE Aviation, Airbus, Boeing, 3M, MOOG, Rolls Royce, and Teradyne.
The industry value chain, market revenues, and volumes are determined through primary and secondary research. All percentage shares, splits, and breakdowns determined using secondary sources are verified through primary sources.
The market for Aviation Test Equipment in Asia-Pacific will be mainly driven by the increasing trend towards software-adaptable solutions, testing of advanced capabilities, DIRCM & Digital RF, and multiuse test systems for multiple weapons platform. The market will be mainly be challenged by sustainment of legacy platforms, and the diminutive life cycle of avionics modules.
CUSTOMIZATION OPTIONS
1.HISTORICAL DATA FOR 2-3 YEARS
Financials
Orders/Deliveries/Backlog Data
Macro Indicator Data
M&A Data
Budget and Defense Program Information
2.COMPANY PROFILES:
In-depth analysis of the company's product portfolio
Competitive landscape (revenue, operating margin, marginal cost, P/E ratio, EPS)
Ratio analysis
3.REGION-SPECIFIC INFORMATION (NORTH AMERICA, SOUTH AMERICA, EUROPE)
This covers market sizing/mapping, global footprint, operation and financials information, and the competitive landscape. The MMM offering will cover a detailed market study of the points mentioned below:
Electrical
Hydraulic
Pneumatic
Power
4.GLOBAL TRENDS/ MARKET ENVIRONMENT
Product and technological advancements/latest innovations and development
Demand and supply analysis
Market consolidation (M&A, joint ventures, divestment and spin-off)
Air traffic data
Export/Import data (aerospace product and parts)
Industrial production and capacity optimization data
Deliveries and orders
5.GLOBAL FORECAST NUMBERS/ OUTLOOK (Historical and Forecasted by Year)
Aircraft Delivery (NB,WB, VLA, BGA)
Orders & Backlogs (NB, WB, VLA, BGA)
Comparative Analysis (for example, Boeing vs. Airbus)
Milicas (Military Aircraft) and Helicas (Military Rotary Wing, i.e., Helicopter)
6.PREDICTIVE FORECASTING
Time Series
Regression Analysis
7.DEFENSE PROGRAMS (By name, type, user, spending by year in $ million, prime contractor, program status, etc.)
Aircraft Program
Ground Vehicle Programs
Missile Programs
Naval Programs
Vehicle Programs
8.DEFENSE BUDGETS/SEQUESTRATION IMPACT
Impact of sequestration on defense programs
Which programs got impacted due to budget cuts
Impact on company's overall revenue, operations, and profitability
1 Introduction
1.1 Key Take-Aways
1.2 Report Description
1.3 Markets Covered
1.4 Stakeholders
1.5 Research Methodology
2 Executive Summary
3 Market Overview
3.1 Introduction
3.2 Market Segmentation
3.2.1 By Segments
3.2.2 By Geographic Region
3.3 Market Definition
3.4 Market Dynamics
3.4.1 Drivers
3.4.1.1 Increasing Trends Towards Software-Adaptable Solutions
3.4.1.2 Testing Of Advanced Capabilities; DIRCM & Digital RF
3.4.1.3 Multi-Use Test Systems For Multiple Weapons Platform
3.4.1.4 Configurable And Scalable Testers
3.4.1.5 UAS Testers In Battlefield And National Airspace
3.4.2 Restraints
3.4.2.1 Sustainment Of Legacy Platforms
3.4.2.2 Diminutive Life Cycle Of Avionics Module
3.4.3 Opportunities
3.4.3.1 New Standards And Synthetic Instrumentation
3.4.3.2 Future Airborne Capability Environment Consortium
3.4.3.3 Updating Legacy Equipment

4 Trend Analysis
4.1 Test Equipment Gaining Intelligence
4.2 Aviation Test Equipment, Then, Now, And In The Future

5 Asia-Pacific Aviaiton Test Equipment Market
5.1 Asia-Pacific ATE Spending
5.1.1 Asia-Pacific Revenue Analysis
5.2 Asia-Pacific Revenue Analysis, By Type Of Segments
5.2.1 Electrical Test Equipment Revenue Forecast
5.2.2 Hydraulic ATE Revenue Forecast
5.2.3 Pneumatic ATE Revenue Forecast
5.2.4 Power ATE Revenue Forecast
6 Asia-Pacific Revenue Analysis, By Geography
6.1 Asia-Pacific Avaition Test Equipment Market, Regional Analysis
6.1.1 Asia-Pacific Aviation Test Equipment Revenue Forecast
6.1.1.1 Asia-Pacific Aviation Test Equipment Revenue Forecast, By Segments Of Test Equipment
6.2 Aviation Test Equipment Market, Country Analysis
6.2.1 China Revenue Forecast
6.2.1.1 China Revenue Forecast, By Segments Of Test Equipment
6.2.2 Singapore Revenue Forecast
6.2.2.1 Singapore Revenue Forecast, By Segments Of Test Equipment
6.2.3 Malaysia Revenue Forecast
6.2.3.1 Malaysia Revenue Forecast, By Segments Of Test Equipment
6.2.4 Indonesia Revenue Forecast
6.2.4.1 Indonesia Revenue Forecast, By Segments Of Test Equipment
7 Competitive Landscape
7.1 Overview
7.2 Market Share Analysis, By Segments
7.3 Market Share Analysis, By Country
7.4 Industry Key Players
7.5 Recent Industry Development's
7.5.1 New Product Developments & Announcements
7.5.2 Contacts And Agreements
7.5.3 Acquisitions, Collaborations, And Joint Ventures
7.5.4 Awards And Others

8 Asia-Pacific- Company Profiles
8.1 Asia-Pacific- Honeywell International Inc.
8.1.1 Overview
8.1.2 Products & Services
8.1.3 Strategy
8.1.4 Developments
8.2 Asia-Pacific- Boeing
8.2.1 Overview
8.2.2 Products & Services
8.2.3 Strategy
8.2.4 Developments
8.3 Asia-Pacific- Airbus
8.3.1 Overview
8.3.2 Products & Services
8.3.3 Strategy & Insights
8.3.4 Developments
8.3.5 Strengths
8.4 Asia-Pacific- Rockwell Collins
8.4.1 Overview
8.4.2 Products & Services
8.4.3 Strategy & Insights
8.4.4 Developments
8.5 Asia-Pacific- General Electric Co
8.5.1 Introduction
8.5.2 Products & Services
8.5.3 Strategies & Insights
8.5.4 Developments
8.6 Asia-Pacific- 3m
8.6.1 Introduction
8.6.2 Products & Services
8.6.3 Strategies & Insights
8.6.4 Developments
8.7 Asia-Pacific- Moog, Inc
8.7.1 Overview
8.7.2 Products And Services
8.7.3 Strategy
8.7.4 Developments
8.8 Asia-Pacific- Rolls Royce Holdings Plc
8.8.1 Introduction
8.8.2 Products & Services
8.8.3 Strategies & Insights
8.8.4 Developments
8.9 Asia-Pacific- Teradyne Inc.
8.9.1 Introduction
8.9.2 Products & Services
8.9.3 Strategies & Insights
8.9.4 Developments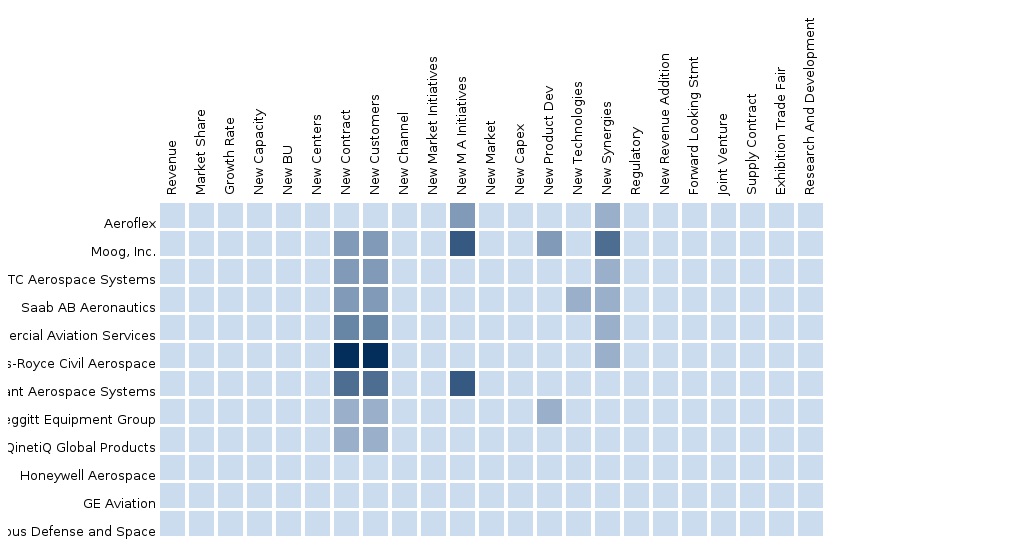 Please fill in the form below to receive a free copy of the Summary of this Report
Custom Market Research Services
We will customize the research for you, in case the report listed above does not meet with your exact requirements. Our custom research will comprehensively cover the business information you require to help you arrive at strategic and profitable business decisions.
Please visit
http://www.micromarketmonitor.com/custom-research-services.html
to specify your custom Research Requirement