Latin America Commercial Aviation Aircraft Windows & Windshields Market
The aircraft windows & windshields consist of functions such as- navigation, flight planning, trajectory prediction, performance computations and guidance. The aircraft windows & windshields interface with other avionics systems to supplement these functions. The other avionics systems include navigation sensors and radio, display and engine.
The South America Commercial Aviation Aircraft Windows & Windshields market is expected to reach a value of $260.50 million by 2018; growing at a CAGR of approximately 0.23% from 2013 to 2018. The commercial aircraft windows and windshields market is segmented on the basis of aircraft types, windows types and geography. The segmentation by aircraft type includes -very large aircrafts, wide body aircrafts, narrow body aircrafts and regular transportation aircrafts; and by window types such as cabin windows and windshields.
This report provides an in-depth analysis of the commercial aircraft windows & windshields market for the next five years. Moreover, the effect of macro indicators on the market, the regional developments and the strategies of the companies has been covered in the report. Insights on region, industry, market and technology trends, currently prevailing in the market, have been provided to analyze the market share.
The Sluggish aircraft windows & windshields market is noticed in the study period (2013-2018). The narrow body aircraft market has the highest business potential throughout the study period. Increase in cost carrier and increase in air travel are the driving factors of windows & windshields market. Increase in fuel prices is the major challenge in this industry. The key players in the market are GKN Aerospace, PPG Aerospace, Nordam Group, Gentex Corporation, and Lufthansa Systems among others.
CUSTOMIZATION OPTIONS:
1. HISTORICAL DATA FOR 5 YEARS
Financials
Orders/Delivery/Backlog data
Macro indicator data
M&A data
2. COMPANY PROFILES
In depth analysis of the company's product portfolio
Competitive landscape (revenue, operating margin, marginal cost, P/E ratio, EPS, Developments/Deals/Events)
Ratio analysis
3. REGION-SPECIFIC INFORMATION (NORTH AMERICA, EUROPE, APAC, MIDDLE EAST and ROW)
This covers market sizing/mapping, global footprint, operation and financials information and the competitive landscape. The MMM offering will cover a detailed market study for:
Cabin Windows
Windshields
4. GLOBAL TRENDS/MARKET ENVIRONMENT
Product and technological advancements/latest innovation and development
Demand and supply analysis
Market consolidation (M&A, joint ventures, divestment and spin off)
Export/Import data (Aerospace product and parts)
Industrial Production and capacity optimization data
Deliveries and order
5. GLOBAL FORECAST NUMBERS/OUTLOOK - HISTORICAL AND FORECASTED BY YEARS
Aircraft delivery (NB,WB, VLA, BGA)
Order & backlogs (NB, WB, VLA, BGA)
Comparative analysis (for e.g. Boeing Vs. Airbus)
6. PREDICTIVE FORECASTING
Time series
Regression analysis
7. PROGRAM DETAILS (BY AIRCRAFT TYPES, AIRCRAFT MODELS, MANUFACTURER DETAILS)
Narrow Body
Wide Body
Very Large Aircraft
8. OPPORTUNITY ANALYSIS
A comprehensive analysis to analyze the potential growth markets based on parameters such as:
Contracts & modernization programs
9. PRODUCT ANALYSIS
Usage pattern (in-depth trend analysis) of products (segment wise)
Product matrix which gives a detailed comparison of product portfolio of each company mapped at country and sub segment level
End-user adoption rate analysis of the products (segment wise and country wise)
Comprehensive coverage of product approvals, pipeline products and product recalls
10. SUPPLY CHAIN/VENDOR ANALYSIS
Coverage - Vendor analysis, vendor financing, customers/self funding, and distribution network
11. ROUTE MAP Analysis, LOAD FACTOR, RPK, ASK, and FLF
Airline/Operator route map analysis on a regional and global level
Passenger and freight load factor, revenue passenger kilometer, available seat kilometer analysis
1 Introduction
1.1 Introduction
1.2 Objective Of The Study
1.3 Market Definition
1.3.1 Areas Covered
1.3.2 Market Covered
1.3.2.1 On The Basis Of Aircraft Type:
1.3.2.2 On The Basis Of Windows Types
1.4 Stakeholders
1.5 Research Methodology
1.5.1 Secondary Sources
1.5.1.1 Secondary Research Involves
1.5.1.2 Primary Sources & Data Triangulation
1.5.2 Market Estimation Methodology
1.5.3 Assumptions
2 Market Snapshot
2.1 Market Size
2.2 Market Size Forecast
2.3 By Aircraft Type
2.4 By Windows Types
3 Market Overview
3.1 Market Dynamics
3.2 Drivers And Restrains For Aircraft Windows & Windshields Market
3.2.1 Drivers
3.2.1.1 Increase In Low Cost Carrier
3.2.1.2 Increase In Air Travel
3.2.2 Restraints
3.2.2.1 Technological Restraints
3.2.2.2 Economic Fears
3.2.3 Opportunity
3.2.3.1 Meeting Technological Demand
3.3 Latin America Aircraft Windows & Windshields Trends
4 Technology Roadmaps
4.1 Introduction
4.2 Plexiglas
4.3 Smart Glass
4.4 Load-bearing Composite Windows
5 Macro Indicators
6 Latin America Market ByAircraft Type
6.1 Latin America Commercial Aviation Aircraft Windows & Windshields Market
7 Latin America Aircraft Windows & WindshieldsMarket By Windows Types
7.1 Latin America Aircraft Windows & Windshields Market, By Windows Types
7.2 Scenario Analysis
7.2.1 Rate Air Travel
7.2.2 Aircraft Deliveries
7.2.3 Growth Of Regional Economies
7.2.4 Fuel Prices
8 Commercial Aviation Aircraft Windows & Windshields : Competitive Landscape
8.1 Supplier Mapping
8.2 Latin America: Aircraft Windows & Windshields Markets Manufactures, 2013
8.3 Developments: Latin AmericaRegion, By Companies
9 Latin America Aircraft Windows & Windshields Market, By Companies
9.1 Gkn Aerospace
9.1.1 Introduction
9.1.2 Product Portfolio
9.1.3 Financials
9.2 Ppg Aerospace
9.2.1 Introduction
9.2.2 Product Portfolio
9.2.3 Financials
9.3 Nordam Group Inc.
9.3.1 Introduction
9.3.2 Product Portfolio
9.4 Gentex Corporation
9.4.1 Introduction
9.4.2 Product Portfolio
9.4.3 Financials
9.5 Triumph Group Inc.
9.5.1 Introduction
9.5.2 Product Portfolio
9.5.3 Financials
9.6 Saint-gobain Sully
9.6.1 Introduction
9.6.2 Product Portfolio
9.6.3 Financials
9.7 Lufthansa Systems
9.7.1 Introduction
9.7.2 Product Portfolio
9.7.3 Financials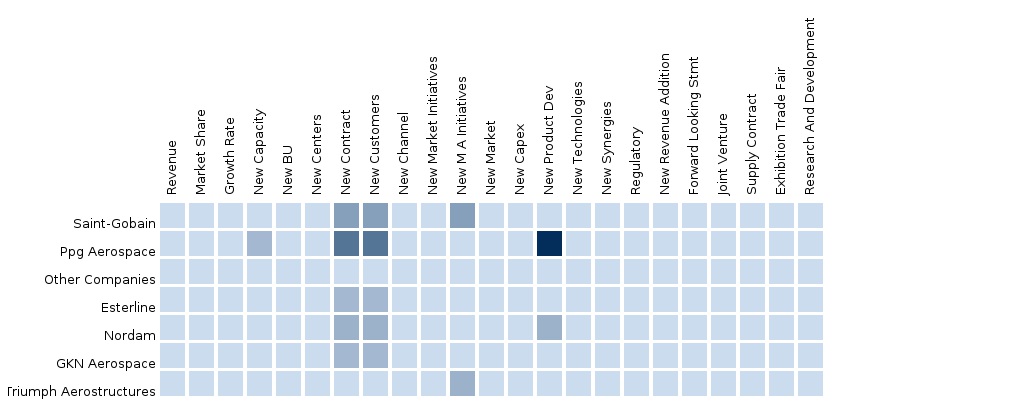 Please fill in the form below to receive a free copy of the Summary of this Report
Custom Market Research Services
We will customize the research for you, in case the report listed above does not meet with your exact requirements. Our custom research will comprehensively cover the business information you require to help you arrive at strategic and profitable business decisions.
Please visit
http://www.micromarketmonitor.com/custom-research-services.html
to specify your custom Research Requirement
Latin America Commercial Aviation Aircraft Windows & Windshields