The basic purpose of this report is to identify various applications, technologies involved, usage pattern and different product under the global test equipment market. Test dealers in the test equipment market are prominently confronted by growing demand for advanced avionics systems. The attempt to align legacy systems with upcoming technology in the line-replaceable units (LRU) space is driving the market globally.
The global aviation test equipment market is segmented on the basis of products and applications. Companies operating in this market are UTC Aerospace Systems, Rockwell Collins, Honeywell International, GE Aviation, Airbus, Boeing, 3M, MOOG, Rolls Royce, Aeroflex, and Teradyne. The product market is segmented into electrical, hydraulic, pneumatic, and power test equipment.
The report also covers leading competitors in the global aviation test equipment market covering regions like North America, Latin America, Asia-Pacific, and Europe. Apart from the general overview of the companies, it also provides the financial analysis, products, services, and the key developments of the major players in the industry.
The key players in the industry and markets are identified through an extensive secondary research.
The industry value chain, market revenues, and volumes are determined through primary and secondary research. All percentage shares, splits, and breakdowns determined using secondary sources are verified through primary sources.
1. INTRODUCTION
1.1 ANALYST INSIGHTS
1.2 MARKET DEFINITIONS
1.3 MARKET SEGMENTATION & ASPECTS COVERED
1.4 RESEARCH METHODOLOGY
2. EXECUTIVE SUMMARY
3. MARKET OVERVIEW
4. AVIATION TEST EQUIPMENT BY APPLICATIONS
4.1 MILITARY
4.2 COMMERCIAL
5. AVIATION TEST EQUIPMENT BY PRODUCTS
5.1 ELECTRIC
5.2 HYDRAULIC
5.3 PNEUMATIC
5.4 POWER
5.5 OTHER AVIATION PRODUCTS
6. AVIATION TEST EQUIPMENT BY GEOGRAPHIES
6.1 EUROPE
6.2 NORTH AMERICA
6.3 SOUTH AMERICA
6.4 ASIA-PACIFIC
6.5 MIDDLE EAST
6.6 AFRICA
6.7 REST OF WORLD
7. AVIATION TEST EQUIPMENT BY COMPANIES
7.1 ROCKWELL COLLINS
7.2 HONEYWELL INTERNATIONAL,INC
7.3 EATON CORPORATION PLC
7.4 CURTISS-WRIGHT CORPORATION
7.5 BAE SYSTEMS PLC
7.6 ITT CORPORATION
7.7 BOEING COMPANY
7.8 MOOG, INC.
7.9 ROLLS-ROYCE
7.10 UTC AEROSPACE SYSTEMS
7.11 QINETIQ
7.12 MEGGITT PLC
7.13 FINMECCANICA
7.14 SAAB AB AERONAUTICS
7.15 ALLIANT TECHSYSTEMS INC (ATK)
7.16 AIRBUS
7.17 GENERAL ELECTRIC
7.18 AEROFLEX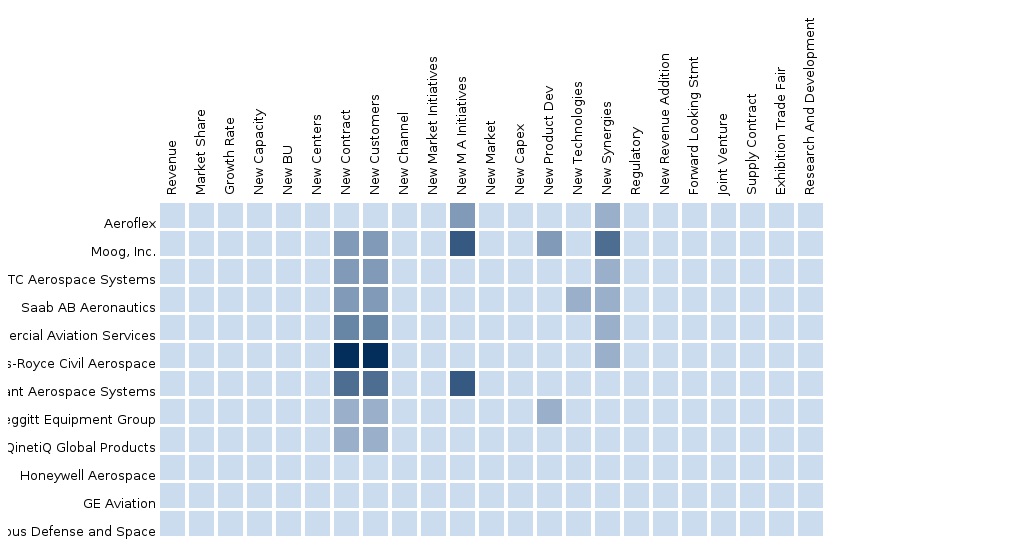 Please fill in the form below to receive a free copy of the Summary of this Report
Custom Market Research Services
We will customize the research for you, in case the report listed above does not meet with your exact requirements. Our custom research will comprehensively cover the business information you require to help you arrive at strategic and profitable business decisions.
Please visit
http://www.micromarketmonitor.com/custom-research-services.html
to specify your custom Research Requirement
PRODUCT TITLE
PUBLISHED
North America Aviation Test Equipment


North America Aviation Test Equipment market has been pegged at $1,550m in the year 2013 growing at 3.7% annually and is projected to reach $1,860m by the end of the year 2018. The North American aviation test equipment market is segmented on the basis of products and application.



Upcoming
Europe Aviation Test Equipment


The purpose of this report is to identify various applications, technologies involved, usage patterns and different products under the European aviation test equipment market. Aviation Test Equipment-Europe market has been pegged at $1,390m in the year 2013 growing at 3.6% annually and is projected to reach $1,660m by the end of the year 2018



Upcoming
Asia-Pacific Aviation Test Equipment


Asia-Pacific Aviation Test Equipment market has been pegged at $1,000m in the year 2013 growing at 3.7% annually and is projected to reach $1,200m by the end of the year 2018. The Asia-Pacific aviation test equipment market is segmented on the basis of products and application. The product market is segmented into electrical, hydraulic, pneumatic, and power test equipment.



Upcoming
South America Aviation Test Equipment


South America Aviation Test Equipment market has been pegged at $560m in the year 2013 growing at 3.4% annually and is projected to reach $660m by the end of the year 2018. The South American aviation test equipment market is segmented on the basis of product and application.



Upcoming
4 of 4 items
4 reports | Show