Global Non-Knowledge based Clinical decision support systems (CDSS) Market Research Report
The report 'Non-Knowledge based Clinical decision support systems (CDSS) Market forecast, 2012-2020' analyzes the market by sub-segments, such as integrated non-knowledge based CDSS and standalone non-knowledge based CDSS. Integrated CDSS accounted for about 70% of the total market. The knowledge-based CDSS market can also be segmented by components into hardware, software, and services. The global non-knowledge based clinical decision support systems (CDSS) market was valued at $23.0 million in 2012, and is expected to reach $26.0 million by 2018, at a CAGR of 1.6%.
North America is the global leader in the non-knowledge based CDSS market, due to advancements in technology and higher awareness rate among patients. North America is largest market with a market share of 70%, which is followed by Europe with a market share of 14%, and Asia with a market share of 7%. The Asian non-knowledge based CDSS market is growing at a fast pace as compared to other regions.
The major driver for the non-knowledge based CDSS market is the increasing demand for analytical IT solutions that help in point-of-care decision making. The implementation of such solutions has resulted in reduction of cost and improvement in the quality of care provided. Other factors responsible for the growth of the market are the increasing government initiatives, and introduction of various incentive plans for healthcare providers.
This market report provides a comprehensive overview of market share, value chain analysis, and market metrics such as drivers, restraints, and upcoming opportunities. The report also provides an extensive competitive landscaping of companies operating in this market. Meditech is the market leader followed by major players, such as Cerner Corporation, Athenahealth, Inc., McKesson Corporation, and Zynx Health Incorporated.
Segment and country specific company shares, news & deals, mergers and acquisitions, segment specific pipeline products, product approvals, and product recalls of the major companies have been detailed.
Customization Options
Along with the market data, you can also customize MMM assessments that are in accordance to your company's specific needs. Customize to get comprehensive industry standard and deep dive analysis of the following parameters:
Product Analysis
Usage pattern (in-depth trend analysis) of products (segment wise)
Product matrix, which gives a detailed comparison of product portfolio of each company mapped at country and sub-segment level
End-user adoption rate analysis of the products (segment wise and country wise)
Procedure Volume Data
Number of software installed
End-users
Surgeons/Physicians Perception Matrix
Fast turn-around analysis of surgeons' response to market events and trends
Pattern analysis of usage of devices by physicians
Surgeons' opinion about products from different companies
Brand Perception Matrix
Comprehensive study of customers perception and behavior through our inbuilt social connect tool, by checking the virality and tonality of blogs
Analysis of overall brand usage and familiarity, along with brand advocacy distribution (detractor/neutral/familiar)
Alternative Products: Impact analysis
MMM's healthcare decision making quadrant is an innovative and useful quadrant for vendors, who wish to analyze the potential growth markets based on parameters, such as end user dynamics (choices, number of installations of software) and macroeconomic indicators (number of hospitals, reimbursement scenario, diagnosis rate, treatment rate and healthcare expenditure).
1 Introduction
1.1 Analyst Insights
1.2 Market Definitions
1.3 Market Segmentation & Aspects Covered
1.4 Research Methodology
2 Executive Summary

3 Market Overview

4 By Applications
4.1 Clinical Guidelines
4.2 Clinical Reminders
4.3 Drug Allergy Alerts
4.4 Drug-Drug Interactions
4.5 Drug Dosing Support

5 By Components
5.1 Hardware (Healthcare IT)
5.2 Software (Healthcare IT)
5.3 Services (Healthcare IT)

6 By Deployments
6.1 On-premise
6.2 Web-based
6.3 Cloud-based
7 By Endusers
7.1 Office based Physicians
7.2 Hospitals
7.3 Emergency Healthcare Service providers
7.4 Nurses

8 By Products
8.1 Integrated Non-Knowledge based CDSS
8.2 Standalone Non-Knowledge based CDSS

9 By Geographies
9.1 North America
9.2 Europe
9.3 Asia
9.4 Rest of World

10 By Companies
10.1 Cerner Corporation
10.2 Epic Systems
10.3 McKesson Corporation
10.4 Zynx Health, Inc
10.5 Meditech
10.6 Siemens AG Healthcare
10.7 Other Companies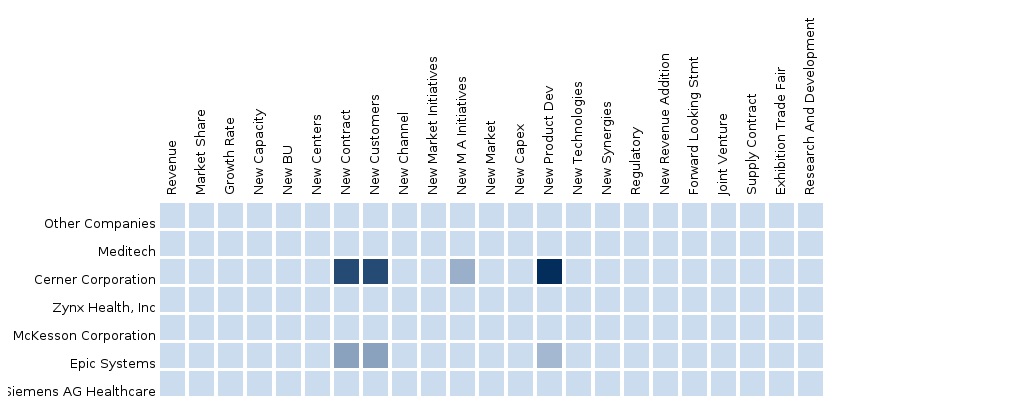 Please fill in the form below to receive a free copy of the Summary of this Report
Custom Market Research Services
We will customize the research for you, in case the report listed above does not meet with your exact requirements. Our custom research will comprehensively cover the business information you require to help you arrive at strategic and profitable business decisions.
Please visit
http://www.micromarketmonitor.com/custom-research-services.html
to specify your custom Research Requirement
PRODUCT TITLE
PUBLISHED
North American Non-Knowledge based Clinical decision support systems (CDSS)


The North American Non-Knowledge based Clinical decision support systems (CDSS) market was valued at $17.0 million in 2012, and is expected to reach $20.0 million by 2018, at a CAGR of 2.1%.The non-knowledge based CDSS market can be segmented by geography, application, technology, product, and end-user. Deep dive analysis of key market players have also been considered in this report.



Upcoming
European Non-Knowledge based Clinical decision support systems (CDSS)


The European non-knowledge based clinical decision support systems (CDSS) market was estimated at $3 million in 2012, and is expected to reach $3.4 million by 2018, at a CAGR of 2.2%.The non-knowledge based CDSS market can be segmented by geography, application, technology, product, and end-user. Deep dive analysis of key market players are also considered in this report.



Upcoming
Asian Non-Knowledge based Clinical decision support systems (CDSS)


The Asian non-knowledge based CDSS market was valued at $3 million in 2012, and is projected to reach $3.4 million by 2018, at a CAGR of 2.4%.The non-knowledge based CDSS market is segmented by geography, application, technology, product, and end-user. Deep dive analysis of key market players have also been considered in this report.



Upcoming
3 of 3 items
3 reports | Show