The biostimulants market covers in-depth mode of applications, such as soil, seed, and foliar in the reports. These reports cover the biostimulants market for various crop types, such as, row crops, fruits and vegetables, turf, and ornamentals. The reports are segmented region-wise with in-depth analysis and their key countries within each of these regions.
The Biostimulants market was valued at $1.3 billion, and is projected to grow at a CAGR of 12.47% annually. Biostimulants is segmented into Acids, Extracts, and others comprising 12.4%, 13.0%, and 10.3% respectively of the global Biostimulants market.
1 Introduction
1.1 Analyst Insights
1.2 Market Definitions
1.3 Market Segmentation & Aspects Covered
1.4 Research Methodology
2 Executive Summary
3 Market Overview
4 Biostimulants by Applications
4.1 Foliar
4.2 Soil
4.3 Seed
5 Bio Stimulants by Endusers
5.1 Row crops
5.2 Fruits & Vegetables
5.3 Turf and ornamentals
5.4 Rest (Crops)
6 Bio Stimulants by Ingredients
6.1 Acids (Active Ingredients)
6.2 Extracts (Active Ingredients)
6.3 Others (Active Ingredients)
7 Bio Stimulants by Geographies
7.1 North America
7.2 Europe
7.3 Latin America
7.4 Asia
7.5 ROW
8 Bio Stimulants by Companies
8.1 Laboratoires Goemar SAS
8.2 Koppert B.V.
8.3 Italpollina SpA
8.4 ILSA Spa
8.5 Brandt Consolidated
8.6 Lallemand Plant Care
8.7 Micromix Plant Health Limited
8.8 Omex Agrifluids Ltd
8.9 ISAGRO Agrochemicals
8.10 Verdesian Life Sciences, LLC (U.S.)
8.11 BioAtlantis Ltd. (Ireland)
8.12 Taminco Crop Protection
8.13 Agrinos crop input-biological segment
8.14 Arysta Agriculture
8.15 Atlantica biostimulants & free amino acids
8.16 Biostandt biologicals
8.17 Tradecorp biostimulants
8.18 Valagro farm division
8.19 Agrium Inc.
8.20 Ajinomoto Co., Inc.
8.21 BASF SE
8.22 CHEMINOVA A/S
8.23 The Mosaic Co.
8.24 Novozymes A/S
8.25 Plant Health Care plc
8.26 Dow Chemical
8.27 Yara International ASA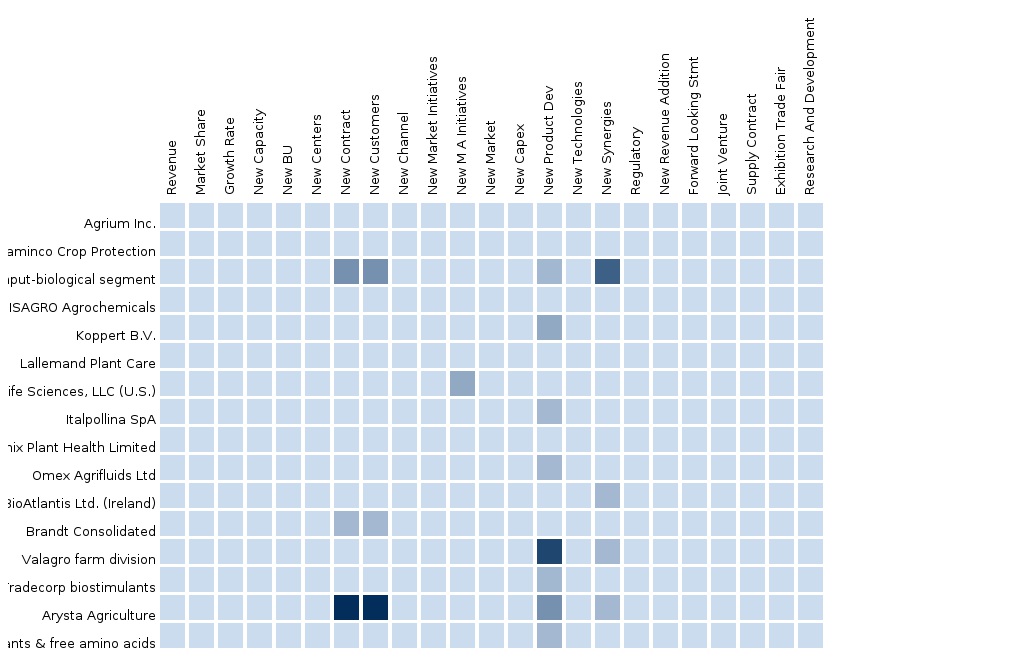 Please fill in the form below to receive a free copy of the Summary of this Report
Custom Market Research Services
We will customize the research for you, in case the report listed above does not meet with your exact requirements. Our custom research will comprehensively cover the business information you require to help you arrive at strategic and profitable business decisions.
Please visit
http://www.micromarketmonitor.com/custom-research-services.html
to specify your custom Research Requirement
PRODUCT TITLE
PUBLISHED
Extracts (Active Ingredients)


The Extracts (Active Ingredients) market can be segmented by Companies, Endusers, Applications, Geographies and Ingredients. Some of the companies operating in the Extracts (Active Ingredients) market are Laboratoires Goemar SAS, Koppert B.V., Italpollina SpA, ILSA Spa, Brandt Consolidated, Lallemand Plant Care etc.



Upcoming
Seaweed extracts


Seaweed Extracts are those extracts which can be used in agriculture, consumed as food or can be even used in personal care products. The Seaweed Extracts market can be segmented on the basis of types, applications and geographies. Types of Seaweed Extracts are Liquid, FLower and Flakes.



Upcoming
North America Bio Stimulants


The North American biostimulants market is estimated to grow at a CAGR of 14.1% during the forecast period of 2014 to 2019. Plant biostimulants contain substance(s) and/or micro-organisms whose function when applied to plants or the rhizosphere is to stimulate natural processes to enhance/benefit nutrient uptake, nutrient efficiency, tolerance to abiotic stress, and crop quality. Biostimulants have no direct action against pests, and therefore do not fall within the regulatory framework of pesticides.



Apr 2015
Europe Bio Stimulants


The bio stimulants market in Europe is the largest market comprising 41.7% of the global market, and was valued at $0.53 billion in 2013. This market is estimated to grow at a CAGR of 12.2% annually, to reach $0.94 billion by 2018. The bio stimulants market in Europe can be segmented by companies, end-users, applications, and macroindicators.



Upcoming
Asia Bio Stimulants


The bio stimulants market in Asia-Pacific comprises 20% of the global market, and was valued at $0.25 billion in 2013. The market is estimated to grow at a CAGR of 12.9% annually, to reach $0.47 billion by 2018. The Asian bio stimulants market can be segmented by companies, end-users, applications, and macroindicators.



Upcoming
Latin America Bio Stimulants


The Latin American biostimulants market is estimated to grow at a CAGR of 17.5% during the forecast period of 2014 to 2019. Plant biostimulants contain substance(s) and/or micro-organisms whose function when applied to plants or the rhizosphere is to stimulate natural processes to enhance/benefit nutrient uptake, nutrient efficiency, tolerance to abiotic stress, and crop quality. Biostimulants have no direct action against pests, and therefore do not fall within the regulatory framework of pesticides.



May 2015
Bio Stimulants in Foliar


Bio stimulants in foliar helps to control foliar pathogens. Of the global bio stimulants market, 82.6% is applied on foliar, which was valued at $1.05 billion in 2013, and is estimated to grow at a CAGR of 12.1% annually. It is projected to reach $1.86 billion by 2018. The bio stimulants in foliar market may be segmented by company, end-users, regions, and macroindicators.



Upcoming
Bio Stimulants in Seed


Bio stimulants in seed may enhance the plant's ability to assimilate applied nutrients to plants, thereby enhancing plant growth and development. Of the global bio stimulants market, 7.6% is applied on seed, which was valued at $0.01 billion in 2013, and is estimated to grow at a CAGR of 15.2% annually. The bio stimulants in seed market is projected to reach $0.2 billion by 2018.



Upcoming
Bio Stimulants in Soil


Biostimulants in soil is known to help improve soil structure, function or performance and thus, enhance plant response. Of the global biostimulants in soil market, 7.7% is applied on soil, which was valued at $0.01 billion in 2013, and is estimated to grow at a CAGR of 13.1% annually. It is projected to reach a value of $0.18 billion by 2018.



Upcoming
Turf & Ornamentals Biostimulants


A bio stimulant helps turf respond to stressful events and stimulates root growth enhancing water and nutrient uptake. Of the global bio stimulants market 20.0% is used in turf and ornamentals, which is pegged at $ 2.2 billion in 2013 and is estimated to grow at a CAGR of 11.4% annually. It is projected to reach at $ 3.8 billion by the end of 2018.



Feb 2015
Bio Stimulants in Fruits & Vegetables


A bio stimulant helps fruits and vegetables with higher vitamin content, better fruit setting, higher size and coloring of fruits, etc. Of the global bio stimulants market only 5.3% is used in fruits and vegetables, which is pegged at $ 0.59 billion in 2013 and is estimated to grow at a CAGR of 11.4% annually. It is projected to reach at $ 1.01 billion by the end of 2018.



Upcoming
Acids (Active Ingredients)


Acids (Active Ingredients) and Extracts (Active Ingredients) and



Upcoming
Humic acid (Biostimulants)


Humic acid (Biostimulants) and Fulvic acid (Biostimulants),



Upcoming
Fulvic acid (Biostimulants)


Fulvic acid (Biostimulants) and Humic acid (Biostimulants),



Upcoming
Amino acid (Biostimulants)


Amino acid (Biostimulants) and Humic acid (Biostimulants),



Upcoming
B-Vitamins (Biostimulants)


B-Vitamins (Biostimulants) and Chitin & Chitosin (Biostimulants) and



Upcoming
Chitin & Chitosin (Biostimulants)


Chitin & Chitosin (Biostimulants) and B-Vitamins (Biostimulants) and



Upcoming
Microbial soil amendments (Biostimulants)


Microbial soil amendments (Biostimulants) and B-Vitamins (Biostimulants) and



Upcoming
Morocco Biostimulants and Biopesticides Market


The Morocco biostimulants market is projected to grow at a CAGR of 10.7% from 2016, to reach USD 8.8 million by 2021 whereas the biopesticides market in Morocco is projected to reach USD 19.4 million by 2021 at a CAGR of 10.3% during the forecast period.



Jul 2016
Australasia and South East Asia Biostimulants Market


Bio Stimulants-ROW can be segmented by Applications, Companies, MacroIndicators and Endusers. Applications of this market are Foliar function,



Aug 2016
20 of 20 items
20 reports | Show