The European market holds a significant share in the global amino resin market, having accounted for 38.73% of the market in 2013. The European market is dominated by Germany and Italy, having respectively accounted for market shares of 45.84% and 13.03% in 2013. In terms of applications, the particle board segment is the largest consumer of amino resins, having recorded a market share of 42.65% in 2013.
The wood industry, building & construction industry, and laminates industry are growing in Europe. This growth in the end-user industries will have a positive impact on the growth of the amino resins market in the region. Some of the leading companies operating in this market are BASF SE (Germany), AkzoNobel N.V. (Netherlands), and Allnex Belgium SA (Belgium), among others.
The European amino resin market report provides insights into the segmentation of the concerned market, along with details of the various opportunities offered by the market for the participating companies as well as new market entrants.
The European market has been segmented in terms of types, applications, and the main countries in the region. Melamine formaldehyde resin, melamine urea formaldehyde resin, and urea formaldehyde resin are the main types of amino resins. On the basis of applications, the market has been segmented into adhesives, laminates, medium density fiberboard (Mdf), particle board, plywood, and roofing mats, among others. Germany, Italy, France, and the U.K., among others, are the main countries that have been considered for this report. The report also provides details of the market drivers & restraints, competitive scenario, and strategic profiles of the key players in the European amino resin market.
1 Introduction
1.1 Objective of the study
1.2 Market Definitions
1.3 Market Segmentation & Aspects Covered
1.4 Research Methodology
1.4.1 Assumptions (Market Size, Forecast, etc)
2 Executive Summary
3 Market Overview
4 Amino Resins-Europe, By Applications
4.1 Split By Geography
4.1 Amino Resins-Spain by Applications
4.1 Amino Resins-United Kingdom by Applications
4.1 Amino Resins-France by Applications
4.1 Amino Resins-Germany by Applications
4.1 Amino Resins-Italy by Applications
4.2 Amino Resins-Europe-Particle Board
4.3 Amino Resins-Europe-Medium-density fibreboard OR Mdf
4.4 Amino Resins-Europe-Adhesive
4.5 Amino Resins-Europe-Roofing Mats
4.6 Amino Resins-Europe-Plywood
5 Amino Resins-Europe, By Geographies
5.1 Amino Resins-Spain
5.2 Amino Resins-United Kingdom
5.3 Amino Resins-France
5.4 Amino Resins-Germany
5.5 Amino Resins-Italy
6 Amino Resins-Europe, By Companies
6.1 Competitive landscape
6.2 Split By Geography
6.2 Amino Resins-Spain by Companies
6.1 Amino Resins-United Kingdom by Companies
6.1 Amino Resins-France by Companies
6.1 Amino Resins-Germany by Companies
6.1 Amino Resins-Italy by Companies
6.3 Amino Resins-Europe-Momentive Specialty Chemicals Inc
6.4 Amino Resins-Europe-Ineos Melamine
6.5 Amino Resins-Europe-Allnex Belgium Sa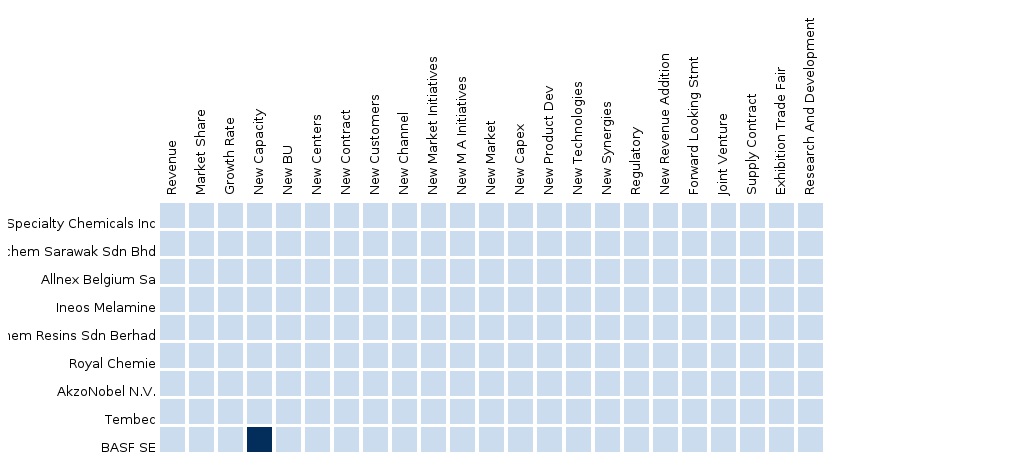 Please fill in the form below to receive a free copy of the Summary of this Report
Custom Market Research Services
We will customize the research for you, in case the report listed above does not meet with your exact requirements. Our custom research will comprehensively cover the business information you require to help you arrive at strategic and profitable business decisions.
Please visit
http://www.micromarketmonitor.com/custom-research-services.html
to specify your custom Research Requirement