FRP Grating Market by Resin Type - Global Forecast to 2021.
This study on global unsaturated polyesters (UPR) market estimates its global demand and value, and projects the same for the period till 2019. As a part of the quantitative analysis, the global UPR market segments the market by application and geography, with current market estimation and forecast till 2019. The regions covered in the global UPR market report are North America, Europe, Asia-Pacific, and RoW.
The segmentation by application includes building & construction, pipes & tanks, transportation, electrical & electronics, marine, and wind energy, among others. Further, as a part of qualitative analysis, the research report provides a comprehensive review of important drivers, restraints, opportunities, and key issues in the UPR market. It also includes the company profiling, market share analysis, and analysis of competitive strategies adopted by various market players to increase their market presence including Reichhold INC, AOC LLC, CCP Composites, and Ashland INC.
What makes our report unique?
You can request 10% customization in the research matching your exact requirement, for example, deep dive research in any specific geography or technology or applications.
This report provides competitive landscape of the top players. Under strategic benchmarking section, we will provide you their key developments along with the impacts including New Product development, M&A, strategic focus on any specific application, technology, geography. Under Financial, we will provide you Capex (Investments), Revenues, EBITDA. Under Operational insights, we will provide you new capacity added, New centers, new key employments. Under sales and marketing, we will provide you insight on new contracts (available on public domain), new distribution channels added, and new marketing initiatives.
Key questions answered
What are market estimates and forecasts; which markets are doing well and which are not?
What is the competitive landscape; who are the main players in each segment; what are their strategic directives, operational strengths, key selling products, and product pipelines? Who is doing what?
Audience for this report
1 Introduction
1.1 Analyst Insights
1.2 Market Definition
1.3 Market Segmentation & Aspects Covered
1.4 Research Methodology
2 Executive Summary
3 Market Overview
4 Unsaturated Polyesters by Applications
4.1 Marine
4.2 Transportation (I)
4.3 Electrical & Electronics
4.4 Pipes & Tanks
4.5 Isophthalic Resins
4.6 Building & Construction
4.7 Wind Energy
4.8 Other Applications
5 Unsaturated Polyesters by Types
5.1 Orthophthalic Resins
6 Unsaturated Polyesters by Ingredients
6.1 Phthalic Anhydride
6.2 Styrene
6.3 Ingredients (Others)
7 Unsaturated Polyesters by Groups
7.1 Styrenics
8 Unsaturated Polyesters by Geographies
8.1 North America
8.2 Asia-Pacific
8.3 Europe
8.4 South America, Africa, Middle East
9 Unsaturated Polyesters by Companies
9.1 Reichhold Inc
9.2 CCP Composites
9.3 Royal DSM
9.4 Ashland Inc
9.5 The Alpha Corporation Of Tennessee
9.6 SCOTT BADER COMMONWEALTH LTD
9.7 Cray Valley S. A.
9.8 Aoc Llc
9.9 Interplastic Corporation
9.10 Bulk molding compounds
9.11 Sinopec Corp
9.12 Teijin DuPont Films Japan Limited
9.13 Jiangsu Changhai Composite Materials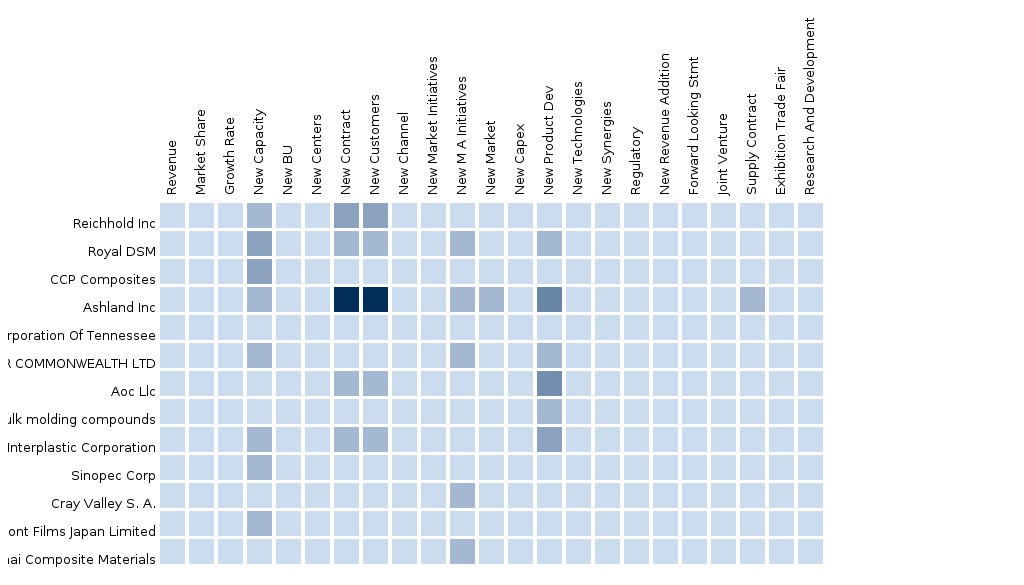 Please fill in the form below to receive a free copy of the Summary of this Report
Custom Market Research Services
We will customize the research for you, in case the report listed above does not meet with your exact requirements. Our custom research will comprehensively cover the business information you require to help you arrive at strategic and profitable business decisions.
Please visit
http://www.micromarketmonitor.com/custom-research-services.html
to specify your custom Research Requirement
PRODUCT TITLE
PUBLISHED
Asia-Pacific Unsaturated Polyesters


The Asia-Pacific market for unsaturated polyesters was valued at $3.0 billion in 2013, with a share of 42.4% in the global market, and is projected to grow at a CAGR of 7.3% from 2013 to 2018. The market is led by Reichhold Inc, Ashland Inc., and Scott Bader Company Limited. The market is segmented on the basis of countries and applications.



Upcoming
North America Unsaturated Polyesters


The North American unsaturated polyesters market was valued at $2.2 billion in 2013, and is expected to grow at 6.8% annually, to reach $3.1 billion by 2018. The market is segmented with respect to application and product. Insights for each segment are provided in this report.



Upcoming
Europe Unsaturated Polyesters


The European unsaturated polyesters market was valued at $1.3 billion in 2013, and is expected to grow at 6.3% annually, to reach $1.8 billion by 2018. The market is segmented in terms of application and product. Insights for each segment are provided in this report.



Upcoming
South America, Africa, Middle East Unsaturated Polyesters


The South America, Africa, and the Middle East unsaturated polyesters market was valued at $0.5 billion in 2013, and is expected to grow at 7.0% annually, to reach $0.6 billion by 2018. The market is segmented with respect to application and product. Insights for each segment are provided in this report.



Upcoming
4 of 4 items
4 reports | Show