This study on the polyethylene (PE) market estimates its demand and value, and projects the same by 2019. As a part of the quantitative analysis, the polyethylene (PE) market segments the market by application and geography with market estimation and forecast till 2019. The segmentation by application includes film & sheets, injection molding, blow molding, and other applications. Furthermore, as a part of qualitative analysis, the study provides a comprehensive review of important drivers, restraints, opportunities, and key issues in the polyethylene (PE) market. It also includes the company profiling, market share analysis, and analysis of competitive strategies adopted by various market players to increase their market presence including Chevron Phillips Chemical Company LLC, The Dow Chemical Company, DuPont de Nemours & Co , ExxonMobil Chemical Corporation, LyondellBasell Industries, and others.
1. Introduction
1.1. Objectives of the Study
1.2. Report Description
1.3. Markets Covered By
1.3.1. Applications
1.3.2. Geographies
1.4. Stakeholders
1.5. Research Methodology
1.6. Assumptions

2. Market Snapshot

3. Market Overview
3.1. Introduction
3.1.1. Average Selling Price
3.1.2. Regional Market Summary
3.2. Market dynamics
3.2.1. Drivers
3.2.2. Restraints
3.2.3. Opportunities
3.3. Supporting Data
3.3.1. Trade Data
3.3.2. Economic Indicators

4. Global Polyethylene (PE) Market-By Applications
4.1. Film & Sheets
4.2. Injection Molding
4.3. Blow Molding
4.4. Other Applications

5. Global Polyethylene (PE) Market-By Types
5.1. Low Density Polyethylene
5.2. Linear Low Density Polyethylene
5.3. High Density Polyethylene

6. Global Polyethylene (PE) Market by Geography
6.1. North America
6.1.1. U.S.
6.1.2. Canada
6.1.3. Mexico
6.2. Asia-Pacific
6.2.1. China
6.2.2. India
6.2.3. Japan
6.2.4. Others
6.3. Europe
6.3.1. Germany
6.3.2. Italy
6.3.3. France
6.3.4. Others
6.4. Rest of World
6.4.1. Brazil
6.4.2. Saudi Arabia
6.4.3. Others

7. Polyethylene (PE) Market-Competitive landscape
7.1. Polyethylene-Market Share Analysis
7.2. Polyethylene-Market Developments
7.2.1. Mergers and acquisitions
7.2.2. New product launches
7.2.3. Agreements and collaborations
7.2.4. Strategic expansions

8. Company Profiles
8.1. Chevron Phillips Chemical Company LLC
8.2. The Dow Chemical Company
8.3. DuPont de Nemours & Co
8.4. ExxonMobil Chemical Corporation
8.5. LyondellBasell Industries
8.6. Nova Chemical Corporation
8.7. Formosa Plastics Corporation
8.8. LG Chemical Ltd.
8.9. Borealis
8.10. Repsol SA

9. Technological Advancements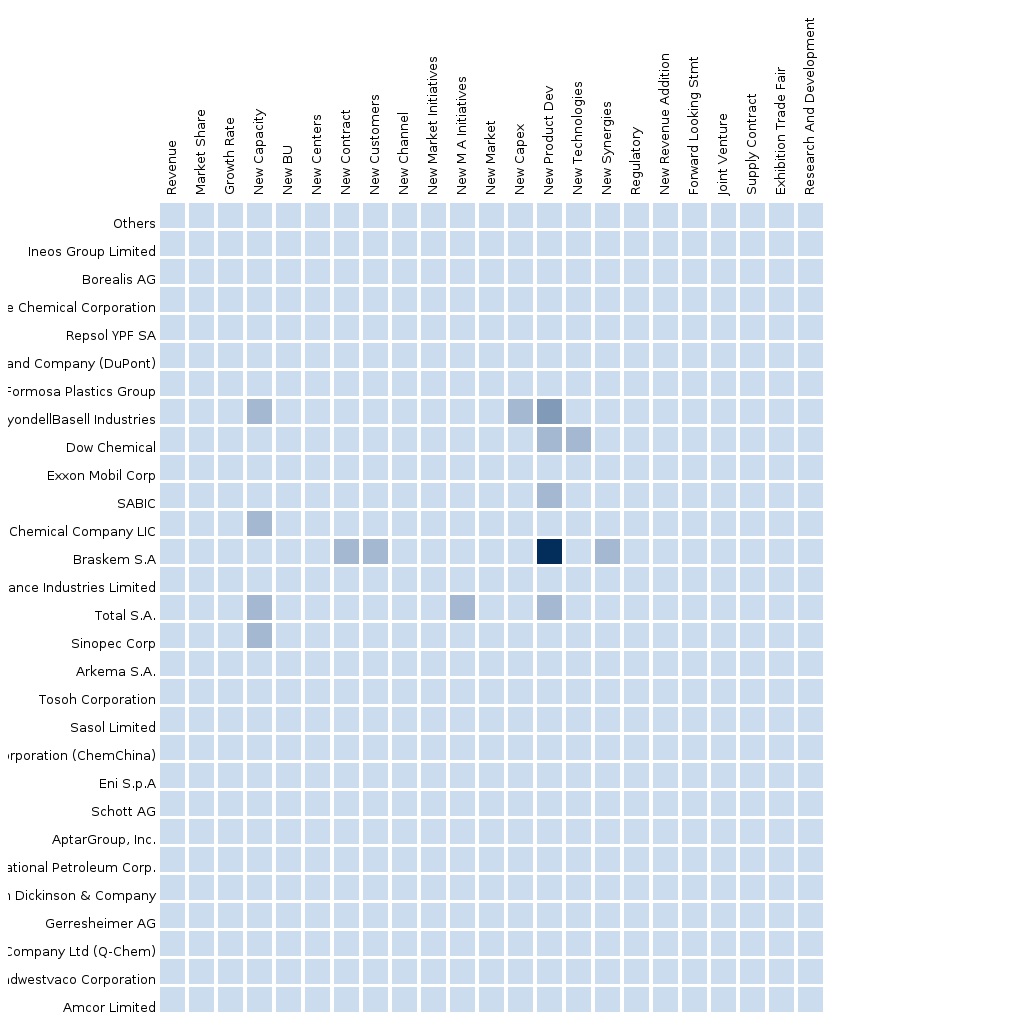 Please fill in the form below to receive a free copy of the Summary of this Report
Custom Market Research Services
We will customize the research for you, in case the report listed above does not meet with your exact requirements. Our custom research will comprehensively cover the business information you require to help you arrive at strategic and profitable business decisions.
Please visit
http://www.micromarketmonitor.com/custom-research-services.html
to specify your custom Research Requirement
PRODUCT TITLE
PUBLISHED
High Density Polyethylene (HDPE)


The high Density Polyethylene market was valued at $ 53.0 billion in 2013 and projected to grow at a CAGR of 9.9% by 2018, the market is led by Borealis AG, Braskem SA, ExxonMobil Chemical Co. and Formosa Plastics Corp.. It is segmented on the basis of geography and application market. The major applications covered are Film & Sheet, Blow Molding, Injection Molding and Pipe & Extrusion. The report analyzes the market for Asia Pacific, North America, Europe and rest of World. The major companies operating in this market are Abu Dhabi Polymers Company Ltd., Borealis AG, Braskem SA and Chevron Phillips Chemical Co.



Apr 2015
Linear Low Density Polyethylene (LLDPE)


The Linear Low Density Polyethylene market was valued at $33.3 billion in 2013 and projected to grow at a CAGR of 10.52% by 2018, the market is led by Borealis, Braskem SA, Chevron Phillips Chemical Co. and Dow Chemical Co. It is segmented on the basis of geography and application market. The major applications covered are Film & Sheet, Roto Molding, Injection Molding and Pipe & Extrusion. The report analyzes the market for Asia Pacific, North America, Europe and rest of World. The major companies operating in this market are Abu Dhabi Polymers Company Ltd., Borealis, Braskem SA, Chevron Phillips Chemical Co. and Dow Chemical Co.



Upcoming
Global Low Density Polyethylene (LDPE)


Low density polyethylene is a colorless, nonflammable, non-reactive solid with no odor. LDPE retains its position as a preferred packaging material because of its limp feel, transparency, toughness, and ability to rapidly take up the shape of the contents of the bag. LDPE is used to make many thin, flexible products such as plastic bags for dry-cleaning, newspapers, bread, frozen foods, fresh produce, and garbage. Most shrink-wraps and stretch films, as well as coatings for paper milk cartons and disposable beverage cups, are also made of LDPE. Manufacturers also use LDPE to create thin container lids, squeezable bottles, and various toys.



May 2015
Asia-Pacific Polyethylene (PE)


The Asia-Pacific Polyethylene market was valued at $48.9b in 2013, with a share of 42.4% globally. Projected to grow at a CAGR of 11.3% by 2018, the market is led by ExxonMobil Chemical (5.68%), Sinopec (4.96%) and Japan Polyethylene Corp. (3.59%). It is segmented on the basis of applications such as automotive materials, electrical and electronics, consumer goods and appliances, agriculture & support, building and construction and packgaing



Upcoming
North America Polyethylene (PE)


The North America Polyethylene market was valued at 24.67 billion in 2013, with a share of 21.4% globally. Projected to grow at a CAGR of 8.3% by 2018, the market is led by Dow Chemical Co. (20.53%), ExxonMobil Chemical (16.91%) and LyondellBasell (13.79%). It is segmented on the basis of types, applications and countries in the region.



Upcoming
Europe Polyethylene (PE)


The Europe Polyethylene market was valued at $25.2b in 2013, with a share of 21.9% globally. It is projected to grow at a CAGR of 7.4% by 2018; the market is led by LyondellBasell (13.88%), Ineos Olefins & Polymers Europe (10.97%) and Dow Chemical Co. (10.41%). It is segmented on the basis of types, applications and countries in the region.



Upcoming
Automotive Films Market by Film Type (Window Films, Wrap Films, Paint Protection Films), Vehicle Type (Passenger Cars, Commercial Vehicles), and Region - Global Forecast to 2022


Automotive Films Market by Film Type (Window Films, Wrap Films, Paint Protection Films), Vehicle Type (Passenger Cars, Commercial Vehicles), and Region - Global Forecast to 2022



Upcoming
Calendered Polyethylene


Peers of Hydrocolloids are Moulded Polyethylene and Extruded Polyethylene comprising 0.0% and 0.0% respectively of the Global Polyethylene (PE) market. It is segmented on basis of products.



Upcoming
Moulded Polyethylene


Peers of Hydrocolloids are Calendered Polyethylene and Extruded Polyethylene comprising 0.0% and 0.0% respectively of the Global Polyethylene (PE) market. It is segmented on basis of .



Upcoming
Extruded Polyethylene


Peers of Hydrocolloids are Calendered Polyethylene and Moulded Polyethylene comprising 0.0% and 0.0% respectively of the Global Polyethylene (PE) market. It is segmented on basis of products.



Upcoming
Blow Moulded Polyethylene


Blow Moulded Polyethylene and Injection Moulded Polyethylene adds up to total



Upcoming
Injection Moulded Polyethylene


Injection Moulded Polyethylene and Blow Moulded Polyethylene adds up to total



Upcoming
High Density Polyethylene Films and Sheets


High Density Polyethylene Films and Sheets and High Density Polyethylene Foams,



Upcoming
High Density Polyethylene Foams


High Density Polyethylene Foams and High Density Polyethylene Films and Sheets,



Upcoming
High Density Polyethylene Fibers


High Density Polyethylene Fibers and High Density Polyethylene Films and Sheets,



Upcoming
High Density Polyethylene Elastomer


High Density Polyethylene Elastomer and High Density Polyethylene Films and Sheets,



Upcoming
High Density Polyethylene Plastics (Molded)


High Density Polyethylene Plastics (Molded) and High Density Polyethylene Films and Sheets,



Upcoming
Low Density Polyethylene (LDPE) Films and Sheets


Low Density Polyethylene (LDPE) Films and Sheets and Low Density Polyethylene (LDPE) Foams,



Upcoming
Low Density Polyethylene (LDPE) Foams


Low Density Polyethylene (LDPE) Foams and Low Density Polyethylene (LDPE) Films and Sheets,



Upcoming
Low Density Polyethylene (LDPE) Elastomers


Low Density Polyethylene (LDPE) Elastomers and Low Density Polyethylene (LDPE) Films and Sheets,



Upcoming