Payment Link - Polyhydroxyalkanoate (PHA) Market Report
1 Introduction
1.1 Analyst Insights
1.2 Market Definitions
1.3 Market Segmentation & Aspects Covered
1.4 Research Methodology
2 Executive Summary
3 Market Overview
4 Polyhydroxyalkanoate (PHA) by Applications
4.1 Agriculture Support
4.2 Biomaterials
4.3 Packaging
4.4 Food & Beverage Packaging
4.5 Other Applications
4.6 Other Applications
5 Polyhydroxyalkanoate (PHA) by Ingredients
5.1 Sugar (Plant)
5.2 Animal Oils
5.3 Ingredients (Others)
6 Polyhydroxyalkanoate (PHA) by Groups
6.1 Renewable Chemicals
6.2 Biodegradable Polymers
7 Polyhydroxyalkanoate (PHA) by Products
7.1 Polyhydroxyalkanoate Films and Sheets
7.2 Polyhydroxyalkanoate Fibers
7.3 Polyhydroxyalkanoate Elastomers
7.4 Polyhydroxyalkanoate Plastics (Molded)
7.5 Polyhydroxyalkanoate Foam
7.6 Polyhydroxyalkanoate Composites
8 Polyhydroxyalkanoate (PHA) by Types
8.1 Polyhydroxyalkanoate Molded
8.2 Polyhydroxyalkanoate Extruded
8.3 Polyhydroxyalkanoate Calendered
9 Polyhydroxyalkanoate (PHA) by Geographies
9.1 Americas
9.2 Europe
9.3 Asia-Pacific
10 Polyhydroxyalkanoate (PHA) by Companies
10.1 Metabolix, Inc.
10.2 Kaneka Corporation
10.3 Tianjin GreenBio Materials Co. Ltd
10.4 Shenzen Ecomann Biotechnology Co.
10.5 Newlight Technologies LLC
10.6 Biomer
10.7 Bio-on SRL
10.8 Meredian Inc.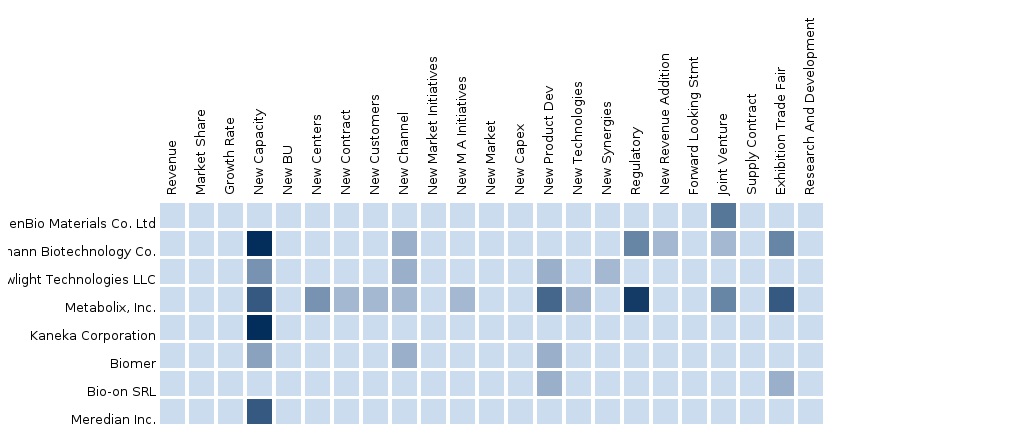 Please fill in the form below to receive a free copy of the Summary of this Report
Custom Market Research Services
We will customize the research for you, in case the report listed above does not meet with your exact requirements. Our custom research will comprehensively cover the business information you require to help you arrive at strategic and profitable business decisions.
Please visit
http://www.micromarketmonitor.com/custom-research-services.html
to specify your custom Research Requirement
PRODUCT TITLE
PUBLISHED
Europe Polyhydroxyalkanoate (PHA)


The Europe Polyhydroxyalkanoate (PHA) Market was valued at $21.8 million in 2013, with a share of 45.7% globally. Projected to grow at a CAGR of 23.5% by 2018, the market is led by Ecoman (59.0%) and Bio-on (20.0%). It is segmented on the basis of applications, and country in the region.



Upcoming
Americas Polyhydroxyalkanoate (PHA)


The Americas Polyhydroxyalkanoate (PHA) market was valued at $21.6 million in 2013, with a share of 45.4% globall and is projected to grow at a CAGR of 26.5% to reach $70.0 million by 2018. The market is led by Meredian (53%) and Metabolix (44%). It is segmented on the basis of applications, and country in the region.



Upcoming
Asia-Pacific Polyhydroxyalkanoate (PHA)


The Asia-Pacific Polyhydroxyalkanoate (PHA)) market was valued at $4.2 million in 2013, with a share of 8.8% globally and projected to grow at a CAGR of 33.1% by 2018. The market is led by Ecomann, Kaneka corporation and Tianjin Green Bio-Science. It is segmented on the basis of country and applications.



Upcoming
Payment Link - Thick film Resistor Market


Payment Link - Thick film Resistor Market



Upcoming
Polyhydroxyalkanoate Molded


Polyhydroxyalkanoate Molded and Polyhydroxyalkanoate Extruded and



Upcoming
Polyhydroxyalkanoate Extruded


Polyhydroxyalkanoate Extruded and Polyhydroxyalkanoate Molded and



Upcoming
Polyhydroxyalkanoate Calendered


Polyhydroxyalkanoate Calendered and Polyhydroxyalkanoate Molded and



Upcoming
7 of 7 items
7 reports | Show
Payment Link - Polyhydroxyalkanoate (PHA) Market Report