Global Polybutylene Terephthalate Market Research Report
The global Polybutylene terephthalate market, along with its end products, has witnessed a linear growth in the past few years and this growth is estimated to increase in the coming years. Polybutylene terephthalate is type of thermoplastic polyester resin and used as used as an insulator in the electrical and electronics industries. It is resistant to solvents, shrinks very little during forming, mechanically strong, and heat-resistant.
The report covers Polybutylene terephthalate global market. It further divides the market on the basis of application & regions. The market data of these types is given with respect to value (USD Million). The data mentioned in the report are based on the global demand for the Polybutylene terephthalate.
The impact of different market factors, such as drivers, inhibitors, and oppurtunities is also illustrated in the report. Properties such as thermal stability, high heat resistance, and superior electrical properties will boost the demand for Polybutylene terephthalate .
The global Polybutylene terephthalate is also classified based on different applications. The importatnt application includes Automotive, Electrical & Electronic, Consumer Appliances, & Others.
Competitive scenarios of the top players in the Polybutylene terephthalate market have been discussed in detail. We have also profiled leading players of this industry with their recent developments and other strategic industry activities. These include: key Polybutylene terephthalate manufacturers such as. Indorama Ventures (Thailand), MJiangsu Sanfangxiang Group (China), Far Eastern New Century (Taiwan), BASF (Germany), Toray Industries (Japan), and Royal DSM N.V. (The Netherlands)., XXX, XXX, XXXX.
Scope of the report:
This research report categorizes the global market for Polybutylene terephthalate market on the basis of applications, end-user industries, and geography along with forecasting volume, value, and analyzing trends in each of the submarkets.
On the basis of applications:
Automotive
Electrical & Electronic
Consumer Appliances
Others
Each application is described in detail in the report with volume and revenue forecasts for each application.
On the basis of geography:
Asia-Pacific
North America
Europe
Rest of the World
The global Polybutylene terephthalate market has grown significantly during the last few years, and it is expected to grow at a steady pace in the next five years, mainly driven by a growing consumption in the XXX region. The global Polybutylene terephthalate market is valued at $ xx million in 2014, growing at a CAGR of X% and is expected to reach $ xx million by 2019.
1 Introduction
1.1 Analyst Insights
1.2 Market Definitions
1.3 Market Segmentation & Aspects Covered
1.4 Research Methodology
2 Executive Summary
3 Market Overview
4 By Applications
4.1 Electrical & Electronics
4.2 Consumer Goods & Appliances
4.3 Automotive Plastics
5 By Ingredients
5.1 1,4-Butanediol (1,4-BDO)
6 By Groups
6.1 Polyester Resin, Saturated
7 By Companies
7.1 Indorama Ventures Public Company Limited
7.2 Alpek SAB DE CV Sigma
7.3 DAK Americas
7.4 M&G Chemicals
7.5 Jiangsu Sanfangxiang Group Co. Ltd.
7.6 Sinopec Yizheng Chemical Fibre Co., Ltd.
7.7 Far Eastern New Century Corporation
7.8 BASF Chemicals
7.9 Toray Industries, Inc
7.10 Royal DSM NV
7.11 SABIC
7.12 SK Chemicals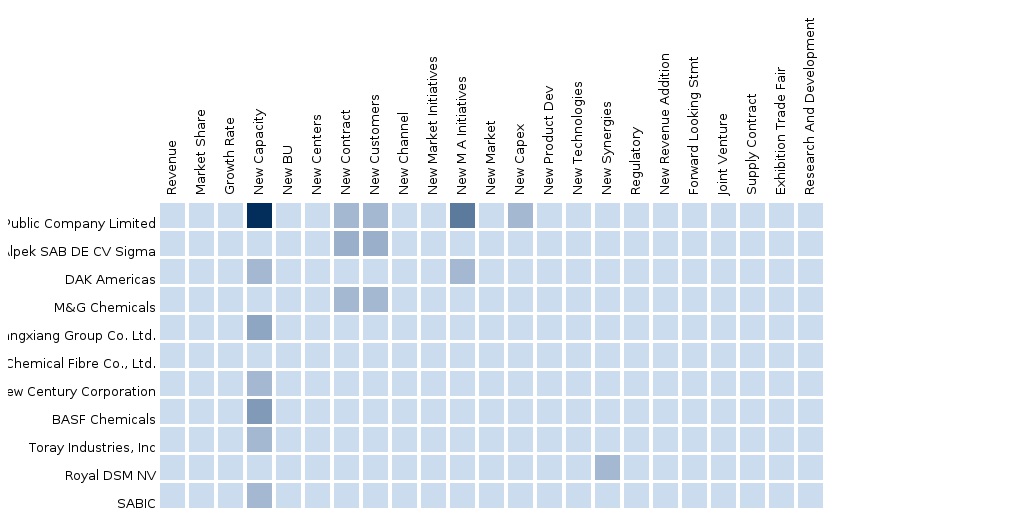 Please fill in the form below to receive a free copy of the Summary of this Report
Custom Market Research Services
We will customize the research for you, in case the report listed above does not meet with your exact requirements. Our custom research will comprehensively cover the business information you require to help you arrive at strategic and profitable business decisions.
Please visit
http://www.micromarketmonitor.com/custom-research-services.html
to specify your custom Research Requirement