Payment Link - Middle East Chapter - Drilling Services Market
Payment Link - Middle East Chapter - Drilling Services Market
1 Introduction
1.1 Analyst Insights
1.2 Market Definitions
1.3 Market Segmentation & Aspects Covered
1.4 Research Methodology
2 Executive Summary
3 Market Overview
4 Drilling Services by Submarkets
4.1 Mud Logging
4.2 Directional Drilling
4.3 Surface logging services
4.4 Reservoir Navigation Services
4.5 Drilling Optimization Service
4.6 Casing/Liner Drilling Systems
4.7 Remote Drilling Services
4.8 Contract Drilling
4.9 LWD (Logging While Drilling)
4.10 MWD (Measuring While Drilling)
4.11 Waste Management in Drilling
5 Drilling Services by Types
5.1 Onshore
5.2 Offshore
6 Drilling Services by Services
6.1 Oilfield Rental
6.2 Coiled Tubing Services
7 Drilling Services by Equipment
7.1 Hydraulic Workover & Snubbing
7.2 Drilling Tools
8 Drilling Services by Technologies
8.1 Digital Oilfield
9 Drilling Services by Endusers
9.1 Production - Oil & Gas
10 Drilling Services by Geographies
10.1 North America
10.2 South & Central America
10.3 Europe
10.4 Asia-Pacific
10.5 Africa
10.6 Middle East
11 Drilling Services by Companies
11.1 Atwood Oceanics Offshore Contract Drilling Services
11.2 Baker Hughes Drilling and Evaluation
11.3 Diamond Offshore Drilling Inc.
11.4 ENSCO PLC
11.5 Gyrodata Inc.
11.6 Halliburton Drilling and Evaluation
11.7 Kca Deutag
11.8 Noble Corporation
11.9 Rowan Companies
11.10 Schlumberger Oilfield Services Drilling
11.11 Scientific Drilling International
11.12 Seadrill Ltd
11.13 Superior Energy Services, INC.
11.14 Weatherford Formation Evaluation and Well Construction
11.15 Fred. Olsen Energy offshore driling
11.16 Maersk Drilling
11.17 Nabors Completion & Production Services
11.18 China Oilfield Drilling services
11.19 Transocean Contract drilling services
11.20 Other Companies
11.21 Hercules Offshore
11.22 Pacific Drilling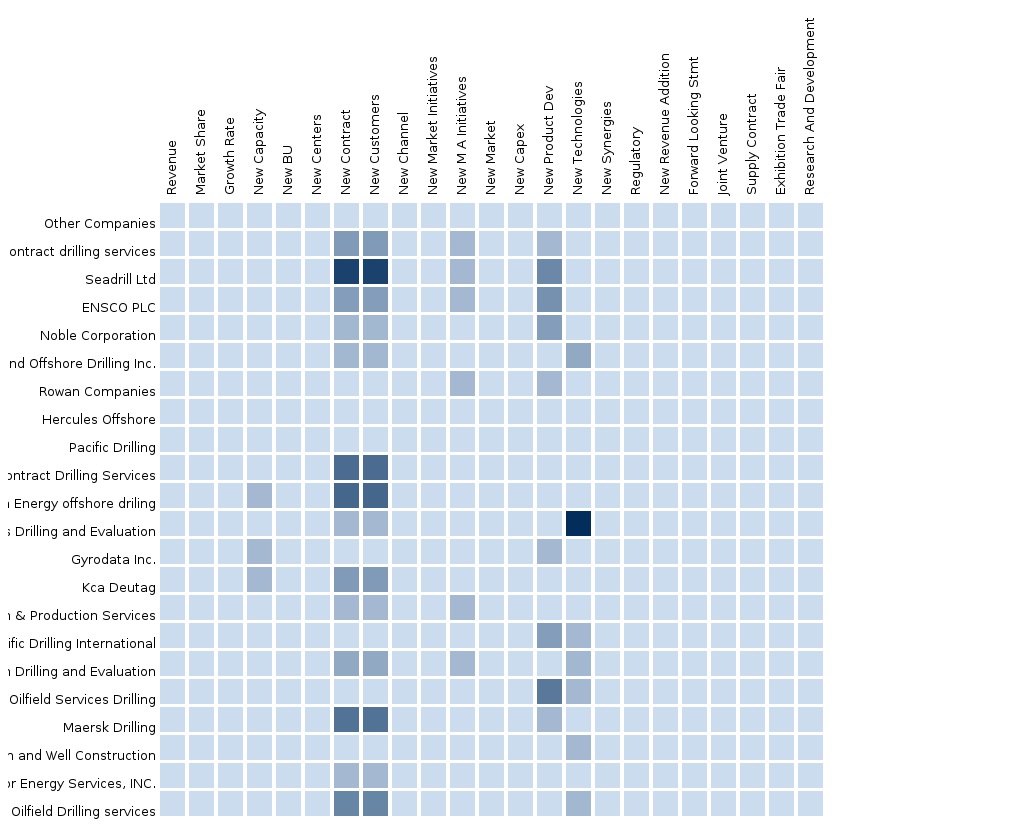 Please fill in the form below to receive a free copy of the Summary of this Report
Custom Market Research Services
We will customize the research for you, in case the report listed above does not meet with your exact requirements. Our custom research will comprehensively cover the business information you require to help you arrive at strategic and profitable business decisions.
Please visit
http://www.micromarketmonitor.com/custom-research-services.html
to specify your custom Research Requirement
PRODUCT TITLE
PUBLISHED
Treatment & Disposal


Treatment and disposal refer to unstable the chemical, physical along with biological characteristics of waste in order to decrease the risk to surroundings. Each year millions of barrels of drilling waste are formed during the process of drilling oil & gas wells which are dangerous to surrounding. The market is led by Weatherford (Switzerland), Specialty Drilling Fluids (Nigeria), Soiltech AS (Norway), TWMA (U.K.) and others. It is segmented on the basis of application and geographies in the region.



Upcoming
Containment & Handling


Containment and handling is worried with the collection of waste stream that have fluid and cuttings from solid control method. The fluids formed from drilling actions may defile low ground water. The market is led by Scomi Group (Malaysia), Imdex Ltd. (Australia), Newalta (Canada), Secure Energy Services (Canada) and others. It is segmented on the basis of application and geographies in the region.



Upcoming
North America Drilling Waste Management


The increased unconventional exploration activities in this region have revolutionized the country's energy mix. Wastes generated during these activities have to be properly treated and disposed of, which demands effective drilling waste practices. The North American market for waste management in drilling was valued at $2.2 billion in 2013, which is projected to reach $3.6 billion by 2018, at a CAGR of 9.84%. This growth is driven by the increasing environmental concerns and the increasing E&P Capex by the oil & gas companies.



Apr 2015
Europe Drilling Waste Management


The European market for waste management in drilling was valued at $0.6 billion in 2013 and is projected to reach $1.1 billion by 2018 at a CAGR of 10.9%. It is segmented on the basis of services, geographies, and equipments.



Mar 2015
Asia-Pacific Drilling Waste Management


The purpose of this report is to cover the definition, description, and forecast of the Asia-Pacific drilling waste management market. It involves a deep dive analysis of the market segmentation, which is based on service, application, and country.



Feb 2015
South & Central America Drilling Waste Management


The South & Central American waste management in drilling market was valued at $0.4 billion in 2013, which is projected to reach $0.7 billion by the end of 2018, at a CAGR of 12.3%. This market has been segmented on the basis of countries and services. It is estimated to grow at a CAGR of 12.4% from 2013 to 2018. As of 2014, the South America waste management in drilling market is estimated to be dominated by Schlumberger, Halliburton Co, Baker Hughes Inc., and Weatherford International Ltd.



Mar 2015
Africa Drilling Waste Management


The African Waste Management in Drilling market was valued at $0.2 billion in 2013 and is expected reach $0.3 billion by the end of 2018 at a CAGR of 13.46%. The market is segmented on basis of services, geographies and equipment.



Mar 2015
Middle East Drilling Waste Management


The Middle East Waste Management in Drilling market was valued at $0.2 billion in the 2013 and is expected to reach $0.4 billion by the end of 2018 at a CAGR of 12.9%. The market is segmented into types and geographies. Schlumberger Oilfield Services Drilling, Weatherford International, and Halliburton Drilling and Evaluation are the top players in the market.



Mar 2015
Surface logging services


Surface Data logging report estimates the Global Surface logging services market in terms of volume and value. This has been broken down into component regions and further split into countries. The regions covered in the report include Americas, Europe, Middle-East, Asia-Pacific and rest of the world; this also distributes the market by different geographies. Considering the types of global surface logging services market they are classified in various types like geologic services, real time operations monitoring, gas analysis and monitoring and other such type of data logging and recording services.



Upcoming
Solid control


Solid control is a technique used in a drilling rig to split the solids in the drilling fluids that are compacted by the drill bits and carried out of the well surface. Solids Control is one of the considerable stages of the drilling method. The main cause for using mechanical solids control equipment is to take away damaging drilled solids from various methods. The market is led by Schlumberger (U.S.), Island Offshore (U.S.), National Oilwell Varco (U.S.), Stewart & Stevenson (U.S.) and others. It is segmented on the basis of application and geographies in the region.



Upcoming
Directional Drilling


Directional Drilling market has been pegged at $13.3b in the year 2013 growing at 13.8% annually and is projected to reach $25.4b by the end of the year 2018. Peers of Hydrocolloids are Contract Drilling, LWD (Logging While Drilling), Waste Management in...



Upcoming
Reservoir Navigation Services


Reservoir Navigation Services and Mud Logging, Directional...



Upcoming
Drilling Optimization Service


Drilling Optimization Service and Mud Logging, Directional...



Upcoming
Casing/Liner Drilling Systems


Casing/Liner Drilling Systems and Mud Logging, Directional...



Upcoming
Remote Drilling Services


Remote Drilling Services and Mud Logging, Directional Drilling,...



Upcoming
Contract Drilling


Contract Drilling market has been pegged at $57.7b in the year 2013 growing at 9.3% annually and is projected to reach $89.9b by the end of the year 2018. Peers of Hydrocolloids are Directional Drilling, LWD (Logging While Drilling), Waste Management in...



Upcoming
Onshore Drilling


Onshore Drilling and Onshore and Offshore adds up to total



Upcoming
MWD (Measuring While Drilling)


MWD (Measuring While Drilling) and Mud Logging, Directional...



Upcoming
Contract drilling - Commodity Jackup


Contract drilling - Commodity Jackup and Contract drilling - Premium Jackup,



Upcoming
Contract drilling - Midwater Floater


Contract drilling - Midwater Floater and Contract drilling - Premium Jackup,



Upcoming
Payment Link - Middle East Chapter - Drilling Services Market