Europe Drilling Waste Management Market by Services (Solids Control Services, Containment) Applications (Onshore & Offshore) & Geography Forecasting to 2018
Description
Table of Contents
Customer Intelligence
The European drilling waste management market is estimated to grow from $946.1 million in 2013 to $1,738 million by 2019, at a CAGR of 10.7% between 2014 and 2019. The treatment & disposal services segment accounted for $391 million in 2013, due to increased environmental concerns and growing exploration and production activities, especially in subsea deepwater and ultra-deepwater areas.
Stringent regulations are being implemented in the region to regulate the discharge of synthetic and oil-based mud cuttings, and hence waste management services have become one of the critical elements for the oil & gas industry.
The report provides an in-depth coverage of the market players, drivers, restraints, current and projected performance in terms of revenue, and other significant insights. The report covers the various segments and subsegments of this market and highlights the growth and expansion opportunities for the vendors providing these services.
In addition, the report elaborates on the different market development and expansion strategies adopted by the various market players and what impact it would have on the market.
Customization Options:
Along with market data, customize the MMM assessments in alignment with your company's specific needs. Customize to get a comprehensive summary of the industry standards and deep-dive analysis of the following parameters:
Product Differentiation
Comparing the different technologies used by companies to provide waste management services, and differentiating them on various parameters
Market Inducing Data
Drilled footage in million feet
New oil field discoveries (regional and country level data)
Expert Insights
Beneficial reuse of drilling wastes
Recycling of muds
Reuse of cuttings
Drilling waste management: In-depth value chain analysis
Interrelation between the segments
Impact of segments on the market
Brief information about equipment used in drilling waste management services

1. INTRODUCTION
1.1. Objective of the Study
1.2. Market Definition and Scope of the Study
1.3. Markets Covered
1.4. Stakeholders

2. RESEARCH METHODOLOGY
2.1. Integrated Ecosystem of Market
2.2. Arriving at the Drilling Waste Management Market Size
2.3. Top-down Approach
2.4. Bottom-up Approach
2.5. Assumptions

3. EXECUTIVE SUMMARY
4. MARKET OVERVIEW
4.1. Introduction
4.2. Parent Market Comparison
4.3. Drivers
4.4. Restraints

5. EUROPE DRILLING WASTE MANAGEMENT MARKET, BY SERVICES
5.1. Overview
5.1.1. Treatment & Disposal
5.1.2. Solid Control
5.1.3. Containment & Handling

6. EUROPE DRILLING WASTE MANAGEMENT MARKET, BY APPLICATION
6.1. Overview
6.1.1. Onshore
6.1.2. Offshore

7. EUROPE DRILLING WASTE MANAGEMENT MARKET, BY GEOGRAPHY
7.1. Overview
7.1.1. Russia
7.1.2. Norway
7.1.3. U.K.
7.1.4. Rest of Europe

8. COMPETITIVE LANDSCAPE
8.1. Overview
8.2. Market Share Analysis: By Companies

9. EUROPE DRILLING WASTE MANAGEMENT MARKET: DEVELOPMENTS
9.1. Overview
9.2. Contracts & Agreements
9.3. Expansions
9.4. Mergers & Acquisitions
9.5. New Product Launches
9.6. Other Developments

10. COMPANY PROFILES
10.1. Baker Hughes
10.2. Halliburton
10.3. Schlumberger
10.4. Weatherford International
10.5. National Oilwell Varco
10.6. Augean PLC
10.7. Soiltech AS

11. APPENDIX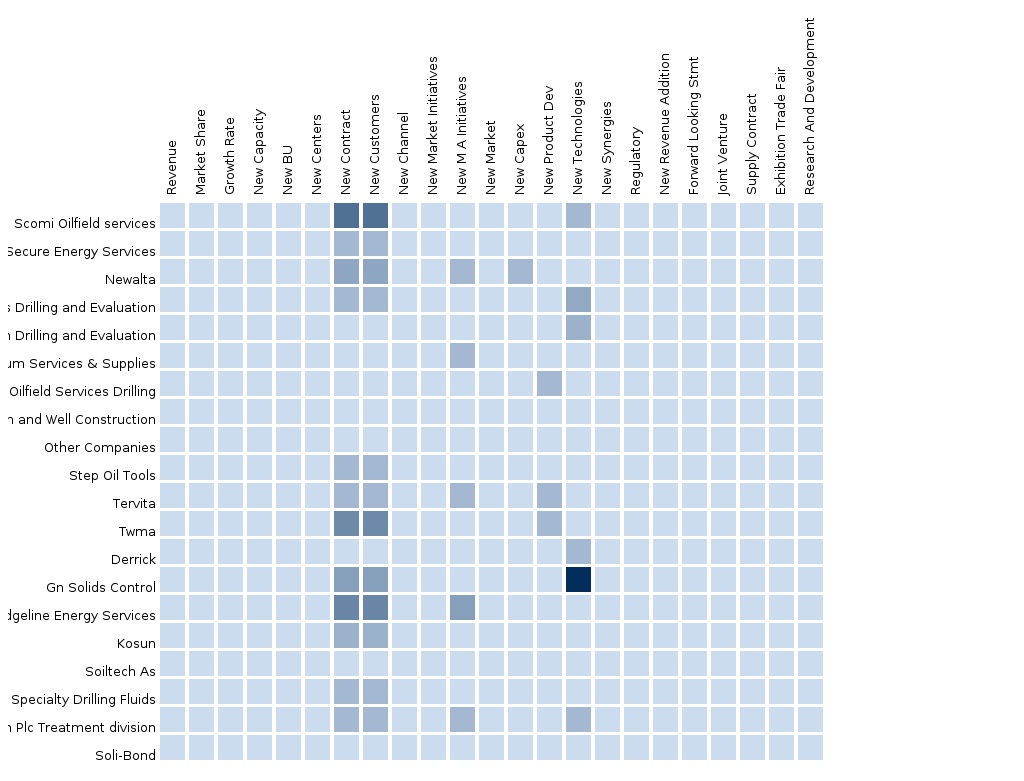 PRODUCT TITLE
PUBLISHED
PRICE
North America Drilling Services


Drilling Services-North America market is expected to grow at a CAGR of 10.5% from 2014 to 2019.



12 Jan 2015
$ 3500
Asia-Pacific Drilling Services


Drilling Services market in Asia-Pacific is expected to grow at a CAGR of 11.0% from 2014 to 2019.



13 Jan 2015
$ 3500
Europe Drilling Services


European drilling Services market is expected to grow at a CAGR of 9.5% from 2014 to 2019.



17 Feb 2015
$ 3500
South & Central America Drilling Services


South & Central American drilling Services market is expected to grow at a CAGR of 11.7% from 2014 to 2019.



17 Feb 2015
$ 3500
Middle East Drilling Services


Middle East drilling Services market is expected to grow at a CAGR of 8.9% from 2014 to 2019.



17 Feb 2015
$ 3500
Africa Drilling Services


African drilling Services market is expected to grow at a CAGR of 11.7% from 2014 to 2019.



17 Feb 2015
$ 3500
Europe Drilling Waste Management