Global Fluoropolymers Coating Additives Market Research Report
Description
Table of Contents
Customer Intelligence
Global Fluoropolymer Coating Additives Market Forecasts to 2018
Fluoropolymers reduce water resistance, electrical insulation, and ease of mechanical manipulation, all of which are desired characteristics in a variety of applications.
The global fluoropolymer coating additives market was valued at $1,082.35 million in 2013 and is expected to reach to $1,703.02 million by 2018, at a CAGR of 7.8% from 2013 to 2018. This growth is driven by the end-user sectors such as bedding & furniture and construction, where coating additives are extensively used owing to their ability to visually and chemically improve the performance of the coating.
Fluoropolymer coating additives are developed in order to enhance the performance of various coatings used in industrial applications. These additives contribute in improving the factors associated with performance of coatings, such as wetting, dispersing, protection from microbes, foaming, slip & rub, and so on.
The demand for environment-friendly products is increasing as the customers are becoming more cautious about their surrounding environment. The focus of the consumers is now shifting towards a cleaner and greener formulation for their coating and decorative needs. This need has created a demand, not only for water-borne formulation, but also for systems with solvent content decreasing from 75% to 25% or less. Hence, the manufacturers are developing coating additives, which reduce the requirement of solvent or any VOC in the formulation.
The key regions covered in the global fluoropolymer coating additives market report are Asia-Pacific, North America, Europe, and Middle East & Africa. The various applications of the market include construction, industrial applications, bedding & furniture, and automotive paint, among others. Further, as a part of qualitative analysis, the global fluoropolymer coating additives market report provides a comprehensive review of the important drivers, restraints, opportunities, and burning issues in the fluoropolymer coating additives market.
The global fluoropolymer coating additives market report also provides an extensive competitive landscape of the companies operating in this market. It also includes the profiles of the key market players, and the competitive strategies adopted by them; some of these major companies are BASF SE (Germany), The Dow Chemical Co. (U.S.), Arkema S.A. (France), Akzo Nobel N.V. (Netherlands), Evonik Industries AG (Germany), Ashland, Inc. (U.S.), and Rhodia S.A. (France), among others.
1. Introduction
1.1. Objectives of the Study
1.2. Report Description
1.3. Markets Covered By
1.3.1. Applications
1.3.2. Geographies
1.4. Stakeholders
1.5. Research Methodology
1.6. Assumptions

2. Market Snapshot

3. Market Overview
3.1. Introduction
3.1.1. Average Selling Price
3.1.2. Regional Market Summary
3.2. Market dynamics
3.2.1. Drivers
3.2.2. Restraints
3.2.3. Opportunities
3.3. Supporting Data
3.3.1. Trade Data
3.3.2. Economic Indicators

4. Global Fluoropolymers Coating Additives Market-By Applications
4.1. Industrial Applications
4.2. Automotive Paints
4.3. Construction
4.4. Bedding & Furniture
4.5. Other Applications

5. Global Fluoropolymers Coating Additives market by Geography
5.1. North America
5.1.1. U.S.
5.1.2. Canada
5.1.3. Mexico
5.2. Asia-Pacific
5.2.1. China
5.2.2. Japan
5.2.3. South Korea
5.2.4. Taiwan
5.2.5. Others
5.3. Europe
5.3.1. Germany
5.3.2. Sweden
5.3.3. U.K.
5.3.4. Belgium
5.3.5. Others
5.4. Rest of World
5.4.1. Brazil
5.4.2. Others

6. Global Fluoropolymers Coating Additives market-Competitive landscape
6.1. Fluoropolymers Coating Additives -Market Share Analysis
6.2. Fluoropolymers Coating Additives -Market Developments
6.2.1. Mergers and acquisitions
6.2.2. New product launches
6.2.3. Agreements and collaborations
6.2.4. Strategic expansions
7. Company Profiles
7.1. BASF SE
7.2. Arkema S.A.
7.3. Evonik Industries
7.4. Byk-Chemie GmbH
7.5. Cabot Corporation
7.6. Dow Chemical
7.7. Ashland Inc
7.8. Momentive Specialty Chemicals Inc
7.9. Eastman Chemical Company
7.10. Elementis plc
7.11. Cytec Industries Inc.
7.12. Wacker Chemie Ag

8. Technological Advancements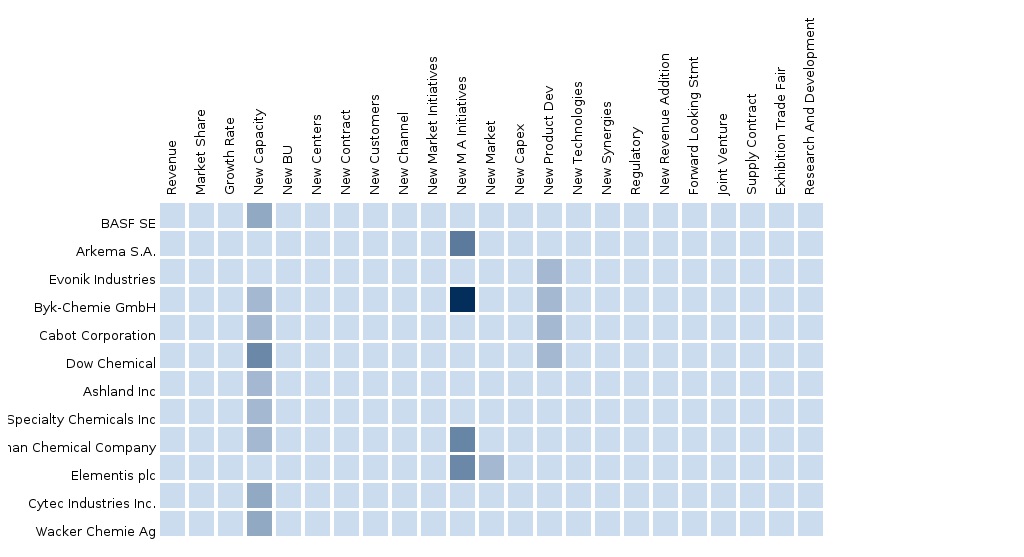 PRODUCT TITLE
PUBLISHED
PRICE
North America Fluoropolymers Coating Additives


North America is the leader in the global fluoropolymer coating additive market with a market share of 37% in the year 2013. With a projected CAGR of 8.32% during the forecast period of 2013-2018, this share is estimated to reach to 37.8% by 2018.



14 May 2014
$ 3500
Asia-Pacific Fluoropolymers Coating Additives


The Asia-Pacific region is considered as the second largest contributor of the fluoropolymer coating additives market, preceded by North America. It has registered a market share of around 35% in 2013, which is anticipated to grow at a CAGR of 8.52% from 2013 to 2018.



14 May 2014
$ 3500
Europe Fluoropolymers Coating Additives


Considering stringent environmental regulations formulated by the European Union, most countries in Europe are transforming their building infrastructures into "green" buildings, as a move towards sustainable development. This has led to extensive construction and renovation activities in this region, thereby resulting in an increased demand for environment-friendly paints & coatings.



14 May 2014
$ 3500
South America Fluoropolymers Coating Additives


Fluoropolymers coating additives market in South America is growing on account of rising demand from the enduser industries. The report studies the market and offers expert insights into the market trends. The report covers various segments of the market with an in-depth coverage of the market size in terms of value and volume during the forecast period of 2013-2018.



14 May 2014
$ 3500
Middle East and Africa Fluoropolymers Coating Additives


The Middle East Fluoropolymer coating addtives market accounted for a 3.62% share of the global fluoropolymers coating additives market in 2013. The Middle East region in this market is expected to be the fastest-growing growing segment, projected to grow at a CAGR of 10.5% during the forecast period 2013– 2018.



14 May 2014
$ 3500
5 of 5 items
5 reports | Show