Europe Fluoropolymers Coating Additives Market
Description
Table of Contents
Customer Intelligence
Fluoropolymers Coating Additives-European market was valued at $0.2b in the year 2013, growing at 5.1% annually and is expected to reach $0.3b by the end of the year 2018.
Fluoropolymers Coating Additives-European market constitutes 17.2% of the global Fluoropolymers Coating Additives market and is expected to have market share of 15.0% by the end of the year 2018.
It is segmented on the basis of applications and geographies.
The European Fluoropolymers Coating Additives Market is segmented according to applications such as Construction, Industrial applications, Bedding and Furniture, and Automotive Paints.
What makes our report unique?
You can request 10% customization in the research matching your exact requirement for e.g. deep dive research in any specific geography or technology or applications.
There is a new section in the report providing benchmarking of the top players by Strategic, operational, financial and sales/marketing.
This report provides competitive landscape of the top players. Under strategic benchmarking section, we will provide you their key developments along with the impacts including New Product development, M&A, strategic focus on any specific application, technology, geography. Under Financial, we will provide you Capex (Investments), Revenues, EBITDA, etc. Under Operational insights, we will provide you new capacity added, New centers, new key employments. Under sales and marketing, we will provide you insight on new contracts (available on public domain), new distribution channels added, new marketing initiatives, etc.
Key questions answered
What are market estimates and forecasts; which markets are doing well and which are not?
What is the competitive landscape; who are the main players in each segment; what are their strategic directives, operational strengths, key selling products, and product pipelines? Who is doing what?
Audience for this report
European companies in Fluoropolymers Coating Additives market.
Associations and Industry Bodies.
1 Introduction
1.1 Objective of the study
1.2 Market Definitions
1.3 Market Segmentation & Aspects Covered
1.4 Research Methodology
1.4.1 Assumptions (Market Size, Forecast, etc)
2 Executive Summary
3 Market Overview
4 Fluoropolymers Coating Additives-Europe, By Applications
4.1 Split By Geography
4.2 Construction-Europe
4.2.1 Construction-Europe, By Geographies
4.2.1.1 Construction-United Kingdom
4.2.1.2 Construction-France
4.2.1.3 Construction-Germany
4.2.1.4 Construction-Italy
4.3 Europe-Other Applications
4.3.1 Europe-Other Applications, By Geographies
4.3.1.1 Italy-Other Applications
4.3.1.2 Germany-Other Applications
4.3.1.3 France-Other Applications
4.3.1.4 United Kingdom-Other Applications
4.4 Industrial Applications-Europe
4.4.1 Industrial Applications-Europe, By Geographies
4.4.1.1 Industrial Applications-United Kingdom
4.4.1.2 Industrial Applications-France
4.4.1.3 Industrial Applications-Germany
4.4.1.4 Industrial Applications-Italy
4.5 Bedding & Furniture-Europe
4.5.1 Bedding & Furniture-Europe, By Geographies
4.5.1.1 Bedding & Furniture-United Kingdom
4.5.1.2 Bedding & Furniture-France
4.5.1.3 Bedding & Furniture-Germany
4.5.1.4 Bedding & Furniture-Italy
4.6 Automotive Paints-Europe
4.6.1 Automotive Paints-Europe, By Geographies
4.6.1.1 Automotive Paints-United Kingdom
4.6.1.2 Automotive Paints-France
4.6.1.3 Automotive Paints-Germany
4.6.1.4 Automotive Paints-Italy
5 Fluoropolymers Coating Additives-Europe, By Geographies
5.1 United Kingdom
5.1.1 United Kingdom, By Applications
5.1.1.1 Construction-United Kingdom
5.1.1.2 United Kingdom-Other Applications
5.1.1.3 Industrial Applications-United Kingdom
5.1.1.4 Bedding & Furniture-United Kingdom
5.1.1.5 Automotive Paints-United Kingdom
5.2 France
5.2.1 France, By Applications
5.2.1.1 Construction-France
5.2.1.2 France-Other Applications
5.2.1.3 Industrial Applications-France
5.2.1.4 Bedding & Furniture-France
5.2.1.5 Automotive Paints-France
5.3 Germany
5.3.1 Germany, By Applications
5.3.1.1 Construction-Germany
5.3.1.2 Germany-Other Applications
5.3.1.3 Industrial Applications-Germany
5.3.1.4 Bedding & Furniture-Germany
5.3.1.5 Automotive Paints-Germany
5.4 Italy
5.4.1 Italy, By Applications
5.4.1.1 Construction-Italy
5.4.1.2 Italy-Other Applications
5.4.1.3 Industrial Applications-Italy
5.4.1.4 Bedding & Furniture-Italy
5.4.1.5 Automotive Paints-Italy
6 Fluoropolymers Coating Additives-Europe, By Companies
6.1 Split By Geography
6.2 Europe-BASF SE
6.3 Europe-Byk-Chemie GmbH
6.4 Europe-Arkema S.A.
6.5 Europe-Evonik Industries
6.6 Europe-Cabot Corporation
6.7 Europe-Ashland Inc
6.8 Europe-Dow Chemical
6.9 Europe-Eastman Chemical Company
6.10 Europe-Elementis plc
6.11 Europe-Cytec Industries Inc.
6.12 Europe-Wacker Chemie Ag

List Of Figures
1 Top Growing Fluoropolymers Coating Additives-Europe Markets By Revenue 2013 - 2018
2 Europe BCG Matrix 2013
3 Top Growing Construction-Europe Markets By Revenue 2013 - 2018
4 Construction-Europe BCG Matrix 2013
5 Europe Market Share 2013
6 Europe-Other Applications BCG Matrix 2013
7 Europe Market Share 2013
8 Top Growing Industrial Applications-Europe Markets By Revenue 2013 - 2018
9 Industrial Applications-Europe BCG Matrix 2013
10 Europe Market Share 2013
11 Top Growing Bedding & Furniture-Europe Markets By Revenue 2013 - 2018
12 Bedding & Furniture-Europe BCG Matrix 2013
13 Europe Market Share 2013
14 Top Growing Automotive Paints-Europe Markets By Revenue 2013 - 2018
15 Automotive Paints-Europe BCG Matrix 2013
16 Europe Market Share 2013
17 Europe Market Share 2013
18 United Kingdom Market Share 2013
19 United Kingdom BCG Matrix 2013
20 France Market Share 2013
21 France BCG Matrix 2013
22 Germany Market Share 2013
23 Germany BCG Matrix 2013
24 Italy Market Share 2013
25 Italy BCG Matrix 2013
26 Top Growing Europe-BASF SE Markets By Revenue 2013 - 2018
27 Top Growing Europe-Byk-Chemie GmbH Markets By Revenue 2013 - 2018
28 Top Growing Europe-Arkema S.A. Markets By Revenue 2013 - 2018
29 Top Growing Fluoropolymers Coating Additives-Europe-Evonik Industries Markets By Revenue 2013 - 2018

List Of Tables
1 Fluoropolymers Coating Additives-Europe market values, by Applications, 2013 - 2018
2 Europe market volume, by Applications, 2013 - 2018
3 Europe market values, by Geographies, 2013 - 2018
4 Europe market volume, by Geographies, 2013 - 2018
5 Europe market values, by Companies, 2013 - 2018
6 Construction-Europe market values, by Geographies
7 Construction-Europe market volume, by Geographies
8 Other Applications-Europe market values, by Geographies
9 Other Applications-Europe market volume, by Geographies
10 Industrial Applications-Europe market values, by Geographies
11 Industrial Applications-Europe market volume, by Geographies
12 Bedding & Furniture-Europe market values, by Geographies
13 Bedding & Furniture-Europe market volume, by Geographies
14 Automotive Paints-Europe market values, by Geographies
15 Automotive Paints-Europe market volume, by Geographies
16 United Kingdom market values, by Applications
17 United Kingdom market volume, by Applications
18 France market values, by Applications
19 France market volume, by Applications
20 Germany market values, by Applications
21 Germany market volume, by Applications
22 Italy market values, by Applications
23 Fluoropolymers Coating Additives-Italy market volume, by Applications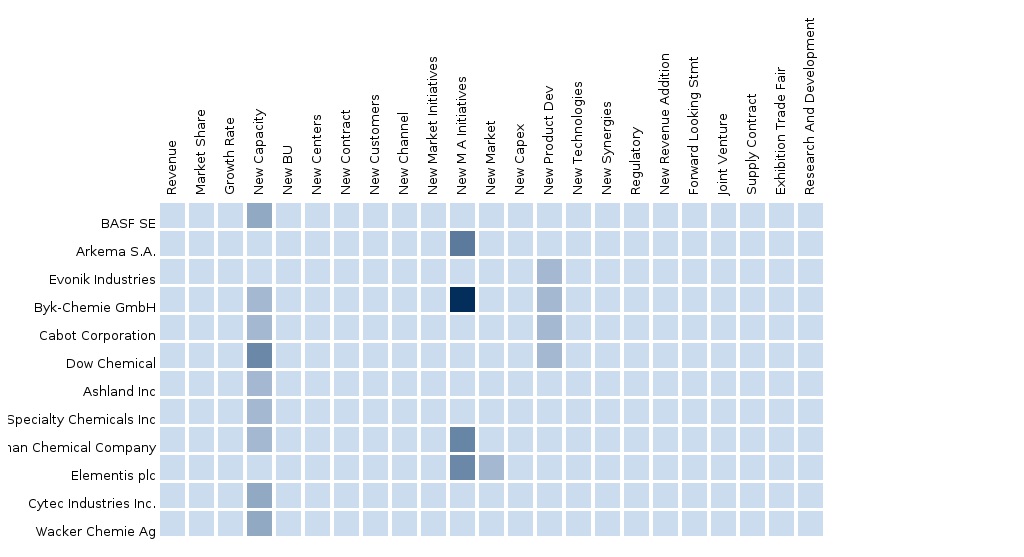 PRODUCT TITLE
PUBISHED
PRICE
North America Coating Additives


Coating Additives-North America can be segmented by Ingredients, Applications, Companies and Functions. Ingredients of this market are Metallic Compounds,



28 Nov 2014
$ 3500
Europe Coating Additives


Coating Additives-Europe can be segmented by Ingredients, Applications, Companies and Functions. Ingredients of this market are Metallic Compounds,



28 Nov 2014
$ 3500
Asia-Pacific Coating Additives


Coating Additives-Asia-Pacific can be segmented by Ingredients, Applications, Companies and Functions. Ingredients of this market are Metallic Compounds,



28 Nov 2014
$ 3500
South America Coating Additives


The South American Coating Additives market is segmented based on Ingredients, Applications, Companies, and Functions. The Ingredients segment of this market includes Metallic Compounds, Polyacrylamide, Ingredients (Others), and Polyurethane Coating. The Applications segment includes Industrial Applications, Bedding & Furniture, Construction and Automotive Paints. The Companies segment includes Arkema S.A., Ashland Inc, BASF SE , Cytec Industries Inc., Dow Chemical, Eastman Chemical Company, Evonik Industries, Momentive Specialty Chemicals Inc, Clariant Chemicals, Omnova Solutions Inc., Byk-Chemie GmbH, Cabot Corporation, Elementis plc, Rhodia S.A., Lubrizol Corporation, Wacker Chemie Ag, Sun Chemical, AkzoNobel N.V., Daikin Industries, Ltd., and Asahi Kasei Chemicals Corporation. The Functions segment includes Wetting Agent, Dispersants, and Anti-Foaming Agents.



28 Nov 2014
$ 3500