Asia-Pacific Fluoropolymers Coating Additives Market
Description
Table of Contents
Customer Intelligence
The Asia-Pacific region is considered as the second largest contributor of the fluoropolymer coating additives market, preceded by North America. It has registered a market share of around 35% in 2013, which is anticipated to grow at a CAGR of 8.52% from 2013 to 2018.
Fluoropolymer additives are chemical substances that are widely used in paint and coatings. These additives contain varied characteristics in terms of reduction in friction, improved release properties, and oil repellency among others. With the growth of automotive and construction industries in the region, especially in India and China, the demand for fluoropolymers coating additives is projected to grow significantly in the coming years.
In the past decade, lack of regulation on chemical products resulted in environmental and human health hazards. This led to the formulation of strict environmental regulations across the world, thereby resulting in an increased demand for environment-friendly chemical products; especially coating additives, which are widely used in automotive, construction, and other industrial applications. These factors are known to drive the growth of fluoropolymers coating additives market in the Asia-Pacific region, during the forecast period of 2013 to 2018. Major companies contributing to the growth of the market in the APAC region, include Lubrizol Corporation (U.S.), BASF SE (Germany), and The Dow Chemical Co. (U.S.) among others.
The Asia-Pacific fluoropolymers coating additives market report provides in-depth information into the segmentation of the concerned market. The Asia-Pacific market has been segmented on the basis of geography, ingredient, and application. According to applications, the market has been segmented into automotive paints, construction, industrial applications, and bedding & furniture among others. China, Japan, South Korea and India among others, are the main countries considered for this extensive market analysis. Furthermore, the report provides a detailed analysis of the competition scenario in the market, along with the company profiles of top players operating in this market.
1 Introduction
1.1 Objective of the study
1.2 Market Definitions
1.3 Market Segmentation & Aspects Covered
1.4 Research Methodology
1.4.1 Assumptions (Market Size, Forecast, etc)

2 Executive Summary

3 Market Overview

4 Fluoropolymers Coating Additives-Asia-Pacific, By Applications
4.1 Split By Geography
4.2 Construction-Asia-Pacific
4.2.1 Construction-Asia-Pacific, By Geographies
4.2.1.1 Construction-India
4.2.1.2 Construction-China
4.2.1.3 Construction-Japan
4.2.1.4 Construction-South Korea
4.2.1.5 Construction-Asia-Pacific - Other Geographies
4.3 Other Applications-Asia-Pacific
4.4 Asia-Pacific-Other Applications
4.5 Industrial Applications-Asia-Pacific
4.5.1 Industrial Applications-Asia-Pacific, By Geographies
4.5.1.1 Industrial Applications-India
4.5.1.2 Industrial Applications-China
4.5.1.3 Industrial Applications-Japan
4.5.1.4 Industrial Applications-South Korea
4.5.1.5 Industrial Applications-Asia-Pacific - Other Geographies
4.6 Bedding & Furniture-Asia-Pacific
4.6.1 Bedding & Furniture-Asia-Pacific, By Geographies
4.6.1.1 Bedding & Furniture-India
4.6.1.2 Bedding & Furniture-China
4.6.1.3 Bedding & Furniture-Japan
4.6.1.4 Bedding & Furniture-South Korea
4.6.1.5 Bedding & Furniture-Asia-Pacific - Other Geographies
4.7 Automotive Paints-Asia-Pacific
4.7.1 Automotive Paints-Asia-Pacific, By Geographies
4.7.1.1 Automotive Paints-India
4.7.1.2 Automotive Paints-China
4.7.1.3 Automotive Paints-Japan
4.7.1.4 Automotive Paints-South Korea
4.7.1.5 Automotive Paints-Asia-Pacific - Other Geographies

5 Fluoropolymers Coating Additives-Asia-Pacific, By Geographies
5.1 India
5.1.1 India, By Applications
5.1.1.1 Construction-India
5.1.1.2 India-Other Applications
5.1.1.3 Industrial Applications-India
5.1.1.4 Bedding & Furniture-India
5.1.1.5 Automotive Paints-India
5.2 China
5.2.1 China, By Applications
5.2.1.1 Construction-China
5.2.1.2 China-Other Applications
5.2.1.3 Industrial Applications-China
5.2.1.4 Bedding & Furniture-China
5.2.1.5 Automotive Paints-China
5.3 Japan
5.3.1 Japan, By Applications
5.3.1.1 Construction-Japan
5.3.1.2 Japan-Other Applications
5.3.1.3 Industrial Applications-Japan
5.3.1.4 Bedding & Furniture-Japan
5.3.1.5 Automotive Paints-Japan
5.4 South Korea
5.4.1 South Korea, By Applications
5.4.1.1 Construction-South Korea
5.4.1.2 South Korea-Other Applications
5.4.1.3 Industrial Applications-South Korea
5.4.1.4 Bedding & Furniture-South Korea
5.4.1.5 Automotive Paints-South Korea
5.5 Asia-Pacific - Other Geographies
5.5.1 Asia-Pacific - Other Geographies, By Applications
5.5.1.1 Construction-Asia-Pacific - Other Geographies
5.5.1.2 Industrial Applications-Asia-Pacific - Other Geographies
5.5.1.3 Bedding & Furniture-Asia-Pacific - Other Geographies
5.5.1.4 Automotive Paints-Asia-Pacific - Other Geographies

6 Fluoropolymers Coating Additives-Asia-Pacific, By Companies
6.1 Split By Geography
6.2 Asia-Pacific-Byk-Chemie GmbH
6.3 Asia-Pacific-BASF SE
6.4 Asia-Pacific-Evonik Industries
6.5 Asia-Pacific-Ashland Inc
6.6 Asia-Pacific-Dow Chemical
6.7 Asia-Pacific-Arkema S.A.
6.8 Asia-Pacific-Eastman Chemical Company
6.9 Asia-Pacific-Elementis plc
6.10 Asia-Pacific-Cytec Industries Inc.
6.11 Asia-Pacific-Wacker Chemie Ag
6.12 Asia-Pacific-Cabot Corporation

List Of Figures
1 Top Growing Fluoropolymers Coating Additives-Asia-Pacific Markets By Revenue 2013 - 2018
2 Asia-Pacific BCG Matrix 2013
3 Top Growing Construction-Asia-Pacific Markets By Revenue 2013 - 2018
4 Construction-Asia-Pacific BCG Matrix 2013
5 Asia-Pacific Market Share 2013
6 Top Growing Industrial Applications-Asia-Pacific Markets By Revenue 2013 - 2018
7 Industrial Applications-Asia-Pacific BCG Matrix 2013
8 Asia-Pacific Market Share 2013
9 Top Growing Bedding & Furniture-Asia-Pacific Markets By Revenue 2013 - 2018
10 Bedding & Furniture-Asia-Pacific BCG Matrix 2013
11 Asia-Pacific Market Share 2013
12 Top Growing Automotive Paints-Asia-Pacific Markets By Revenue 2013 - 2018
13 Automotive Paints-Asia-Pacific BCG Matrix 2013
14 Asia-Pacific Market Share 2013
15 Asia-Pacific Market Share 2013
16 India Market Share 2013
17 India BCG Matrix 2013
18 China Market Share 2013
19 China BCG Matrix 2013
20 Japan Market Share 2013
21 Japan BCG Matrix 2013
22 South Korea Market Share 2013
23 South Korea BCG Matrix 2013
24 Top Growing Asia-Pacific-Byk-Chemie GmbH Markets By Revenue 2013 - 2018
25 Top Growing Asia-Pacific-BASF SE Markets By Revenue 2013 - 2018
26 Top Growing Fluoropolymers Coating Additives-Asia-Pacific-Evonik Industries Markets By Revenue 2013 - 2018

List Of Tables
1 Fluoropolymers Coating Additives-Asia-Pacific market values, by Applications, 2013 - 2018
2 Asia-Pacific market volume, by Applications, 2013 - 2018
3 Asia-Pacific market values, by Geographies, 2013 - 2018
4 Asia-Pacific market volume, by Geographies, 2013 - 2018
5 Asia-Pacific market values, by Companies, 2013 - 2018
6 Construction-Asia-Pacific market values, by Geographies
7 Construction-Asia-Pacific market volume, by Geographies
8 Industrial Applications-Asia-Pacific market values, by Geographies
9 Industrial Applications-Asia-Pacific market volume, by Geographies
10 Bedding & Furniture-Asia-Pacific market values, by Geographies
11 Bedding & Furniture-Asia-Pacific market volume, by Geographies
12 Automotive Paints-Asia-Pacific market values, by Geographies
13 Automotive Paints-Asia-Pacific market volume, by Geographies
14 India market values, by Applications
15 India market volume, by Applications
16 China market values, by Applications
17 China market volume, by Applications
18 Japan market values, by Applications
19 Japan market volume, by Applications
20 South Korea market values, by Applications
21 South Korea market volume, by Applications
22 Asia-Pacific - Other Geographies market values, by Applications
23 Fluoropolymers Coating Additives-Asia-Pacific - Other Geographies market volume, by Applications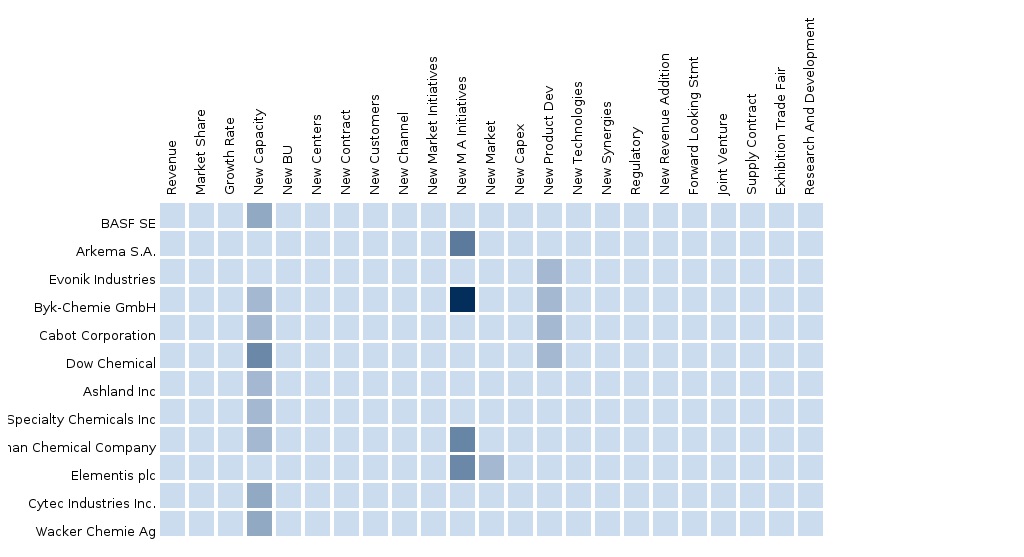 PRODUCT TITLE
PUBLISHED
PRICE
South America Coating Additives


The South American Coating Additives market is segmented based on Ingredients, Applications, Companies, and Functions. The Ingredients segment of this market includes Metallic Compounds, Polyacrylamide, Ingredients (Others), and Polyurethane Coating. The Applications segment includes Industrial Applications, Bedding & Furniture, Construction and Automotive Paints. The Companies segment includes Arkema S.A., Ashland Inc, BASF SE , Cytec Industries Inc., Dow Chemical, Eastman Chemical Company, Evonik Industries, Momentive Specialty Chemicals Inc, Clariant Chemicals, Omnova Solutions Inc., Byk-Chemie GmbH, Cabot Corporation, Elementis plc, Rhodia S.A., Lubrizol Corporation, Wacker Chemie Ag, Sun Chemical, AkzoNobel N.V., Daikin Industries, Ltd., and Asahi Kasei Chemicals Corporation. The Functions segment includes Wetting Agent, Dispersants, and Anti-Foaming Agents.



17 Feb 2015
$ 3500
Europe Coating Additives


Coating Additives-Europe can be segmented by Ingredients, Applications, Companies and Functions. Ingredients of this market are Metallic Compounds,



17 Feb 2015
$ 3500
North America Coating Additives


Coating Additives-North America can be segmented by Ingredients, Applications, Companies and Functions. Ingredients of this market are Metallic Compounds,



17 Feb 2015
$ 3500
Asia-Pacific Coating Additives


Coating Additives-Asia-Pacific can be segmented by Ingredients, Applications, Companies and Functions. Ingredients of this market are Metallic Compounds,



17 Feb 2015
$ 3500