Global Drum Brake Market Research Report
Description
Table of Contents
Customer Intelligence
The drum brake is a braking system which uses a set of brake shoes which are pushed against the outer cover which is in the shape of a drum in order to stop the vehicle. Therefore it's known as a drum brake. The major difference between a drum brake and a disc brake is that in a disc brake a set of disc pads are used which are pressed on the disc in order to stop the vehicle and on the other hand in a drum brake, a set of brake shoes are used to push the drum on which the wheel is mounted in order to stop.
The different components used in the drum brake are a braking plate, which provides a base for all the other components; a brake drum which rotates along with the wheel and axle and when the brake is applied, it pushes the inner surface of the drum which creates friction and stops the vehicle; a wheel cylinder which pushes the shoe on the drum by its two pistons on either end when pressure is applied from the main cylinder; and brake shoe, which is made of a sheet of metal and is the component which creates friction with the drum surface in order to stop the vehicle.
The major market for the drum brakes is Asia-Pacific region as it is the leader in vehicle production across the globe and also since the automobile market is dominated by small and cheaper cars. The second largest market for the drum brakes is the North America which is followed by Europe as the third largest market for drum brakes. The North American market for drum brakes is growing faster than that of European region as there is an increase in the vehicle production and also since Europe is still recovering from the financial crisis of 2009.
The Top Players of the Drum brake market are: Aisin Seiki, TRW, Akebono Nissin Kogyo, Brembo S.P.A with market shares of 25%, 14%, 13%, 11%, & 9% respectively.
Key question answered
What are the market estimates and forecasts for the global drum brakes market?
What are the trends based on the key countries of the region?
Identification of market dynamics and impact of the same on global drum brakes market
Analysis of recent developments, alliances, joint ventures, and mergers & acquisitions in the drum brakes market
Audience for this report
Manufacturer of drum brakes companies
Suppliers for drum brakes manufacturers
Traders, distributors, and suppliers in the drum brakes market
Automobile associations
Automotive industry as end user industry
1 Introduction
1.1 Analyst Insights
1.2 Market Definitions
1.3 Market Segmentation & Aspects Covered
1.4 Research Methodology
2 Executive Summary
3 Market Overview
4 Drum Brake by Applications
4.1 Passenger Cars
4.2 LCV
4.3 HCV
4.4 Two-Wheeler
5 Drum Brake by Geographies
5.1 Asia-Pacific
5.2 Europe
5.3 North America
5.4 Rest of World
6 Drum Brake by Companies
6.1 Aisin Seiki Co Ltd
6.2 Kiriu Corporation
6.3 Nissin Kogyo Co. Ltd
6.4 Sundaram Brake Linings Limited
6.5 TMD Friction Group S.A.
6.6 Zhejiang Asia-Pacific Mechanical & Electronic Co. Ltd
6.7 Mando Corp.
6.8 Accuride Gunite
6.9 Haldex Foundation Brakes
6.10 Hyundai Mobis Module & Parts Mfg
6.11 Knorr-Bremse Commercial vehicle systems
6.12 Meritor Commercial Truck
6.13 TRW Chassis Systems
6.14 Automotive Components Europe S.A. (ACE)
6.15 Brembo S.P.A.
6.16 Continental Automotive Group
6.17 Robert Bosch Gmbh Automotive Technology
6.18 Federal-Mogul Vehicle Components Solutions
6.19 Akebono Brake Industry Co. Ltd
6.20 Nisshinbo Brake Inc.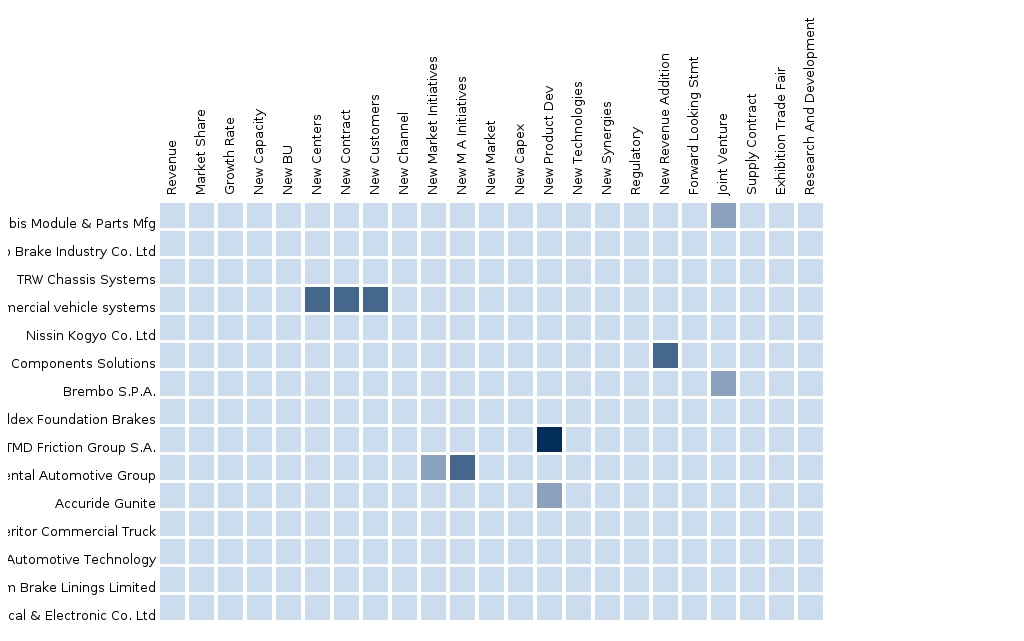 PRODUCT TITLE
PUBISHED
PRICE
Asia-Pacific Drum Brake


The Asia-Pacific region is the leader in the drum brakes market across all regions with China being the leader in this region followed by Japan. The total market for drum brakes in the Asia-Pacific region is estimated to be at $5.42 billion in 2013, projected to reach $7.3 billion by 2018 growing at CAGR of 6.0%. It constitutes 48.8% of the global drum brake market.



14 May 2014
$ 3500
North America Drum Brake


The U.S and Mexico are major markets for drum brakes in the North American region due to growing vehicle production and increasing demand for cheaper cars. Another reason for the growth of this market is the increasing cost of disc brakes which has pushed cost-centric buyers to opt for drum brakes. The drum brake market in North America was valued at $2.5 billion in 2013, to grow at 8.0% annually and reach $3.7 billion by 2018.



14 May 2014
$ 3500
Europe Drum Brake


The increasing demand for smaller and cheaper cars in major countries in the European region like Germany, Russia, and France has boosted the drum brake market. Also, since the price of disc brakes is much higher than drum brakes, consumers tend opt for the cheaper option. The European drum brake market was valued at $2.2 billion in 2013, to grow at 4.9% annually to reach $2.8 billion by 2018.



14 May 2014
$ 3500
3 of 3 items
3 reports | Show