A drum brake is a braking system using a set of brake shoes, which are pushed against the outer cover that is in the shape of a drum, in order to stop the vehicle. Therefore, it is more commonly known as a drum brake. The major difference between a drum brake and a disc brake is that in a disc brake, a set of disc pads are used which are pressed on the disc in order to stop the vehicle, and in a drum brake, a set of brake shoes are used to push the drum on which the wheel is mounted in order to stop a vehicle in motion.
The different components used in a drum brake are a braking plate, which provides a base for all the other components; a brake drum which rotates along with the wheel and axle and when the brake is applied, it pushes the inner surface of the drum which creates friction and stops the vehicle; a wheel cylinder which pushes the shoe on the drum by its two pistons on either end when pressure is applied from the main cylinder; and brake shoe, which is made of a sheet of metal and is the component that creates friction with the drum surface in order to stop the vehicle.
Asia-pacific is one of the major market for drum brakes, as it is the leads in vehicle production globally, and also since the automobile market in this region is dominated by small and cheaper cars. North America is the second largest market for the drum brakes, followed by Europe. The North American market for drum brakes is growing at a faster pace than that of the European market, as there is an increase in the vehicle production after the region's recovery from the financial crisis of 2008-2009.
The key players in the drum brake market are Aisin Seiki, TRW, Akebono Nissin Kogyo, and Brembo S.P.A, with market shares of 25%, 14%, 13%, 11%, and 9% respectively.
1 Introduction
1.1 Analyst Insights
1.2 Market Definitions
1.3 Market Segmentation & Aspects Covered
1.4 Research Methodology
2 Executive Summary
3 Market Overview
4 Drum Brake by Applications
4.1 Passenger Cars
4.2 LCV
4.3 HCV
4.4 Two-Wheeler
5 Drum Brake by Geographies
5.1 Asia-Pacific
5.2 Europe
5.3 North America
5.4 Rest of World
6 Drum Brake by Companies
6.1 Aisin Seiki Co Ltd
6.2 Kiriu Corporation
6.3 Nissin Kogyo Co. Ltd
6.4 Sundaram Brake Linings Limited
6.5 TMD Friction Group S.A.
6.6 Zhejiang Asia-Pacific Mechanical & Electronic Co. Ltd
6.7 Mando Corp.
6.8 Accuride Gunite
6.9 Haldex Foundation Brakes
6.10 Hyundai Mobis Module & Parts Mfg
6.11 Knorr-Bremse Commercial vehicle systems
6.12 Meritor Commercial Truck
6.13 TRW Chassis Systems
6.14 Automotive Components Europe S.A. (ACE)
6.15 Brembo S.P.A.
6.16 Continental Automotive Group
6.17 Robert Bosch Gmbh Automotive Technology
6.18 Federal-Mogul Vehicle Components Solutions
6.19 Akebono Brake Industry Co. Ltd
6.20 Nisshinbo Brake Inc.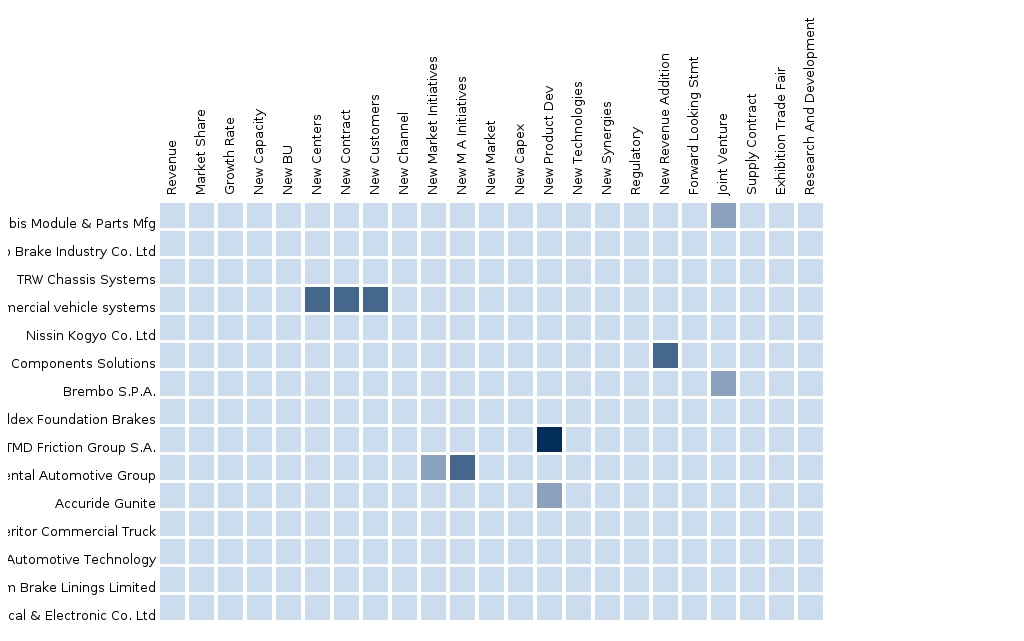 Please fill in the form below to receive a free copy of the Summary of this Report
Custom Market Research Services
We will customize the research for you, in case the report listed above does not meet with your exact requirements. Our custom research will comprehensively cover the business information you require to help you arrive at strategic and profitable business decisions.
Please visit
http://www.micromarketmonitor.com/custom-research-services.html
to specify your custom Research Requirement
PRODUCT TITLE
PUBLISHED
Asia-Pacific Drum Brake


The Asia-Pacific drum brake market was valued at $5.42 billion in 2013, and is projected to grow at a CAGR of 6.0%, to reach $7.25 billion by 2018. This report on disc brakes market in Asia-Pacific is segmented on the basis of applications and geography.



Upcoming
North America Drum Brake


The key players in the North American drum brake market are Hyundai Mobis, Akebono, TRW Inc., Federal Mogul, and Aisin Seiki, with market shares of 14.5%, 12.0%, 10.5%, 5.2%, and 5.0% respectively. The North American drum brake market was valued at $2.5 billion in 2013, and is expected to grow at a CAGR of 8.0%, to reach $3.7 billion by 2018.



Upcoming
2 of 2 items
2 reports | Show