North America Drum Brake Market
Description
Table of Contents
Customer Intelligence
The North American region is the second-largest market for drum brakes, globally. This is mainly due to the growing vehicle production in the region and the rising demand for cheaper cars post the economic slowdown. The growth of the drum brakes market in the region is higher than that of Europe, due to favorable economic conditions and different government policies to increase trade among countries in the North American region.
The U.S and Mexico are the major markets for drum brakes in the North American region, due to their growing vehicle production and the increasing demand for cheaper cars. To meet this growing demand, most drum brake manufactures have set up their production units in Mexico to not only save on production costs since it offers better work conditions, but also to increase their revenue by exporting. Furthermore, the country provides cheaper labor and enjoys technological prowess by being in close proximity to the U.S. On the other hand, Canada, which is also a part of North America, has witnessed slower growth as compared to other countries in the region, as it is still recovering from the financial crisis of 2008-2009 which affected the Canadian automobile industry.
The key players in the North American drum brake market are Hyundai Mobis, Akebono, TRW Inc., Federal Mogul, and Aisin Seiki, with market shares of 14.5%, 12.0%, 10.5%, 5.2%, and 5.0% respectively.
The North American drum brake market was valued at $2.5 billion in 2013, and is expected to grow at a CAGR of 8.0%, to reach $3.7 billion by 2018.
1 Introduction
1.1 Objective of the study
1.2 Market Definitions
1.3 Market Segmentation & Aspects Covered
1.4 Research Methodology
1.4.1 Assumptions (Market Size, Forecast, etc)
2 Executive Summary
3 Market Overview
4 North America Drum Brake, By Applications
4.1 Split By Geography
4.2 North America-LCV
4.2.1 By Geographies
4.2.1.1 U.S.-LCV
4.2.1.2 Canada-LCV
4.2.1.3 Mexico-LCV
4.3 North America-Passenger-Cars
4.3.1 By Geographies
4.3.1.1 U.S.-Passenger-Cars
4.3.1.2 Canada-Passenger-Cars
4.3.1.3 Mexico-Passenger-Cars
4.4 North America-HCV
4.4.1 By Geographies
4.4.1.1 U.S.-HCV
4.4.1.2 Canada-HCV
4.4.1.3 Mexico-HCV
5 North America Drum Brake, By Geographies
5.1 U.S.
5.1.1 By Applications
5.1.1.1 LCV
5.1.1.2 Passenger-Cars
5.1.1.3 HCV
5.1.2 By Companies
5.1.2.1 U.S.-Brembo S.P.A.
5.2 Canada
5.2.1 By Applications
5.2.1.1 LCV
5.2.1.2 Passenger-Cars
5.2.1.3 HCV
5.3 Mexico
5.3.1 By Applications
5.3.1.1 LCV
5.3.1.2 Passenger-Cars
5.3.1.3 HCV
6 North America Drum Brake, By Companies
6.1 Split By Geography
6.2 North America-Hyundai Mobis Module & Parts Mfg
6.3 North America-Akebono Brake Industry Co. Ltd
6.4 North America-TRW Chassis Systems
6.5 North America-Federal-Mogul Vehicle Components Solutions
6.6 Brembo S.P.A.-North America
6.7 North America-Haldex Foundation Brakes
6.8 North America-Knorr-Bremse Commercial vehicle systems
6.9 North America-Nissin Kogyo Co. Ltd
6.10 North America-Meritor Commercial Truck
6.11 North America-Sundaram Brake Linings Limited
6.12 North America-Zhejiang Asia-Pacific Mechanical & Electronic Co. Ltd
6.13 North America-Accuride Gunite
6.14 North America-Robert Bosch Gmbh Automotive Technology

List Of Figures
1 Top Growing North America Markets By Revenue 2013 - 2018
2 North America BCG Matrix 2013
3 Top Growing Drum Brake-North America-LCV Markets By Revenue 2013 - 2018
4 North America-LCV BCG Matrix 2013
5 North America Market Share 2013
6 Top Growing Drum Brake-North America-Passenger-Cars Markets By Revenue 2013 - 2018
7 North America-Passenger-Cars BCG Matrix 2013
8 North America Market Share 2013
9 Top Growing Drum Brake-North America-HCV Markets By Revenue 2013 - 2018
10 North America-HCV BCG Matrix 2013
11 North America Market Share 2013
12 North America Market Share 2013

List Of Tables
1 North America market values, by Applications, 2013 - 2018
2 North America market volume, by Applications, 2013 - 2018
3 North America market values, by Geographies, 2013 - 2018
4 North America market volume, by Geographies, 2013 - 2018
5 North America-LCV market values, by Geographies
6 North America-LCV market volume, by Geographies
7 North America-Passenger-Cars market values, by Geographies
8 North America-Passenger-Cars market volume, by Geographies
9 North America-HCV market values, by Geographies
10 North America-HCV market volume, by Geographies
11 U.S. by market values, Applications
12 U.S. by market volume, Applications
13 Canada by market values, Applications
14 Canada by market volume, Applications
15 Mexico by market values, Applications
16 Mexico by market volume, Applications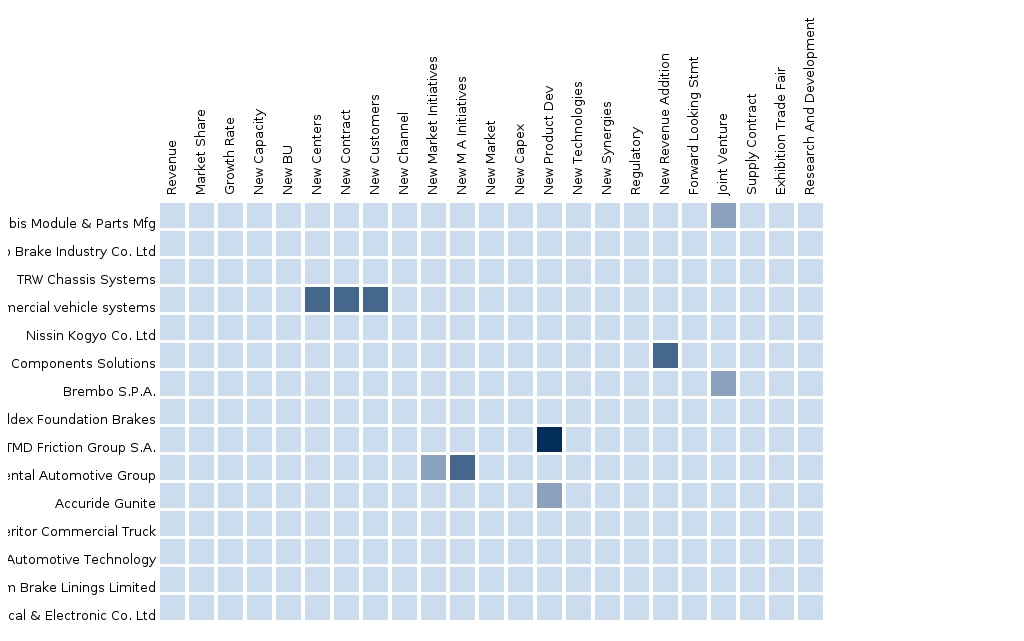 PRODUCT TITLE
PUBLISHED
PRICE
Asia-Pacific Brake


The Asia-Pacific Brake market was valued at $10.44 billion in 2013, and expected to grow at 7.8% annually. It is projected to reach $15.21 billion by the end of 2018. The Asia-Pacific region is the leader in the drum brakes market across all the regions with China being the leader in the Asia-Pacific region followed by Japan. The growing demand for higher performing vehicles & longer service interval are some of the other factors that drive the market for Disc Brakes in the Asia-Pacific region, while the market being concentrated with smaller and cheaper vehicles using drum brakes acts as a restraining factor.



17 Feb 2015
$ 3500
Europe Brake


The European Brake market was valued at $5.02 billion in 2013, to grow at 5.5% annually. It is projected to reach $6.57 billion by the end of 2018. The increasing demand for small and cheaper cars in the major countries in the region like Germany, Russia and France has boosted the drum brakes market. Also since price of the disc brakes is much higher than the drum brakes, the consumers tend to go for cheaper drum brakes even though they are not as efficient as disc brakes. Germany is the leader in the European disc brake market and also holds its leadership for being the largest automobile market in the region. It is followed by Russia and France which holds the second and third position respectively in terms of disc brake market in the region.



17 Feb 2015
$ 3500
North America Brake


The North American Brake market was valued at $3.69 billion in 2013, to grow at 7.5% annually. It is projected to reach $5.30 billion by the end of 2018. The U.S and Mexico are the major market for drum brakes in the North American region due to its growing vehicle production and the increasing demand for cheaper cars. Another reason for the growth of drum brake sin the North American region is mainly due to the increasing cost of disc brakes which has pushed the cost-centric buyers' to opt for the cheaper drum brakes. The North American disc brake market is driven by factors such as—fast growth in luxury and sports vehicle segment and stringent emission norms. The low end vehicles in the region refrain from using the disc brakes due to its initial cost.



17 Feb 2015
$ 3500
Notice (8): Undefined index: Offering [APP/View/Elements/new_design_sidebar.ctp, line 37]