A disc brake is a wheel brake to slow or stop the rotation of a wheel using brake pads, brake disc, and brake calipers. The most prominent difference between a disc brake and a drum brake is that in a drum brake, friction is created using a brake shoe whereas, in a disc brake the same is created using brake pads. In order to stop a vehicle, the brake pads are pressed against the disc using calipers in a disc brake. whereas in drum brakes, the brake shoes are pushed against the drum. Usually the disc is made up of different materials like cast iron, reinforced carbon, and ceramic composites.
Currently, disc brakes are used in almost all of the modern vehicles for the front two wheels, and hence the Asia-Pacific region is the largest producer of automobiles across all the regions, and is the largest market for disc brake. Europe is the second-largest market for disc brake, as it is also the second largest market for automobile production globally and the use of disc brakes in this sector has increased exponentially in the recent times. The road safety norms which have reduced the stopping distance and the enhanced performance of vehicles is the main reason for the growth of the disc brakes market in this region. The North American region is projected to surpass Europe in terms of vehicle production in the coming years. The growing demand for luxury and performance vehicles, along with the safety norms for stopping of a vehicle are projected to boost the disc brakes market in the North American region.
Other factors for the growth of disc brake market on a global scale are the growing demand for higher performing vehicles and longer service intervals. However, the low-end vehicle manufacturers avaoiding the use of disc brakes due to the high cost involved are expected to restrain the growth of the disc brake market in this region.
The global disc brake market was valued at $9.78 billion in 2013, and is anticipated to grow at a CAGR of 7.9%, to reach $14.3 billion by 2018.
1 Introduction
1.1 Analyst Insights
1.2 Market Definitions
1.3 Market Segmentation & Aspects Covered
1.4 Research Methodology
2 Executive Summary
3 Market Overview
4 Disc Brake by Applications
4.1 Passenger Cars
4.2 LCV
4.3 HCV
4.4 Two-Wheeler
5 Disc Brake by Geographies
5.1 Asia-Pacific
5.2 Europe
5.3 North America
5.4 Rest of World
6 Disc Brake by Companies
6.1 Aisin Seiki Co Ltd
6.2 Kiriu Corporation
6.3 Nissin Kogyo Co. Ltd
6.4 Sundaram Brake Linings Limited
6.5 TMD Friction Group S.A.
6.6 Zhejiang Asia-Pacific Mechanical & Electronic Co. Ltd
6.7 Mando Corp.
6.8 Accuride Gunite
6.9 Haldex Foundation Brakes
6.10 Hyundai Mobis Module & Parts Mfg
6.11 Knorr-Bremse Commercial vehicle systems
6.12 Meritor Commercial Truck
6.13 TRW Chassis Systems
6.14 Robert Bosch Gmbh Automotive Technology
6.15 Akebono Brake Industry Co. Ltd
6.16 Automotive Components Europe S.A. (ACE)
6.17 Brembo S.P.A.
6.18 Continental Automotive Group
6.19 Federal-Mogul Vehicle Components Solutions
6.20 Nisshinbo Brake Inc.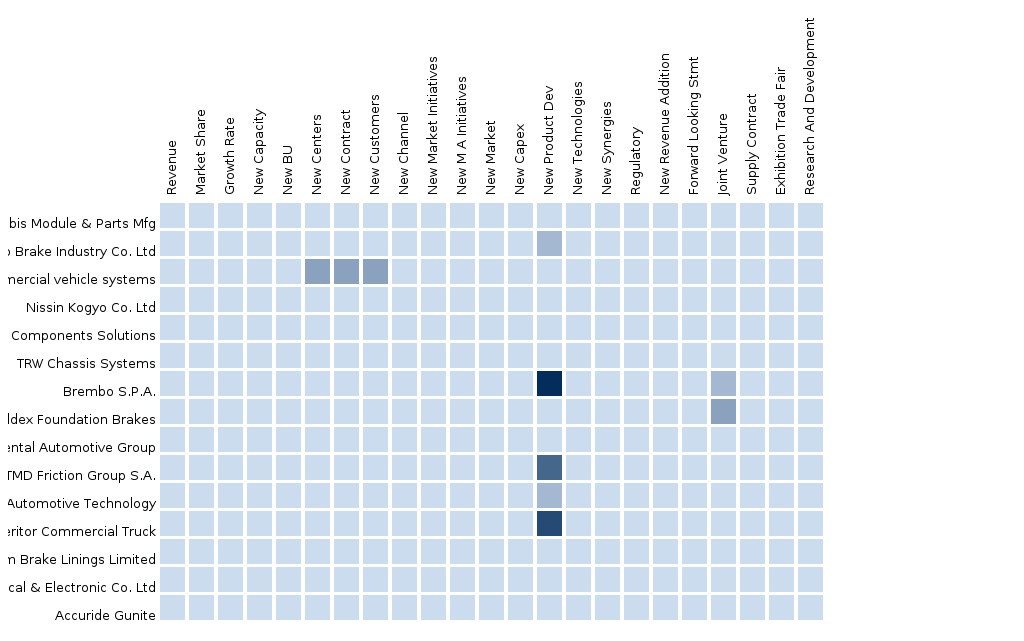 Please fill in the form below to receive a free copy of the Summary of this Report
Custom Market Research Services
We will customize the research for you, in case the report listed above does not meet with your exact requirements. Our custom research will comprehensively cover the business information you require to help you arrive at strategic and profitable business decisions.
Please visit
http://www.micromarketmonitor.com/custom-research-services.html
to specify your custom Research Requirement
PRODUCT TITLE
PUBLISHED
Global Disc Brake


The Asia-Pacific disc brake market is projected to reach $7.9 billion by 2018 from $5.1 billion in 2013, growing at 9.2% annually. The growing demand for higher performing vehicles and longer service intervals are some of the factors driving the disc brake market for this region, while concentration of the market with smaller and cheaper vehicles using drum brakes acts as a restraining factor.



Upcoming
Europe Disc Brake


The European disc brake market was valued at $2.78 billion in 2013, and is expected to grow at a CAGR of 5.8%. It is projected to reach $3.68 billion by 2018.



Upcoming
North America Disc Brake


The North American disc brake market is driven by factors such as fast growth in the luxury and sports vehicle segment and stringent emission norms. The low-end vehicles in the region refrain from using disc brakes due to its initial cost. The North American disc brake market is projected to reach $1.7 billion by 2018 from an estimated value of $1.2 billion in 2013, growing at 6.9% annually.



Upcoming
3 of 3 items
3 reports | Show