The biodegradable packaging market can be segmented by ingredients, applications, geographies and companies. The ingredients of the biodegradable packaging market include polylactic acid, starch, polyhydroxyalkanoate (PHA), polycaprolactone (PCL), polybutylene succinate (PBS), and paper and paperboard. Various applications of the biodegradable packaging market are contained within this report including food packaging, beverage packaging, pharmaceutical packaging, and personal care packaging.
The geographies segment of this market comprises North America, Europe, Asia-Pacific, and Rest of World. The companies operational in the biodegradable packaging are International Paper Company, Smurfit Kappa UK Ltd., Novamont SPA, BASF SE , NatureWorks LLC, Georgia-Pacific LLC, Clearwater Paper Corporation, Rock-Tenn Company, Mondi Limited, Stora Enso Oyj, Kruger Inc., and Biopac.
Customization Options
Along with the Market data, you can also customize MMM assessments to meet your company's specific needs. Customize to get comprehensive industry standard and deep dive analysis of the following parameters:
Procurement analysis
Examination of the possible raw materials PLA, starch-based plastics, and PHA that can be used for biodegradable packaging
Details of high standard raw materials developed by the key packaging industry players like Tetra Laval (Switzerland), Owens-Illinois (U.S.), Rexam (U.K.), and Ball Corporation (U.S.)
Analysis of use of bio-plastics technology for food packaging
Competitive Intelligence
Arriving at a competitive benchmarking with respect to products and revenues by taking into account the top industry players
Technological knowledge regarding combination of materials, systems, pack designs, and processes required to set up a plant for bio-degradable packaging, which will give an edge over the competitors
Regulations
A review of existing stringent safety legislations regarding the use of high standard bio-degradable packaging in different countries of North America , Europe, and Asia-Pacific
Supply chain analysis
Analysis and identification of the wide base of bio-degradable packaging suppliers spread across the countries of the regions (North America, Europe and Asia-Pacific)
Procurement opportunities and challenges faced by the bio-degradable packaging market
Product analysis
Detail analysis of bio-degradable packaging over plastics and polymers packaging
Study of the raw materials such as feed stock supply that can help in cost effectiveness
The external and internal factors affecting the cost of bio-degradable packaging
What Makes Our Report Unique
This report will provide you with market insights into food packaging, beverage packaging, pharmaceutical packaging and personal care packaging.
It provides market sizing and forecast for the biodegradable packaging market along with the drivers, restraints, opportunity analysis for each of the micro markets.
The report provides deep dive competitive landscape covering the top players such as International Paper Company, Smurfit Kappa UK Ltd., Novamont SPA, and BASF SE .
The report provides benchmarking insight on the top players International Paper Company, Smurfit Kappa UK Ltd., Novamont SPA, and BASF SE.
The report also provides competitive intelligence on International Paper Company, Smurfit Kappa UK Ltd., Novamont SPA, and BASF SE.
Many times, customers do not get specific intelligence they are looking for in multi-client syndicated studies. So we offer 10% customization which will ensure you get the desired market intelligence. It can be specific to food packaging, beverage packaging, pharmaceutical packaging and personal care packaging applications or biodegradable packaging market in North America, Europe, Asia-Pacific, and Rest of World.
Audience for this report
Global biodegradable packaging companies
Biodegradable packaging manufacturers
Biodegradable packaging traders, distributors, and suppliers
Governmental and research organizations
Associations and industry bodies
Technology providers to biodegradable packaging companies
Top developments
Mondi Group inaugurated a new storage location at its paper mill in Swiecie
FPInnovations to develop a cellulose filament plant at Kruger's paper mill located at Trois-Rivieres
Mondi Group's Consumer Packaging business segment launched a paper-based bag for food packaging and pet food
BASF discovered its first ever system solution production for packaging applications
Biopac consolidated and increased its existing product line of microwavable food containers
Stora Enso entered into a joint venture with Packages Ltd.
International Paper completed the acquisition of the shares of Sabanci Holding
Smurfit Kappa announced the completion of acquisition of the Orange County Container Group
The company acquired Nordenia International AG for approximately $333 million
Mondi Group entered into an agreement with Duropack GmbH for acquisition
1 Introduction
1.1 Objective of the study
1.2 Market Definitions
1.3 Market Segmentation & Aspects Covered
1.4 Research Methodology
1.4.1 Assumptions (Market Size, Forecast, etc)
2 Executive Summary

3 Market Overview

4 Biodegradable Packaging, By Companies
4.1 Biodegradable Packaging-International Paper Company
4.2 Biodegradable Packaging-Smurfit Kappa UK Ltd.
4.3 Biodegradable Packaging-Novamont SPA
4.4 Biodegradable Packaging-BASF SE
4.5 Biodegradable Packaging-Biopac
4.6 Biodegradable Packaging-NatureWorks LLC
4.7 Biodegradable Packaging-Rock-Tenn Company
4.8 Biodegradable Packaging-Mondi Limited
4.9 Biodegradable Packaging-Stora Enso Oyj
4.10 Biodegradable Packaging-Kruger Inc.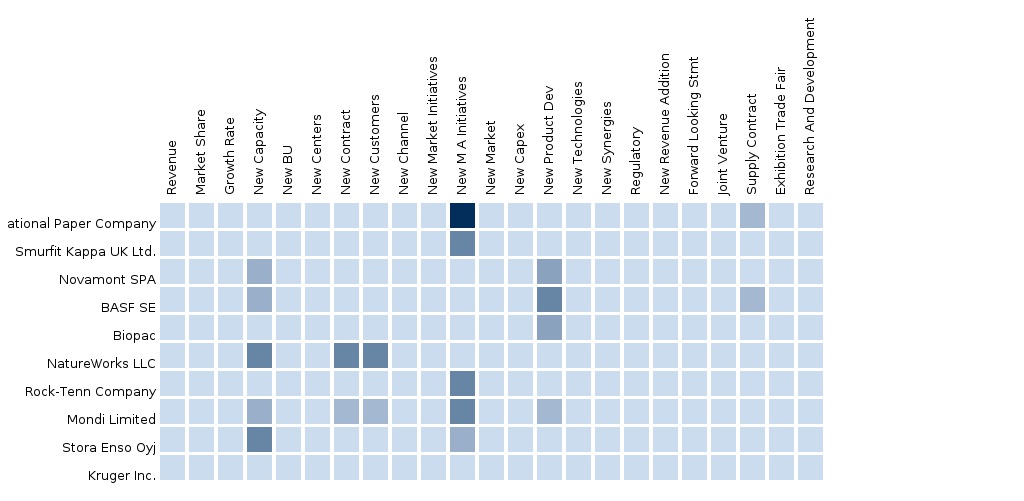 Please fill in the form below to receive a free copy of the Summary of this Report
Custom Market Research Services
We will customize the research for you, in case the report listed above does not meet with your exact requirements. Our custom research will comprehensively cover the business information you require to help you arrive at strategic and profitable business decisions.
Please visit
http://www.micromarketmonitor.com/custom-research-services.html
to specify your custom Research Requirement
Anti-Counterfeit Packaging