Europe Imaging Informatics Market
Description
Table of Contents
Customer Intelligence
Imaging Information Systems in Europe is estimated at $796.0 million in 2013 and expected to reach a value of $1037.0 million in 2018 at a CAGR of 5.4% from 2013-2018.
Imaging Informatics-Europe can be segmented by Components, Deployments, Endusers, Applications, Companies and MacroIndicators.
Components of Imaging Informatics-Europe are Hardware (Healthcare IT), Software (Healthcare IT) and Services (Healthcare IT). Deployments of Imaging Informatics-Europe are On-premise, Web-based and Cloud-based.
Endusers of Imaging Informatics-Europe are Office based Physicians, Hospitals, Emergency Healthcare Service providers, Nurses and Medical & Diagnostic Laboratories. Applications of Imaging Informatics-Europe are Computed Radiography (CR), Computed Tomography, C-ARMs/Fluroscopy, Digital Radiography (DR), MRI, Nuclear Imaging and Ultrasound.
Companies, dealing with Imaging Informatics in Europe, are - GE Healthcare, Philips Healthcare, Agfa-Gevaert, Acuo Technologies, Carestream, McKesson Corporation and Dell.
What makes our report unique?
You can request a 10% customization in the research that matches your requirement. For example, you could request a deep dive research in any specific region, technology, or application.
This report provides a competitive landscape of the top players. Under the strategic benchmarking section, we will provide you with their key developments along with the impacts that include new product developments, M&A, a strategic focus on any specific application, technology, and geography. Under the Financials section, we will provide you with details that span Capex (Investments), revenues, EBITDA, etc. Under the operational insights section, we will provide you with the new capacities added, new centers, and new key employments. Under the sales and marketing section, we will provide you with insights on new contracts (available on the public domain), new distribution channels added, new marketing initiatives, etc.
Key questions answered
What are the market estimates and forecasts based on which the markets are doing well, and which are not?
What is the competitive landscape; who are the main players in each segment; what are their strategic directives, operational strengths, key selling products, and product pipelines?
Who is doing what?
Audience for This Report
Healthcare Provider IT Companies
Hospital & Emergency Care Units
Market that Influence the Growth of this Market
U.K. Hospital Information System Market
Germany Hospital Information System Market
France Hospital Information System Market
Italy Hospital Information System Market
Spain Hospital Information System Market
1 Introduction
1.1 Introduce the Market
1.2 Objective of the study
1.3 Market Definition and Scope of the study
1.3.1 Market Definition
1.3.2 Areas covered
1.3.3 Markets Covered
1.4 Stakeholders
1.5 Research Methodology
1.5.1 Secondary sources
1.5.2 Primary Sources
1.5.3 Market estimation methodology (Top-down, bottom-up, data triangulation.)
1.5.4 Macro indicators for the study
1.6 Assumptions
1.7 List of Acronyms
2 Market Overview
3 Imaging Informatics-Europe, By Segments
3.1 Split By Geography
3.2 Picture Archiving and Communication System (PACS)-Europe
3.2.1 Picture Archiving and Communication System (PACS)-Europe, By Companies
3.2.1.1 Picture Archiving and Communication System (PACS)-Europe-GE Healthcare
3.2.1.2 Picture Archiving and Communication System (PACS)-Europe-McKesson Corporation
3.2.1.3 Picture Archiving and Communication System (PACS)-Europe-Philips Healthcare
3.2.1.4 Picture Archiving and Communication System (PACS)-Europe-Agfa-Gevaert
3.2.1.5 Picture Archiving and Communication System (PACS)-Europe-Siemens AG Healthcare
3.2.1.6 Picture Archiving and Communication System (PACS)-Europe-Fujifilm Holdings Corporation
3.2.1.7 Picture Archiving and Communication System (PACS)-Europe-Carestream
3.2.2 Picture Archiving and Communication System (PACS)-Europe, By Components
3.2.2.1 Picture Archiving and Communication System (PACS)-Europe-Hardware (Healthcare IT)
3.2.2.2 Picture Archiving and Communication System (PACS)-Europe-Software (Healthcare IT)
3.2.2.3 Picture Archiving and Communication System (PACS)-Europe-Services (Healthcare IT)
3.2.3 Picture Archiving and Communication System (PACS)-Europe, By Deployments
3.2.3.1 Picture Archiving and Communication System (PACS)-Europe-On-premise
3.2.3.2 Picture Archiving and Communication System (PACS)-Europe-Web-based
3.2.3.3 Picture Archiving and Communication System (PACS)-Europe-Cloud-based
3.2.4 Picture Archiving and Communication System (PACS)-Europe, By Endusers
3.2.4.1 Picture Archiving and Communication System (PACS)-Europe-Office based Physicians
3.2.4.2 Picture Archiving and Communication System (PACS)-Europe-Hospitals
3.2.4.3 Picture Archiving and Communication System (PACS)-Europe-Medical & Diagnostic Laboratories
3.2.5 Picture Archiving and Communication System (PACS)-Europe, By Applications
3.2.5.1 Picture Archiving and Communication System (PACS)-Europe-Computed Radiography (CR)
3.2.5.2 Picture Archiving and Communication System (PACS)-Europe-Computed Tomography
3.2.5.3 Picture Archiving and Communication System (PACS)-Europe-C-ARMs/Fluroscopy
3.2.5.4 Picture Archiving and Communication System (PACS)-Europe-Digital Radiography (DR)
3.2.5.5 Picture Archiving and Communication System (PACS)-Europe-MRI
3.2.5.6 Picture Archiving and Communication System (PACS)-Europe-Nuclear Imaging
3.2.5.7 Picture Archiving and Communication System (PACS)-Europe-Ultrasound
3.2.6 Picture Archiving and Communication System (PACS)-Europe, By MacroIndicators
3.2.6.1 Picture Archiving and Communication System (PACS)-Healthcare Expenditure-Europe
3.2.7 Picture Archiving and Communication System (PACS)-Europe, By Geographies
3.2.7.1 Picture Archiving and Communication System (PACS)-United Kingdom
3.2.7.2 Picture Archiving and Communication System (PACS)-France
3.2.7.3 Picture Archiving and Communication System (PACS)-Germany
3.2.7.4 Picture Archiving and Communication System (PACS)-Italy
3.2.7.5 Picture Archiving and Communication System (PACS)-Spain
3.2.7.6 Picture Archiving and Communication System (PACS)-Europe - Europe - Other Geographies
3.2.8 Picture Archiving and Communication System (PACS)-Europe, By Products
3.2.8.1 Departmental PACS-Europe
3.2.8.2 Enterprise PACS-Europe
3.3 Vendor Neutral Archive (VNA)-Europe
3.3.1 Vendor Neutral Archive (VNA)-Europe, By Endusers
3.3.1.1 Vendor Neutral Archive (VNA)-Europe-Hospitals
3.3.1.2 Vendor Neutral Archive (VNA)-Europe-Medical & Diagnostic Laboratories
3.3.1.3 Vendor Neutral Archive (VNA)-Europe-Office based Physicians
3.3.2 Vendor Neutral Archive (VNA)-Europe, By Deployments
3.3.2.1 Vendor Neutral Archive (VNA)-Europe-On-premise
3.3.2.2 Vendor Neutral Archive (VNA)-Europe-Hybrid Cloud
3.3.2.3 Vendor Neutral Archive (VNA)-Europe-Cloud-based
3.3.3 Vendor Neutral Archive (VNA)-Europe, By Components
3.3.3.1 Vendor Neutral Archive (VNA)-Europe-Services (Healthcare IT)
3.3.3.2 Vendor Neutral Archive (VNA)-Europe-Software (Healthcare IT)
3.3.3.3 Vendor Neutral Archive (VNA)-Europe-Hardware (Healthcare IT)
3.3.4 Vendor Neutral Archive (VNA)-Europe, By Companies
3.3.4.1 Vendor Neutral Archive (VNA)-Europe-Acuo Technologies
3.3.4.2 Vendor Neutral Archive (VNA)-Europe-Carestream
3.3.4.3 Vendor Neutral Archive (VNA)-Europe-GE Healthcare
3.3.4.4 Vendor Neutral Archive (VNA)-Europe-Dell
3.3.4.5 Vendor Neutral Archive (VNA)-Europe-Agfa-Gevaert
3.3.4.6 Vendor Neutral Archive (VNA)-Europe-Merge Healthcare
3.3.4.7 Vendor Neutral Archive (VNA)-Europe-BridgeHead Software Ltd
3.3.5 Vendor Neutral Archive (VNA)-Europe, By Applications
3.3.5.1 Vendor Neutral Archive (VNA)-Europe-Computed Tomography
3.3.5.2 Vendor Neutral Archive (VNA)-Europe-Ultrasound
3.3.5.3 Vendor Neutral Archive (VNA)-Europe-MRI
3.3.5.4 Vendor Neutral Archive (VNA)-Europe-C-ARMs/Fluroscopy
3.3.5.5 Vendor Neutral Archive (VNA)-Europe-Digital Radiography (DR)
3.3.5.6 Vendor Neutral Archive (VNA)-Europe-Nuclear Imaging
3.3.5.7 Vendor Neutral Archive (VNA)-Europe-Computed Radiography (CR)
3.3.6 Vendor Neutral Archive (VNA)-Europe, By MacroIndicators
3.3.6.1 Vendor Neutral Archive (VNA)-Healthcare Expenditure-Europe
3.3.7 Vendor Neutral Archive (VNA)-Europe, By Geographies
3.3.7.1 Vendor Neutral Archive (VNA)-United Kingdom
3.3.7.2 Vendor Neutral Archive (VNA)-France
3.3.7.3 Vendor Neutral Archive (VNA)-Germany
3.3.7.4 Vendor Neutral Archive (VNA)-Italy
3.3.7.5 Vendor Neutral Archive (VNA)-Spain
3.3.7.6 Vendor Neutral Archive (VNA)-Europe - Europe - Other Geographies
3.3.8 Vendor Neutral Archive (VNA)-Europe, By Groups
3.3.8.1 PACS Vendors-Europe
3.3.8.2 Independent Software Vendors (ISVs)-Europe
3.3.8.3 Infrastructure Vendors-Europe
3.3.9 Vendor Neutral Archive (VNA)-Europe, By Types
3.3.9.1 Departmental Model-Europe
3.3.9.2 Multi-departmental Model-Europe
3.3.9.3 Multi-site Model-Europe
4 Imaging Informatics-Europe, By Applications
4.1 Split By Geography
4.2 Imaging Informatics-Europe-Computed Radiography (CR)
4.2.1 Imaging Informatics-Europe-Computed Radiography (CR), By Geographies
4.2.1.1 Imaging Informatics-United Kingdom-Computed Radiography (CR)
4.2.1.2 Imaging Informatics-France-Computed Radiography (CR)
4.2.1.3 Imaging Informatics-Germany-Computed Radiography (CR)
4.2.1.4 Imaging Informatics-Italy-Computed Radiography (CR)
4.2.1.5 Imaging Informatics-Spain-Computed Radiography (CR)
4.2.1.6 Imaging Informatics-Europe - Europe - Other Geographies-Computed Radiography (CR)
4.2.2 Imaging Informatics-Europe-Computed Radiography (CR), By Segments
4.2.2.1 Picture Archiving and Communication System (PACS)-Europe-Computed Radiography (CR)
4.2.2.2 Vendor Neutral Archive (VNA)-Europe-Computed Radiography (CR)
4.3 Imaging Informatics-Europe-Computed Tomography
4.3.1 Imaging Informatics-Europe-Computed Tomography, By Geographies
4.3.1.1 Imaging Informatics-United Kingdom-Computed Tomography
4.3.1.2 Imaging Informatics-France-Computed Tomography
4.3.1.3 Imaging Informatics-Germany-Computed Tomography
4.3.1.4 Imaging Informatics-Italy-Computed Tomography
4.3.1.5 Imaging Informatics-Spain-Computed Tomography
4.3.1.6 Imaging Informatics-Europe - Europe - Other Geographies-Computed Tomography
4.3.2 Imaging Informatics-Europe-Computed Tomography, By Segments
4.3.2.1 Picture Archiving and Communication System (PACS)-Europe-Computed Tomography
4.3.2.2 Vendor Neutral Archive (VNA)-Europe-Computed Tomography
4.4 Imaging Informatics-Europe-C-ARMs/Fluroscopy
4.4.1 Imaging Informatics-Europe-C-ARMs/Fluroscopy, By Geographies
4.4.1.1 Imaging Informatics-United Kingdom-C-ARMs/Fluroscopy
4.4.1.2 Imaging Informatics-France-C-ARMs/Fluroscopy
4.4.1.3 Imaging Informatics-Germany-C-ARMs/Fluroscopy
4.4.1.4 Imaging Informatics-Italy-C-ARMs/Fluroscopy
4.4.1.5 Imaging Informatics-Spain-C-ARMs/Fluroscopy
4.4.1.6 Imaging Informatics-Europe - Europe - Other Geographies-C-ARMs/Fluroscopy
4.4.2 Imaging Informatics-Europe-C-ARMs/Fluroscopy, By Segments
4.4.2.1 Picture Archiving and Communication System (PACS)-Europe-C-ARMs/Fluroscopy
4.4.2.2 Vendor Neutral Archive (VNA)-Europe-C-ARMs/Fluroscopy
4.5 Imaging Informatics-Europe-Digital Radiography (DR)
4.5.1 Imaging Informatics-Europe-Digital Radiography (DR), By Geographies
4.5.1.1 Imaging Informatics-United Kingdom-Digital Radiography (DR)
4.5.1.2 Imaging Informatics-France-Digital Radiography (DR)
4.5.1.3 Imaging Informatics-Germany-Digital Radiography (DR)
4.5.1.4 Imaging Informatics-Italy-Digital Radiography (DR)
4.5.1.5 Imaging Informatics-Spain-Digital Radiography (DR)
4.5.1.6 Imaging Informatics-Europe - Europe - Other Geographies-Digital Radiography (DR)
4.5.2 Imaging Informatics-Europe-Digital Radiography (DR), By Segments
4.5.2.1 Picture Archiving and Communication System (PACS)-Europe-Digital Radiography (DR)
4.5.2.2 Vendor Neutral Archive (VNA)-Europe-Digital Radiography (DR)
4.6 Imaging Informatics-Europe-MRI
4.6.1 Imaging Informatics-Europe-MRI, By Geographies
4.6.1.1 Imaging Informatics-United Kingdom-MRI
4.6.1.2 Imaging Informatics-France-MRI
4.6.1.3 Imaging Informatics-Germany-MRI
4.6.1.4 Imaging Informatics-Italy-MRI
4.6.1.5 Imaging Informatics-Spain-MRI
4.6.1.6 Imaging Informatics-Europe - Europe - Other Geographies-MRI
4.6.2 Imaging Informatics-Europe-MRI, By Segments
4.6.2.1 Picture Archiving and Communication System (PACS)-Europe-MRI
4.6.2.2 Vendor Neutral Archive (VNA)-Europe-MRI
4.7 Imaging Informatics-Europe-Nuclear Imaging
4.7.1 Imaging Informatics-Europe-Nuclear Imaging, By Geographies
4.7.1.1 Imaging Informatics-United Kingdom-Nuclear Imaging
4.7.1.2 Imaging Informatics-France-Nuclear Imaging
4.7.1.3 Imaging Informatics-Germany-Nuclear Imaging
4.7.1.4 Imaging Informatics-Italy-Nuclear Imaging
4.7.1.5 Imaging Informatics-Spain-Nuclear Imaging
4.7.1.6 Imaging Informatics-Europe - Europe - Other Geographies-Nuclear Imaging
4.7.2 Imaging Informatics-Europe-Nuclear Imaging, By Segments
4.7.2.1 Picture Archiving and Communication System (PACS)-Europe-Nuclear Imaging
4.7.2.2 Vendor Neutral Archive (VNA)-Europe-Nuclear Imaging
4.8 Imaging Informatics-Europe-Ultrasound
4.8.1 Imaging Informatics-Europe-Ultrasound, By Geographies
4.8.1.1 Imaging Informatics-United Kingdom-Ultrasound
4.8.1.2 Imaging Informatics-France-Ultrasound
4.8.1.3 Imaging Informatics-Germany-Ultrasound
4.8.1.4 Imaging Informatics-Italy-Ultrasound
4.8.1.5 Imaging Informatics-Spain-Ultrasound
4.8.1.6 Imaging Informatics-Europe - Europe - Other Geographies-Ultrasound
4.8.2 Imaging Informatics-Europe-Ultrasound, By Segments
4.8.2.1 Picture Archiving and Communication System (PACS)-Europe-Ultrasound
4.8.2.2 Vendor Neutral Archive (VNA)-Europe-Ultrasound
5 Imaging Informatics-Europe, By Components
5.1 Split By Geography
5.2 Imaging Informatics-Europe-Hardware (Healthcare IT)
5.2.1 Imaging Informatics-Europe-Hardware (Healthcare IT), By Geographies
5.2.1.1 Imaging Informatics-United Kingdom-Hardware (Healthcare IT)
5.2.1.2 Imaging Informatics-France-Hardware (Healthcare IT)
5.2.1.3 Imaging Informatics-Germany-Hardware (Healthcare IT)
5.2.1.4 Imaging Informatics-Italy-Hardware (Healthcare IT)
5.2.1.5 Imaging Informatics-Spain-Hardware (Healthcare IT)
5.2.1.6 Imaging Informatics-Europe - Europe - Other Geographies-Hardware (Healthcare IT)
5.2.2 Imaging Informatics-Europe-Hardware (Healthcare IT), By Segments
5.2.2.1 Picture Archiving and Communication System (PACS)-Europe-Hardware (Healthcare IT)
5.2.2.2 Vendor Neutral Archive (VNA)-Europe-Hardware (Healthcare IT)
5.3 Imaging Informatics-Europe-Software (Healthcare IT)
5.3.1 Imaging Informatics-Europe-Software (Healthcare IT), By Geographies
5.3.1.1 Imaging Informatics-United Kingdom-Software (Healthcare IT)
5.3.1.2 Imaging Informatics-France-Software (Healthcare IT)
5.3.1.3 Imaging Informatics-Germany-Software (Healthcare IT)
5.3.1.4 Imaging Informatics-Italy-Software (Healthcare IT)
5.3.1.5 Imaging Informatics-Spain-Software (Healthcare IT)
5.3.1.6 Imaging Informatics-Europe - Europe - Other Geographies-Software (Healthcare IT)
5.3.2 Imaging Informatics-Europe-Software (Healthcare IT), By Segments
5.3.2.1 Picture Archiving and Communication System (PACS)-Europe-Software (Healthcare IT)
5.3.2.2 Vendor Neutral Archive (VNA)-Europe-Software (Healthcare IT)
5.4 Imaging Informatics-Europe-Services (Healthcare IT)
5.4.1 Imaging Informatics-Europe-Services (Healthcare IT), By Geographies
5.4.1.1 Imaging Informatics-United Kingdom-Services (Healthcare IT)
5.4.1.2 Imaging Informatics-France-Services (Healthcare IT)
5.4.1.3 Imaging Informatics-Germany-Services (Healthcare IT)
5.4.1.4 Imaging Informatics-Italy-Services (Healthcare IT)
5.4.1.5 Imaging Informatics-Spain-Services (Healthcare IT)
5.4.1.6 Imaging Informatics-Europe - Europe - Other Geographies-Services (Healthcare IT)
5.4.2 Imaging Informatics-Europe-Services (Healthcare IT), By Segments
5.4.2.1 Picture Archiving and Communication System (PACS)-Europe-Services (Healthcare IT)
5.4.2.2 Vendor Neutral Archive (VNA)-Europe-Services (Healthcare IT)
6 Imaging Informatics-Europe, By Deployments
6.1 Split By Geography
6.2 Imaging Informatics-Europe-On-premise
6.2.1 Imaging Informatics-Europe-On-premise, By Geographies
6.2.1.1 Imaging Informatics-United Kingdom-On-premise
6.2.1.2 Imaging Informatics-France-On-premise
6.2.1.3 Imaging Informatics-Germany-On-premise
6.2.1.4 Imaging Informatics-Italy-On-premise
6.2.1.5 Imaging Informatics-Spain-On-premise
6.2.1.6 Imaging Informatics-Europe - Europe - Other Geographies-On-premise
6.2.2 Imaging Informatics-Europe-On-premise, By Segments
6.2.2.1 Picture Archiving and Communication System (PACS)-Europe-On-premise
6.2.2.2 Vendor Neutral Archive (VNA)-Europe-On-premise
6.3 Imaging Informatics-Europe-Web-based
6.3.1 Imaging Informatics-Europe-Web-based, By Geographies
6.3.1.1 Imaging Informatics-United Kingdom-Web-based
6.3.1.2 Imaging Informatics-France-Web-based
6.3.1.3 Imaging Informatics-Germany-Web-based
6.3.1.4 Imaging Informatics-Italy-Web-based
6.3.1.5 Imaging Informatics-Spain-Web-based
6.3.1.6 Imaging Informatics-Europe - Europe - Other Geographies-Web-based
6.3.2 Imaging Informatics-Europe-Web-based, By Segments
6.3.2.1 Picture Archiving and Communication System (PACS)-Europe-Web-based
6.3.2.2 Vendor Neutral Archive (VNA)-Europe-Web-based
6.4 Imaging Informatics-Europe-Cloud-based
6.4.1 Imaging Informatics-Europe-Cloud-based, By Geographies
6.4.1.1 Imaging Informatics-United Kingdom-Cloud-based
6.4.1.2 Imaging Informatics-France-Cloud-based
6.4.1.3 Imaging Informatics-Germany-Cloud-based
6.4.1.4 Imaging Informatics-Italy-Cloud-based
6.4.1.5 Imaging Informatics-Spain-Cloud-based
6.4.1.6 Imaging Informatics-Europe - Europe - Other Geographies-Cloud-based
6.4.2 Imaging Informatics-Europe-Cloud-based, By Segments
6.4.2.1 Picture Archiving and Communication System (PACS)-Europe-Cloud-based
6.4.2.2 Vendor Neutral Archive (VNA)-Europe-Cloud-based
7 Imaging Informatics-Europe, By Endusers
7.1 Split By Geography
7.2 Imaging Informatics-Europe-Office based Physicians
7.2.1 Imaging Informatics-Europe-Office based Physicians, By Geographies
7.2.1.1 Imaging Informatics-United Kingdom-Office based Physicians
7.2.1.2 Imaging Informatics-France-Office based Physicians
7.2.1.3 Imaging Informatics-Germany-Office based Physicians
7.2.1.4 Imaging Informatics-Italy-Office based Physicians
7.2.1.5 Imaging Informatics-Spain-Office based Physicians
7.2.1.6 Imaging Informatics-Europe - Europe - Other Geographies-Office based Physicians
7.2.2 Imaging Informatics-Europe-Office based Physicians, By Segments
7.2.2.1 Picture Archiving and Communication System (PACS)-Europe-Office based Physicians
7.2.2.2 Vendor Neutral Archive (VNA)-Europe-Office based Physicians
7.3 Imaging Informatics-Europe-Hospitals
7.3.1 Imaging Informatics-Europe-Hospitals, By Geographies
7.3.1.1 Imaging Informatics-United Kingdom-Hospitals
7.3.1.2 Imaging Informatics-France-Hospitals
7.3.1.3 Imaging Informatics-Germany-Hospitals
7.3.1.4 Imaging Informatics-Italy-Hospitals
7.3.1.5 Imaging Informatics-Spain-Hospitals
7.3.1.6 Imaging Informatics-Europe - Europe - Other Geographies-Hospitals
7.3.2 Imaging Informatics-Europe-Hospitals, By Endusers
7.3.2.1 Imaging Informatics-Europe-<100 beds
7.3.2.2 Imaging Informatics-Europe->500 beds
7.3.2.3 Imaging Informatics-Europe-100-199 beds
7.3.2.4 Imaging Informatics-Europe-200-299 beds
7.3.2.5 Imaging Informatics-Europe-300-399 beds
7.3.2.6 Imaging Informatics-Europe-400-499 beds
7.3.3 Imaging Informatics-Europe-Hospitals, By Segments
7.3.3.1 Picture Archiving and Communication System (PACS)-Europe-Hospitals
7.3.3.2 Vendor Neutral Archive (VNA)-Europe-Hospitals
7.4 Imaging Informatics-Europe-Emergency Healthcare Service providers
7.4.1 Imaging Informatics-Europe-Emergency Healthcare Service providers, By Geographies
7.4.1.1 Imaging Informatics-United Kingdom-Emergency Healthcare Service providers
7.4.1.2 Imaging Informatics-France-Emergency Healthcare Service providers
7.4.1.3 Imaging Informatics-Germany-Emergency Healthcare Service providers
7.4.1.4 Imaging Informatics-Italy-Emergency Healthcare Service providers
7.4.1.5 Imaging Informatics-Spain-Emergency Healthcare Service providers
7.4.1.6 Imaging Informatics-Europe - Europe - Other Geographies-Emergency Healthcare Service providers
7.4.2 Imaging Informatics-Europe-Emergency Healthcare Service providers, By Segments
7.4.2.1 Picture Archiving and Communication System (PACS)-Europe-Emergency Healthcare Service providers
7.4.2.2 Vendor Neutral Archive (VNA)-Europe-Emergency Healthcare Service providers
7.5 Imaging Informatics-Europe-Nurses
7.5.1 Imaging Informatics-Europe-Nurses, By Geographies
7.5.1.1 Imaging Informatics-United Kingdom-Nurses
7.5.1.2 Imaging Informatics-France-Nurses
7.5.1.3 Imaging Informatics-Germany-Nurses
7.5.1.4 Imaging Informatics-Italy-Nurses
7.5.1.5 Imaging Informatics-Spain-Nurses
7.5.1.6 Imaging Informatics-Europe - Europe - Other Geographies-Nurses
7.5.2 Imaging Informatics-Europe-Nurses, By Segments
7.5.2.1 Picture Archiving and Communication System (PACS)-Europe-Nurses
7.5.2.2 Vendor Neutral Archive (VNA)-Europe-Nurses
7.6 Imaging Informatics-Europe-Medical & Diagnostic Laboratories
7.6.1 Imaging Informatics-Europe-Medical & Diagnostic Laboratories, By Geographies
7.6.1.1 Imaging Informatics-Europe - Europe - Other Geographies-Medical & Diagnostic Laboratories
7.6.1.2 Imaging Informatics-Spain-Medical & Diagnostic Laboratories
7.6.1.3 Imaging Informatics-Italy-Medical & Diagnostic Laboratories
7.6.1.4 Imaging Informatics-Germany-Medical & Diagnostic Laboratories
7.6.1.5 Imaging Informatics-France-Medical & Diagnostic Laboratories
7.6.1.6 Imaging Informatics-United Kingdom-Medical & Diagnostic Laboratories
7.6.2 Imaging Informatics-Europe-Medical & Diagnostic Laboratories, By Segments
7.6.2.1 Picture Archiving and Communication System (PACS)-Europe-Medical & Diagnostic Laboratories
7.6.2.2 Vendor Neutral Archive (VNA)-Europe-Medical & Diagnostic Laboratories
8 Imaging Informatics-Europe, By Geographies
8.1 Imaging Informatics-United Kingdom
8.1.1 Imaging Informatics-United Kingdom, By Components
8.1.1.1 Imaging Informatics-United Kingdom-Hardware (Healthcare IT)
8.1.1.2 Imaging Informatics-United Kingdom-Software (Healthcare IT)
8.1.1.3 Imaging Informatics-United Kingdom-Services (Healthcare IT)
8.1.2 Imaging Informatics-United Kingdom, By Deployments
8.1.2.1 Imaging Informatics-United Kingdom-On-premise
8.1.2.2 Imaging Informatics-United Kingdom-Web-based
8.1.2.3 Imaging Informatics-United Kingdom-Cloud-based
8.1.3 Imaging Informatics-United Kingdom, By Endusers
8.1.3.1 Imaging Informatics-United Kingdom-Office based Physicians
8.1.3.2 Imaging Informatics-United Kingdom-Hospitals
8.1.3.3 Imaging Informatics-United Kingdom-Emergency Healthcare Service providers
8.1.3.4 Imaging Informatics-United Kingdom-Nurses
8.1.3.5 Imaging Informatics-United Kingdom-Medical & Diagnostic Laboratories
8.1.4 Imaging Informatics-United Kingdom, By Applications
8.1.4.1 Imaging Informatics-United Kingdom-Computed Radiography (CR)
8.1.4.2 Imaging Informatics-United Kingdom-Computed Tomography
8.1.4.3 Imaging Informatics-United Kingdom-C-ARMs/Fluroscopy
8.1.4.4 Imaging Informatics-United Kingdom-Digital Radiography (DR)
8.1.4.5 Imaging Informatics-United Kingdom-MRI
8.1.4.6 Imaging Informatics-United Kingdom-Nuclear Imaging
8.1.4.7 Imaging Informatics-United Kingdom-Ultrasound
8.1.5 Imaging Informatics-United Kingdom, By Segments
8.1.5.1 Picture Archiving and Communication System (PACS)-United Kingdom
8.1.5.2 Vendor Neutral Archive (VNA)-United Kingdom
8.2 Imaging Informatics-France
8.2.1 Imaging Informatics-France, By Components
8.2.1.1 Imaging Informatics-France-Hardware (Healthcare IT)
8.2.1.2 Imaging Informatics-France-Software (Healthcare IT)
8.2.1.3 Imaging Informatics-France-Services (Healthcare IT)
8.2.2 Imaging Informatics-France, By Deployments
8.2.2.1 Imaging Informatics-France-On-premise
8.2.2.2 Imaging Informatics-France-Web-based
8.2.2.3 Imaging Informatics-France-Cloud-based
8.2.3 Imaging Informatics-France, By Endusers
8.2.3.1 Imaging Informatics-France-Office based Physicians
8.2.3.2 Imaging Informatics-France-Hospitals
8.2.3.3 Imaging Informatics-France-Emergency Healthcare Service providers
8.2.3.4 Imaging Informatics-France-Nurses
8.2.3.5 Imaging Informatics-France-Medical & Diagnostic Laboratories
8.2.4 Imaging Informatics-France, By Applications
8.2.4.1 Imaging Informatics-France-Computed Radiography (CR)
8.2.4.2 Imaging Informatics-France-Computed Tomography
8.2.4.3 Imaging Informatics-France-C-ARMs/Fluroscopy
8.2.4.4 Imaging Informatics-France-Digital Radiography (DR)
8.2.4.5 Imaging Informatics-France-MRI
8.2.4.6 Imaging Informatics-France-Nuclear Imaging
8.2.4.7 Imaging Informatics-France-Ultrasound
8.2.5 Imaging Informatics-France, By Segments
8.2.5.1 Picture Archiving and Communication System (PACS)-France
8.2.5.2 Vendor Neutral Archive (VNA)-France
8.3 Imaging Informatics-Germany
8.3.1 Imaging Informatics-Germany, By Components
8.3.1.1 Imaging Informatics-Germany-Hardware (Healthcare IT)
8.3.1.2 Imaging Informatics-Germany-Software (Healthcare IT)
8.3.1.3 Imaging Informatics-Germany-Services (Healthcare IT)
8.3.2 Imaging Informatics-Germany, By Deployments
8.3.2.1 Imaging Informatics-Germany-On-premise
8.3.2.2 Imaging Informatics-Germany-Web-based
8.3.2.3 Imaging Informatics-Germany-Cloud-based
8.3.3 Imaging Informatics-Germany, By Endusers
8.3.3.1 Imaging Informatics-Germany-Office based Physicians
8.3.3.2 Imaging Informatics-Germany-Hospitals
8.3.3.3 Imaging Informatics-Germany-Emergency Healthcare Service providers
8.3.3.4 Imaging Informatics-Germany-Nurses
8.3.3.5 Imaging Informatics-Germany-Medical & Diagnostic Laboratories
8.3.4 Imaging Informatics-Germany, By Applications
8.3.4.1 Imaging Informatics-Germany-Computed Radiography (CR)
8.3.4.2 Imaging Informatics-Germany-Computed Tomography
8.3.4.3 Imaging Informatics-Germany-C-ARMs/Fluroscopy
8.3.4.4 Imaging Informatics-Germany-Digital Radiography (DR)
8.3.4.5 Imaging Informatics-Germany-MRI
8.3.4.6 Imaging Informatics-Germany-Nuclear Imaging
8.3.4.7 Imaging Informatics-Germany-Ultrasound
8.3.5 Imaging Informatics-Germany, By Segments
8.3.5.1 Picture Archiving and Communication System (PACS)-Germany
8.3.5.2 Vendor Neutral Archive (VNA)-Germany
8.4 Imaging Informatics-Italy
8.4.1 Imaging Informatics-Italy, By Components
8.4.1.1 Imaging Informatics-Italy-Hardware (Healthcare IT)
8.4.1.2 Imaging Informatics-Italy-Software (Healthcare IT)
8.4.1.3 Imaging Informatics-Italy-Services (Healthcare IT)
8.4.2 Imaging Informatics-Italy, By Deployments
8.4.2.1 Imaging Informatics-Italy-On-premise
8.4.2.2 Imaging Informatics-Italy-Web-based
8.4.2.3 Imaging Informatics-Italy-Cloud-based
8.4.3 Imaging Informatics-Italy, By Endusers
8.4.3.1 Imaging Informatics-Italy-Office based Physicians
8.4.3.2 Imaging Informatics-Italy-Hospitals
8.4.3.3 Imaging Informatics-Italy-Emergency Healthcare Service providers
8.4.3.4 Imaging Informatics-Italy-Nurses
8.4.3.5 Imaging Informatics-Italy-Medical & Diagnostic Laboratories
8.4.4 Imaging Informatics-Italy, By Applications
8.4.4.1 Imaging Informatics-Italy-Computed Radiography (CR)
8.4.4.2 Imaging Informatics-Italy-Computed Tomography
8.4.4.3 Imaging Informatics-Italy-C-ARMs/Fluroscopy
8.4.4.4 Imaging Informatics-Italy-Digital Radiography (DR)
8.4.4.5 Imaging Informatics-Italy-MRI
8.4.4.6 Imaging Informatics-Italy-Nuclear Imaging
8.4.4.7 Imaging Informatics-Italy-Ultrasound
8.4.5 Imaging Informatics-Italy, By Segments
8.4.5.1 Picture Archiving and Communication System (PACS)-Italy
8.4.5.2 Vendor Neutral Archive (VNA)-Italy
8.5 Imaging Informatics-Spain
8.5.1 Imaging Informatics-Spain, By Components
8.5.1.1 Imaging Informatics-Spain-Hardware (Healthcare IT)
8.5.1.2 Imaging Informatics-Spain-Software (Healthcare IT)
8.5.1.3 Imaging Informatics-Spain-Services (Healthcare IT)
8.5.2 Imaging Informatics-Spain, By Deployments
8.5.2.1 Imaging Informatics-Spain-On-premise
8.5.2.2 Imaging Informatics-Spain-Web-based
8.5.2.3 Imaging Informatics-Spain-Cloud-based
8.5.3 Imaging Informatics-Spain, By Endusers
8.5.3.1 Imaging Informatics-Spain-Office based Physicians
8.5.3.2 Imaging Informatics-Spain-Hospitals
8.5.3.3 Imaging Informatics-Spain-Emergency Healthcare Service providers
8.5.3.4 Imaging Informatics-Spain-Nurses
8.5.3.5 Imaging Informatics-Spain-Medical & Diagnostic Laboratories
8.5.4 Imaging Informatics-Spain, By Applications
8.5.4.1 Imaging Informatics-Spain-Computed Radiography (CR)
8.5.4.2 Imaging Informatics-Spain-Computed Tomography
8.5.4.3 Imaging Informatics-Spain-C-ARMs/Fluroscopy
8.5.4.4 Imaging Informatics-Spain-Digital Radiography (DR)
8.5.4.5 Imaging Informatics-Spain-MRI
8.5.4.6 Imaging Informatics-Spain-Nuclear Imaging
8.5.4.7 Imaging Informatics-Spain-Ultrasound
8.5.5 Imaging Informatics-Spain, By Segments
8.5.5.1 Picture Archiving and Communication System (PACS)-Spain
8.5.5.2 Vendor Neutral Archive (VNA)-Spain
8.6 Imaging Informatics-Europe - Europe - Other Geographies
8.6.1 Imaging Informatics-Europe - Europe - Other Geographies, By Components
8.6.1.1 Imaging Informatics-Europe - Europe - Other Geographies-Hardware (Healthcare IT)
8.6.1.2 Imaging Informatics-Europe - Europe - Other Geographies-Software (Healthcare IT)
8.6.1.3 Imaging Informatics-Europe - Europe - Other Geographies-Services (Healthcare IT)
8.6.2 Imaging Informatics-Europe - Europe - Other Geographies, By Deployments
8.6.2.1 Imaging Informatics-Europe - Europe - Other Geographies-On-premise
8.6.2.2 Imaging Informatics-Europe - Europe - Other Geographies-Web-based
8.6.2.3 Imaging Informatics-Europe - Europe - Other Geographies-Cloud-based
8.6.3 Imaging Informatics-Europe - Europe - Other Geographies, By Endusers
8.6.3.1 Imaging Informatics-Europe - Europe - Other Geographies-Office based Physicians
8.6.3.2 Imaging Informatics-Europe - Europe - Other Geographies-Hospitals
8.6.3.3 Imaging Informatics-Europe - Europe - Other Geographies-Emergency Healthcare Service providers
8.6.3.4 Imaging Informatics-Europe - Europe - Other Geographies-Nurses
8.6.3.5 Imaging Informatics-Europe - Europe - Other Geographies-Medical & Diagnostic Laboratories
8.6.4 Imaging Informatics-Europe - Europe - Other Geographies, By Applications
8.6.4.1 Imaging Informatics-Europe - Europe - Other Geographies-Computed Radiography (CR)
8.6.4.2 Imaging Informatics-Europe - Europe - Other Geographies-Computed Tomography
8.6.4.3 Imaging Informatics-Europe - Europe - Other Geographies-C-ARMs/Fluroscopy
8.6.4.4 Imaging Informatics-Europe - Europe - Other Geographies-Digital Radiography (DR)
8.6.4.5 Imaging Informatics-Europe - Europe - Other Geographies-MRI
8.6.4.6 Imaging Informatics-Europe - Europe - Other Geographies-Nuclear Imaging
8.6.4.7 Imaging Informatics-Europe - Europe - Other Geographies-Ultrasound
8.6.5 Imaging Informatics-Europe - Europe - Other Geographies, By Segments
8.6.5.1 Picture Archiving and Communication System (PACS)-Europe - Europe - Other Geographies
8.6.5.2 Vendor Neutral Archive (VNA)-Europe - Europe - Other Geographies
9 Imaging Informatics-Europe, By Companies
9.1 Split By Geography
9.2 Imaging Informatics-Europe-GE Healthcare
9.2.1 Imaging Informatics-Europe-GE Healthcare, By Segments
9.2.1.1 Picture Archiving and Communication System (PACS)-Europe-GE Healthcare
9.2.1.2 Vendor Neutral Archive (VNA)-Europe-GE Healthcare
9.3 Imaging Informatics-Europe-Acuo Technologies
9.3.1 Imaging Informatics-Europe-Acuo Technologies, By Segments
9.3.1.1 Vendor Neutral Archive (VNA)-Europe-Acuo Technologies
9.4 Imaging Informatics-Europe-McKesson Corporation
9.4.1 Imaging Informatics-Europe-McKesson Corporation, By Segments
9.4.1.1 Picture Archiving and Communication System (PACS)-Europe-McKesson Corporation
9.5 Imaging Informatics-Europe-Agfa-Gevaert
9.5.1 Imaging Informatics-Europe-Agfa-Gevaert, By Segments
9.5.1.1 Picture Archiving and Communication System (PACS)-Europe-Agfa-Gevaert
9.5.1.2 Vendor Neutral Archive (VNA)-Europe-Agfa-Gevaert
9.6 Imaging Informatics-Europe-Philips Healthcare
9.6.1 Imaging Informatics-Europe-Philips Healthcare, By Segments
9.6.1.1 Picture Archiving and Communication System (PACS)-Europe-Philips Healthcare
9.7 Imaging Informatics-Europe-Carestream
9.7.1 Imaging Informatics-Europe-Carestream, By Segments
9.7.1.1 Picture Archiving and Communication System (PACS)-Europe-Carestream
9.7.1.2 Vendor Neutral Archive (VNA)-Europe-Carestream
9.8 Imaging Informatics-Europe-Dell
9.8.1 Imaging Informatics-Europe-Dell, By Segments
9.8.1.1 Vendor Neutral Archive (VNA)-Europe-Dell
9.8.1.2 Picture Archiving and Communication System (PACS)-Europe-Dell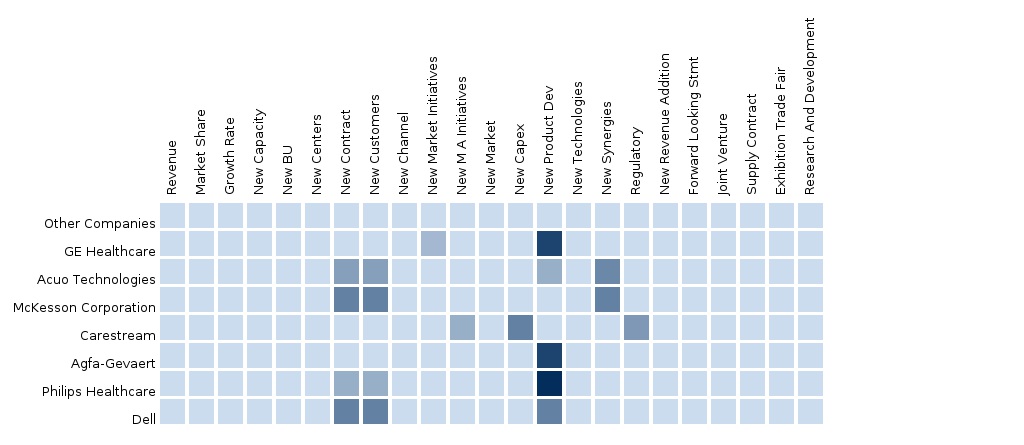 PRODUCT TITLE
PUBLISHED
PRICE
North American Hospital Information Systems


The North American hospital information systems (HIS) market was valued at $10.1 billion in 2013 and is expected to grow at a CAGR of 8.4% from 2014 to 2019. The report on this market analyzes the market on the basis of sub-segments into Electronic Health Record (EHR), Computerized Physician Order Entry System (CPOE), Picture Archiving and Communication System (PACS), Radiology Information System (RIS), Clinical Decision Support System (CDSS), and Cardiovascular Information and Imaging Solutions (CVIS).



17 Feb 2015
$ 3500
European Hospital Information Systems


The European hospital information systems (HIS) market was valued at $3.9 billion in 2013 that is expected to grow at a CAGR of 7.7% from 2014 to 2019. The HIS market report analyzes the market on the basis of sub-segments into Electronic Health Record (EHR), Computerized Physician Order Entry System (CPOE), Picture Archiving and Communication System (PACS), Radiology Information System (RIS), Clinical Decision Support System (CDSS), and Cardiovascular Information and Imaging Solutions (CVIS).



17 Feb 2015
$ 3500
Asian Hospital Information Systems


The Asian hospital information systems (HIS) market was valued at $2.4 billion in 2013 and is expected to grow at a CAGR of 8.6% from 2014 to 2019. The HIS market report analyzes the market on the basis of sub-segments into Electronic Health Record (EHR), Computerized Physician Order Entry System (CPOE), Picture Archiving and Communication System (PACS), Radiology Information System (RIS), Clinical Decision Support System (CDSS), and Cardiovascular Information and Imaging Solutions (CVIS).



17 Feb 2015
$ 3500
Europe Imaging Informatics Market