Asia-Pacific Data Center Networking Market Research Report
The advances in cloud computing market have generated a significant market opportunity for services providers. Many service providers are adopting new and innovative service options to satisfy the customer and enterprise demands. The service providers are facing challenges as a result of the increase in deployment rate of data centers and operational cost control. To cope up with the demand, data center networking offers an entire product portfolio, which includes Ethernet switching, SAN, router, ADC, network security, and WAN optimization appliance.
The Asia-Pacific data center networking market is expected to grow from $2.0 billion in 2013 to $4.9 billion by 2018, at a CAGR of 19.4% from 2013 to 2018. The Asia-Pacific market is driven by the increase in the deployment rate of data centers.
Asia-Pacific is an emerging market for data center networking. It is one of the fastest-growing regions in the overall data center networking market. The local as well as international demand for data centers has not only impacted the local market but has also created an increasing demand in overseas market. India, Japan, and China are emerging out as the fastest-growing countries in the Asia-Pacific region for the data center networking market.
The report analyzes adoption trends, future growth potential, key drivers, restraints, opportunities, and best practices in the data center networking market. The segmentation of the market on the basis of end-user environment includes: enterprises, telecommunication providers, and cloud service providers.
The market has been segmented on the basis of different verticals comprising BFSI, academia and education, healthcare, manufacturing, government and defense, oil & gas, transportation and logistics, media & advertising, and retail. It also covers analysis of the top players in the market, including Cisco, Alcatel-Lucent, Huawei, Juniper, and HP. Furthermore, it examines the growth potential, market sizes, and revenue forecasts across different platforms, solutions, and services.
Report Options:
By Product Types: Ethernet switching, SAN, Router, ADC, Network Security, WAN optimization appliance
By End User Environment: Enterprises, Telecommunication Providers, and Cloud Service Providers.
By Industry Verticals: Banking, Financial Service and Insurance (BFSI), Telecom and Information Technology (IT), Oil and Gas, Healthcare, Government and Public sectors
Customization Options:
Along with the MMM assessment, customize the report to meet your company's specific needs. The following customization options provide a comprehensive summary of the industry standards and deep dive analysis:
Solutions Matrix
A comprehensive analysis and benchmarking of service, solutions, user types, verticals, and regions
Competitive Benchmarking
Value chain evaluation using events, developments, market data for vendors in the market ecosystem, across various industrial verticals, market segmentation and categorization.
To unearth hidden opportunities by connecting related markets using cascaded value chain analysis
Vendor Landscaping
Vendor market watch and predictions, vendor market shares and offerings, categorization of adoption trends and market dominance (leaders, challengers, and followers)
Data Center Networking Impacts
Data center security
Data center architectures
Data center switching infrastructure
WAN optimization
Cloud enablement
Data acquisition, marshaling, and performance
Data Center Networking Market Data Tracker
Regional and country-specific market forecast and analysis
The identification of key end-user segments, by country
Market opportunity plotting and portfolio comparison
Expert Forum
The expert from MicroMarketMonitor offers insights and suggestions for future investment in the market
1 Introduction
1.1 Analyst Insights
1.2 Market Definitions
1.3 Market Segmentation & Aspects Covered
1.4 Research Methodology
2 Executive Summary

3 Market Overview

4 Asia-Pacific Data Center Networking, by Industries
4.1 Banking, Financial Services and Insurance (BFSI)
4.2 Government
4.3 Healthcare and Life Science
4.4 Retail and Wholesale Distribution
4.5 Education
4.6 Media and Entertainment
4.7 IT Business
5 Asia-Pacific Data Center Networking, by Hardware
5.1 Switches
5.2 Router
5.3 Network Security Equipment
5.4 WAN Optimization Appliance
5.5 Application Delivery Controller
5.6 SAN
6 Asia-Pacific Data Center Networking, by End Users
6.1 Service Provider Enterprises
6.2 Telecommunication Service Provider
6.3 Cloud Service Provider
7 Asia-Pacific Data Center Networking, by Companies
7.1 Cisco
7.2 Hewlett-Packard
7.3 Alcatel-Lucent
7.4 Juniper
7.5 Huawei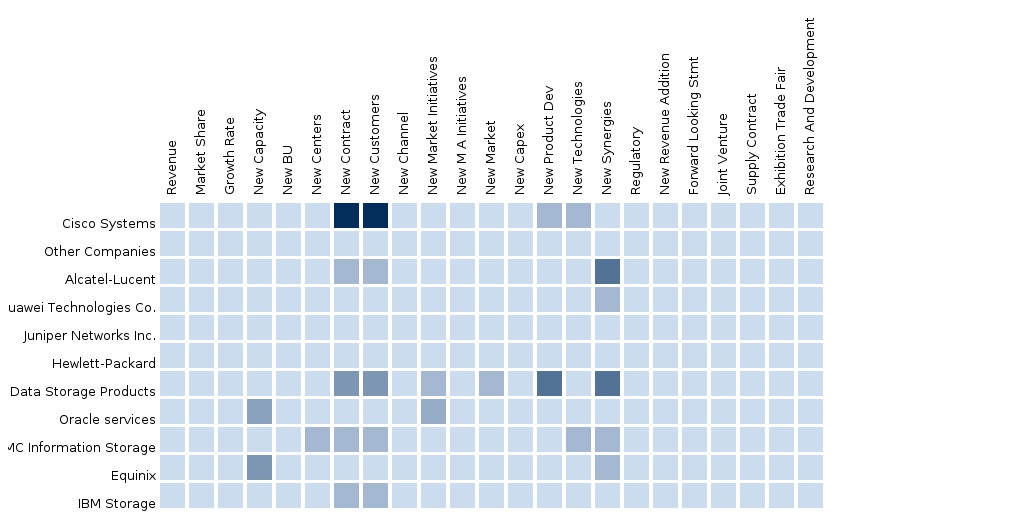 Please fill in the form below to receive a free copy of the Summary of this Report
Custom Market Research Services
We will customize the research for you, in case the report listed above does not meet with your exact requirements. Our custom research will comprehensively cover the business information you require to help you arrive at strategic and profitable business decisions.
Please visit
http://www.micromarketmonitor.com/custom-research-services.html
to specify your custom Research Requirement