The global data center cooling market is projected to grow from $4.91 billion in 2014 to $9.56 billion in 2019, at an expected CAGR of 14.26% from 2014 to 2019.
The number of data center establishments is increasing, resulting in a rise in the investment in setting up cooling infrastructure. Today, with increased technological advancements in data center space, cooling equipment have become more cost friendly and more efficient, even though cooling consumes the maximum amount of cost in any data center premise. There are existing servers, storage and network OEMs, and data center firms that are collaborating on various aspects to bring about innovation in this market. The growth opportunities in this market are immense, with growing amount of data flow across enterprises in the form of big data, increasing heat density in data centers, and increasing storage requirements and cloud-based systems. More than technical innovations, inherent improvements are sought in hardware and network architecture.
MicroMarketMonitor analyzes the adoption trends, future growth potential, key drivers, restraints, opportunities, and best practices in the global data center cooling market. The report covers the deep-dive analysis of the top players in the market including APC, Emerson, STUZ, Hitachi, Mitsubishi Electric, Cisco, Allied Control, Microsoft, NEC, Stellar Energy, and Siemon. The report also examines growth potential, market sizes, and revenue forecasts across different platforms, solutions, and services.
1. Introduction
1.1. Objective of the Study
1.2 Market Segmentation & Coverage
1.3 Stakeholders
2. Research Methodology
2.1. Integrated Ecosystem of the Data center Cooling Market
2.2 Arriving at the Data Center Cooling Market Size
2.2.1 Top-Down Approach
2.2.2 Bottom-Up Approach
2.2.3 Demand Side
2.2.4 Macro Indicator
2.3 Assumptions
3. Executive Summary
4. Market Overview
4.1. Introduction
4.2. Data Center Cooling Market: Comparison With the Parent Market
4.3 Market Drivers and Inhibitors
4.4 Key Market Dynamics
4.5 Demand Side Analysis
4.6 Vendor Side Analysis
5. Data Center Cooling: Market Size and Forecast By Solutions
5.1. Air Conditioning Solutions
5.2. Chillers
5.3. Economizers
5.4. Cooling Towers
5.5. Server/Rack Cooling
5.6. Management Systems
5.7. Others

6. Data Center Cooling: Market Size and Forecast By Services
6.1. System Integration
6.2. Monitoring Services
6.3. Professional Services
7. Data Center Cooling: Market Size and Forecast By Verticals
7.1. Banking, Financial Services and Insurance
7.2. Telecom and IT
7.3. Oil and Gas
7.4. Healthcare
7.5. Government and Public
7.6. Others
8. Data Center Cooling: Market Size and Forecast By User Types
8.1. Cloud Providers
8.2. Colocation Providers
8.3. Enterprises
9. Data Center Cooling: Market Size and Forecast By Regions
9.1. North America
9.2. Europe
9.3. Latin America
9.4. Middle East and Africa
9.5. Asia-Pacific
10. Data Center Cooling: Market Land scape
10.1. Competitive Land scape
10.2. Company Presence In Data center Market, By Type
10.3. Mergers & Acquisitions Joint Ventures
11. Data Center Cooling Market: Company Profiles (Overview, Products & Services, Financials, Key Developments and MMM Analysis)
11.1. American Power Conversion Corporation
11.2. Coolcentric
11.3. Emerson Network Power
11.4. Fujitsu
11.5. Hitachi
11.6. HP
11.7. IBM
11.8. Intel
11.9. Rittal
11.10. To be researched
11.11. To be researched
11.12. To be researched
11.13. To be researched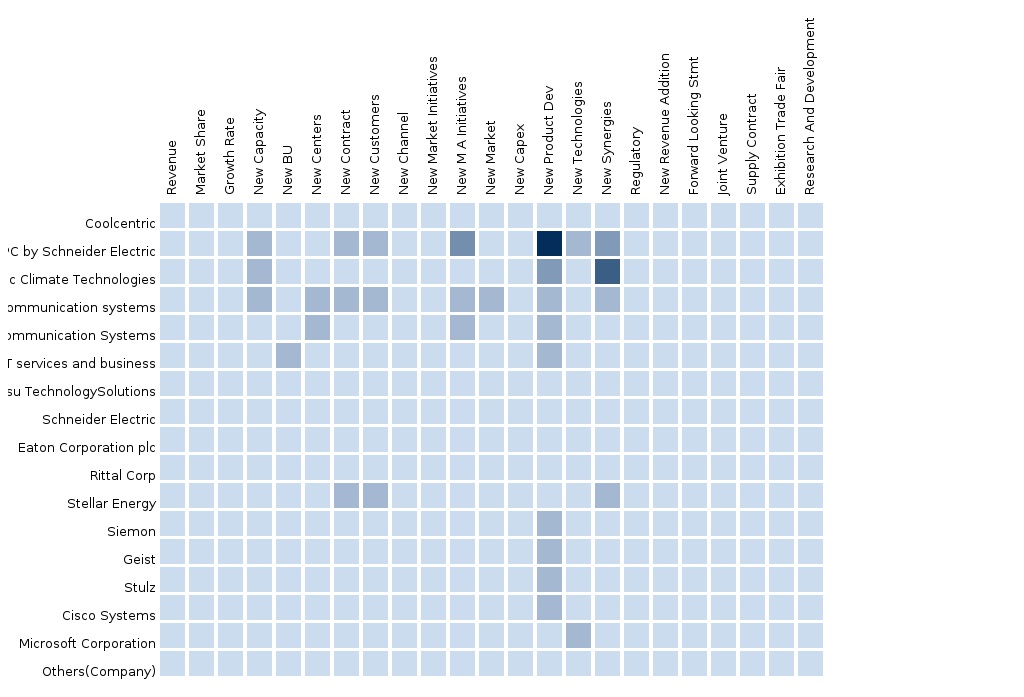 Please fill in the form below to receive a free copy of the Summary of this Report
Custom Market Research Services
We will customize the research for you, in case the report listed above does not meet with your exact requirements. Our custom research will comprehensively cover the business information you require to help you arrive at strategic and profitable business decisions.
Please visit
http://www.micromarketmonitor.com/custom-research-services.html
to specify your custom Research Requirement
PRODUCT TITLE
PUBLISHED
Cloud Providers


Cloud Providers and Colocation Providers and Enterprise...



Upcoming
Colocation Providers


Colocation Providers and Cloud Providers and Enterprise Data...



Upcoming
Enterprise Data center


Enterprise Data center and Cloud Providers and Colocation...



Upcoming
DC Cooling Solutions


DC Cooling Solutions and DC Cooling Services adds up to total



Upcoming
DC Cooling Services


DC Cooling Services and DC Cooling Solutions adds up to total



Upcoming
Latin America Data Center Cooling (ICT)


Data Center Cooling (ICT)-Latin America and Chillers (ICT), Air Conditioning Solutions (ICT), Cooling Towers (ICT), Economizer (ICT), Cooling Management Systems (ICT), Server/Rack Cooling (ICT) and Other ICT Solutions adds up to total Data Center Cooling (ICT) market....



Upcoming
Middle East and Africa Data Center Cooling (ICT)


Data Center Cooling (ICT)-Middle East and Africa and Chillers (ICT), Air Conditioning Solutions (ICT), Cooling Towers (ICT), Economizer (ICT), Cooling Management Systems (ICT), Server/Rack Cooling (ICT) and Other ICT Solutions adds up to total Data Center Cooling (ICT)...



Upcoming
Asia-Pacific Data Center Cooling (ICT)


Data Center Cooling (ICT)-Asia-Pacific and Chillers (ICT), Air Conditioning Solutions (ICT), Cooling Towers (ICT), Economizer (ICT), Cooling Management Systems (ICT), Server/Rack Cooling (ICT) and Other ICT Solutions adds up to total Data Center Cooling (ICT) market....



Upcoming
Europe Data Center Cooling (ICT)


Data Center Cooling (ICT)-Europe and Chillers (ICT), Air Conditioning Solutions (ICT), Cooling Towers (ICT), Economizer (ICT), Cooling Management Systems (ICT), Server/Rack Cooling (ICT) and Other ICT Solutions adds up to total Data Center Cooling (ICT) market. ...



Upcoming
North America Data Center Cooling (ICT)


North America Data Center Cooling market is projected to grow from $2.05 billion in 2013 to $2.91 billion in 2019, at a CAGR of 5.8% between 2014 and 2019. The market is primarily driven by the increasing demand for data centers and the need for reducing data center infrastructure cost.



Upcoming
Rest of World Data Center Cooling (ICT)


Data Center Cooling (ICT)-Rest of World and Chillers (ICT), Air Conditioning Solutions (ICT), Cooling Towers (ICT), Economizer (ICT), Cooling Management Systems (ICT), Server/Rack Cooling (ICT) and Other ICT Solutions adds up to total Data Center Cooling (ICT) market....



Upcoming
Japan Data Center Cooling (ICT)


Data Center Cooling (ICT)-Japan and Chillers (ICT), Air...



Upcoming
India Data Center Cooling (ICT)


Data Center Cooling (ICT)-India and Chillers (ICT), Air...



Upcoming
13 of 13 items
13 reports | Show
Data Center Cooling (ICT)