The zonal isolation is done to prevent the cross flow of the fluids between two or more geological layers. This is also done to reduce the water cut in the production because when the reservoir gets mature, there is a high probability of increased water cut from the pay zone. So to decrease this loss of water being produced instead of hydrocarbon, zonal isolation is done. Zonal isolation is primarily done in the wells which are already producing for a long time.
Zonal isolation is defined as the exclusion of fluids such as water or gas in one zone from mixing with oil in another zone. Successful isolation involves the creation of a hydraulic barrier between the casing and the cement and between the cement and the formation.
Zonal Isolation prevents flow of fluids to surface or between distinct permeable zones, it provides integrity to operate the well safely and permit safe abandonment of the well. It prevents fluid loss in multi-zone wells and thereby enhances safety, protection against formation damage, reduces the need for costly work-over, and protects reservoir integrity and productivity.
It can be used for applications such as,
Open hole fracturing

Unconventional fracturing

Cement replacement and protection

Annular barrier for inflow control devices

Side track window sealing

Annular barrier for sand screens
The report analyzes the zonal isolation market by application and geography. Market share analysis, by revenue, of the top companies is also included in the report. The market share analysis of these key players is arrived at, based on key facts, annual financial information, and interviews with key opinion leaders such as CEOs, Directors, and marketing executives.
1 Introduction
1.1 Objective of the study
1.2 Market Definitions
1.3 Market Segmentation & Aspects Covered
1.4 Research Methodology
1.4.1 Assumptions (Market Size, Forecast, etc)
2 Executive Summary
3 Market Overview
4 Zonal Isolation, By Applications
4.1 Split By Geography
4.1.1 North America by Applications
4.1.2 Europe by Applications
4.1.3 South & Central America by Applications
4.1.4 Asia-Pacific by Applications
4.1.5 Africa by Applications
4.1.6 Middle East by Applications
4.2 Offshore
4.3 Onshore
5 Zonal Isolation, By Geographies
5.1 North America
5.2 Europe
5.3 South & Central America
5.4 Asia-Pacific
5.5 Africa
5.6 Middle East
6 Zonal Isolation, By Companies
6.1 Split By Geography
6.2 North America by Companies
6.1 Europe by Companies
6.1 South & Central America by Companies
6.1 Asia-Pacific by Companies
6.1 Africa by Companies
6.1 Middle East by Companies
6.2 Other Companies
6.3 Schlumberger Oilfield Services Reservoir Production
6.4 Halliburton Completion and Production
6.5 Weatherford Completion and Production
6.6 Superior Energy Services, INC.
6.7 Trican Well Services
6.8 Aker Field-Life solutions
6.9 Archer Limited well services
6.10 Baker Hughes Completion and Production
6.11 Nabors Completion & Production Services
6.12 Basic Energy Services Well servicing
6.13 Helix Energy Contracting Services
6.14 Key Energy Services Well servicing
6.15 FMC Subsea & Surface Technologies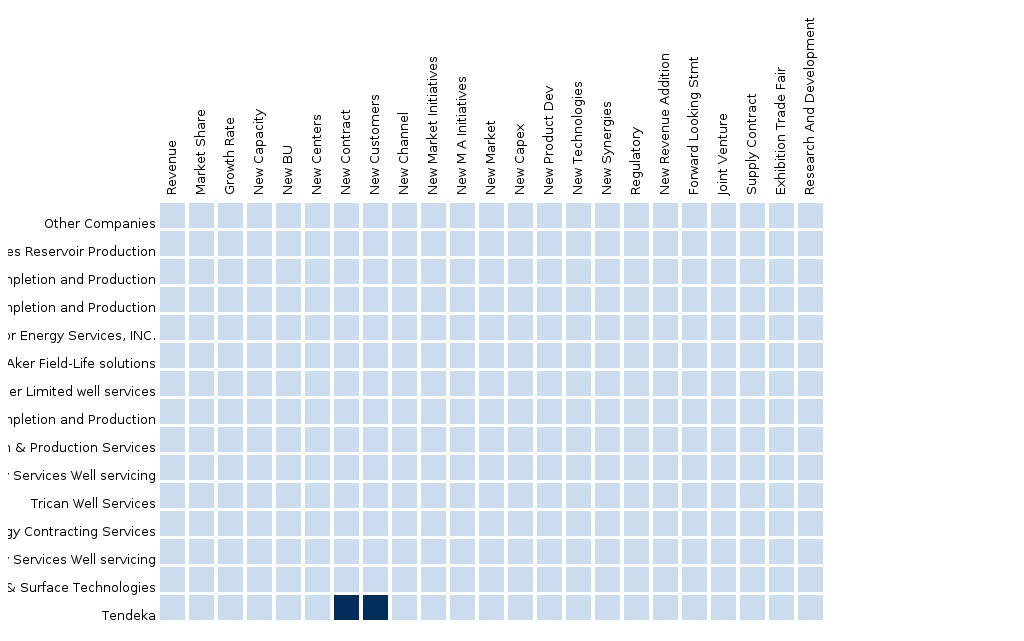 Please fill in the form below to receive a free copy of the Summary of this Report
Custom Market Research Services
We will customize the research for you, in case the report listed above does not meet with your exact requirements. Our custom research will comprehensively cover the business information you require to help you arrive at strategic and profitable business decisions.
Please visit
http://www.micromarketmonitor.com/custom-research-services.html
to specify your custom Research Requirement