Sand control intervention services are done in the region with high sand cut, as when the formation is loosely packed, there are higher chances of sand intrusion in the well from the producing zone. This creates problem with the production. Hence, the remedial intervention is done either by placing sand screens or by gravel packing near the perforation.
Sand control prevents the migration of reservoir sand and fines into a wellbore, stabilizes the reservoir, and enhances productivity. Sand control is a technique which is used during extraction of petroleum deposits to prevent sand from interfering with the extraction. Sand control can also include measures such as gravel packing which are intended to solidify sand deposits to keep them stable along with valves and flushing systems used to keep sand away from the well bore. Increased stability also means that the well bore is less likely to collapse. Sand control systems come in various technologies to meet different needs and environments.
Sand control can help in following ways:
Ensure the integrity of the production system and minimize facility downtime resulting from equipment failures (e.g. artificial lift).

Avoid sand failure which may lead to formation impairment, downhole communication, buckling or collapse of production casing with the possible loss of the well
Sand control begins with an in-depth analysis of the reservoir and well conditions to help design and select the optimum fluid systems and downhole equipment for every well. Sand control refers to managing and hence minimizing sand and fine production during petroleum production. Sand and fine produced during oil and gas production can cause erosion and wear of production facilities or equipments, resulting in production downtime, expensive repairs and safety risk.
The report analyzes the sand control market by method, application and geography. Market share analysis, by revenue, of the top companies is also included in the report. The market share analysis of these key players is arrived at, based on key facts, annual financial information, and interviews with key opinion leaders such as CEOs, Directors, and marketing executives.
In order to present an in-depth understanding of the competitive landscape, the report on sand control consists of company profiles of some major participants in the market, which combines technology providers such as Baker Hughes (U.S.), Schlumberger (U.S.), Halliburton (U.S.), Weatherford International Ltd (Switzerland), National Oilwell Varco (U.S.) and others.
1 Introduction
1.1 Objective of the study
1.2 Market Definitions
1.3 Market Segmentation & Aspects Covered
1.4 Research Methodology
1.4.1 Assumptions (Market Size, Forecast, etc)
2 Executive Summary
3 Market Overview
4 Sand Control, By Applications
4.1 Split By Geography
4.1 North America by Applications
4.1 Europe by Applications
4.1 South & Central America by Applications
4.1 Asia-Pacific by Applications
4.1 Africa by Applications
4.1 Middle East by Applications
4.2 Offshore
4.3 Onshore
5 Sand Control, By Geographies
5.1 North America
5.2 Europe
5.3 South & Central America
5.4 Asia-Pacific
5.5 Africa
5.6 Middle East
6 Sand Control, By Companies
6.1 Split By Geography
6.2 North America by Companies
6.1 Europe by Companies
6.1 South & Central America by Companies
6.1 Asia-Pacific by Companies
6.1 Africa by Companies
6.1 Middle East by Companies
6.2 Other Companies
6.3 Schlumberger Oilfield Services Reservoir Production
6.4 Halliburton Completion and Production
6.5 Weatherford Completion and Production
6.6 Superior Energy Services, INC.
6.7 Trican Well Services
6.8 Aker Field-Life solutions
6.9 Archer Limited well services
6.10 Baker Hughes Completion and Production
6.11 Nabors Completion & Production Services
6.12 Basic Energy Services Well servicing
6.13 Helix Energy Contracting Services
6.14 Key Energy Services Well servicing
6.15 FMC Subsea & Surface Technologies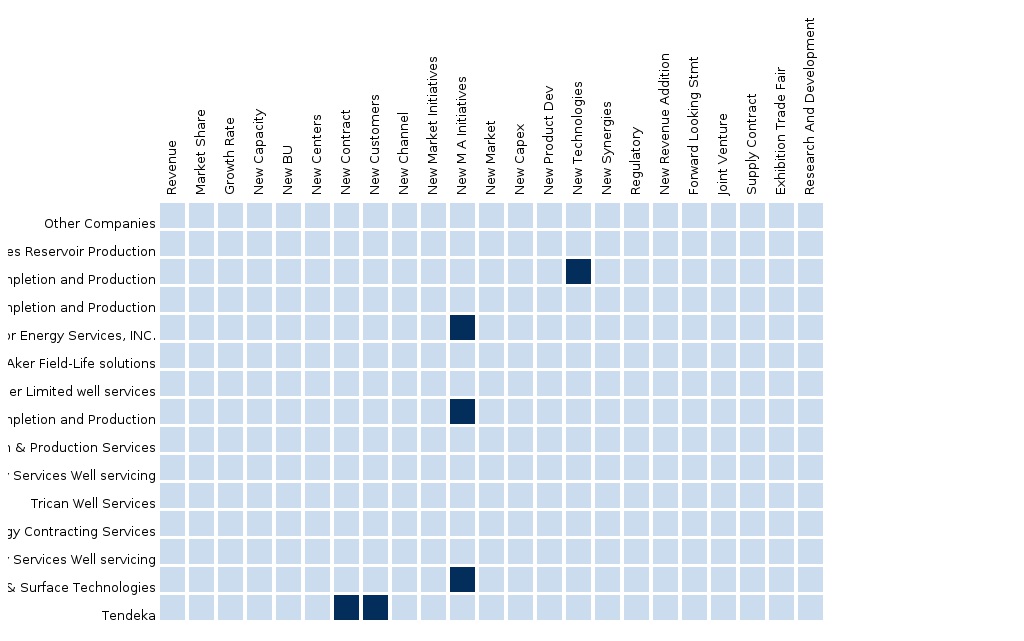 Please fill in the form below to receive a free copy of the Summary of this Report
Custom Market Research Services
We will customize the research for you, in case the report listed above does not meet with your exact requirements. Our custom research will comprehensively cover the business information you require to help you arrive at strategic and profitable business decisions.
Please visit
http://www.micromarketmonitor.com/custom-research-services.html
to specify your custom Research Requirement