Remedial cementing operations are done to repair the primary cementing problems and also to treat conditions arising after wellbore cementing has been done. Remedial cementing is done either by doing squeeze cementing or by placing cement plugs to repair the cement related problems. This problem is common in new wells when the cement is not properly placed during development or when poor cementing is done. This problem is highest in the newly developed areas as the cementing is primarily done while drilling the well.
Remedial cementing, sometimes referred to as squeeze cementing, is the process of using pump pressure to inject or squeeze cement into a challenging void space at a desired location in the well. The operations may be performed at any time during the life of the well such as drilling, completions or producing phases. Depending on the remediation need, cementing can be performed above or below the rupture gradient of the exposed formation (high pressure squeeze and low pressure squeeze, respectively).
Remedial cementing is commonly used to:
Discarding a non-productive or depleted zone or the entire well

Remedy a deficient primary cement job such as incomplete coverage of cement

Seal lost-circulation zones

Repair casing leaks

Change the water/oil or gas by shutting off the breached zone

Modify injection profiles
Remedial cementing is an operation undertaken to remedy a problem and presents the challenge of placing the proper amount of cement in the targeted location. The increasing trend in the remedial cementing market is set to continue further with the current surge in offshore and onshore activities and unconventional resources exploratory activities.
The report analyzes the Remedial cementing market by technology, application and geography. Market share analysis, by revenue, of the top companies is also included in the report. The market share analysis of these key players is arrived at, based on key facts, annual financial information, and interviews with key opinion leaders such as CEOs, Directors, and marketing executives.
In order to present an in-depth understanding of the competitive landscape, the report on remedial cementing consists of company profiles of some major participants in the market, which combines technology providers such as Baker Hughes (U.S.), Schlumberger (U.S.), Halliburton (U.S.), Weatherford International Ltd (Switzerland) and others.
1 Introduction
1.1 Objective of the study
1.2 Market Definitions
1.3 Market Segmentation & Aspects Covered
1.4 Research Methodology
1.4.1 Assumptions (Market Size, Forecast, etc)
2 Executive Summary
3 Market Overview
4 Remedial Cementing, By Applications
4.1 Split By Geography
4.1 North America by Applications
4.1 Europe by Applications
4.1 South & Central America by Applications
4.1Asia-Pacific by Applications
4.1 Africa by Applications
4.1 Middle East by Applications
4.2 Remedial Cementing-Offshore
4.3 Remedial Cementing-Onshore
5 Remedial Cementing, By Geographies
5.1 North America
5.2 Europe
5.3 South & Central America
5.4 Asia-Pacific
5.5 Africa
5.6 Middle East
6 Remedial Cementing, By Companies
6.1 Split By Geography
6.2 North America by Companies
6.1 Europe by Companies
6.1 South & Central America by Companies
6.1 Asia-Pacific by Companies
6.1 Africa by Companies
6.1 Middle East by Companies
6.2 Other Companies
6.3 Schlumberger Oilfield Services Reservoir Production
6.4 Halliburton Completion and Production
6.5 Weatherford Completion and Production
6.6 Superior Energy Services, INC.
6.7 Trican Well Services
6.8 Aker Field-Life solutions
6.9 Archer Limited well services
6.10 Baker Hughes Completion and Production
6.11 Nabors Completion & Production Services
6.12 Basic Energy Services Well servicing
6.13 Helix Energy Contracting Services
6.14 Key Energy Services Well servicing
6.15 FMC Subsea & Surface Technologies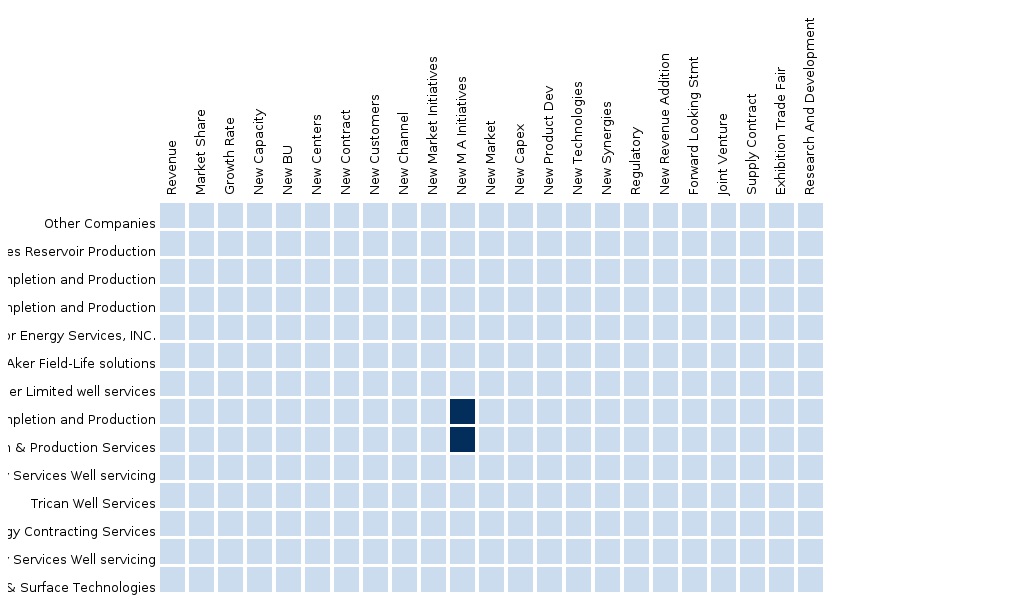 Please fill in the form below to receive a free copy of the Summary of this Report
Custom Market Research Services
We will customize the research for you, in case the report listed above does not meet with your exact requirements. Our custom research will comprehensively cover the business information you require to help you arrive at strategic and profitable business decisions.
Please visit
http://www.micromarketmonitor.com/custom-research-services.html
to specify your custom Research Requirement