Global Revenue Cycle Management System (RCM) Market
Description
Table of Contents
Customer Intelligence
Revenue cycle management (RCM) is the process that manages claims processing, payment, and revenue generation. It mainly emphasizes the use of technology to keep a regular track of claim processes, so that healthcare providers can easily execute the billing process and address issues that might arise, thereby allowing a steady stream of revenue.
Revenue cycle management system accounted for the largest share - 36% - of the overall non-clinical informatics system market. The market is expected to witness growth at a CAGR of 6.8% from 2014 to 2019.
The healthcare industry has undergone rapid transformation over the years. Numerous initiatives such as ICD-10 (International Statistical Classification of Diseases and Related Health Problems), which will increase the number of codes from 18,000 to 64,000, clinical documentation education, reducing reimbursement, market changes, and the rising trend towards single payer system are being implemented simultaneously. This dynamic scenario is pressuring hospitals to generate higher revenue, and have a faster revenue cycle to undergo effective implementation of all these initiatives.
Decline in Medicare, Medicaid, and commercial reimbursements rates in the U.S. are compelling hospitals to increase organizational efficiencies and automate processes in order to achieve a streamlined revenue generation system. The increasing drive to purchase, implement, upgrade, and adapt clinical software and integrated system, has led to escalation of hospital budgets. Therefore, considering the healthcare expenditure, revenue cycle function has become a critical aspect for reducing expenses and implementing cost-effective measures in hospitals.
The global revenue cycle management system analyzes the market on the basis of geography, deployment, component, and end-user. Asia is considered to be the fastest growing market for RCM system, and it is expected to grow at a CAGR of 7.2% from 2014 to 2019. North America commands the largest market share of 59%, followed by Europe.
1 Introduction
1.1 Objective of the Study
1.2 Market Segmentation & Coverage
1.3 Stakeholders
2 Research Methodology
2.1 Integrated Ecosystem of Revenue Cycle Management System Market
2.2 Arriving At the Revenue Cycle Management System Market Size
2.2.1 Top-Down Approach
2.2.2 Bottom-Up Approach
2.2.3 Demand Side Approach
2.2.4 Macro Indicator-Based Approach
2.3 Assumptions
3 Executive Summary
4 Market Overview
4.1 Introduction
4.2 Revenue Cycle Management System Market: Comparison with Parent Market
4.3 Market Drivers and Inhibitors
4.4 Key Market Dynamics
4.5 Demand Side Analysis
4.6 Vendor Side Analysis
5 Revenue Cycle Management System Market, By Product
5.1 Research Methodology
5.2 Introduction
5.3 Revenue Cycle Management System Market, Type Comparison with Non-Clinical Information Systems Market
5.4 Integrated RCM System Market, By Geography
5.5 Standalone RCM System Market, By Geography
5.6 Sneak View: Non-Clinical Information Systems Market, By Product
6 Revenue Cycle Management System Market, By Deployment
6.1 Research Methodology
6.2 Introduction
6.3 Revenue Cycle Management System Market, Type Comparison with Non-Clinical Information Systems Market
6.4 Web-based Market, By Geography
6.5 On-premise Market, By Geography
6.6 Cloud-based Market, By Geography
6.7 Sneak View: Non-Clinical Information Systems Market, By Deployment
7 Revenue Cycle Management System Market, By Component
7.1 Research Methodology
7.2 Introduction
7.3 Revenue Cycle Management System Market, Type Comparison with Non-Clinical Information Systems Market
7.4 Services (Healthcare IT) Market, By Geography
7.5 Software (Healthcare IT) Market, By Geography
7.6 Hardware (Healthcare IT) Market, By Geography
7.7 Sneak View: Non-Clinical Information Systems Market, By Component
8 Revenue Cycle Management System Market, By End-User
8.1 Research Methodology
8.2 Introduction
8.3 Demand Side Analysis
8.4 Vendor Side Analysis
8.5 Revenue Cycle Management System in Hospitals, By Geography
8.6 Revenue Cycle Management System in Office based Physicians, By Geography
8.7 Revenue Cycle Management System in Medical & Diagnostic Laboratories, By Geography
8.8 Revenue Cycle Management System in Ambulatory care solutions, By Geography
8.9 Revenue Cycle Management System in Other End-users, By Geography
8.10 Sneak View: Non-Clinical Information Systems Market, By End-user
9 Revenue Cycle Management System Market, By Geography
9.1 Research Methodology
9.2 Introduction
9.3 Vendor Side Analysis
9.4 North America Revenue Cycle Management System Market
9.4.1 North America Revenue Cycle Management System Market, By Application
9.4.2 North America Revenue Cycle Management System Market, By Type
9.4.3 U.S. Revenue Cycle Management System Market
9.4.3.1 U.S. Revenue Cycle Management System Market, By Application
9.4.3.2 U.S. Revenue Cycle Management System Market, By Type
9.4.4 Canada Revenue Cycle Management System Market
9.4.4.1 Canada Revenue Cycle Management System Market, By Application
9.4.4.2 Canada Revenue Cycle Management System Market, By Type
9.4.5 Mexico Revenue Cycle Management System Market
9.4.5.1 Mexico Revenue Cycle Management System Market, By Application
9.4.5.2 Mexico Revenue Cycle Management System Market, By Type
9.5 Revenue Cycle Management System Market
9.5.1 Revenue Cycle Management System Market, By Application
9.5.2 Revenue Cycle Management System Market, By Type
9.5.3 Europe - Other Geographies Revenue Cycle Management System Market
9.5.3.1 Europe - Other Geographies Revenue Cycle Management System Market, By Application
9.5.3.2 Europe - Other Geographies Revenue Cycle Management System Market, By Type
9.5.4 Germany Revenue Cycle Management System Market
9.5.4.1 Germany Revenue Cycle Management System Market, By Application
9.5.4.2 Germany Revenue Cycle Management System Market, By Type
9.5.5 France Revenue Cycle Management System Market
9.5.5.1 France Revenue Cycle Management System Market, By Application
9.5.5.2 France Revenue Cycle Management System Market, By Type
9.5.6 Italy Revenue Cycle Management System Market
9.5.6.1 Italy Revenue Cycle Management System Market, By Application
9.5.6.2 Italy Revenue Cycle Management System Market, By Type
9.5.7 Spain Revenue Cycle Management System Market
9.5.7.1 Spain Revenue Cycle Management System Market, By Application
9.5.7.2 Spain Revenue Cycle Management System Market, By Type
9.5.8 United Kingdom Revenue Cycle Management System Market
9.5.8.1 United Kingdom Revenue Cycle Management System Market, By Application
9.5.8.2 United Kingdom Revenue Cycle Management System Market, By Type
9.6 Asia Revenue Cycle Management System Market
9.6.1 Asia Revenue Cycle Management System Market, By Application
9.6.2 Asia Revenue Cycle Management System Market, By Type
9.6.3 Asia - Japan Revenue Cycle Management System Market
9.6.3.1 Asia - Japan Revenue Cycle Management System Market, By Application
9.6.3.2 Asia - Japan Revenue Cycle Management System Market, By Type
9.6.4 China Revenue Cycle Management System Market
9.6.4.1 China Revenue Cycle Management System Market, By Application
9.6.4.2 China Revenue Cycle Management System Market, By Type
9.6.5 India Revenue Cycle Management System Market
9.6.5.1 India Revenue Cycle Management System Market, By Application
9.6.5.2 India Revenue Cycle Management System Market, By Type
9.6.6 Asia - Other Geographies Revenue Cycle Management System Market
9.6.6.1 Asia - Other Geographies Revenue Cycle Management System Market, By Application
9.6.6.2 Asia - Other Geographies Revenue Cycle Management System Market, By Type
9.7 Rest of World Revenue Cycle Management System Market
9.7.1 Rest of World Revenue Cycle Management System Market, By Application
9.7.2 Rest of World Revenue Cycle Management System Market, By Type
9.8 Sneak View: Non-Clinical Information Systems Market, By Geography
10 Competitive Landscape
10.1 Revenue Cycle Management System Market Concentration Analysis
10.2 Company Presence in Revenue Cycle Management System Market, By Type
10.3 Mergers & Acquisitions
10.4 Other Expansions
10.5 New Synergies
11 Revenue Cycle Management System Market, By Company
11.1 McKesson Corporation
11.1.1 Overview
11.1.2 Key Financials
11.1.3 Product and Service Offerings
11.1.4 Related Developments
11.1.5 MMM Analysis
11.2 Cerner Corporation
11.2.1 Overview
11.2.2 Key Financials
11.2.3 Product and Service Offerings
11.2.4 Related Developments
11.2.5 MMM Analysis
11.3 General Electric Company
11.3.1 Overview
11.3.2 Key Financials
11.3.3 Product and Service Offerings
11.3.4 Related Developments
11.3.5 MMM Analysis
11.4 Allscripts
11.4.1 Overview
11.4.2 Key Financials
11.4.3 Product and Service Offerings
11.4.4 Related Developments
11.4.5 MMM Analysis
11.5 Quest Diagnostics
11.5.1 Overview
11.5.2 Key Financials
11.5.3 Product and Service Offerings
11.5.4 Related Developments
11.5.5 MMM Analysis
11.6 CareCloud Corporation
11.6.1 Overview
11.6.2 Key Financials
11.6.3 Product and Service Offerings
11.6.4 Related Developments
11.6.5 MMM Analysis
11.7 Kareo
11.7.1 Overview
11.7.2 Key Financials
11.7.3 Product and Service Offerings
11.7.4 Related Developments
11.7.5 MMM Analysis
11.8 eClinicalWorks
11.8.1 Overview
11.8.2 Key Financials
11.8.3 Product and Service Offerings
11.8.4 Related Developments
11.8.5 MMM Analysis
11.9 SSI Group, Inc.
11.9.1 Overview
11.9.2 Key Financials
11.9.3 Product and Service Offerings
11.9.4 Related Developments
11.9.5 MMM Analysis
11.10 Athenahealth
11.10.1 Overview
11.10.2 Key Financials
11.10.3 Product and Service Offerings
11.10.4 Related Developments
11.10.5 MMM Analysis
12 APPENDIX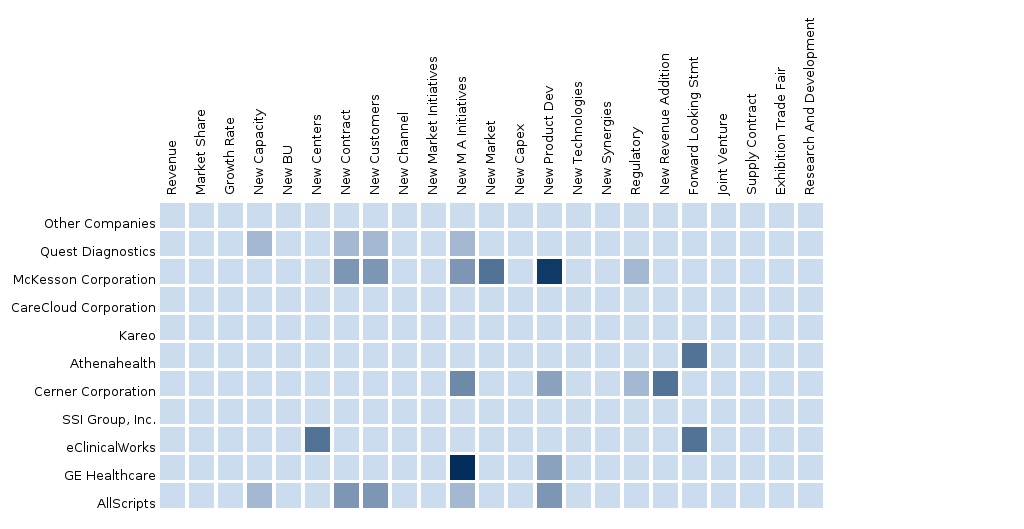 PRODUCT TITLE
PUBLISHED
PRICE
North American Revenue Cycle Management System (RCM)


The North American Revenue Cycle Management System market is a comprehensive study that highlights the market trends and forecasts. It also includes the performances of various companies that operate in this market. Expert insights have been included in every section after thorough research.



17 Feb 2015
$ 3500
European Revenue Cycle Management System (RCM)


The European Revenue Cycle Management (RCM) System market is the second-largest RCM market, which is evident from its projected CAGR of 6.3% between 2014 and 2019. The presence of several companies and their subsidiaries also makes it a progressive market.



17 Feb 2015
$ 3500
Asian Revenue Cycle Management System (RCM)


The Asia Revenue Cycle Management System market is spread across different countries in this region. This widespread market is witnessing growth with the presence and operations of several companies. The report defines the market and analyzes the current and future trends as well as the competitive scenario.



17 Feb 2015
$ 3500
3 of 3 items
3 reports | Show
Non-Clinical Information Systems