Asian Revenue Cycle Management System (RCM) Market
The Asia Revenue Cycle Management (RCM) Systems market report defines and analyzes the market on various parameters that include growth factors, sales figures, country-wise market performance, company-wise market performance, and several others.
Revenue cycle management (RCM) refers to the billing, revenue, and claims management function of a healthcare unit. Thus, an RCM system can be identified as a system/application that is used for these operations. This system, like many other advanced and sophisticated systems and applications, helps streamline the workflow, reduces redundancies, and the amount of time consumed.
RCM systems are an integral part of a healthcare facility. Healthcare service is a critical and time-sensitive market. Although suitable documentation and other administrative functions are equally important, the main focus of the facility is to deliver timely patient care and ensure that throughout the course of treatment, a patient has to face minimum hassles. These systems make it easy for the staff to capture patient details, insurance details, and other information, and process the same in a timely and accurate manner.
While the systems ensure that minimum possible time is spent on the administrative functions, they also help eliminate instances of fraudulent claims as well as loss of revenues. An RCM system stores the information sought by the administrative staff and other departments to generate various reports. Thus, a centralized database is maintained with the help of an RCM system, which is accessible by different departments and staff as and when required.
The revenue cycle management system market in this region is divided into several segments based on the system type, such as web scheduling, integrated RCM system, standalone RCM system, web pre-registration, medical necessity alert at registration, medical necessity alert at scheduling, claims attachment rules, claims denial rules, biller's dashboard, EMR documentation for claims, claims remittance updates AR, direct payer claims, EFT transaction, eligibility transaction with payer, web bill pay, and revenue cycle management system, along with other applications.
This market is served by several companies and their subsidiaries. Some of the notable companies of this market include McKesson Corporation, Athenahealth, Allscripts, SSI Group, Inc., CareCloud Corporation, Kareo, eClinicalWorks, Cerner Corporation, Quest Diagnostics, and other companies.
Deployments of the market are on-premise systems, cloud-based systems, and web-based systems. Components of the market are hardware-healthcare IT, software-healthcare IT, and services-healthcare IT. The end-users of the market include hospitals, office-based physicians, ambulatory care solutions, and medical & diagnostic laboratories. A macro indicator of this market is the healthcare expenditure.
This report offers premium insights into the market, emphasizing on the growth trends and companies that lead the market. The report covers the products and services that are currently being offered in the market, along with the ones that the companies are currently developing or renovating.
1 Introduction
1.1 Introduce the Market
1.2 Objective of the study
1.3 Market Definition and Scope of the study
1.3.1 Market Definition
1.3.2 Areas covered
1.3.3 Markets Covered
1.4 Stakeholders
1.5 Research Methodology
1.5.1 Secondary sources
1.5.2 Primary Sources
1.5.3 Market estimation methodology (Top-down, bottom-up, data triangulation.)
1.5.4 Macro indicators for the study
1.6 Assumptions
1.7 List of Acronyms
2 Market Overview
3 Revenue Cycle Management System (RCM)-Asia, By Deployments
3.1 Revenue Cycle Management System (RCM)-Web-based-Asia
3.2 Revenue Cycle Management System (RCM)-On-premise-Asia
3.3 Revenue Cycle Management System (RCM)-Cloud-based-Asia
4 Revenue Cycle Management System (RCM)-Asia, By Components
4.1 Revenue Cycle Management System (RCM)-Hardware (Healthcare IT)-Asia
4.2 Revenue Cycle Management System (RCM)-Services (Healthcare IT)-Asia
4.3 Revenue Cycle Management System (RCM)-Software (Healthcare IT)-Asia
5 Revenue Cycle Management System (RCM)-Asia, By Products
5.1 Standalone RCM System-Asia
5.2 Integrated RCM System-Asia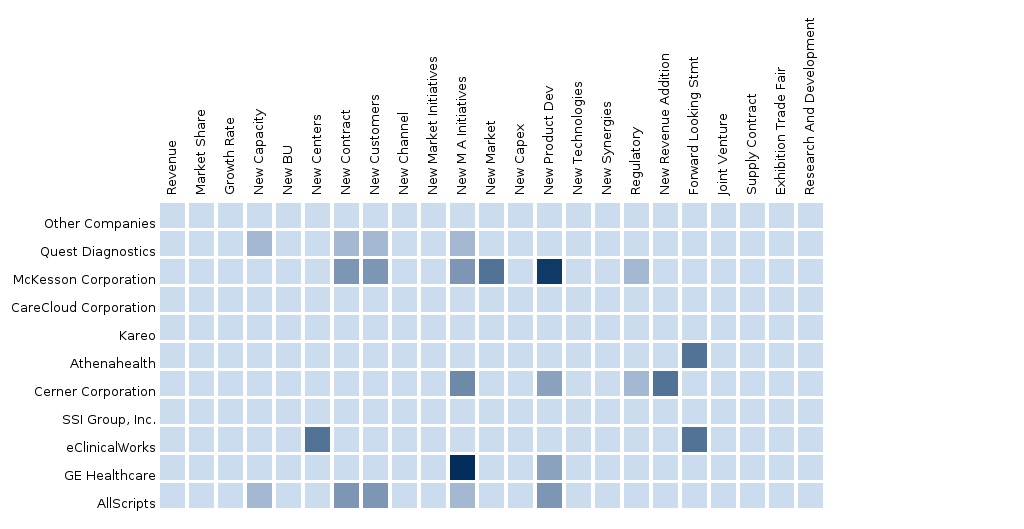 Please fill in the form below to receive a free copy of the Summary of this Report
Custom Market Research Services
We will customize the research for you, in case the report listed above does not meet with your exact requirements. Our custom research will comprehensively cover the business information you require to help you arrive at strategic and profitable business decisions.
Please visit
http://www.micromarketmonitor.com/custom-research-services.html
to specify your custom Research Requirement
PRODUCT TITLE
PUBLISHED
PRICE
North American Non-Clinical Information System Market


North America is the largest market for non-clinical information systems globally, and is expected to grow at a CAGR of 8.1% from 2013 to 2018, to reach a value of $8,905.5 million in 2018. This market is segmented into sub-segments, components, deployments, end users, applications, and geographies.



02 May 2015
$ 2650
European Non-Clinical Information Systems Market


The European non-clinical information systems (NCIS) market has been segmented by types, deployment, components, end users, applications, and geographies. Globally, this is the second-largest NCIS market, and is expected to grow at a CAGR of 6.3% from 2014 to 2019.



02 May 2015
$ 2650
Asian Non-Clinical Information Systems Market


Asia is the fastest-growing market for non-clinical information systems, and was valued at $1,336.4 million in 2013. It is expected to grow at a CAGR of 7.2%, from 2013 to 2018, to reach a value of $1,892.2 million in 2018. This market can be segmented by companies, deployments, components, end users, and macro indicators.



02 May 2015
$ 2650
Non-Clinical Information Systems