Payment Link For Cerner Corporation
Table of Contents
1 Introduction (Page No. - 10)
1.1 Objectives of the Study
1.2 Market Segmentation & Coverage
1.3 Stakeholders
2 Research Methodology (Page No. - 12)
2.1 Integrated Ecosystem of Revenue Cycle Management Market
2.2 Arriving at the Revenue Cycle Management Market Size
2.2.1 Top-Down Approach
2.2.2 Bottom-Up Approach
2.2.3 Macroindicator-Based Approach
2.3 Assumptions
3 Executive Summary (Page No. - 17)
4 Market Overview (Page No. - 18)
4.1 Introduction
4.2 Market Drivers and Inhibitors
4.3 Key Market Dynamics
5 European Revenue Cycle Management Market, By Application (Page No. - 22)
5.1 Introduction
5.1.1 European Revenue Cycle Management Market, By Applications
6 European Revenue Cycle Management Market, By Type (Page No. - 24)
6.1 Introduction
6.2 European Standalone Revenue Cycle Management Market, By Geography, 2013-2019 (USD MN)
7 European Revenue Cycle Management Market, By Component (Page No. - 28)
7.1 European Hardware Revenue Cycle Management, By Geography, 2013-2019 (USD MN)
7.2 European Services Revenue Cycle Management Market, By Geography, 2013-2019 (USD MN)
8 European Revenue Cycle Management, By Deployment (Page No. - 32)
9 European Revenue Cycle Management, By End-User (Page No. - 36)
9.1 Introduction
9.2 European Hospital Revenue Cycle Management, By Geography, 2013-2019 (USD MN)
9.3 European Physician Revenue Cycle Management, By Geography, 2013-2019 (USD MN)
9.4 European Ambulatory Care Solutions, By Geography, 2013-2019 (USD MN)
9.5 European Ambulatory Care Solutions Market, By Geography, 2013-2019 (USD MN)
9.6 European Labs Revenue Cycle Management, By Geography, 2013-2019 (USD MN)
10 European Revenue Cycle Management, By Geography (Page No. - 41)
10.1 Germany Revenue Cycle Management Market
10.1.1 Germany Revenue Cycle Management Market, By Type
10.1.2 Germany Revenue Cycle Managemnet Market, By Component, 2013-2019 (USD MN)
10.1.3 Germany Revenue Cycle Management Market, By Deployment, 2013-2019 (USD MN)
10.1.4 Germany Revenue Cycle Management Market, By End-Users, 2013-2019 (USD MN)
10.2 France Revenue Cycle Management Market
10.2.1 France Revenue Cycle Management Market, By Type
10.2.2 France Revenue Cycle Management Market, By Component
10.2.3 France Revenue Cycle Management Market, By Deployment
10.2.4 France Revenue Cycle Management Market, By End-User
10.3 U.K. Revenue Cycle Management Market
10.3.1 U.K. Revenue Cycle Management Market, By Type
10.3.2 U.K. Revenue Cycle Management Market, By Component
10.3.3 U.K. Revenue Cycle Management Market, By Deployment
10.3.4 U.K. Revenue Cycle Management Market, By End-User
10.4 Italy Revenue Cycle Management Market
10.4.1 Italy Revenue Cycle Management Market, By Type
10.4.2 Italy Revenue Cycle Management Market, By Component
10.4.3 Italy Revenue Cycle Management Market, By Deployment
10.4.4 Italy Revenue Cycle Management Market, By End-User
10.5 Spain Revenue Cycle Management Market
10.5.1 Spain Revenue Cycle Management Market, By Type
10.5.2 Spain Revenue Cycle Management Market, By Component
10.5.3 Spain Revenue Cycle Management Market, By Deployment
10.5.4 Spain Revenue Cycle Management Market, By End-Users
11 Europe Revenue Cycle Management Market: Competitive Landscape (Page No. - 66)
11.1 Revenue Cycle Management Market: Company Share Analysis
11.2 Company Presence in Europe Revenue Cycle Management Market, By Type
11.3 Mergers & Acquisitions
11.4 Expansions
11.5 Investments
11.6 Joint Ventures
12 Europe Revenue Cycle Management Market, By Company (Page No. - 72)
(Overview, Financials, Products & Services, Strategy, and Developments)*
12.1 Quest Diagnostics
12.2 Carecloud Corporation
12.3 Kareo, Inc.
12.4 Allscripts Healthcare Solutions, Inc.
12.5 Athenahealth, Inc.
12.6 Cerner Corporation
12.7 Eclinical Works, LLC
12.8 EPIC Systems
12.9 GE Healthcare
12.10 Mckesson Corporation
*Details on Overview, Financials, Product & Services, Strategy, and Developments Might Not Be Captured in Case of Unlisted Company
13 Appendix (Page No. - 100)
13.1 Customization Options
13.1.1 Regulatory Framework
13.1.2 Impact Analysis
13.2 Related Reports
13.3 Introducing RT: Real Time Market Intelligence
13.3.1 RT Snapshots

List of Tables (47 Tables)
Table 1 European Revenue Cycle Management Peer Market Size, 2014 (USD MN)
Table 2 European Revenue Cycle Management Market: Drivers and Inhibitors
Table 3 European Revenue Cycle Management Market, By Application, 2013-2019 (USD MN)
Table 4 European Revenue Cycle Management Market, By Type, 2013-2019 (USD MN)
Table 5 European Revenue Cycle Management Market, By Geography, 2013-2019 (USD MN)
Table 6 European Revenue Cycle Management Market, By Application, 2013-2019 (USD MN)
Table 7 European Integrated Revenue Cycle Management Market, By Geography, 2013-2019 (USD MN)
Table 8 European Standalone Revenue Cycle Management Market, By Geography, 2013–2019 (USD MN)
Table 9 European Hardware Revenue Cycle Management Market, By Geography, 2013-2019 (USD MN)
Table 10 European Software Revenue Cycle Management Market, By Geography, 2013-2019 (USD MN)
Table 11 European Services Revenue Cycle Management Market, By Geography, 2013-2019 (USD MN)
Table 12 European on Premise-Based Revenue Cycle Management Market, By Geography, 2013-2019 (USD MN)
Table 13 European Web-Based Revenue Cycle Management Market, By Geography, 2013-2019 (USD MN)
Table 14 European Cloud-Based Revenue Cycle Management Market, By Geography, 2013-2019 (USD MN)
Table 15 Europe Hospital Revenue Cycle Management Market, By Geography, 2013-2019 (USD MN)
Table 16 European Physician Revenue Cycle Management Market, By Geography, 2013-2019 (USD MN)
Table 17 European Labs Revenue Cycle Management Market, By Geography, 2013-2019 (USD MN)
Table 18 Germany Revenue Cycle Management Market, By Type, 2013-2019 (USD MN)
Table 19 Germany Revenue Cycle Management Market, By Component, 2013-2019 (USD MN)
Table 20 Germany Revenue Cycle Management Market, By Deployment, 2013-2019 (USD MN)
Table 21 Germany Revenue Cycle Management Market, By End-Users, 2013-2019 (USD MN)
Table 22 France Revenue Cycle Management Market, By Type, 2013-2019 (USD MN)
Table 23 France Revenue Cycle Management Market, By Component, 2013-2019 (USD MN)
Table 24 France Revenue Cycle Management Market, By Deployment, 2013-2019 (USD MN)
Table 25 France Revenue Cycle Management Market, By End-User, 2013-2019 (USD MN)
Table 26 U.K. Revenue Cycle Management Market, By Type, 2013-2019 (USD MN)
Table 27 U.K. Revenue Cycle Management Market, By Component, 2013-2019 (USD MN)
Table 28 U.K. Revenue Cycle Management Market, By Component, 2013-2019 (USD MN)
Table 29 U.K. Revenue Cycle Management Market, By End-User, 2013-2019 (USD MN)
Table 30 Italy Revenue Cycle Management Market, By Type, 2013-2019 (USD MN)
Table 31 Italy Revenue Cycle Management Market, By Component, 2013-2019 (USD MN)
Table 32 Italy Revenue Cycle Management Market, By Deployment, 2013-2019 (USD MN)
Table 33 Italy Revenue Cycle Management Market, By End-User, 2013-2019 (USD MN)
Table 34 Spain Revenue Cycle Management Market, By Type, 2013-2019 (USD MN)
Table 35 Spain Revenue Cycle Management Market, By Component, 2013-2019 (USD MN)
Table 36 Spain Revenue Cycle Management Market, By Deployment, 2013-2019 (USD MN)
Table 37 Spain Revenue Cycle Management Market, By End-Users, 2013-2019 (USD MN)
Table 38 Revenue Cycle Management Market: Company Share Analysis, 2013 (%)
Table 39 Europe Revenue Cycle Management Market: Mergers & Acquisitions
Table 40 Europe Revenue Cycle Management Market: Expansions
Table 41 Europe Revenue Cycle Management Market: Investments
Table 42 Europe Revenue Cycle Management Market: Joint Ventures
Table 43 Quest Diagnostics: Key Financials, 2009-2013 (USD MN)
Table 44 Allscripts Healthcare Solutions, Inc.: Key Financials, 2010-2013 (USD MN)
Table 45 Athenahealth, Inc.: Key Financials, 2009-2013 (USD MN)
Table 46 Cerner Corporation: Key Financials, 2009-2013 (USD MN)
Table 47 GE Healthcare: Key Financials, 2009-2013 (USD MN)
List of Figures (52 Figures)
Figure 1 European Revenue Cycle Management Market: Segmentation & Coverage
Figure 2 Revenue Cycle Management Market: Integrated Ecosystem
Figure 3 Top-Down Approach
Figure 4 Bottom-Up Approach
Figure 5 Macroindicator-Based Approach
Figure 6 European Revenue Cycle Management Market Snapshot
Figure 7 European Revenue Cycle Management Market: Types, By Geography, 2014 (USD MN)
Figure 8 European Revenue Cycle Management Market, By Application, 2013-2019 (USD MN)
Figure 9 European Integrated Revenue Cycle Management Market, By Geography, 2014-2019 (USD MN)
Figure 10 European Standalone Revenue Cycle Management Market: By Geography, 2013–2019 (USD MN)
Figure 11 European Hardware Revenue Cycle Management, By Geography, 2013-2019 (USD MN)
Figure 12 European Software Revenue Cycle Management Market, By Geography, 2013-2019 (USD MN)
Figure 13 European Services Revenue Cycle Management Market, By Geography, 2013-2019 (USD MN)
Figure 14 European On-Premise Based Revenue Cycle Management Market, By Geography, 2013-2019 (USD MN)
Figure 15 European Web-Based Revenue Cycle Management Market, By Geography, 2013-2019 (USD MN)
Figure 16 European Cloud-Based Revenue Cycle Management Market, By Geography, 2013-2019 (USD MN)
Figure 17 European Hospital Revenue Cycle Management, By Geography, 2013-2019 (USD MN)
Figure 18 European Physician Revenue Cycle Management, By Geography, 2013-2019 (USD MN)
Figure 19 European Ambulatory Care Solutions, By Geography, 2013-2019 (USD MN)
Figure 20 European Labs Revenue Cycle Management, By Geography, 2013-2019 (USD MN)
Figure 21 Germany Revenue Cycle Management Market Overview, 2014 & 2019 (%)
Figure 22 Germany Revenue Cycle Management Market, By Type, 2013-2019 (USD MN)
Figure 23 Germany Revenue Cycle Management Market, By Component, 2013-2019 (USD MN)
Figure 24 Germany Revenue Cycle Management Market, By Deployment, 2014-2019 (USD MN)
Figure 25 Germany Revenue Cycle Management Market, By Deployment, 2014-2019 (USD MN)
Figure 26 France Revenue Cycle Management Market Overview, 2014 & 2019 (%)
Figure 27 France Revenue Cycle Management Market, By Type, 2013-2018 (USD MN)
Figure 28 France Revenue Cycle Management Market, By Component, 2013-2019 (USD MN)
Figure 29 France Revenue Cycle Management Market, By Deployment, 2013-2019 (USD MN)
Figure 30 France Revenue Cycle Management Market, By End-User, 2013-2019 (USD MN)
Figure 31 U.K. Revenue Cycle Management Market Overview, 2014 & 2019 (%)
Figure 32 U.K. Revenue Cycle Management Market, By Type, 2013-2019 (USD MN)
Figure 33 U.K. Revenue Cycle Management Market, By Component, 2013-2019 (USD MN)
Figure 34 U.K. Revenue Cycle Management Market, By Deployment, 2013-2019 (USD MN)
Figure 35 U.K. Revenue Cycle Management Market, By End-User, 2013-2019 (USD MN)
Figure 36 Italy Revenue Cycle Management Market Overview, 2014 & 2019 (%)
Figure 37 Italy Revenue Cycle Management Market, By Type, 2013-2019 (USD MN)
Figure 38 Italy Revenue Cycle Management Market, By Component, 2013-2019 (USD MN)
Figure 39 Italy Revenue Cycle Management Market, By Deployment, 2013-2019 (USD MN)
Figure 40 Italy Revenue Cycle Management Market, By End-User, 2013-2019 (USD MN)
Figure 41 Spain Revenue Cycle Management Market Overview, 2014 & 2019 (%)
Figure 42 Spain Revenue Cycle Management Market, By Type, 2013-2019 (USD MN)
Figure 43 Spain Revenue Cycle Management Market, By Component, 2013-2019 (USD MN)
Figure 44 Spain Revenue Cycle Management Market, By Deployment, 2013-2019 (USD MN)
Figure 45 Spain Revenue Cycle Management Market, By End-Users, 2013-2019 (USD MN)
Figure 46 Revenue Cycle Management Market: Company Share Analysis, 2013 (%)
Figure 47 Europe Revenue Cycle Management: Company Product Coverage, By Type, 2014
Figure 48 Quest Diagnostics: Revenue Mix, 2013 (%)
Figure 49 Contribution of Diagnostic Solutions Segment Towards Company Revenues, 2009-2013 (USD MN)
Figure 50 Allscripts Healthcare Solutions, Inc.: Revenue Mix, 2013 (%)
Figure 51 GE Healthcare Revenue Mix, 2013 (%)
Figure 52 Mckesson Corporation Revenue Mix, 2013 (%)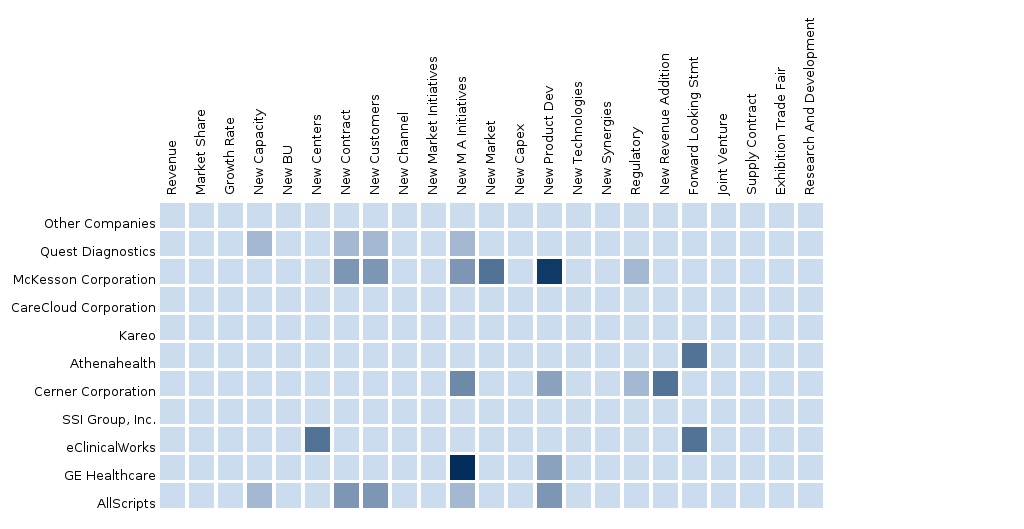 Revenue Cycle Management (RCM) is the process of managing payment and revenue generation as well as submitting, processing, and follow-up of claims. RCM encompasses the whole process of payment & customer management. It starts with the initiation of the order and ends with the client having a zero-balance account.
Revenue cycle management system (RCM) enables healthcare organizations of all sizes to accelerate their revenue cycles. This is achieved by reducing the number of denied insurance claims, speeding explanation of benefits (EOB) reconciliation, improving the quality of information, streamlining denial management, and automating processes. The RCM solution starts when a patient enters the hospital; it automates the business process, leading to speedy patient and payer follow-up. Hospitals need to maintain a faster RCM cycle in order to stay solvent, maintain requisite cash flow, and to keep revenue figures stable.
The objective of this report is to identify various applications, types, components, deployments, and end-users of RCM and to analyze the complete ecosystem of the revenue cycle management market in Europe. It involves an in-depth analysis of the market segmentation, which comprises product, component, deployment, end-user, and country. The report also provides insights into the strategies of the key market.
The European revenue cycle management system market is growing due to consolidation of healthcare providers in Europe, initiatives by the European governments for implementing RCM solutions, and the decline in reimbursement rates globally. The European revenue cycle management (RCM) market was valued at $12.6 billion in 2014. This market is estimated to reach a value of $19.5 million by 2019, at a CAGR of 9.2% between 2014 and 2019.
Custom Market Research Services
We will customize the research for you, in case the report listed above does not meet with your exact requirements. Our custom research will comprehensively cover the business information you require to help you arrive at strategic and profitable business decisions.
Please visit
http://www.micromarketmonitor.com/custom-research-services.html
to specify your custom Research Requirement
PRODUCT TITLE
PUBLISHED
North American Non-Clinical Information System Market


North America is the largest market for non-clinical information systems globally, and is expected to grow at a CAGR of 8.1% from 2013 to 2018, to reach a value of $8,905.5 million in 2018. This market is segmented into sub-segments, components, deployments, end users, applications, and geographies.



Upcoming
European Non-Clinical Information Systems Market


The European non-clinical information systems (NCIS) market has been segmented by types, deployment, components, end users, applications, and geographies. Globally, this is the second-largest NCIS market, and is expected to grow at a CAGR of 6.3% from 2014 to 2019.



Upcoming
Asian Non-Clinical Information Systems Market


Asia is the fastest-growing market for non-clinical information systems, and was valued at $1,336.4 million in 2013. It is expected to grow at a CAGR of 7.2%, from 2013 to 2018, to reach a value of $1,892.2 million in 2018. This market can be segmented by companies, deployments, components, end users, and macro indicators.



Upcoming
Non-Clinical Information Systems