Global Ophthalmology Surgery Devices Market Research Report
The global market for ophthalmology surgery devices is poised to grow at a stable rate mainly due to an increasing aging population, large pool of patients with eye diseases, changing demographics, and geographical trends worldwide. The market was valued at $5,268.7 million in 2013 and is estimated to reach $7,401.4 million by 2018, at a CAGR of 7.0% for the forecast period. The cataract surgery device segment has accounted for the largest share, amounting to $4,152.0 million or approximately 80% of the total ophthalmology surgery device market.
The report on the global market for ophthalmology surgery devices analyzes the market under four types of surgery devices, namely, cataract, glaucoma, refractive, and vitreoretinal surgery. The cataract surgery device market is then segmented into Intraocular Lens (IOL), Ophthalmic Viscoelastic Devices (OVD), and Phacoemulsification Devices. Glaucoma devices are segmented into Glaucoma Drainage Devices (GDD), Stents and Implants, Glaucoma Lasers, and Glaucoma Systems. Glaucoma surgery devices constitute as less as 2-3% of the total surgery devices market, even though glaucoma only second to cataract as the leading cause of blindness worldwide.
Incidences of glaucoma and cataract are increasing every year. Cataract is responsible for 48% of the population becoming totally blind. The increasing aging population is also resulting in more people suffering from refractive errors. There are four categories of medical devices to treat refractive errors, namely, excimer lasers, microkeratome, femtosecond lasers, and YAG lasers. Increased number of patients suffering from long-term diabetes and developing diabetic retinopathy drives the vitereoretinal surgical device market.
All the aforementioned segments experienced a positive growth until 2013 with an increased awareness of procedures and sophisticated diagnostic techniques. In the global ophthalmology surgery devices market, cataract surgery and refractive surgery devices markets have been contributing approximately around 80% and 9% respectively. Both the markets have been witnessing maximum growth because of the increase in patient pool with aging population and other associated diseases.
Procedure volume growth is very promising in Asia-pacific as it is an unsaturated market. China and India particularly drive the growth of overall ophthalmology surgery device market mainly due to growing awareness of eye diseases, free government camps, and increasing disposable income.
North America (U.S., Canada, and Mexico) has the largest market for ophthalmology surgery devices. The U.S. has been the prime market for device companies due to favorable reimbursement policies and easy access to local companies.
Europe is the second-largest market for ophthalmology surgery devices globally. This is due to a rapidly aging population and rising governmental expenditure on healthcare across the region. However, it will witness a little sluggish growth due to the Euro zone crisis recovery.
The market is huge in North America and Europe because of the rapidly aging population whereas in Asia, the growing of population and increasing life expectancy drive the market.
The global ophthalmology surgery device market report provides an extensive competitive landscaping of companies operating in this market. The main companies extensively covered in this report are Alcon-Novartis (Switzerland) that possesses a lion's share in the market, followed by Abbott Medical Optics Inc. (U.S.), Bausch & Lomb (U.S.), Allergan, Inc. (U.S.), and others.
Segment and country-specific company shares, news and deals, mergers and acquisitions, segment-specific pipeline products, product approvals, and product recalls of major companies have been detailed in this report.
Report Customization Options
Along with market data, you can also customize MMM offerings that are in keeping with your company's specific needs. Customize your report on the global market for ophthalmology surgery devices to get an insight into all-inclusive industry standards and a deep-dive analysis of the following considerations:
Product Analysis
Usage pattern (in-depth trend analysis) of products (segment wise) of ophthalmology surgery devices
Product matrix which gives a detailed comparison of the product portfolio of each company mapped at country and sub-segment level
End-user adoption rate analysis of the products (segment wise and country wise)
Comprehensive coverage of product approvals, pipeline products, and product recalls
Epidemiology Data
Country-specific prevalence of cataract, glaucoma, and diabetic retinopathy
Country-specific incidences of cataract, glaucoma, and diabetic retinopathy
Country-specific patient pool going for ophthalmic surgeries
Disease progression (pattern analysis)
Procedure Volume Data
Number of surgeries performed annually in each country tracked till sub-segment level
Number of lens replacement procedures performed in each country
Surgeons/Physicians Perception Analysis
Fast turnaround analysis of surgeons' response to market events and trends
Surgeons' opinions about products from different companies
Brand/Product Perception Matrix
Analysis of overall brand usage and familiarity and brand advocacy distribution (detractor/neutral/familiar)
Pricing Trends
Cost analysis of ophthalmology surgical devices (like lens) in each region
MMM's Healthcare Decision Making Quadrant
It is an innovative and useful quadrant for vendors who wish to analyze potential growth markets based on parameters like patient dynamics (patient pool, epidemiology of disease) and macroeconomic indicators (number of hospitals, reimbursement scenario, diagnosis rate, treatment rate, and healthcare expenditure).
1 Introduction
1.1 Analyst Insights
1.2 Market Definitions
1.3 Market Segmentation & Aspects Covered
1.4 Research Methodology

2 Executive Summary

3 Market Overview

4 By Submarkets
4.1 Cataract Surgery Devices
4.2 Glaucoma Surgery Devices
4.3 Refractive Surgery Devices
4.4 Vitreoretinal Surgery Devices

5 By Endusers
5.1 Hospitals
5.2 private eye clinics
5.3 Other Endusers

6 By Geographies
6.1 North America
6.2 Europe
6.3 Asia
6.4 Rest of World
7 By Companies
7.1 Alcon
7.2 Abbott Laboratories
7.3 Topcon corporation
7.4 Allergan, Inc.
7.5 Essilor International SA
7.6 BAUSCH & LOMB, Inc.
7.7 Valeant Pharmaceuticals International, Inc.
7.8 STAAR Surgical Company
7.9 NIDEK Co., Ltd.
7.10 Carl Zeiss Meditec, Inc.
7.11 Other Companies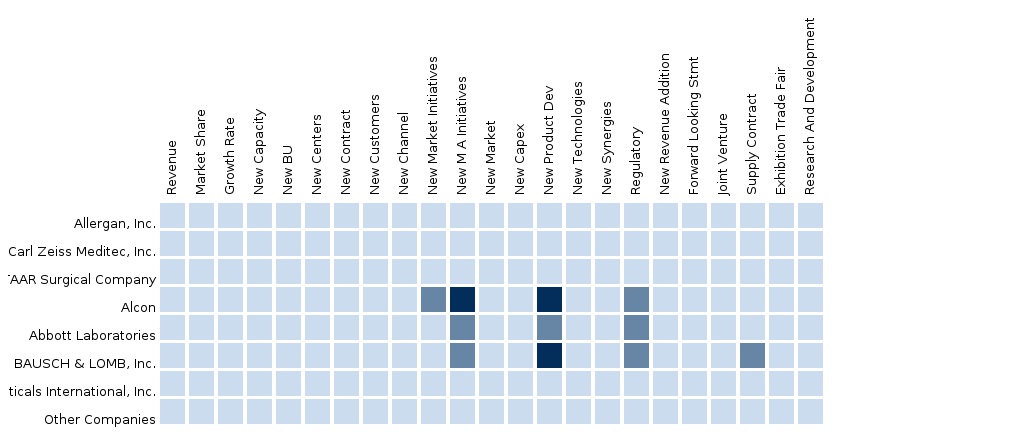 Please fill in the form below to receive a free copy of the Summary of this Report
Custom Market Research Services
We will customize the research for you, in case the report listed above does not meet with your exact requirements. Our custom research will comprehensively cover the business information you require to help you arrive at strategic and profitable business decisions.
Please visit
http://www.micromarketmonitor.com/custom-research-services.html
to specify your custom Research Requirement
PRODUCT TITLE
PUBLISHED
Cataract Surgery Devices


Cataract Surgery Devices and Glaucoma Surgery Devices,



Upcoming
Glaucoma Surgery Devices


The global glaucoma surgery devices market is estimated to grow at a CAGR of 8.4% from 2014 to 2019. The growing aging population; increasing incidence of ocular disorders; and rising incidence of obesity and diabetes are the major factors driving the growth of the global glaucoma surgery device market. On the other hand, general lack of awareness among people about eye disorders is a major factor that may restrain the market growth in the coming years.



May 2015
Refractive Surgery Devices


Refractive Surgery Devices and Cataract Surgery Devices,



Upcoming
Global Vitreoretinal Surgery Devices


The global vitreoretinal surgery device market is segmented into various sub-types, including photocoagulation surgery devices, vitrectomy surgery devices, and illumination surgery devices. Among all the types, the photocoagulation surgery devices segment holds the highest market share of 52.4% followed by the vitrectomy devices segment having a market share of 35.2% of the whole market.



May 2015
Glaucoma Drainage Device


Glaucoma Drainage Device and Glaucoma Implants and stents,



Upcoming
Refractive Treatment devices


Refractive Treatment devices and Refractive flap-making devices adds up to total



Upcoming
Refractive flap-making devices


Refractive flap-making devices and Refractive Treatment devices adds up to total



Upcoming
Vitrectomy Machines


Vitrectomy Machines and Photocoagulation Laser and



Upcoming
Photocoagulation Laser


Photocoagulation Laser and Vitrectomy Machines and



Upcoming
Illumination device


Illumination device and Vitrectomy Machines and



Upcoming
Glaucoma Implants and stents


Glaucoma Implants and stents and Glaucoma Drainage Device,



Upcoming
Glaucoma Lasers


Glaucoma Lasers and Glaucoma Drainage Device,



Upcoming
Glaucoma Systems


Glaucoma Systems and Glaucoma Drainage Device,



Upcoming
Accommodating Lens


Accommodating Lens and Intraocular Lens (IOL), Ophthalmic Viscoelastic Devices (OVD) and Phacoemulsification Devices adds up to total Cataract Surgery Devices...



Upcoming
Asian Ophthalmology Surgery Devices


The Asian ophthalmology surgery devices market is projected to grow at a CAGR of 9.88%, which is considered as one of the biggest market for such surgical devices. This report provides the market share, value chain analysis, and market drivers, restraints, and upcoming opportunities. A DeepDive analysis of key players in this market has also been considered in this report.



Upcoming
North America Ophthalmology Surgery Devices


The report analyzes the North America ophthalmology surgery devices market by product type, end user, and geography. The market is estimated to grow at a CAGR of 5.0% from 2014 to 2019. Ophthalmology surgery devices are essential components required in highly advanced eye surgeries, for high precision and accurate judgment. The devices help in achieving precision and accurate judgment that is required while performing even a minor eye surgery. Due to this, the demand for developing advanced and technologically effective surgical equipment is high, which has led to the growth of the ophthalmology surgery devices market.



Apr 2015
European Ophthalmology Surgery Devices


Europe is considered as the second largest market in ophthalmology surgery devices, with a 25.41% market share, and it is expected to grow at a CAGR of 3.69% from 2012 to 2018. The European ophthalmology surgery devices report offers a comprehensive analysis of key market drivers, restraints, and upcoming opportunities. It also focuses on the current market trends and provides key market profiles of companies thriving in this market.



Upcoming
North America Ophthalmology Cataract Surgery Devices


Ophthalmology cataract surgery devices are the devices or the instruments used for performing minute eye surgeries. These devices come under the healthcare IT system which consists of various peer markets, such as, glaucoma surgery devices, refractive surgery devices, and vitreoretinal surgery devices.



May 2015
Europe Cataract Surgery Devices


The European cataract surgery devices market has been segmented based on product type (intraocular lenses, phacoemulsification devices, and ophthalmic viscoelastic devices). Intraocular lenses held the highest share of this market in 2014—69.9%, followed by phacoemulsification devices (16.0%).



Apr 2015
Asian Cataract Surgery Devices


Peers of Cataract Surgery Devices-Asia are Intraocular Lens (IOL), Phacoemulsification Devices and Ophthalmic Viscoelastic Devices (OVD) comprising 71.0%, 15.0% and 14.0% respectively of the Global Ophthalmology Cataract Surgery Devices market. It is segmented...



Upcoming
Ophthalmology Surgery Devices