Molecular diagnostics is the fastest-growing segment in the IVD market, driven by infectious diseases and oncology. The market is growing due an increasing pool in the aging population across the globe, a concurrent augmentation in the prevalence of chronic diseases, and the need for the diagnosis of such diseases at early stages. The market is driven by the increasing awareness and acceptance of personalized medicines, advancements in molecular techniques, inherited disease testing, and prenatal testing. However, persistent reimbursement issues and delays in the approval of molecular diagnostic tests are expected to curb the growth of this market.
The Centers for Medicare & Medicaid Services (CMS) has estimated that the healthcare spending in the U.S. is expected to grow from $2.7 trillion in 2011 to about $4.6 trillion in 2017, at a CAGR of 6.8% for the given period. Similarly, in the emerging countries, awareness and an increasing middle-class population, with a more disposable income to spend on healthcare, will be a driving force for the growth of this market.
The report 'Global Molecular Diagnostics Market forecast for 2018' analyzes the market by segments such as instruments and reagents. These two segments experienced a positive growth till 2013, with a market value of $4.95 billion, comprising $4.17 billion for reagents and $0.77 billion for instruments, and is expected to grow at a CAGR of 10.2%.
The Americas commanded the largest share 42% in the global Molecular diagnostics market with $2066.7 million in 2013, and is expected to reach $3221.4 million by 2018, at a CAGR of 9.7%, from 2013 to 2018.
The U.S. commanded the largest share of 89% of the American molecular diagnostics IVD market with $1837.7 million in 2013, and is expected to reach $2859.2 million by 2018, at a CAGR of 9.6%, for the given period.
Europe is the second-largest market after the Americas. Germany commanded the largest share 20% with $311.3 million in 2013, and is expected to reach $454.3 million by 2018, at a CAGR of 8.2%, for the given period.
China commanded the largest share 53% in the Asian molecular diagnostics market with $246.5 million in 2013, and is expected to reach $557.5 million by 2018, at a CAGR of 18.5%, for the given period.
The report also provides an extensive competitive landscaping of companies operating in this market. The major players are Roche Diagnostics (Switzerland), Novartis (Switzerland), Gen-probe (U.S.), Qiagen (The Netherlands), and Abbott Diagnostics (U.S.). Segment and country-specific company shares, news & deals, mergers and acquisitions, segment specific pipeline products, product approvals, and product recalls of the major companies have been detailed in the report.
Customization Options
Along with the market data, you can also customize MMM assessments that meet your company's specific needs. Customize to get comprehensive industry standard and deep dive analysis of the following parameters:
Opportunity Analysis
Unmet needs, revenue pockets, and potential areas for expansion
MDx Business Model
Comprehensive review of key component providers, assay providers, sole service providers, and complete solution providers
Current and Emerging Products
Analysis of current and emerging molecular diagnostics and immunodiagnostic tests
Review of current instrumentation technologies
Pricing Trends
Pricing trend of new high value* MDx tests
Product Analysis
Usage pattern (in-depth trend analysis) of products (segment wise)
Product matrix which gives a detailed comparison of product portfolio of each company mapped at country and sub-segment level
End-user adoption rate analysis of the products (segment wise and country wise)
Comprehensive coverage of product approvals, pipeline products, and product recalls
Brand/Product Perception Matrix
Comprehensive study of customers perception and behavior through our inbuilt social connect tool checking the virility and tonality of blogs
Analysis of overall brand usage and familiarity and brand advocacy distribution (detractor/neutral/familiar)
Alternative Products: Impact analysis
MMM's healthcare decision making quadrant is an innovative and useful quadrant for vendors who wish to analyze the potential growth markets based on parameters like patient dynamics (patient pool, epidemiology of disease, preference towards surgeries/alternative therapies) and macroeconomic indicators (number of hospitals and orthopedic clinics, reimbursement scenario, diagnosis rate, treatment rate and healthcare expenditure).
1 Introduction
1.1 Analyst Insights
1.2 Market Definitions
1.3 Market Segmentation & Aspects Covered
1.4 Research Methodology
2 Executive Summary

3 Market Overview

4 By Applications
4.1 Microbiology
4.2 Other Applications
4.3 HBV
4.4 HCV
4.5 HIV
4.6 HPV
4.7 MRSA
4.8 Chlamydia trachomatis/ Neisseria gonorrhoeae
4.9 Tuberculosis
4.10 Prostate Cancer
4.11 Breast Cancer
4.12 Colorectal Cancer
4.13 Genetic Testing
5 By Technologies
5.1 Other Technologies
5.2 Transcription-mediated Amplification (TMA)
6 By Endusers
6.1 Hospitals
6.2 Medical & Diagnostic Laboratories
6.3 Other End-Users
7 By Products
7.1 Molecular Diagnostics Instruments
7.2 Molecular Diagnostics Reagents
7.3 Molecular Diagnostics Services
8 By Geographies
8.1 North America
8.2 Europe
8.3 Asia
8.4 Rest of World
9 By Companies
9.1 Novartis AG
9.2 Gen-Probe Incorporated
9.3 Abbott Diagnostics
9.4 Other Companies
9.5 Becton Dickinson & Company
9.6 Cepheid
9.7 BioMerieux
9.8 Siemens AG Healthcare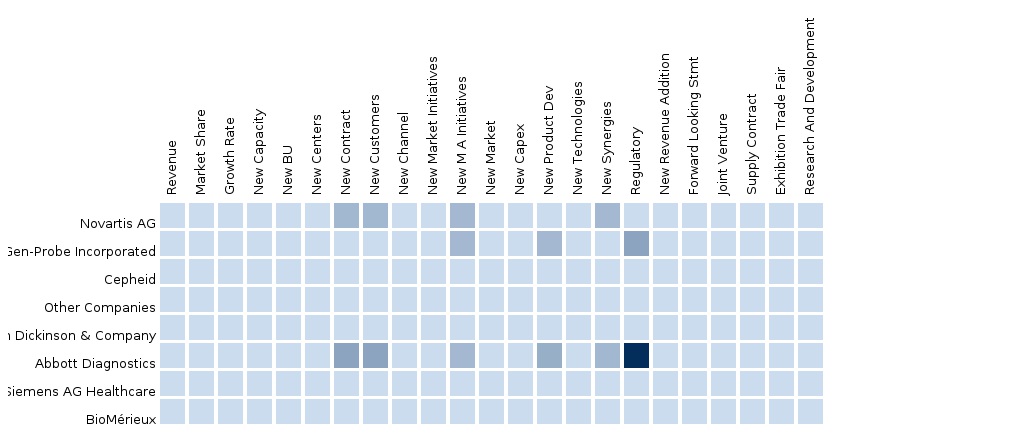 Please fill in the form below to receive a free copy of the Summary of this Report
Custom Market Research Services
We will customize the research for you, in case the report listed above does not meet with your exact requirements. Our custom research will comprehensively cover the business information you require to help you arrive at strategic and profitable business decisions.
Please visit
http://www.micromarketmonitor.com/custom-research-services.html
to specify your custom Research Requirement
PRODUCT TITLE
PUBLISHED
Europe Molecular Diagnostics


Next to America, Europe holds second largest market position. Germany commanded the largest share 20% at an estimated $311.3 million in 2013 and is expected to reach $454.3 million by 2018, at a CAGR of 8.2% from 2013 to 2018. The report "European Molecular Diagnostics Market forecast for 2018 "analyzes the market by 2 segments such as instruments and reagents.



Upcoming
Asia Molecular Diagnostics


Asian Molecular Diagnostics market is growing in double digit and will continue to grow in future. China commanded the largest share 53% at an estimated $246.5 million in 2013 and is expected to reach $557.5 million by 2018, at a CAGR of 18.5% from 2013 to 2018. The report "Asian Molecular Diagnostics Market forecast for 2018 "analyzes the market by 2 segments such as instruments and reagents.



Upcoming
North America Molecular Diagnostics


The Americas commanded the largest share 42% of the Global Molecular Diagnostics Market at an estimated $2066.7 million in 2013 and are expected to reach $3221.4 million by 2018, at a CAGR of 9.7% from 2013 to 2018. The report "North American Molecular Diagnostics Market forecast for 2018 "analyzes the market by 2 segments such as instruments and reagents.



Upcoming
3 of 3 items
3 reports | Show