The global clinical chemistry market is growing due to the ongoing developments in analytical laboratory automation, the swift progress in various fields of diagnosis such as point-of-care testing, molecular diagnosis, immunoassays, hematology, flow cytometry, and microbiology, and finally, the geographical market expansion within emerging countries.
The most important trend witnessed recently in the in vitro diagnostics (IVD) industry is the trend of self-testing as opposed to patients visiting hospitals. This is one of the biggest factors responsible for the growth of point-of-care testing, as patients prefer self-testing so as to avoid unnecessary visits to the hospital. Clinical chemistry accounted for 21.3% share of the IVD market in 2012. Clinical chemistry routine tests such as testing for blood albumin, ALT/SGPT, ammonia, blood gases, and calcium and creatinine levels, are required before undergoing advanced tests. These tests, thus, form the center stage of the IVD market.
The major changes in clinical chemistry have been brought about as a result of the convergence of system engineering, automation, and IT technology. Thus, new technologies have enabled a better understanding of disease processes. The clinical chemistry market is expanding, consolidating, and becoming highly competitive with a myriad of opportunities for various new instruments, reagents, calibrators, and other systems.
The Center for Medicare & Medicaid Services (CMS) has estimated that healthcare spending in the U.S. is expected to grow from $2.7 trillion in 2011 to about $4.6 trillion in 2019, at a CAGR of 6.8% for the same period. Similarly, in emerging countries, the growing awareness and an increasing middle-class population, with a more disposable income to spend on healthcare, will be the major driving factors for the growth of this market.
The report on the global clinical chemistry market analyzes the market by three segments, namely, clinical chemistry reagents, instruments, and accessories. All three segments experienced a positive growth till 2013, with a market value of $10.3 billion, comprising $8.74 billion for reagents and $1.63 billion for instruments. The overall market is projected to grow at a CAGR of 8.3% during the forecast period.
The Americas commanded the largest share (42%) of the global clinical chemistry market at an estimated $4,332.3 million in 2013, expected to reach $6,050.6 million by 2018, at a CAGR of 7.2% from 2013 to 2018. In Europe, Germany commanded the largest share (20%) at an estimated $652.8 million in 2013, expected to reach $853.3 million by 2018, at a CAGR of 5.8% from 2013 to 2018. The APAC clinical chemistry market is growing in double digits and will continue to grow in the future. China commanded the largest share (53%) at an estimated $516.81 million in 2013 and is expected to reach $1,047.2 million by 2018, at a CAGR of 16% from 2013 to 2018.
The report also provides an extensive competitive landscape of the leading companies operating in this market. The main companies extensively covered in this report are Abbott Laboratories, Alere, Inc., ARKRAY, Inc., Bayer AG, Becton, Dickinson and Company, bioMérieux, Bio-Rad Laboratories, Inc., and Danaher Corporation, among others. The details of segment and country-specific company shares, news and deals, mergers and acquisitions, segment-specific pipeline products, product approvals, and product recalls of the major companies have been covered in the report.
Report Customization Options
Along with market data, you can also customize MMM offerings that are in keeping with your company's specific needs. Customize your report on the global clinical chemistry market for to get an insight into all-inclusive industry standards and a deep-dive analysis of the following considerations:
Opportunity Analysis:
Unmet needs, revenue pockets, and potential areas for expansion
Supplier Evaluation:
Comprehensive review of key suppliers
Lab-Testing Data:
Number of clinical chemistry tests performed annually in each country, tracked till sub-segment level
Current and Emerging Products:
An analysis of current and emerging clinical chemistry and immunodiagnostic tests
A review of current clinical chemistry instrumentation technologies and feature comparison of high, medium, and low-volume POC analyzers
Product Analysis
Usage pattern (in-depth trend analysis) of products (segment wise)
Product matrix which gives a detailed comparison of the product portfolio of each company mapped at country and sub-segment level
End-user adoption rate analysis of the products (segment wise and country wise)
Comprehensive coverage of product approvals, pipeline products, and product recalls
Brand/Product Perception Matrix
Comprehensive study of customers perception and behavior through our inbuilt social connection tool checking the virality and tonality of blogs
Analysis of overall brand usage and familiarity and brand advocacy distribution (detractor/neutral/familiar)
Alternative Products: Impact Analysis
MMM's Healthcare Decision Making Quadrant: It is an innovative and useful quadrant for vendors who wish to analyze potential growth markets based on parameters like patient dynamics (patient pool, epidemiology of disease, preference towards surgeries/alternative therapies) and macroeconomic indicators (number of hospitals and orthopedic clinics, reimbursement scenario, diagnosis rate, treatment rate, and healthcare expenditure).
1 Introduction
1.1 Analyst Insights
1.2 Market Definitions
1.3 Market Segmentation & Aspects Covered
1.4 Research Methodology

2 Executive Summary

3 Market Overview

4 By Applications
4.1 Diabetes
4.2 Cardiovascular diseases
4.3 Immune system diseases
4.4 Drug Testing
4.5 Kidney Diseases
4.6 Infectious Diseases
4.7 Cancers
4.8 Other Applications
4.9 AIDS

5 By Endusers
5.1 Medical & Diagnostic Laboratories
5.2 Point of Care Testing
5.3 Hospitals
5.4 Patient Self Testing
5.5 Other End-Users
5.6 Academics
6 By Products
6.1 Clinical Chemistry Instruments
6.2 Clinical Chemistry Reagents
6.3 Clinical Chemistry Services

7 By Geographies
7.1 Rest of World
7.2 Japan
7.3 BRIC
7.4 Americas
7.5 Europe

8 By Companies
8.1 Abbott Laboratories
8.2 Beckman Coulter, Inc.
8.3 F. Hoffmann-La Roche Ltd.
8.4 Ortho-Clinical Diagnostics, Inc.(Johnson and Johnson)
8.5 Siemens Healthcare
8.6 Mindray Medical International Limited
8.7 Thermo Fisher Scientific
8.8 Olympus Corporation
8.9 Danaher Corporation
8.10 Other Companies
8.11 The Elitech group
8.12 Sysmex corporation
8.13 Bio Systems International
8.14 Atlas medical
8.15 Shanghai Kehua Bio-engineering Co. Ltd.
8.16 Agappe Diagnostics Ltd.
8.17 Trans Asia Bio medical Ltd.
8.18 Trivitrion Healthcare Pvt Ltd
8.19 Span Diagnostics Limited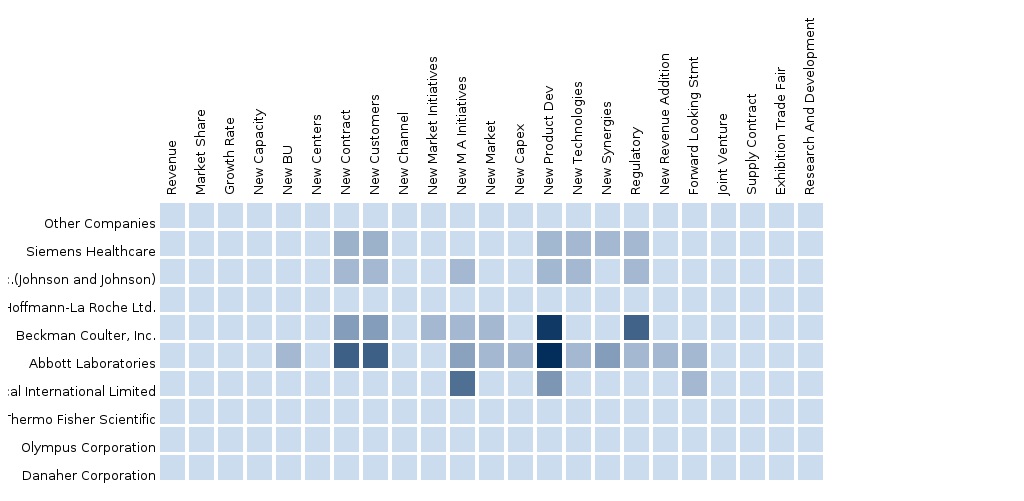 Please fill in the form below to receive a free copy of the Summary of this Report
Custom Market Research Services
We will customize the research for you, in case the report listed above does not meet with your exact requirements. Our custom research will comprehensively cover the business information you require to help you arrive at strategic and profitable business decisions.
Please visit
http://www.micromarketmonitor.com/custom-research-services.html
to specify your custom Research Requirement
PRODUCT TITLE
PUBLISHED
North American Clinical Chemistry


The North American clinical chemistry market was estimated at $3,852.7 million in 2013 and is expected to reach $5,370.5 million by 2019, at a CAGR of 7.2% from 2013 to 2018. The market can be segmented by geographies, end users, companies, and macro indicators. A deep-dive analysis of the top players of this market has been provided in this report.



Upcoming
European Clinical Chemistry


Although earlier, Europe showed a negative growth rate in the clinical chemistry market, in some countries revenues grew compared to 2011. Germany commanded the largest share (20%) at an estimated $652.8 million in 2013 and is expected to reach $853.3 million by 2018, at a CAGR of 5.8% from 2013 to 2018. The market can be segmented by geographies, end users, companies, and macro indicators. A deep-dive analysis of the top players of this market has been provided in this report.



Upcoming
Asia-Pacific Clinical Chemistry Analyzer


The Asia-Pacific clinical chemistry market is growing in double digits and will continue to grow in future. China commanded the largest share (53%) at an estimated $516.81 million in 2013 and is expected to reach $1047.2 million by 2018, at a CAGR of 16.0% from 2013 to 2018. The market can be segmented by geographies, end users, companies, and macro indicators. A deep-dive analysis of the top players of this market has been provided in this report.



Mar 2015
Americas Clinical Chemistry Instruments/Analyzer


The Americas clinical chemistry analyzers market was valued at $1,163.8 million in 2013, and is expected to register a CAGR of 5.2% from 2014 to 2019.



Feb 2015
Asia-Pacific Clinical Chemistry Instruments/Analyzer


It is segmented on basis of . What makes our report unique? You can request 10% customization in the research matching your exact requirement for e.g. deep dive research in any specific geography or technology or applications....



Upcoming
Europe Clinical Chemistry Instruments/Analyzer


It is segmented on basis of . What makes our report unique? You can request 10% customization in the research matching your exact requirement for e.g. deep dive research in any specific geography or technology or applications....



Upcoming
6 of 6 items
6 reports | Show