The global speech analytics market is projected to grow from $456.0 million in 2014 to $1,332.5 million in 2019, at a CAGR of 23.9% between 2014 and 2019. The drivers for the market include growing number of call centers, increased voice importance in multi-channel world, new implementation areas, and the rising demand for cloud analytics & risk management solutions.
These reports provide competitive benchmarking of the leading players in the market, such as NICE, Verint, HP Autonomy, CallMiner, and Nexidia, among others, in terms of product offerings, key strategies, and operational parameters. In addition to this, these reports provide market trends, overall adoption scenarios, competitive landscape, key drivers, restraints, and opportunities in this market. Furthermore, the reports aim at estimating the current size and the future growth potential of this market across the different applications, verticals, and regions.
1 Introduction
1.1 Analyst Insights
1.2 Market Definitions
1.3 Market Segmentation & Aspects Covered
1.4 Research Methodology

2 Executive Summary

3 Market Overview

4 Speech Analytics by Submarkets
4.1 Speech Analytic Solutions
4.2 Speech Analytic Services

5 Speech Analytics by Applications
5.1 Agent Performance Management
5.2 Customer Experience Management
5.3 Market Intelligence Management
5.4 Risk and Compliance Management
5.5 Others (speech Analytics)
5.6 Business Process Management (Speech Analytics)

6 Speech Analytics by Softwares
6.1 Analytics Software

7 Speech Analytics by Hardwares
7.1 Storage
7.2 Server
7.3 Networking Hardware

8 Speech Analytics by Industries
8.1 Banking,Financial Services and Insurance (BFSI) (ICT)
8.2 Education (ICT)
8.3 Energy and Utilities (ICT)
8.4 Aerospace and Defense (ICT)
8.5 Sports and Gaming (ICT)
8.6 Government (ICT)
8.7 Healthcare and Life Science (ICT)
8.8 IT Business (ICT)
8.9 Manufacturing (ICT)
8.10 Media and Entertainment (ICT)
8.11 Retail and Wholesale Distribution (ICT)
8.12 Telecommunication (ICT)
8.13 Transportation and Logistics (ICT)
8.14 Others-(Industries)
8.15 Travel and Tourism (ICT)
8.16 Outsourcing (ICT)

9 Speech Analytics by Services
9.1 Consulting
9.2 Integration and Design
9.3 Support and Maintenance

10 Speech Analytics by Endusers
10.1 Enterprises
10.2 Small and Medium Business (SMB)

11 Speech Analytics by Deployments
11.1 Cloud Analytics

12 Speech Analytics by Geographies
12.1 North America
12.2 Europe
12.3 Asia-Pacific
12.4 Middle East and Africa
12.5 Latin America

13 Speech Analytics by Companies
13.1 Nice
13.2 Verint Systems
13.3 Hewlett-Packard
13.4 CallMiner
13.5 Nexidia
13.6 Aspect© Anterior Cervical Plate System
13.7 Genesys
13.8 Other Companies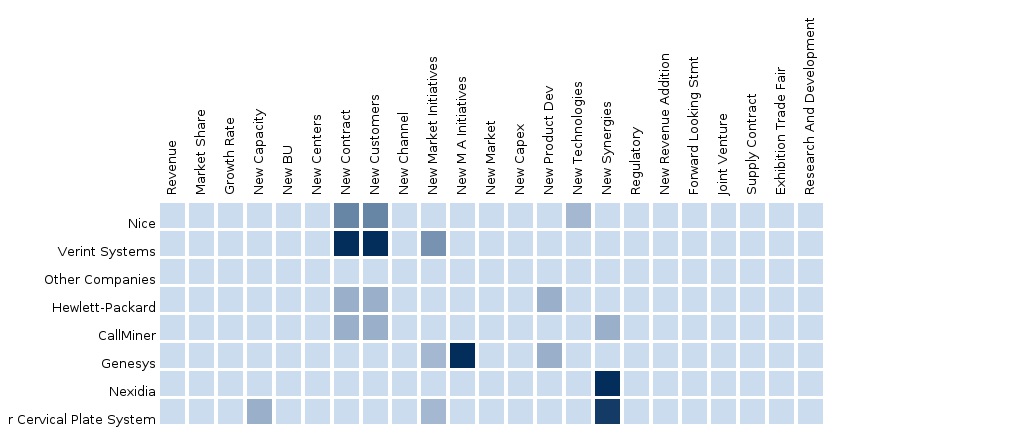 Please fill in the form below to receive a free copy of the Summary of this Report
Custom Market Research Services
We will customize the research for you, in case the report listed above does not meet with your exact requirements. Our custom research will comprehensively cover the business information you require to help you arrive at strategic and profitable business decisions.
Please visit
http://www.micromarketmonitor.com/custom-research-services.html
to specify your custom Research Requirement
PRODUCT TITLE
PUBLISHED
North America Speech Analytics Market


Most of the organizations operational in this region are considered to be the most tech-savvy and innovative; and hence, the emerging markets such as the U.S. and Canada have become highly attractive for companies engaged in the development and marketing of speech analytics.



May 2015
Europe Speech Analytics Market


The European speech analytics market is expected to grow from $91.80 million in 2013 to $248.74 million by 2018, at a CAGR of 20.4% for the period 2013-2018. This market contributes 26.06% of the global market and will remain stable at 26.06% by 2018. This market is segmented by regions, applications, companies and technologies.



Upcoming
Asia-Pacific Speech Analytics Market


The Asia-Pacific (APAC) speech analytics market is expected to grow from $54.16 million in 2013 to $211.24 million by 2018, at a CAGR of 29.2% for the period 2014-2019. This market contributes 15.38% of the global market and will remain stable at 15.38% 2018. This market is segmented by regions, applications, companies and technologies.



Upcoming
Middle East and Africa Speech Analytics Market


The Middle East and Africa speech analytics market is expected to grow from $12.92 million in 2013 to $66.36 million by 2018, at a CAGR of 35.6% for the period 2013-2018. This market contributes 3.67% of the global market and will remain stable at 3.67% by 2018. This market is segmented by regions, applications, companies and technologies.



Upcoming
Speech Analytic Solutions


Speech Analytic Solutions and Speech Analytic Services adds up to total



Upcoming
Speech Analytic Services


Speech Analytic Services and Speech Analytic Solutions adds up to total



Upcoming
Others Speech Analytic


Others Speech Analytic and Speech Engine, Indexing and...



Upcoming
China Speech Analytics


Speech Analytics-China and Speech Analytic Solutions and



Upcoming
United Kingdom Speech Analytics


Speech Analytics-United Kingdom and Speech Analytic Solutions and



Upcoming
U.S. Speech Analytics


Speech Analytics-U.S. and Speech Analytic Solutions and



Upcoming
Saudi Arabia Speech Analytics


Speech Analytics-Saudi Arabia and Speech Analytic Solutions and



Upcoming
Latin America - Brazil Speech Analytics


Speech Analytics-Latin America - Brazil and Speech Analytic Solutions and



Upcoming
12 of 12 items
12 reports | Show
Global Speech Analytics Market