Middle East and Africa Speech Analytics Market Research Report
The Middle East & Africa speech analytics market is expected to grow from $18.8 million in 2014 to $86.4 million by 2019, at a CAGR of 35.6% from 2014 to 2019. The drivers for the Middle East & Africa market include growing number of call centers, increased voice importance in multi-channel world, new implementation areas, and the rising demand for cloud analytics & risk management solutions.
Speech analytics, also known as audio mining, is used to spot and analyze spoken words that bring structure to interactions and reveal information buried in the interaction between the customer contact centers and organizations. Speech analytics adoption optimizes workforce performance and enhances customer experience.
The Middle East & Africa speech analytics market is growing rapidly and is majorly driven by the increasing IT spending in major verticals such as BFSI, telecommunication & IT, government, and healthcare & life sciences, among others, for business process management.
Enterprises across diversified verticals in the Middle East & Africa region have collected gigantic amount of data from various sources to understand the customer needs, preference, and drivers for customer loyalty. Risk & compliance management is also one of the significant drivers for the speech analytics market in the Middle East & Africa region. Speech analytics solutions and applications excavate the vast databases of recordings, and analyze them by taking privacy, accuracy, and compliance management into consideration.
The report provides competitive benchmarking of the leading players in the market, such as NICE, Verint, HP Autonomy, CallMiner, and Nexidia, among others, in terms of product offerings, key strategies, and operational parameters. In addition to this, the report provides market trends, overall adoption scenarios, competitive landscape, key drivers, restraints, and opportunities in this market. Furthermore, the report aims at estimating the current size and the future growth potential of this market across the different applications, verticals, and regions.
Report Options:
The market segmentation detailed in the report is as given below:
By Applications: Business process management, agent performance management, customer experience management, market intelligence management, and risk & compliance management, among others
By Solutions: Speech engine, indexing & analysis software, query engine, and reports & dashboards, among others
By Services: Professional service, and support & maintenance service
By Verticals: BFSI, healthcare, insurance, government, consumer goods & retail, transportation & logistics, manufacturing, and IT & telecommunications, among others
Customization Options:
Along with the MMM assessment, customize the report to meet your company's specific needs. The following customization options provide a comprehensive summary of the industry standards and deep dive analysis:
Solutions Matrix
A comprehensive analysis and benchmarking of applications and solutions in the market
Competitive Benchmarking
Value-chain evaluation using events, developments, market data for vendors in the market ecosystem, across various industrial verticals, market segmentation and categorization.
To unearth hidden opportunities by connecting related markets using cascaded value chain analysis
Vendor Landscaping
Vendor market watch and predictions, vendor market shares and offerings, categorization of adoption trends and market dominance (leaders, challengers, and followers)
R&D Watch
Tracking market movements in R&D space. For instance, algorithm optimization firms, statistical analysis firms, deep learning firms, academic institutions (tier-1 firms and major emphasis on tier-2/3 firms)
Client Tracker
The listing and analysis of deals, case studies, R&D investments, events, discussion forums, alliances and partners of tier-1 and tier-2/3 vendors for the last 3 years
Tracking of events and programs for the last 2 years
Vertical Analysis
An analysis of different industrial verticals by technologies and solutions
Industry Verticals: Defense, healthcare, BFSI, retail, manufacturing, education, security, logistics, and IT & telecom, among others
Market Data Tracker
Regional and country-specific market forecast and analysis
The identification of key end-user segments, by country
1 Executive Summary
1.1 Market Size And Forecast
1.2 Market Segmentation
2 Introduction
2.1 Objective
2.2 Market Definition
2.3 Markets Covered
2.4 Stakeholders
2.5 Research Methodology
2.5.1 Key Data
2.5.1.1 Secondary And Primary Research
2.5.1.2 Data Triangulation And Market Forecasting
2.6 Assumptions
2.7 Acronyms
3 Market Dynamics
3.1 Eco System
3.2 Drivers And Restraints For Speech Analytics-Middle East And Africa
3.2.1 Drivers
3.2.1.1 Risk Management
3.2.1.2 Versatile Utility
3.2.1.3 Increasing Sales
3.2.1.4 Real Time Speech Analytics
3.2.2 Restraints
3.2.2.1 Lack Of Awareness
4 Speech Analytics Market- By Country
4.1 Speech Analytics Market Size- By Country

5 Speech Analytics Market- By Type
5.1 Speech Analytics Market- By Type
6 Speech Analytics Market- By Solution
6.1 Speech Analytics Market- By Solution
7 Speech Analytics Market- By Service
7.1 Speech Analytics Market- By Service
8 Speech Analytics Market- By Application
8.1 Speech Analytics Market- By Application
9 Speech Analytics Market- By Vertical
9.1 Speech Analytics Market- By Vertical
10 Competitive Landscape
10.1 Market Share
10.1.1 Speech Analytics, Top 5 Companies, 2013
10.1.2 Speech Analytics-Mea-Top 5 Companies-2012
11 Company Profiles
11.1 Nice Systems
11.1.1 Introduction
11.1.2 Product Portfolio
11.1.3 Financials
11.2 Verint Systems Inc.
11.2.1 Introduction
11.2.2 Product Portfolio
11.2.3 Financials
11.3 Aspect
11.3.1 Introduction
11.3.2 Product Portfolio
11.4 Genesys Telecommunications Laboratories
11.4.1 Introduction
11.4.2 Product Portfolio
11.5 Hp Autonomy
11.5.1 Introduction
11.5.2 Product Portfolio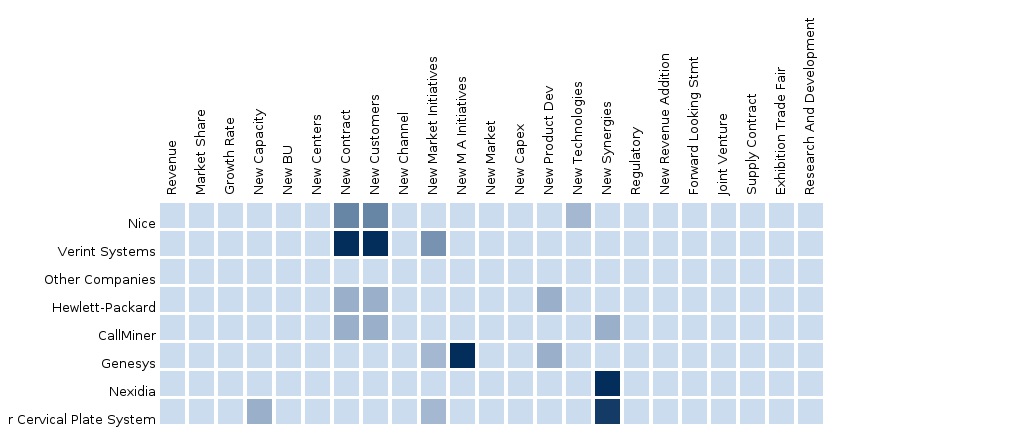 Please fill in the form below to receive a free copy of the Summary of this Report
Custom Market Research Services
We will customize the research for you, in case the report listed above does not meet with your exact requirements. Our custom research will comprehensively cover the business information you require to help you arrive at strategic and profitable business decisions.
Please visit
http://www.micromarketmonitor.com/custom-research-services.html
to specify your custom Research Requirement
Middle East and Africa Speech Analytics Market