The main purpose of security and surveillance radar is to detect and locate hostile targets in military actions as well as in commercial aviation. The application of radar is also used in other purposes, such as weather detection and navigation.
The North American security and surveillance radar market was estimated at $1,500.0 million in 2013, to grow at 4.6% annually. It is projected to reach $1,940.0 million by the end of 2018. The defense supremacy is maintained by the United States with an expenditure of $1570.0 million on security and surveillance radar in the North American region in 2014. The eminent threat that Canada is facing from Russia, mainly due to the ongoing military operations in the Arctic Sea will boost Canada's radar settlement in the northern part of the country.
The North American security and surveillance radar market can be segmented on the basis of platforms and countries. The platform segment is further classified into airborne and maritime surveillance radar, ground penetrating radar, coastal security radar, and weather and navigation radar. Key players in this market include Northrop Grumman Corporation, Rockwell Collins, SAAB AB, Lockheed Martin, Thales, Exelis, Honeywell International, Finmeccanica, and Kelvin Hughes.
The report provides detailed expectations of the growth rates and projected total expenditure. The report also incorporates factors that influence a country's expenditure on radar.
In addition, the report also provides an in-depth analysis of the present industry size and growth during the forecast period, including highlights of key growth stimulators. The report further benchmarks the industry against key global markets and provides detailed understanding of emerging opportunities in specific areas. It provides a detailed analysis of the market for military and commercial surveillance and security radar during the period 2014 to 2020.
Despite of the failure of past missile radar systems, which hammers the future funding development of new secondary radar systems, the North American region is expected to remain the top radar defense spender during the forecast period. The encouragement of a coastal surveillance radar network in the waters around the Dutch Caribbean is projected to drive the region's growth opportunities for security and surveillance radar, which are largely used for search, rescue, and drug interdiction, and also help in combating illegal immigrants.
CUSTOMIZATION OFFERINGS
1.HISTORICAL DATA FOR 5 YEARS
Financials
Macro Indicator Data
M&A Data
Budget and Defense Program Information
2.COMPANY PROFILES
In-depth analysis of the company's product portfolio
Competitive landscape (revenue, operating margin, marginal cost, P/E ratio, EPS, developments/deals/events)
Ratio analysis
3.REGION-SPECIFIC INFORMATION (NORTH AMERICA, EUROPE, APAC, MIDDLE EAST and RoW)
This covers market sizing/mapping, global footprint, operation and financials information, and the competitive landscape. The MMM offering will cover a detailed market study of the points mentioned below:
Country wise international arms transfer, and suppliers and recipients of conventional weapons
4.GLOBAL TRENDS/MARKET ENVIRONMENT
Product and technological advancements/latest innovations and development
Demand and supply analysis
Market consolidation (M&A, joint ventures, divestment and spin-off)
Export/Import data
Industrial production and capacity optimization data
5.GLOBAL FORECAST NUMBERS/OUTLOOK (Historical and Forecast by Year)
Milicas (Military Aircraft) and Helicas (Military Rotary Wing, i.e., Helicopter)
6.PREDICTIVE FORECASTING
Time Series
Regression Analysis
7.DEFENSE PROGRAMS (By name, type, user, spending by year in $ million, prime contractor, program status, etc.)
Programs Covered
Aircraft Programs
Ground Vehicle Programs
Missile Programs
Naval Programs
Vehicle Programs
8.DEFENSE BUDGET/SEQUESTRATION IMPACT
Impact of sequestration on defense programs
Which programs got impacted due to budget cuts
Impact on company's overall revenue, operation, and profitability
9.OPPORTUNITY ANALYSIS
A comprehensive analysis to understand the potential growth markets based on parameters like:
GDP percentage with respect to military expenditure of a particular country
Defense review of countries active in this market
10.PRODUCT ANALYSIS
Usage pattern (in-depth trend analysis) of products (segment wise)
Product matrix which gives a detailed comparison of the product portfolio of each company, mapped at the country and sub segment level
End-user adoption rate analysis of the products (segment wise and country wise)
Comprehensive coverage of product approvals, pipeline products, and product recalls
11.SUPPLY CHAIN/VENDOR ANALYSIS
Coverage - Vendor analysis, vendor financing, customers/self funding, and distribution network
1 Introduction
1.1 Key Take-Aways
1.2 Report Description
1.3 Markets Covered
1.4 Stakeholders
1.5 Research Methodology
2 Executive Summary
3 Market Overview
3.1 Introduction
3.2 Market Segmentation
3.3 Market Definition
3.4 Market Dynamics
3.5 Drivers
3.5.1 Lightweight Radars Catering to the Demand
3.5.2 Increased Number of Navigation Radars Used By UAVs
3.6 Restraints
3.6.1 Global Shift in Defense Power
3.6.2 Continuity and Changes in Military Operations
3.7 Challenges
3.7.1 Wind Energy Creating A Problem with Military and Weather Radars
3.7.2 Issues With Border Deployment Radar

4 Trend Analysis
4.1 Market Trend
4.1.1 Combined Procurement
4.2 Industry Trends
4.2.1 Joint Development
4.3 Technology Trends
4.3.1 Technology Roadmap
4.3.1.1 Single-Object Tracker
4.3.1.2 Multiple-Object Trackers
4.3.1.3 High Resolution Radars
4.3.1.4 Continuous Wave Radars
4.3.1.5 Remote Operations Capability
4.3.1.6 Unmanned Systems
4.3.1.7 Digital Systems
4.3.1.8 Underwater Surveillance
4.3.1.9 Stealth Technology
4.3.1.10 Advances in Nanotechnology
5 North America Security and Surveillance Radar Market
5.1 North America S&S radar market Revenue Analysis, By Type of Platforms
5.1.1 Maritime Security and Surveillance Radar Revenue Forecast
5.1.2 Land-Based Security and Surveillance Radar Revenue Forecast
5.1.3 Airborne Security and Surveillance Radar Revenue Forecast
5.2 Regional Analysis
5.2.1 North America Revenue Forecast
5.2.1.1 North America Revenue Forecast, By Platform of Radar
5.3 Country Analysis
5.3.1 U.S. Revenue Forecast
5.3.2 U.S. Revenue Forecast, By Platform of Radar
5.3.3 Canada Revenue Forecast
5.3.3.1 Canada Revenue Forecast, By Platform of Radar

6 Competitive Landscape
6.1 Market Share Analysis, By Platform
6.2 Market Share Analysis, By Country
7 Company Profiles
7.1 North America-Northrop Grumman Corp.
7.1.1 Overview
7.1.2 Products & Services
7.1.3 Strategy & Insights
7.1.4 Developments
7.2 North America-SAAB Ab
7.2.1 Overview
7.2.2 Products & Services
7.2.3 Strategy & Insights
7.2.4 Developments
7.3 North America-Lockheed Martin
7.3.1 Overview
7.3.2 Products & Services
7.3.3 Strategy & Insights
7.3.4 Developments
7.4 North America-Rockwell Collins
7.4.1 Overview
7.4.2 Products & Services
7.4.3 Strategy & Insights
7.4.4 Developments
7.5 North America-Thales Sa
7.5.1 Overview
7.5.2 Products & Services
7.5.3 Strategy & Insights
7.5.4 Developments
7.6 North America-Exelis Inc.
7.6.1 Overview
7.6.2 Products & Services
7.6.3 Strategy & Insights
7.6.4 Developments
7.7 North America-Honeywell International Inc.
7.7.1 Overview
7.7.2 Products & Services
7.7.3 Strategy & Insights
7.7.4 Developments
7.8 North America-Finmeccanica SPA
7.8.1 Overview
7.8.2 Products & Services
7.8.3 Strategy & Insights
7.8.4 Developments
7.9 North America-Kelvin Hughes
7.9.1 Overview
7.9.2 Products & Services
7.9.3 Strategy & Insights
7.9.4 Developments
7.10 North America-Israel Aerospace Industries
7.10.1 Overview
7.10.2 Products & Services
7.10.3 Strategy & Insights
7.10.4 Developments
7.11 North America-Raytheon Co.
7.11.1 Overview
7.11.2 Products & Services
7.11.3 Strategy & Insights
7.11.4 Developments
7.12 North America-Airbus Group
7.12.1 Overview
7.12.2 Products & Services
7.12.3 Strategy & Insights
7.12.4 Developments
7.13 North America-Bae Systems
7.13.1 Overview
7.13.2 Products & Services
7.13.3 Strategy & Insights
7.13.4 Developments
7.14 North America-Cobham Plc
7.14.1 Overview
7.14.2 Products & Services
7.14.3 Strategy & Insights
7.14.4 Developments
7.15 North America-Boeing
7.15.1 Overview
7.15.2 Products & Services
7.15.3 Strategy & Insights
7.15.4 Developments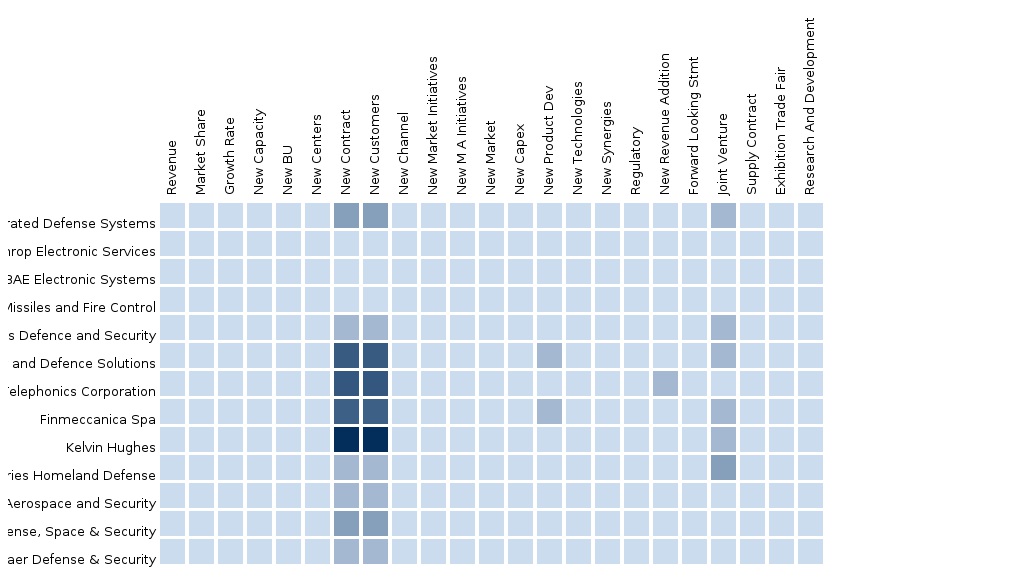 Please fill in the form below to receive a free copy of the Summary of this Report
Custom Market Research Services
We will customize the research for you, in case the report listed above does not meet with your exact requirements. Our custom research will comprehensively cover the business information you require to help you arrive at strategic and profitable business decisions.
Please visit
http://www.micromarketmonitor.com/custom-research-services.html
to specify your custom Research Requirement
Defence/ Homeland Security