Global Antenna, Transducer, and Radome Market Research Report
Antenna, Transducer, and Radome and Software Defined Radios, Global Telemetry and Man-Portable Communication Systems adds up to total Defense Communications market.

Antenna, Transducer, and Radome can be segmented by Geographies and Companies. Geographies of this market are European Union countries, Africa, Asia-Pacific, North America, South America, Rest of World and Europe. Companies of this market are Lockheed Martin, Saint-Gobain Other, Thales Group, Northrop Business Segments, Qinetiq Group PLC, FINMECCANICA, Bae Systems PLC, Radant Technologies, Jenoptik, Cobham Plc, Raytheon Company, L-3 Communications Holdings Inc, Airbus, Ultra Electronics Information and Power Systems, Boeing Company, Exelis, Rock West Solutions., SAAB and ALLIANT TECHSYSTEMS INC.

Key Questions Answered
What are market estimates and forecasts; which of Antenna, Transducer, and Radome markets are doing well and which are not?
What is the competitive landscape; How companies like Lockheed Martin, Saint-Gobain Other and Thales Group doing in Antenna, Transducer, and Radome?

What makes our report unique?

This report provides market sizing and forecast for the Antenna, Transducer, and Radome market. It also provides market sizing and forecast along with the drivers/inhibitors/opportunity analysis for each of the micro markets.
The report provides deep dive competitive landscape covering the top players such as Lockheed Martin, Saint-Gobain Other, Thales Group and Northrop Business Segments.
The reports provides benchmarking insight on the top players Lockheed Martin, Saint-Gobain Other, Thales Group and Northrop Business Segments.
The report provide competitive intelligence on Lockheed Martin, Saint-Gobain Other, Thales Group and Northrop Business Segments.

Audience for this report

Global Antenna, Transducer, and Radome companies
Manufacturing Companies
Traders, distributors, and suppliers
Governmental and research organizations
Associations and industry bodies
Technology providers

Top developments

Qinetiq and NovAtel has entered into partnership for the development of GAJT Global Positioning anti-jam antenna system.
Saint-Gobain Aerospace will supply nose radomes for the new PC-24 business jet built by Pilatus, of Stans, Switzerland.
Liquid Robotics and Ultra Electronics USSI announced the joint development of a revolutionary and cost effective surveillance system
The new large antenna (12.3m x 0.9m) of the environmental satellite Sentinel-1A ́s radar instrument, developed by Airbus Defence and Space
Thales has secured a pre-launch order for the new Cougar Team Radio.
Airbus Defence and Space, will deliver the radar antenna and electronics
Thales SA and Finmeccanica SpA joint venture Thales Alenia Space wins contracts for satellite operational support and maintenance
L-3 Communications was awarded a $17 million delivery order for supply of SATCOM Terminals
Alliant Techsystems Inc and Airbus finalize agreement on A350 XWB-1000 Variant
Fifth Lockheed Martin MOUS satellite for the U.S. Navy.




1 Introduction
1.1 Analyst Insights
1.2 Market Definitions
1.3 Market Segmentation & Aspects Covered
1.4 Research Methodology
2 Executive Summary
3 Market Overview
4 By Geographies
4.1 European Union countries
4.2 Africa
4.3 Asia-Pacific
4.4 North America
4.5 South America
4.6 Rest of World
4.7 Europe
5 By Companies
5.1 Lockheed Martin
5.2 Saint-Gobain Other
5.3 Thales Group
5.4 Northrop Business Segments
5.5 Qinetiq Group PLC
5.6 FINMECCANICA
5.7 Bae Systems PLC
5.8 Radant Technologies
5.9 Jenoptik
5.10 Cobham Plc
5.11 Raytheon Company
5.12 L-3 Communications Holdings Inc
5.13 Airbus
5.14 Ultra Electronics Information and Power Systems
5.15 Boeing Company
5.16 Exelis
5.17 Rock West Solutions.
5.18 SAAB
5.19 ALLIANT TECHSYSTEMS INC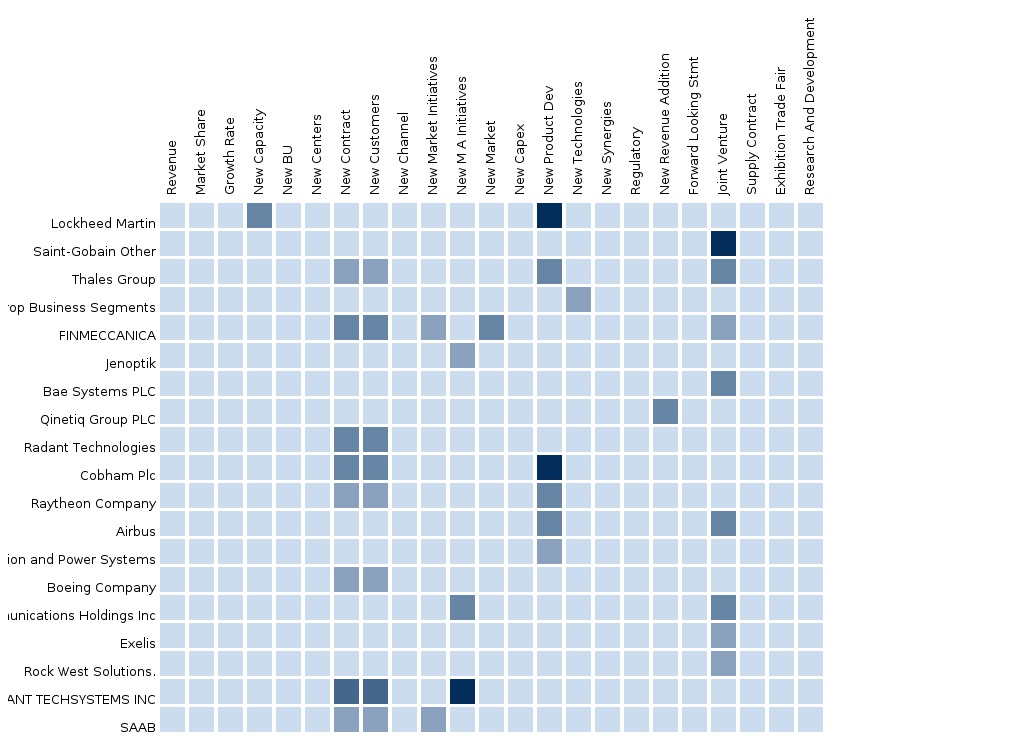 Please fill in the form below to receive a free copy of the Summary of this Report
Custom Market Research Services
We will customize the research for you, in case the report listed above does not meet with your exact requirements. Our custom research will comprehensively cover the business information you require to help you arrive at strategic and profitable business decisions.
Please visit
http://www.micromarketmonitor.com/custom-research-services.html
to specify your custom Research Requirement
Aerospace and Defense Communication system