Middle East Drilling Fluid & Completion Fluid Market by Types (Water-Based Systems, Oil-Based Systems) Application Areas (Onshore and Offshore) & Geography Forecasting to 2018
Description
Table of Contents
Customer Intelligence
The Middle East drilling and completion fluid market was valued at $560.97 million in 2013 and is forecasted to reach $738.64 million by 2018, growing at a CAGR of 5.70% from 2013 to 2018. The water-based system in drilling and completion fluids accounted for $242.3 million in 2013. The Middle Eastern region constituted nearly 5% of the global drilling and completion fluid market in 2013.
Increase in drilling and exploration activities form one of the key reasons for the growth of the drilling and completion fluid market in the Middle East. Major investments made for drilling in Oman and Saudi Arabia are helping to increase the number of wells drilled and thus driving the growth of the market in the region. The Middle East is one of the stable markets for drilling and completion fluids and is expected to remain so in the coming years.
The MMM report 'Middle East Drilling Fluid and Completion Fluid Market Forecast, 2013-2018' analyzes the drilling fluids market by base fluid types, application, and geography. In terms of geography, the report is segmented into countries such as Oman, Saudi Arabia, and others. Types of drilling and completion fluid markets include water-based systems, oil-based systems, synthetic-based systems, and others (aerated foam, gaseous agents, and air as a base fluid mixed with various additives). The application areas covered are onshore and offshore areas.
This report also provides an extensive competitive landscape of companies operating in the drilling and completion fluid market such as Baker Hughes, Halliburton, M-I SWACO, and Newpark Resources, Inc. Regional market shares, new product/service launches, mergers and acquisitions, and product portfolios of key market players have been elaborated upon in the report.
Additional Customization Options
This report is designed to estimate, analyze, and forecast the revenue of drilling fluids across the Middle East market. With market data, we also provide customized MMM assessments that meet your company's specific needs. Customize your report to get an insight into comprehensive industry standards and deep-dive analysis of the following parameters.
Product Benchmarking Outlook
Comparison of each base fluid used in various applications
Qualitative and quantitative data of different types of base-fluids used
Product benchmarking of key competitors/consumers
Different base fluids drivers with their service providers
Competitive analysis of drilling and completion fluids market portfolio of each company mapped at country level by base fluid type
Customer Segment Outlook
Additional company profiles and landscape
Additional market segment assessment by geography/application
Additional information about existing projects with detailed analysis, historical data, and statistically refined forecast
Drilling fluid properties
Analysis of drilling fluid technologies
Macro Data
Producing well count using fluid type (country-level data)
Fluids used in application areas: whether onshore or offshore (country-level data)
Total rig count (country level)
Additional information on drilling equipment
Drilling fluid software manufacturers
Expert Forum
Qualitative inputs on drilling and completion fluid activities - Trends in different countries in the African region
Opportunities available and options for new contenders in the market
Comprehensive assessment of stakeholder strategies
Analysis of market attractiveness with latest developments
Analysis on customized fluids
Future Prospects
Quick turnaround on key upcoming drilling projects driving the demand of drilling and completion fluids
Analysis and impact of local and regional environmental regulations by country
Market Capital Outlook
Current Industry Challenges
In-depth value chain analysis of drilling fluid and completion fluid
Challenges faced in drilling fluid industry
Technological challenges
Project execution difficulties
Supply chain complexity
Financing restrictions
1 Introduction
1.1 Objectives Of The Study
1.2 Market Definitions
1.3 Market Covered
1.4 Stakeholders
1.5 Research Methodology
1.5.1 Approach
1.5.2 Market Size
1.5.3 Key Data Points Taken From Secondary Sources
1.5.4 Key Data Points Taken From Primary Sources
1.6 Assumptions
1.7 Acronyms
2 Market Snapshot
2.1 Market Value
2.2 Market Value Forecast
2.3 By Type
2.4 By Geography
2.5 By Application
3 Market Overview
3.1 Drivers And Restrains For Drilling And Completion Fluid Market
3.1.1 Drivers
3.1.1.1 Highest Rise In Oil Supply
3.1.1.2 The Highest Supplying Location In The Global Market
3.1.1.3 Increase In The Number Of Wells Drilled
3.1.2 Restraints:
3.1.2.1 Severe Regulations On The Use And Discharge Of Drilling Fluids.
3.1.2.2 Shortage Of Mud Engineering Professionals.
3.2 Support Tables.
3.2.1 Introduction.
3.2.2 Industry Overview.
3.3 Porter's Five Forces Analysis.
3.3.1 Threat Of New Entrants.
3.3.2 Threat Of Substitutes.
3.3.3 Buyer's Power.
3.3.4 Supplier's Power.
3.3.5 Degree Of Competition.
4 Middle East Drilling Fluid & Completion Fluid Market, By Types
4.1 Introduction
4.2 Drilling Fluids And Completion Fluids Market, By Types
4.3 Middle East Water Based Market, Country Analysis.
4.4 Middle East Oil Based Systems Market, Country Analysis.
4.5 Middle East Synthetic Based Systems Market, Country Analysis.
4.6 Middle East Others Based Systems Market, Country Analysis
4.7 Support Tables.
4.7.1 Introduction.
5 Middle East Drilling Fluid & Completion Fluid Market By Geography.
5.1 Introduction.
5.2 Market By Country.
5.3 Oman Market, By Type.
5.4 Saudi Arabia Market, By Type.
5.5 Saudi Other Market, By Type.
6 Drilling And Completion Fluids Market By Application.
6.1 Introduction.
6.2 Drilling And Completion Fluids, By Application.
6.3 Technological Developments And Exploration Activities For Shale Gas, Cbm
6.3.1.1 Impact Of Drilling Fluids On The Environment And Surrounding Eco System.
6.4 Demand Scenario.
6.4.1.1.1 Demand And Supply Scenario Of Natural Gas.
7 Drilling And Completion Fluids: Competitive Landscape.
7.1 Developments: Middle East Region, By Companies.
8 Drilling And Completion Fluids –Middle East, By Companies.
8.1 M-I Swaco.
8.1.1 Introduction.
8.1.2 Products & Services.
8.1.3 Financials.
8.2 Baker Hughes Inc.
8.2.1 Introduction.
8.2.2 Products & Services.
8.2.3 Financials.
8.3 Halliburton Co.
8.3.1 Introduction.
8.3.2 Products & Services.
8.3.3 Financials.
9 Drilling & Completion Fluids: Macroeconomic Indicators.
9.1 Introduction.
10. Drilling And Completion Fluids.
10.1 Introduction.
10.2 Overview.
10.3 Market Segments.
10.4 Drilling And Completion Fluids Applications.
10.5 Technical Restraints:
10.6 Technological Developments In Drilling And Completion Fluids.
10.7 Environmental Restraints.
List of Tables
Table 1 Global Drilling Activities, By Geography, 2011 – 2012 (Million Feet)
Table 2 Onshore Drilling Activities, By Geography (Million Feet) 2011 – 2012
Table 3 Offshore Drilling Activities, By Geography (Million Feet) 2011 – 2012
Table 4 Classification Of Drilling And Completion Fluids Base
Table 5 Drilling And Completion Fluids-Middle East Market Values, By Types, 2012 - 2018($ Million)
Table 6 Middle East Water Based Systems Market, By Country, 2012-2018($Million)
Table 7 Middle East Oil Based Systems Market By Country, 2012-2018($Million)
Table 8 Middle East Synthetic Based Systems Market By Country, 2012-2018($Million)
Table 9 Middle East Others Based Systems Market By Country, 2012-2018($Million)
Table 10 Composition Of Water-Based Drilling Fluids
Table 11 Composition Of Oil & Synthetic-Based Drilling Fluids
Table 12 Functions Of Drilling And Completion Fluids
Table 13 Middle East Market Values, By Geography, 2012 – 2018 ($ Million)
Table 14 Oman Market Values, By Types, 2012 - 2018($ Million)
Table 15 Kingdom Of Saudi Arabia Market Values, By Types, 2012 - 2018($ Million)
Table 16 Others Market Values, By Types, 2013 - 2018($ Million)
Table 17 Middle East - Market Values, By Application, 2012 – 2018 ($ Million)
Table 18 Technically Recoverable Shale Oil Reserves, By Major Countries, (Billion Bbl)
Table 19 Technically Recoverable Shale Gas Reserves, By Major Countries, (Tcf)
Table 20 Governmental Drilling And Completion Fluids Discharge Regulations, By Countries
Table 21 Demand Of Crude Oil, By Geography, 2007 - 2012 ('000 Bbl/Day)
Table 22 Percentage Change In Crude Oil Consumption, By Geography,2009 – 2012
Table 23 Supply Of Crude Oil, By Geography, 2007 – 2012 ('000 Bbl/Day)
Table 24 Percentage Change In Crude Oil Production, By Regions, 2009 – 2012
Table 25 Demand Of Natural Gas, By Geography, 2007 – 2012 (Bcm) 52
Table 26 Percentage Change In Natural Gas Consumption, By Geography,2009 – 2012
Table 27 Supply Of Natural Gas, By Geography, 2007 – 2012 (Bcm)
Table 28 Change In Natural Gas Production, By Geography, 2009 – 2012
Table 29 Total Offshore Wells Drilled, 2011 – 2012
Table 30 Middle East: Developments
Table 31 M-I Swaco- Products & Services
Table 32 M-I Swacofinancials, 2009-2013 ($Million)
Table 33 Baker Hughes Inc.: Products & Services
Table 34 Baker Hughes Inc.: Financials, 2009-2013 ($Million)
Table 35 Halliburton Co.: Products & Services
Table 36 Halliburton Co.: Financials, 2009-2013 ($Million)
Table 37 Macro Indicator Drilled Footage (Million Feet)
Table 38 Composition Of Water-Based Drilling Fluids
Table 39 Composition Of Oil & Synthetic-Based Drilling Fluids
List of Figures
Figure 1 Market Segmentation
Figure 2 Drilling And Completion Fluid Services-Middle East Ecosystem
Figure 3 Porter's Five Forces Analysis
Figure 4 Top Growing Drilling Fluid & Completion Fluid Market Middle East, By Services, 2013 – 2018
Figure 6 Market Share: 2013
Figure 7 Market Share: 2018
Figure 8 Baker Hughes Inc.: Ecosystem
Figure 9 Halliburton Co.: Ecosystems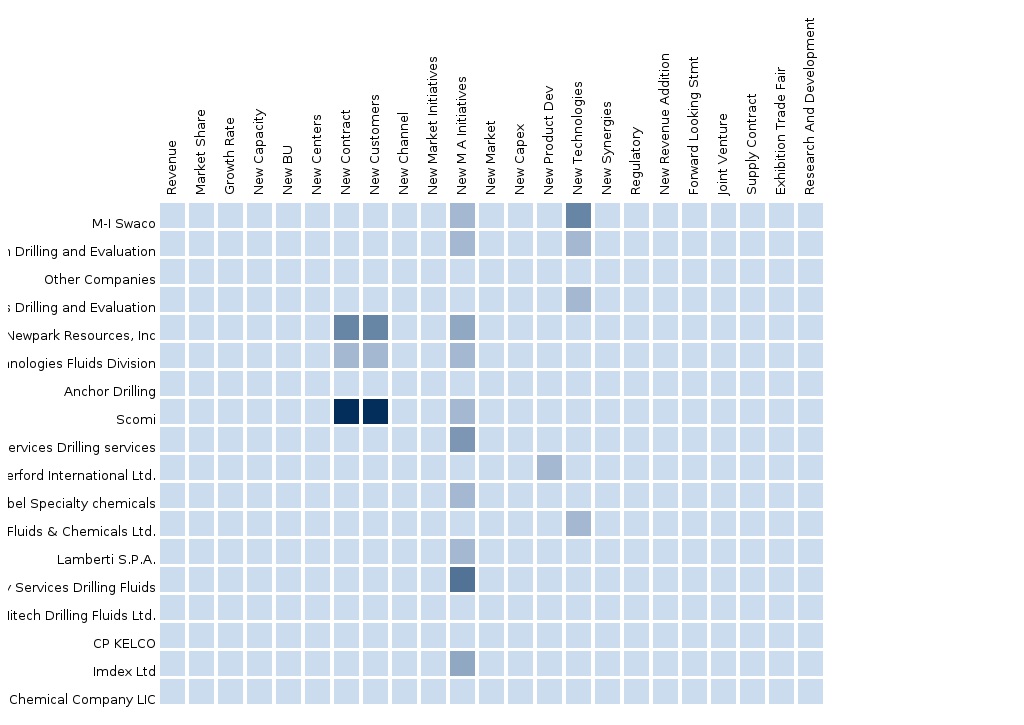 Middle East Drilling Fluid & Completion Fluid