Europe Water Soluble Fertilizers Market
Description
Table of Contents
Customer Intelligence
Water Soluble Fertilizers-Europe market has been pegged at $4,596.6m in the year 2013 growing at 5.4% annually and is projected to reach $5,970.3m by the end of the year 2018.
Water Soluble Fertilizers-Europe constitute 40.2% of Global Water Soluble Fertilizers market and are poised to grow its market share to 40.3% by the end of year 2018.
It is segmented on basis of geographies and types.
Key question answered
What are market estimates and forecasts; which of Water Soluble Fertilizers-Europe markets are doing well and which are not?
Audience for this report
Water Soluble Fertilizers-Europe companies
How below markets are influencing the growth of Water Soluble Fertilizers
Agricultural Land-Brazil
Water Soluble Fertilizers
Nitrogenous
Potassic
Phosphatic
Micronutrients
CUSTOMIZATION OPTIONS FOR WATER SOLUBLE FERTILIZERS (WSF) - EUROPE
Along with the market data, you can also customize MMM assessments that meet your company's specific needs. Customize your report to get a summary of the industry standards and deep-dive analysis of the following parameters.
Technical Analysis
The southern and south eastern regions of Europe are adversely affected in agricultural sector due to climatic change. The use and efficiency of water soluble fertilizers depends upon the type of soil and other geographical factors essential for agriculture. Nitrogenous water soluble fertilizers and phosphatic water soluble fertilizers may deliver different results for similar conditions.
A regional geographical analysis and its suitability for particular type of water soluble fertilizer product will be done.
To increase the utility of fertilizer, it is necessary to understand the soil nature as the salinity of the soil will not support acidic fertilizer and vice-versa. This will help in deeper understanding of market size.
Regions with high precipitation tend to drain away the components of water soluble fertilizers. The analysis of climate of European region will help to understand such pockets where water soluble fertilizers market will be affected due to extreme climatic conditions.
Low-cost Sourcing Locations
With the rising cost of raw material, prices have been increasing. Cost optimization is taking place at every value addition process. But a good percentage of reduction in cost can be achieved at the input level itself.
Various raw material sourcing locations can be studied and a comparative analysis of low-cost raw material sourcing locations can be provided.
Competitive Intelligence
The competitive advantage that the competitor is enjoying over others
The companies operating in the segment with a similar product portfolio or targeting the similar markets
Arriving at a competitive benchmarking by taking into account the top industry players in the same category
Regulatory Framework
European region imposes very stringent norms on health and environmental aspects. The Common Agricultural Policy adopted by the European Union may affect the market of agricultural fertilizers. It is necessary to study its fallout on the market of water soluble fertilizers market.
To study the various features of Common Agricultural Policy (CAP) adopted by the European Union (EU)
To study if the regulatory issues in import policies of the countries are adversely affecting the business
To study whether the government is offering any fertilizer subsidies within the country or non-tariff barriers on import for agricultural inputs
Crop - application usage data
Type of water soluble fertilizer (Nitrogenous, Phosphatic, Potassic, Micronutrients) preferred for a particular crop (field, horticultural, turf & ornamental crops).
Type of water soluble fertilizer (Nitrogenous, Phosphatic, Potassic, Micronutrients) is preferred for a particular application (Fertigation, Foliar).
1 Introduction
1.1 Objective of the study
1.1.1 Overall goal of writing the report
1.2 Market Definition and Scope of the study
1.2.1 Market Definition
1.2.2 Areas covered
1.2.3 Markets Covered
1.3 Stakeholders
1.4 Research Methodology
1.4.1 Secondary sources
1.4.2 Primary Sources
1.4.3 Market estimation methodology (Top-down, bottom-up, data triangulation.)
1.4.4 Macro indicators for the study
1.5 Assumptions
1.6 List of Acronyms
2 Market Overview
3 Water Soluble Fertilizers-Europe, By Types
3.1 Split By Geography
3.2 Nitrogenous-Europe
3.2.1 Nitrogenous-Europe, By Geographies
3.2.1.1 Nitrogenous-Russia
3.2.1.2 Nitrogenous-Spain
3.2.1.3 Nitrogenous-Ukraine
3.2.1.4 Nitrogenous-Germany
3.2.1.5 Nitrogenous-Italy
3.2.1.6 Nitrogenous-United Kingdom
3.2.1.7 Nitrogenous-Belgium
3.2.1.8 Nitrogenous-Europe - Other Geographies
3.3 Phosphatic-Europe
3.3.1 Phosphatic-Europe, By MacroIndicators
3.3.1.1 Phosphatic-Agricultural Land-Europe
3.3.2 Phosphatic-Europe, By Geographies
3.3.2.1 Phosphatic-Russia
3.3.2.2 Phosphatic-Spain
3.3.2.3 Phosphatic-Ukraine
3.3.2.4 Phosphatic-Germany
3.3.2.5 Phosphatic-Italy
3.3.2.6 Phosphatic-United Kingdom
3.3.2.7 Phosphatic-Europe - Other Geographies
3.4 Potassic-Europe
3.4.1 Potassic-Europe, By Companies
3.4.1.1 Potassic-Uralkali JSC-Europe
3.4.1.2 Potassic-Haifa Chemicals Ltd.-Europe
3.4.2 Potassic-Europe, By MacroIndicators
3.4.2.1 Potassic-Agricultural Land-Europe
3.4.3 Potassic-Europe, By Geographies
3.4.3.1 Potassic-Russia
3.4.3.2 Potassic-Spain
3.4.3.3 Potassic-Ukraine
3.4.3.4 Potassic-Germany
3.4.3.5 Potassic-Italy
3.4.3.6 Potassic-United Kingdom
3.4.3.7 Potassic-Norway
3.4.3.8 Potassic-Europe - Other Geographies
3.5 Micronutrients-Europe
3.5.1 Micronutrients-Europe, By MacroIndicators
3.5.1.1 Micronutrients-Agricultural Land-Europe
3.5.2 Micronutrients-Europe, By Geographies
3.5.2.1 Micronutrients-Russia
3.5.2.2 Micronutrients-Spain
3.5.2.3 Micronutrients-Ukraine
3.5.2.4 Micronutrients-Germany
3.5.2.5 Micronutrients-Italy
3.5.2.6 Micronutrients-United Kingdom
3.5.2.7 Micronutrients-Europe - Other Geographies
4 Water Soluble Fertilizers-Europe, By Geographies
4.1 Water Soluble Fertilizers-Russia
4.1.1 Water Soluble Fertilizers-Russia, By MacroIndicators
4.1.1.1 Water Soluble Fertilizers-Agricultural Land-Russia
4.1.2 Water Soluble Fertilizers-Russia, By Companies
4.1.2.1 Water Soluble Fertilizers-Uralkali JSC-Russia
4.1.2.2 Water Soluble Fertilizers-Haifa Chemicals Ltd.-Russia
4.1.3 Water Soluble Fertilizers-Russia, By Types
4.1.3.1 Phosphatic-Russia
4.1.3.2 Potassic-Russia
4.1.3.3 Nitrogenous-Russia
4.1.3.4 Micronutrients-Russia
4.2 Water Soluble Fertilizers-Spain
4.2.1 Water Soluble Fertilizers-Spain, By MacroIndicators
4.2.1.1 Water Soluble Fertilizers-Agricultural Land-Spain
4.2.2 Water Soluble Fertilizers-Spain, By Companies
4.2.2.1 Water Soluble Fertilizers-ICL Fertilizers-Spain
4.2.3 Water Soluble Fertilizers-Spain, By Types
4.2.3.1 Phosphatic-Spain
4.2.3.2 Potassic-Spain
4.2.3.3 Nitrogenous-Spain
4.2.3.4 Micronutrients-Spain
4.3 Water Soluble Fertilizers-Ukraine
4.3.1 Water Soluble Fertilizers-Ukraine, By MacroIndicators
4.3.1.1 Water Soluble Fertilizers-Agricultural Land-Ukraine
4.3.2 Water Soluble Fertilizers-Ukraine, By Types
4.3.2.1 Phosphatic-Ukraine
4.3.2.2 Potassic-Ukraine
4.3.2.3 Nitrogenous-Ukraine
4.3.2.4 Micronutrients-Ukraine
4.4 Water Soluble Fertilizers-Germany
4.4.1 Water Soluble Fertilizers-Germany, By MacroIndicators
4.4.1.1 Water Soluble Fertilizers-Agricultural Land-Germany
4.4.2 Water Soluble Fertilizers-Germany, By Companies
4.4.2.1 Water Soluble Fertilizers-Yara International ASA-Germany
4.4.2.2 Water Soluble Fertilizers-EuroChem-Germany
4.4.3 Water Soluble Fertilizers-Germany, By Types
4.4.3.1 Phosphatic-Germany
4.4.3.2 Potassic-Germany
4.4.3.3 Nitrogenous-Germany
4.4.3.4 Micronutrients-Germany
4.5 Water Soluble Fertilizers-Italy
4.5.1 Water Soluble Fertilizers-Italy, By MacroIndicators
4.5.1.1 Water Soluble Fertilizers-Agricultural Land-Italy
4.5.2 Water Soluble Fertilizers-Italy, By Companies
4.5.2.1 Water Soluble Fertilizers-Agrium Crop protection products-Italy
4.5.3 Water Soluble Fertilizers-Italy, By Types
4.5.3.1 Phosphatic-Italy
4.5.3.2 Potassic-Italy
4.5.3.3 Nitrogenous-Italy
4.5.3.4 Micronutrients-Italy
4.6 Water Soluble Fertilizers-United Kingdom
4.6.1 Water Soluble Fertilizers-United Kingdom, By MacroIndicators
4.6.1.1 Water Soluble Fertilizers-Agricultural Land-United Kingdom
4.6.2 Water Soluble Fertilizers-United Kingdom, By Companies
4.6.2.1 Water Soluble Fertilizers-ICL Fertilizers-United Kingdom
4.6.3 Water Soluble Fertilizers-United Kingdom, By Types
4.6.3.1 Phosphatic-United Kingdom
4.6.3.2 Potassic-United Kingdom
4.6.3.3 Nitrogenous-United Kingdom
4.6.3.4 Micronutrients-United Kingdom
4.7 Water Soluble Fertilizers-Netherlands
4.7.1 Water Soluble Fertilizers-Netherlands, By Companies
4.7.1.1 Water Soluble Fertilizers-ICL Fertilizers-Netherlands
4.7.1.2 Water Soluble Fertilizers-OCI Fertilizer-Netherlands
4.8 Water Soluble Fertilizers-Europe - Other Geographies
4.8.1 Water Soluble Fertilizers-Europe - Other Geographies, By MacroIndicators
4.8.1.1 Water Soluble Fertilizers-Agricultural Land-Europe - Other Geographies
4.8.2 Water Soluble Fertilizers-Europe - Other Geographies, By Companies
4.8.2.1 Water Soluble Fertilizers-Uralkali JSC-Europe - Other Geographies
4.8.3 Water Soluble Fertilizers-Europe - Other Geographies, By Types
4.8.3.1 Nitrogenous-Europe - Other Geographies
4.8.3.2 Phosphatic-Europe - Other Geographies
4.8.3.3 Potassic-Europe - Other Geographies
4.8.3.4 Micronutrients-Europe - Other Geographies
4.9 Water Soluble Fertilizers-Romania
4.9.1 Water Soluble Fertilizers-Romania, By Companies
4.9.1.1 Water Soluble Fertilizers-Agrium Crop protection products-Romania
4.10 Water Soluble Fertilizers-Belgium
4.10.1 Water Soluble Fertilizers-Belgium, By Companies
4.10.1.1 Water Soluble Fertilizers-ICL Fertilizers-Belgium
4.10.2 Water Soluble Fertilizers-Belgium, By Types
4.10.2.1 Nitrogenous-Belgium
4.11 Water Soluble Fertilizers-Norway
4.11.1 Water Soluble Fertilizers-Norway, By Companies
4.11.1.1 Water Soluble Fertilizers-Yara International ASA-Norway
4.11.1.2 Water Soluble Fertilizers-Sinochem agricultural business-Norway
4.11.2 Water Soluble Fertilizers-Norway, By Types
4.11.2.1 Potassic-Norway
4.12 Water Soluble Fertilizers-Switzerland
4.12.1 Water Soluble Fertilizers-Switzerland, By Companies
4.12.1.1 Water Soluble Fertilizers-Yara International ASA-Switzerland
4.13 Water Soluble Fertilizers-Ireland
4.13.1 Water Soluble Fertilizers-Ireland, By Companies
4.13.1.1 Water Soluble Fertilizers-ICL Fertilizers-Ireland
5 Water Soluble Fertilizers-Europe, By Companies
5.1 Split By Geography
5.2 Water Soluble Fertilizers-Others(Company)-Europe
5.3 Water Soluble Fertilizers-Yara International ASA-Europe
5.3.1 Water Soluble Fertilizers-Yara International ASA-Europe, By Geographies
5.3.1.1 Water Soluble Fertilizers-Yara International ASA-Germany
5.3.1.2 Water Soluble Fertilizers-Yara International ASA-Switzerland
5.3.1.3 Water Soluble Fertilizers-Yara International ASA-Norway
5.4 Water Soluble Fertilizers-Uralkali JSC-Europe
5.4.1 Water Soluble Fertilizers-Uralkali JSC-Europe, By Geographies
5.4.1.1 Water Soluble Fertilizers-Uralkali JSC-Europe - Other Geographies
5.4.1.2 Water Soluble Fertilizers-Uralkali JSC-Russia
5.4.2 Water Soluble Fertilizers-Uralkali JSC-Europe, By Types
5.4.2.1 Potassic-Uralkali JSC-Europe
5.5 Water Soluble Fertilizers-ICL Fertilizers-Europe
5.5.1 Water Soluble Fertilizers-ICL Fertilizers-Europe, By Geographies
5.5.1.1 Water Soluble Fertilizers-ICL Fertilizers-Belgium
5.5.1.2 Water Soluble Fertilizers-ICL Fertilizers-Spain
5.5.1.3 Water Soluble Fertilizers-ICL Fertilizers-Netherlands
5.5.1.4 Water Soluble Fertilizers-ICL Fertilizers-Ireland
5.5.1.5 Water Soluble Fertilizers-ICL Fertilizers-United Kingdom
5.6 Water Soluble Fertilizers-OCI Fertilizer-Europe
5.6.1 Water Soluble Fertilizers-OCI Fertilizer-Europe, By Geographies
5.6.1.1 Water Soluble Fertilizers-OCI Fertilizer-Netherlands
5.7 Water Soluble Fertilizers-SQM Potassium-Europe
5.8 Water Soluble Fertilizers-Apache Corporation-Europe
5.9 Water Soluble Fertilizers-Arab Potash Company PLC (APC)-Europe
5.10 Water Soluble Fertilizers-Petróleo Brasileiro S.A (Petrobras)-Europe
5.11 Water Soluble Fertilizers-The Mosaic Co.-Europe
5.12 Water Soluble Fertilizers-EuroChem-Europe
5.12.1 Water Soluble Fertilizers-EuroChem-Europe, By Geographies
5.12.1.1 Water Soluble Fertilizers-EuroChem-Germany
5.12.2 Water Soluble Fertilizers-EuroChem-Europe, By Types
5.12.2.1 Nitrogenous-EuroChem-Europe
5.13 Water Soluble Fertilizers-Qatar Fertiliser Company (S.A.Q.)-Europe
5.14 Water Soluble Fertilizers-Agrium Crop protection products-Europe
5.14.1 Water Soluble Fertilizers-Agrium Crop protection products-Europe, By Geographies
5.14.1.1 Water Soluble Fertilizers-Agrium Crop protection products-Italy
5.14.1.2 Water Soluble Fertilizers-Agrium Crop protection products-Romania
5.15 Water Soluble Fertilizers-Kuibyshevazot Ammonia & nitrogen fertilizer-Europe
5.15.1 Water Soluble Fertilizers-Kuibyshevazot Ammonia & nitrogen fertilizer-Europe, By Types
5.15.1.1 Nitrogenous-Kuibyshevazot Ammonia & nitrogen fertilizer-Europe
5.16 Water Soluble Fertilizers-Sinochem agricultural business-Europe
5.16.1 Water Soluble Fertilizers-Sinochem agricultural business-Europe, By Geographies
5.16.1.1 Water Soluble Fertilizers-Sinochem agricultural business-Norway
5.17 Water Soluble Fertilizers-Haifa Chemicals Ltd.-Europe
5.17.1 Water Soluble Fertilizers-Haifa Chemicals Ltd.-Europe, By Geographies
5.17.1.1 Water Soluble Fertilizers-Haifa Chemicals Ltd.-Russia
5.17.2 Water Soluble Fertilizers-Haifa Chemicals Ltd.-Europe, By Types
5.17.2.1 Potassic-Haifa Chemicals Ltd.-Europe
List of Figures
1 Water Soluble Fertilizers-Europe Ecosystem
2 Top Growing Water Soluble Fertilizers-Europe Markets By Revenue 2013 - 2018
3 Water Soluble Fertilizers-Europe Revenue Trends By Companies 2013 - 2018
4 Water Soluble Fertilizers-Europe Market Share 2013
5 Water Soluble Fertilizers-Europe Market Share By Companies 2013
6 Water Soluble Fertilizers-Europe BCG Matrix 2013
7 Water Soluble Fertilizers-Europe Competitors Matrix 2013
8 Water Soluble Fertilizers-Europe Geography Analysis 2013
9 Water Soluble Fertilizers-Europe Market Share 2013
10 Water Soluble Fertilizers-Russia by Types
11 Water Soluble Fertilizers-Spain by Types
12 Water Soluble Fertilizers-Ukraine by Types
13 Water Soluble Fertilizers-Germany by Types
14 Water Soluble Fertilizers-Italy by Types
15 Water Soluble Fertilizers-United Kingdom by Types
16 Water Soluble Fertilizers-Netherlands by Types
17 Water Soluble Fertilizers-Europe - Other Geographies by Types
18 Water Soluble Fertilizers-Romania by Types
19 Water Soluble Fertilizers-Belgium by Types
20 Water Soluble Fertilizers-Norway by Types
21 Water Soluble Fertilizers-Switzerland by Types
22 Water Soluble Fertilizers-Ireland by Types
23 Water Soluble Fertilizers-Europe Market Share 2013
24 Top Growing Phosphatic-Europe Markets By Revenue 2013 - 2018
25 Water Soluble Fertilizers-Europe Market Share 2013
26 Top Growing Potassic-Europe Markets By Revenue 2013 - 2018
27 Water Soluble Fertilizers-Europe Market Share 2013
28 Water Soluble Fertilizers-Europe Market Share 2013
29 Top Growing Micronutrients-Europe Markets By Revenue 2013 - 2018
30 Top Growing Micronutrients-Agricultural Land-Europe Markets By Revenue 2013 - 2018
31 Water Soluble Fertilizers-Europe Market Share 2013
32 Water Soluble Fertilizers-Europe Market Share 2013
33 Water Soluble Fertilizers-Russia Market Share 2013
34 Water Soluble Fertilizers-Russia BCG Matrix 2013
35 Water Soluble Fertilizers-Europe Market Share 2013
36 Water Soluble Fertilizers-Europe Market Share 2013
37 Water Soluble Fertilizers-Spain Market Share 2013
38 Water Soluble Fertilizers-Spain BCG Matrix 2013
39 Water Soluble Fertilizers-Europe Market Share 2013
40 Water Soluble Fertilizers-Europe Market Share 2013
41 Water Soluble Fertilizers-Ukraine Market Share 2013
42 Water Soluble Fertilizers-Ukraine BCG Matrix 2013
43 Water Soluble Fertilizers-Europe Market Share 2013
44 Water Soluble Fertilizers-Germany Market Share 2013
45 Water Soluble Fertilizers-Germany BCG Matrix 2013
46 Water Soluble Fertilizers-Europe Market Share 2013
47 Water Soluble Fertilizers-Europe Market Share 2013
48 Water Soluble Fertilizers-Italy Market Share 2013
49 Water Soluble Fertilizers-Italy BCG Matrix 2013
50 Water Soluble Fertilizers-Europe Market Share 2013
51 Water Soluble Fertilizers-Europe Market Share 2013
52 Water Soluble Fertilizers-United Kingdom Market Share 2013
53 Water Soluble Fertilizers-United Kingdom BCG Matrix 2013
54 Water Soluble Fertilizers-Europe Market Share 2013
55 Water Soluble Fertilizers-Europe Market Share 2013
56 Water Soluble Fertilizers-Europe Market Share 2013
57 Water Soluble Fertilizers-Europe - Other Geographies Market Share 2013
58 Water Soluble Fertilizers-Europe - Other Geographies BCG Matrix 2013
59 Water Soluble Fertilizers-Europe Market Share 2013
60 Water Soluble Fertilizers-Europe Market Share 2013
61 Water Soluble Fertilizers-Europe Market Share 2013
62 Water Soluble Fertilizers-Europe Market Share 2013
63 Water Soluble Fertilizers-Europe Market Share 2013
64 Water Soluble Fertilizers-Europe Market Share 2013
65 Water Soluble Fertilizers-Europe Market Share 2013
66 Water Soluble Fertilizers-Europe Market Share 2013
67 Water Soluble Fertilizers-Europe Market Share 2013
68 Water Soluble Fertilizers-Europe Market Share 2013
69 Water Soluble Fertilizers-Russia by Companies
70 Water Soluble Fertilizers-Spain by Companies
71 Water Soluble Fertilizers-Ukraine by Companies
72 Water Soluble Fertilizers-Germany by Companies
73 Water Soluble Fertilizers-Italy by Companies
74 Water Soluble Fertilizers-United Kingdom by Companies
75 Water Soluble Fertilizers-Netherlands by Companies
76 Water Soluble Fertilizers-Europe - Other Geographies by Companies
77 Water Soluble Fertilizers-Romania by Companies
78 Water Soluble Fertilizers-Belgium by Companies
79 Water Soluble Fertilizers-Norway by Companies
80 Water Soluble Fertilizers-Switzerland by Companies
81 Water Soluble Fertilizers-Ireland by Companies
82 Others(Company) Ecosystem
83 Top Growing Water Soluble Fertilizers-Others(Company)-Europe Markets By Revenue 2013 - 2018
84 Yara International ASA Ecosystem
85 Top Growing Water Soluble Fertilizers-Yara International ASA-Europe Markets By Revenue 2013 - 2018
86 Water Soluble Fertilizers-Europe Market Share 2013
87 Uralkali JSC Ecosystem
88 Top Growing Water Soluble Fertilizers-Uralkali JSC-Europe Markets By Revenue 2013 - 2018
89 Water Soluble Fertilizers-Europe Market Share 2013
90 Water Soluble Fertilizers-Europe Market Share 2013
91 ICL Fertilizers Ecosystem
92 Top Growing Water Soluble Fertilizers-ICL Fertilizers-Europe Markets By Revenue 2013 - 2018
93 Water Soluble Fertilizers-Europe Market Share 2013
94 OCI Fertilizer Ecosystem
95 Top Growing Water Soluble Fertilizers-OCI Fertilizer-Europe Markets By Revenue 2013 - 2018
96 Water Soluble Fertilizers-Europe Market Share 2013
97 SQM Potassium Ecosystem
98 Top Growing Water Soluble Fertilizers-SQM Potassium-Europe Markets By Revenue 2013 - 2018
99 Apache Corporation Ecosystem
100 Top Growing Water Soluble Fertilizers-Apache Corporation-Europe Markets By Revenue 2013 - 2018
101 Arab Potash Company PLC (APC) Ecosystem
102 Top Growing Water Soluble Fertilizers-Arab Potash Company PLC (APC)-Europe Markets By Revenue 2013 - 2018
103 Petróleo Brasileiro S.A (Petrobras) Ecosystem
104 Top Growing Water Soluble Fertilizers-Petróleo Brasileiro S.A (Petrobras)-Europe Markets By Revenue 2013 - 2018
105 The Mosaic Co. Ecosystem
106 Top Growing Water Soluble Fertilizers-The Mosaic Co.-Europe Markets By Revenue 2013 - 2018
107 EuroChem Ecosystem
108 Top Growing Water Soluble Fertilizers-EuroChem-Europe Markets By Revenue 2013 - 2018
109 Water Soluble Fertilizers-Europe Market Share 2013
110 Water Soluble Fertilizers-Europe Market Share 2013
111 Qatar Fertiliser Company (S.A.Q.) Ecosystem
112 Top Growing Water Soluble Fertilizers-Qatar Fertiliser Company (S.A.Q.)-Europe Markets By Revenue 2013 - 2018
113 Agrium Crop protection products Ecosystem
114 Top Growing Water Soluble Fertilizers-Agrium Crop protection products-Europe Markets By Revenue 2013 - 2018
115 Water Soluble Fertilizers-Europe Market Share 2013
116 Kuibyshevazot Ammonia & nitrogen fertilizer Ecosystem
117 Top Growing Water Soluble Fertilizers-Kuibyshevazot Ammonia & nitrogen fertilizer-Europe Markets By Revenue 2013 - 2018
118 Water Soluble Fertilizers-Europe Market Share 2013
119 Sinochem agricultural business Ecosystem
120 Water Soluble Fertilizers-Europe Market Share 2013
121 Haifa Chemicals Ltd. Ecosystem
122 Water Soluble Fertilizers-Europe Market Share 2013
123 Water Soluble Fertilizers-Europe Market Share 2013
List of Tables
1 Drivers for Water Soluble Fertilizers Market
2 Water Soluble Fertilizers-Europe market values, by Types, 2013 - 2018 (million)
3 Water Soluble Fertilizers-Europe market volume, by Types, 2013 - 2018 (thousand)
4 Water Soluble Fertilizers-Europe market values, by Geographies, 2013 - 2018 (million)
5 Water Soluble Fertilizers-Europe market volume, by Geographies, 2013 - 2018 (thousand)
6 Water Soluble Fertilizers-Europe market values, by Companies, 2013 - 2018 (million)
7 Nitrogenous-Europe by Geographies
8 Nitrogenous-Europe by Geographies
9 Phosphatic-Europe by Geographies
10 Phosphatic-Europe by Geographies
11 Potassic-Europe by Geographies
12 Potassic-Europe by Geographies
13 Micronutrients-Europe by Geographies
14 Micronutrients-Europe by Geographies
15 Micronutrients-Agricultural Land-Europe by Geographies (million)
16 Micronutrients-Agricultural Land-Europe by Geographies (thousand)
17 Water Soluble Fertilizers-Russia by Types
18 Water Soluble Fertilizers-Russia by Types
19 Water Soluble Fertilizers-Spain by Types
20 Water Soluble Fertilizers-Spain by Types
21 Water Soluble Fertilizers-Ukraine by Types
22 Water Soluble Fertilizers-Ukraine by Types
23 Water Soluble Fertilizers-Germany by Types
24 Water Soluble Fertilizers-Germany by Types
25 Water Soluble Fertilizers-Italy by Types
26 Water Soluble Fertilizers-Italy by Types
27 Water Soluble Fertilizers-United Kingdom by Types
28 Water Soluble Fertilizers-United Kingdom by Types
29 Water Soluble Fertilizers-Europe - Other Geographies by Types
30 Water Soluble Fertilizers-Europe - Other Geographies by Types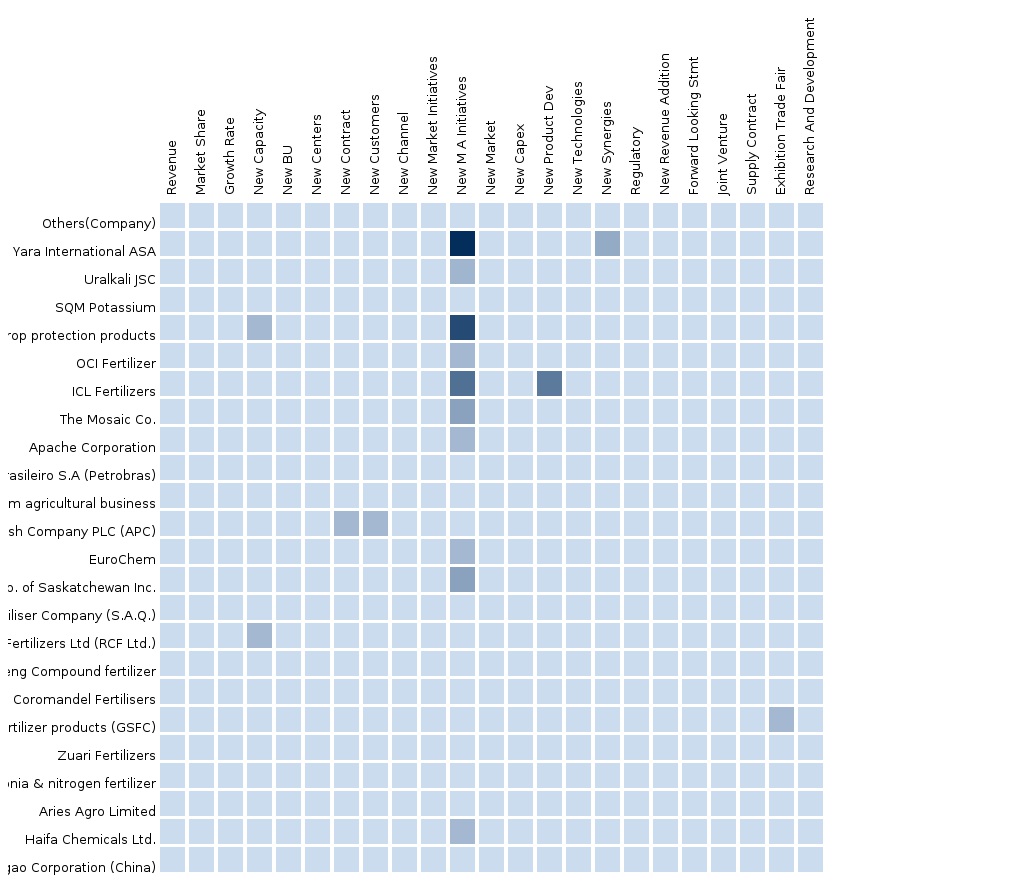 Europe Water Soluble Fertilizers