Europe Waste Management in Drilling Market by Services (Solids Control Services, Containment) Applications (Onshore & Offshore) & Geography Forecasting to 2018
Description
Table of Contents
Customer Intelligence
The European waste management in drilling market was estimated to be $946 million in 2013 and is forecast to reach $1,572 million by 2018, at a CAGR of 10.7%, from 2013 to 2018. The treatment & disposal services accounted for $390 million, due to an increased exploration and production activities, especially in subsea deepwater and ultra-deepwater areas.
The report analyses the waste management in drilling market by types of services and geography. In terms of geography, the report is segmented into the U.K., Russia, and Norway, among others. The waste management in drilling services included in this report are containment & handling, treatment & disposal, and solid control. Treatment & disposal and containment & handling together had around 67% share in 2013 and are expected to increase their share to 68% by 2018. This growth is driven by increasing environmental concerns and also the increasing E&P Capex by the oil & gas companies.
Strict regulations are being implemented in the region to regulate the discharge of synthetic and oil-based mud cuttings, and hence waste management services have become one of the critical elements of the region's oil & gas industry.
The report also provides an extensive competitive landscaping of companies providing drilling waste management services. Some of the key players operating in the market are Schlumberger Ltd., Halliburton, Baker Hughes (U.S), and Weatherford International Ltd, among others. The regional market shares, new product/service launches, M&A, and product portfolios of the key market players have been detailed in this report.
Customization Options:
Along with market data, customize the MMM assessments in alignment with your company's specific needs. Customize to get a comprehensive summary of the industry standards and deep dive analysis of the following parameters:
Product differentiation
Comparing the different technologies used by companies to provide waste management services, and differentiating them on various parameters
Market inducing data
Drilled footage in million feet
New oil field discoveries (regional and country level data)
Expert insights
Beneficial reuse of drilling wastes
Recycling of muds
Reuse of cuttings
Drilling waste management: In-depth value chain analysis
Interrelation between the segments
Impact of segments on the market
Brief information about equipment used in drilling waste management services
1 Executive Summary
2 Introduction
2.1 Objectives Of The Study
2.2 Market Definition
2.3 Market Coverage
2.4 Stakeholders
2.5 Research Methodology
2.5.1 Approach
2.5.2 Market Size
2.5.3 Key Secondary Sources
2.5.4 Key Primary Sources
2.5.5 Macro Indicators Affecting The Market
2.6 Assumptions
2.6.1 Cost Trends
2.6.2 Demand For Drilling Waste Management Services
2.6.3 Discharge Practices And Standards For Drilling Mud And Cuttings
2.6.4 Exchange Rates And Currency Conversion
2.6.5 Future Investment Trends
2.6.6 Totals
2.6.7 Currency Value
2.6.8 Company Financials
2.7 Acronyms
3 Market Dynamics
3.1 Drivers And Restraints
3.1.1 Drivers
3.1.1.1 Increasing Environmental Concerns Speed Up The Market
3.1.1.2 Increased E & P Capex Drives Drilling Activities
3.1.1.3 New Technologies
3.1.2 Restraints
3.1.2.1 High Competition In The Service Market
3.1.2.2 Operational And Economic Challenges
3.2 Auxilary Factors
3.3 North America Dominates The Market
3.3.1.1 Increased E&P Capex Drives Drilling Activities
3.3.1.2 Increasing Global Offshore Exploration & Development Activities
3.3.2 Waste Minimization
3.3.3 Reuse Or Recycle
3.3.4 Treatment & Disposal
3.3.5 Norway
3.3.5.1 Norway Drilling Waste Industry Regulation
3.3.6 Russia
3.3.6.1 Russia Drilling Waste Industry Regulation
3.3.7 U.K.
3.3.7.1 United Kingdom Drilling Waste Industry Regulation
4 Top Growing Drilling Waste Management- Europe Market, By Services, 2013 – 2018
4.1 Overview
4.2 Europe Market, By Services
5 Top Growing Market, By Countries, 2013 – 2018
5.1 Overview
5.2 European Market, By Geography
6 Competitive Landscape
7 Developments: Europe, By Companies
7.1 Developments: Europe Region, By Companies
8 Europe, By Companies
8.1 Schlumberger Ltd
8.1.1 Introduction
8.1.2 Products & Services
8.1.3 Financials
8.2 Weatherford International Ltd
8.2.1 Introduction
8.2.2 Prodcuts & Services
8.2.3 Financials
8.3 National Oilwell Varco
8.3.1 Introduction
8.3.2 Prodcuts & Services
8.3.3 Financials
8.4 Halliburton Co. 73
8.4.1 Introduction.. 73
8.4.2 Products & Services. 74
8.4.3 Financials. 77
8.5 Baker Hughes Inc. 79
8.5.1 Introduction.. 79
8.5.2 Products & Services. 79
8.5.3 Financials. 82
9 Waste Management In Drilling Services
9.1 Introduction
9.2 Overview
9.2.1 Market Segmentation
9.3 Technology
9.3.1 Waste Management
9.3.2 Various Technologies In Waste Management
9.4 Technical Restraints.
List of Tables
1 Macro Indicator Drilled Footage (Million Feet)
2 Macro Indicator Drilled Footage (Million Feet)
3 Market Revenue Share, By Services, 2012
4 Regional Scenario, 2012-2018
5 E&P Capital Spending, By Company Types/Regions, 2012
6 Offshore Fields, By Countries & Water Depth (Feet)
7 Wastes Components & Environment Significant Constituents From Drilling Activities
8 Exposure Types & Its Duration
9 Elemental Composition Of Drilling Mud (Mg/Kg)
10 Waste Minimization Technologies
11 Drill Cuttings Reuse & Recycle Management Options
12 Drill Cuttings & Drilling Fluid Disposal Technologies
13 Norway: Oil & Gas Industry, Key Statistics, 2012
14 Norway: Discharge Practices & Standards For Drilling Mud & Cuttings
15 Russia: Oil & Gas Industry, Key Statistics, 2012
16 Russia: Discharge Practices & Standards For Drilling Mud & Cuttings
17 U.K.: Oil & Gas Industry, Key Statistics, 2012
18 U.K.: Discharge Practices & Standards For Drilling Mud & Cuttings
19 Europe Market Values, By Services, 2013 - 2018($ Million)
20 Treatment & Disposal Market By Country ($Million), By Geography, 2013 - 2018
21 Containment & Handling Market By Country ($Million), By Geography, 2013 - 2018
22 Solid Control Market By Country ($Million), By Geography, 2013 - 2018
23 Drilling Waste Management Market By Country ($Million), By Geography, 2013 - 2018
24 Drilling Waste Management-Russia Market Values, By Services, 2012 - 2018($ Million)
25 Drilling Waste Management-Norway Market Values, By Services, 2012 - 2018($ Million)
26 Drilling Waste Management-U.K. Market Values, By Services, 2012 - 2018($ Million)
27 Drilling Waste Management-Others European Market Values, By Services, 2012 - 2018($ Million)
28 Europe: Developments
29 Schlumberger Ltd.: Products & Services
30 Schlumberger Ltd: Financials
31 Weatherford International Ltd.: Prodcuts & Services
32 Weatherford International Ltd.: Financials
33 National Oilwell Varco: Prodcuts & Services
34 National Oilwell Varco: Financials
35 Halliburton Co.: Products & Services
36 Halliburton Co.: Financials
37 Baker Hughes Inc.: Products & Services
38 Baker Hughes Inc.: Financials
39 Waste Minimization Technologies
40 Drill Cuttings Reuse & Recycle Management Options
41 Drill Cuttings & Drilling Fluid Disposal Technologies
List of Figures
1 Market Segmentation
2 Research Methodology
3 Data Triangulation Methodology
4 Drilling Waste Management-Europe Ecosystem
5 Europe- Market Split: Services (2013)
6 Europe- Market Size: Services (2013-2018)
7 Europe- Market Split: Services (2013)
8 Europe- Market Split: Countries (2013)
9 Market Share: 2013
10 Market Share: 2018
11 Schlumberger Ltd: Ecosystem
12 Weatherford International Ltd.: Ecosystems
13 National Oilwell Varco.: Ecosystems
14 Halliburton Co.: Ecosystems
15 Baker Hughes Inc.: Ecosystem
16 Market Segmentation
17 Significant Milestones In This Industry
18 Waste Management Hierarchy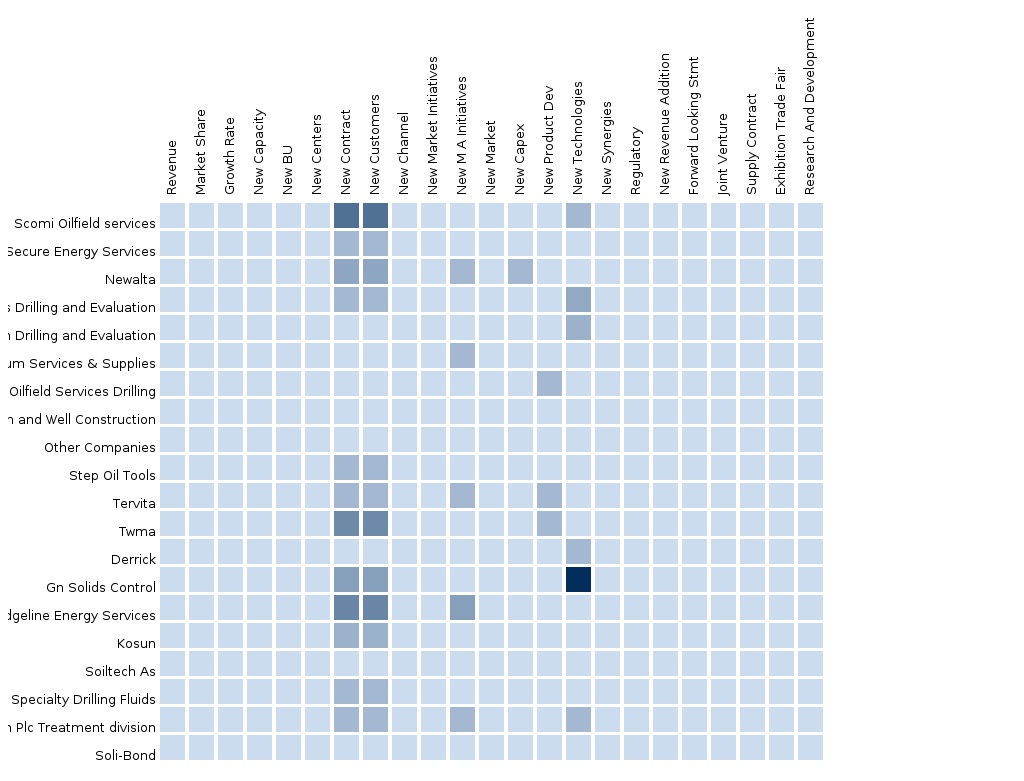 Europe Waste Management in Drilling