The European radiology picture archiving and communication system (PACS) market was valued at $513.6million in 2013, and is expected to grow at a CAGR of 4.3% from 2014 to 2019.
The report 'European Radiology Picture Archiving and Communication System (PACS) Market forecast, 2012-2018' analyzes the market based on component, delivery mode, imaging modality, and application type. In the delivery mode segment, on-premise forms the largest segment of the overall radiology PACS market, due to the ingrained benefits it offers in terms of exercising better control and secure sharing of data.
Europe is the second-largest player in the global market accounting to a market share of 28%. Germany holds 25% of market share, which is followed by France with 20% of the total European radiology picture archiving and communication system (PACS) market.
Radiology picture archiving and communication system has assisted in diminishing the physical barriers associated with traditional film-based image retrieval, distribution, and display. This system has widespread application in hospitals and clinics, as it eliminates the need of maintaining hard copies of images, thereby replacing them with digital storage. Cloud-based PACS solutions is the latest market development, which is expected to grow rapidly in the next 5 years.
The European radiology picture archiving and communication system (PACS) market report also provides competitive landscaping of companies operating in this market. The major players include GE Healthcare (U.K.), McKesson Corporation, Philips Healthcare (The Netherlands), Agfa HealthCare (Belgium), Siemens Healthcare (Germany), Carestream Health (U.S.), and Fujifilm Corporation (Japan) among others.
Segment and country-specific company shares, news & deals, mergers & acquisitions, segment-specific pipeline products, product approvals, and product recalls of the major companies have also been detailed in this report.
Customization Options
Along with the market data, you can also customize the MMM assessments that are in accordance to your company's specific needs. Customize to get comprehensive industry standard and deep-dive analysis of the following parameters:
Product Analysis
Usage pattern (in-depth trend analysis) of products (segment-wise)
Product matrix, which gives a detailed comparison of product portfolio of each company mapped at country and sub-segment level
End-user adoption rate analysis of the products (segment-wise and country-wise)
Procedure Volume Data
Number of software installed
End-users
Brand Perception Matrix
Comprehensive study of customers perception and behavior through our in-built social connect tool, by checking the virality and tonality of blogs
Analysis of overall brand usage and familiarity, including brand advocacy distribution (detractor/neutral/familiar)
Alternative Products: Impact analysis
MMM's healthcare decision making quadrant is an innovative and useful quadrant for vendors, who wish to analyze the potential growth markets based on parameters, such as end-user dynamics (choices and number of installations of software) and macroeconomic indicators (number of hospitals, reimbursement scenario, diagnosis rate, treatment rate, and healthcare expenditure).
1 Introduction
1.1 Objective of the study
1.2 Market Definitions
1.3 Market Segmentation & Aspects Covered
1.4 Research Methodology
1.4.1 Assumptions (Market Size, Forecast, etc)
2 Executive Summary
3 Market Overview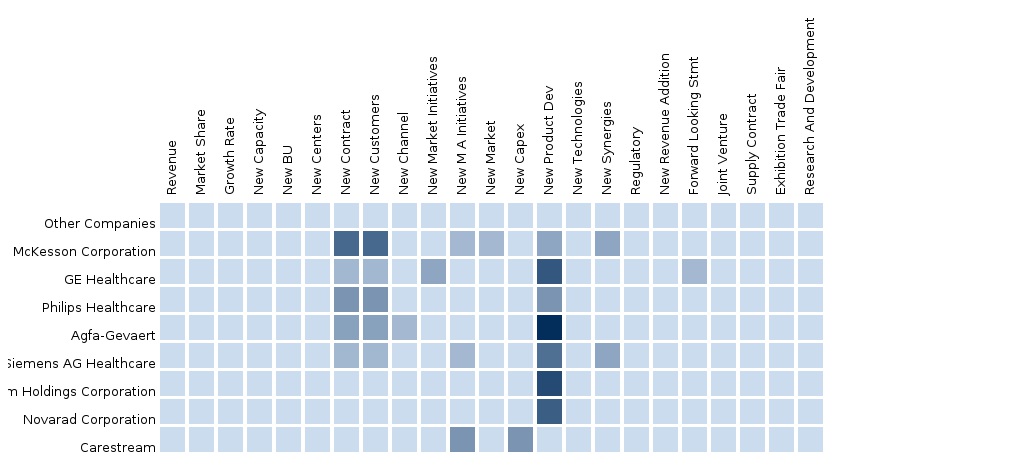 Please fill in the form below to receive a free copy of the Summary of this Report
Custom Market Research Services
We will customize the research for you, in case the report listed above does not meet with your exact requirements. Our custom research will comprehensively cover the business information you require to help you arrive at strategic and profitable business decisions.
Please visit
http://www.micromarketmonitor.com/custom-research-services.html
to specify your custom Research Requirement
PRODUCT TITLE
PUBLISHED
Asian Departmental Picture Archiving and Communication System (PACS)


The Asian Departmental Picture Archiving and Communication System (PACS) Market was valued at $416 million in 2012 and is projected to reach $597 million by 2018, at a CAGR of 6.4%. Departmental Picture Archiving and Communication System (PACS) Market can be segmented by geographies, applications, deployments, end-users, companies, and macroindicators. Deep dive analysis of the top players of this market have been included in this report.



Upcoming
North America Departmental PACS


Departmental PACS-North America constitute 48.3% of Global Departmental PACS market and are poised to grow its market share to 46.2% by the end of year 2018. It is segmented on basis of endusers, components, applications, geographies, deployments and...



Upcoming
North American Departmental PACS


The North American departmental picture archiving and communication system (PACS) market was valued at $1361 million in 2012, which is projected to reach $1734 million by 2018, witnessing a CAGR of 4.0%. This market can be segmented on the basis of geographies, applications, deployments, end-users, companies, and macro indicators. A DeepDive analysis of the top players of this market has been included in the report.



May 2015
Asian Departmental PACS


The report analyzes the Asian departmental Picture Archiving and Communication System market by product, component, deployment, end user, and by country. The Asian departmental PACS market research report covers geographies/countries such as Japan, China, India, Republic of Korea, and rest of Asia (RoA). The Asian departmental PACS market is estimated to grow at a CAGR of 11.3% from 2014 to 2019.



May 2015
Europe Departmental Picture Archiving and Communication System (PACS)


Departmental PACS involves the storage and archival of medical images and other clinical data restricted to a particular modality or modality application. It is generally considered to be the isolated version or component of the PACS system. Different departments in a healthcare organization exhibit different needs of image storage and archival. And departmental PACS prove to be an effective solution for fulfillment of the diverse needs of management of image workflows of these individual departments.



Upcoming
European Departmental Picture Archiving and Communication System (PACS)


The European Departmental Picture Archiving and Communication System (PACS) Market was valued at $776 million in 2012 and is projected to reach $1051 million by 2018, at a CAGR of 5.2%. Departmental Picture Archiving and Communication System (PACS) Market can be segmented by geographies, applications, deployments, end-users, companies, and macroindicators. Deep-dive analysis of the top players of this market has been included in this report.



May 2015